Glamping, which combines the words 'glamour' and 'camping,' is a sustainable and eco-friendly form of travel. It combines all the advantages of camping with the conveniences and extravagances of a high-end hotel. Glamping offers a wide range of amenities, from basic conveniences like fully functional kitchens and king-sized mattresses to lavish luxuries like butlers and chefs. 
A camping trip might not be the same as what you're used to. Due to the advent of glamping, combining elegance and camping, outdoor vacations have become more fashionable in recent years. Glamping is a popular trend worldwide as it allows tourists to experience nature more closely without sacrificing comfort. More and more people are trying and embracing camping as an alternative to hotel vacations.  
There's so much to know about glamping, and this article will walk you through some of the notable things about this latest outdoor travel trend.
Glamping As An Emerging Environmental Ambassador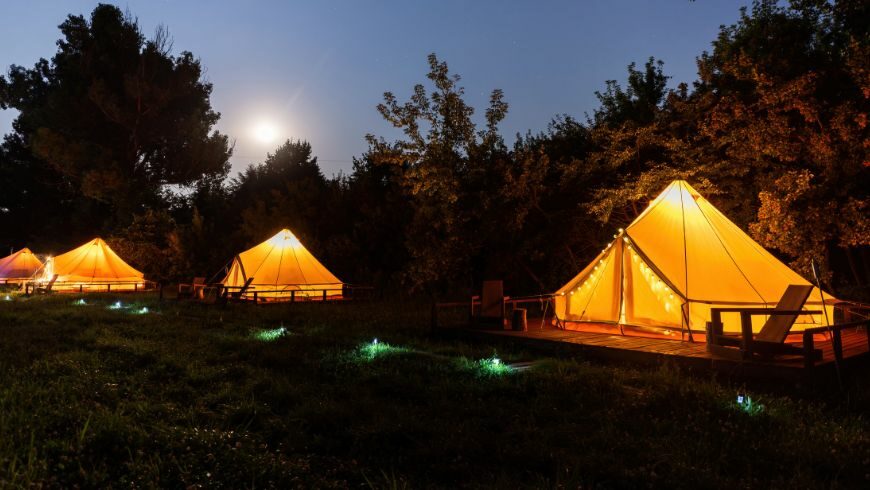 A glamping site is primarily made of natural, sustainable materials, contributing to its eco-friendliness. For instance, most European glamping sites have solar showers and dry toilets. Many lodging options are available, from Indian tipis to Mongolian yurts for glamping to treehouse hotels and gypsy caravans.  
A very low carbon footprint is associated with these lodgings, proving that luxury and environmental protection are compatible. It demonstrates that developing healthy, environmentally friendly tourism and sustainable travel is possible.
Glamping serves as an emerging environmental ambassador because of the following:
Glamping Encourages People To Reconnect With The Environment
A glamping trip allows visitors to gaze up at the night sky and observe the stars, even if they would not usually consider camping. There are numerous opportunities for taking pictures, learning about local animals and birds, fishing in nearby lakes and rivers, and immersing themselves in the local environment. As more people take advantage of glamping's benefits, they become more conscious and appreciative of nature. It is fantastic for the environment because it makes people care more. As a result, they will go to tremendous lengths to preserve it.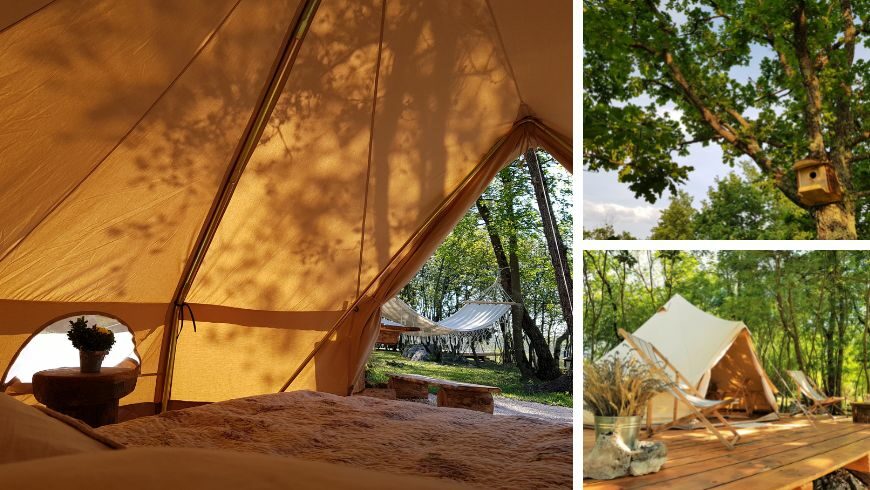 Glamping Makes Use Of Off-Grid Technology
Glampsites often use renewable energy sources, such as solar energy, water generators, and wind turbines. Even though they are expensive to install, they pay off over time. The convenience of staying in accommodations that are off-the-beaten-track without sacrificing modern amenities is a huge draw for guests. The owner enjoys knowing they have created an environmentally friendly and sustainable business. 
Glamping Promotes The Interest In Food Source
Many glamping owners manufacture their products or source local products to distribute to their visitors, which promotes an interest in food production, growth, and harvest. Additionally, visitors can participate in formally organized foraging groups where they can identify and gather locally edible fruits and vegetables. As a result of helping local communities, owners can also reduce their carbon footprint while serving food to guests who appreciate a chance to try new things.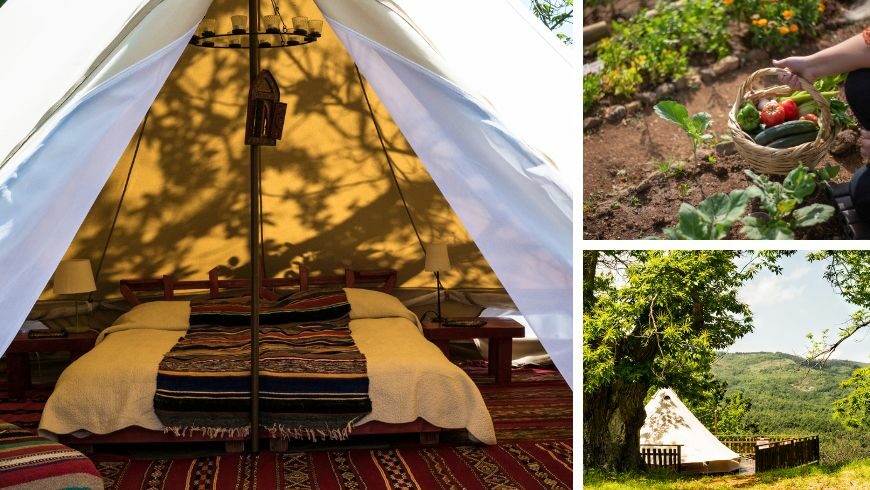 Glamping As A Perfect Fit For Ecotourism
The TIES or the International Ecotourism Society (TIES) describes the word 'ecotourism' as something that involves: 
Traveling to natural areas in a responsible manner.
Preserving the environment.
Maintaining the welfare of the local people.
Teaching about the natural environment.
International networks of people, organizations, and the tourism industry educate travelers and professionals about ecological concerns to make this kind of travel possible.
Even the United Nations Environment Programme (UNEP) has acknowledged the importance of ecotourism, stating that it is a niche business within the more significant travel industry and has the potential to contribute to sustainable development.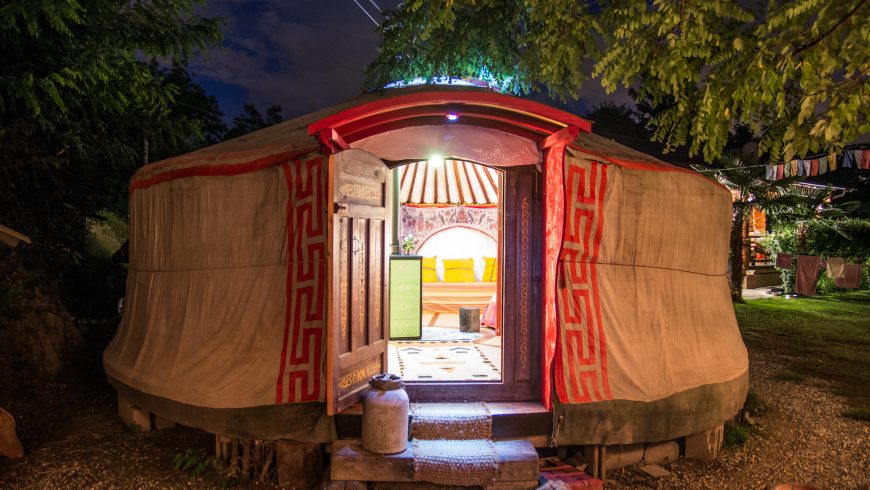 Summary Of Factors That Make Glamping An Environment Ambassador
No doubt, glamping comes with more than just fun and excitement. Additionally, it has a positive impact on our environment. The list below summarizes the factors that make glamping an environment ambassador:
A glamping experience allows campers to be close to nature and interact with it.
When offering vintage or retro services, many of the company's assets, such as campervans, are examples of recycling or upcycling.
Lodging often uses sustainable materials, and there is little or no heating that has a significant environmental impact.
Everyone gets a better appreciation and love of nature when surrounded by it, and if they do, they will strive harder to preserve it.
It can help clients avoid pre-packaged and processed food products and reduce their trash output by providing access to farm stores, small local shops, etc., depending on the type of glamping business.
People are encouraged to avoid littering themselves and move any items they notice to a trash can when they see them. Litter often seems out of place when constantly present in the environment, so moving things to a trash can makes it seem even more out of place.
In a glamping operation, reusable equipment types are preferred. As a result, thoughtfully designed items will require fewer resources to make because they can be used in multiple contexts. You can do this by avoiding throwaway containers in favor of reusable ones.
Eco-friendly cleaning products, solar or wind energy, or other environmentally-friendly features can be easily incorporated into glamping operations.
Glamping and camping companies are more likely to participate in environmental initiatives due to the nature of their industry.
With growing consciousness to protect the environment, glamping is a great way to experience fun with nature without harming it. There's no doubt that it's becoming increasingly popular today, especially with people who advocate for environmental protection and sustainable tourism.
Conclusion
The inconveniences brought about by traditional camping contributed to the birth of glamping. With glamping, one can have a similar exposure to the great outdoors as camping, but this time, without the inconveniences of traditional camping. It is ideal for anyone who wants to try outdoor camping but does not want to experience discomfort. It is even better for first-time campers to give them the best glamping experience and keep them coming back.