An old stone house, renovated to fully preserve the traditional architectural form and design and provide a special and unique eco-stay. Turrium heritage apartment is an eco-friendly accommodation, just 20 minutes from Split, in Croatia. An article in the Croatian magazine Apartman Plus shows this little paradise for a perfect romantic stay for couples, as well as an oasis of year-round tourism for digital nomads.
Turrium heritage apartment is located in Kastel Kambelovac, in the first row to the sea. The old stone house has been renovated to fully preserve the traditional architectural form and design and provide a special and unique eco-stay. It used to be the home of an old Ashtelan captain who sailed the world's seas, and today it is a heuristic accommodation facility that has been renovated according to environmental standards. It consists of two studio apartments for two people and a shared terrace with an outdoor kitchen and barbecue.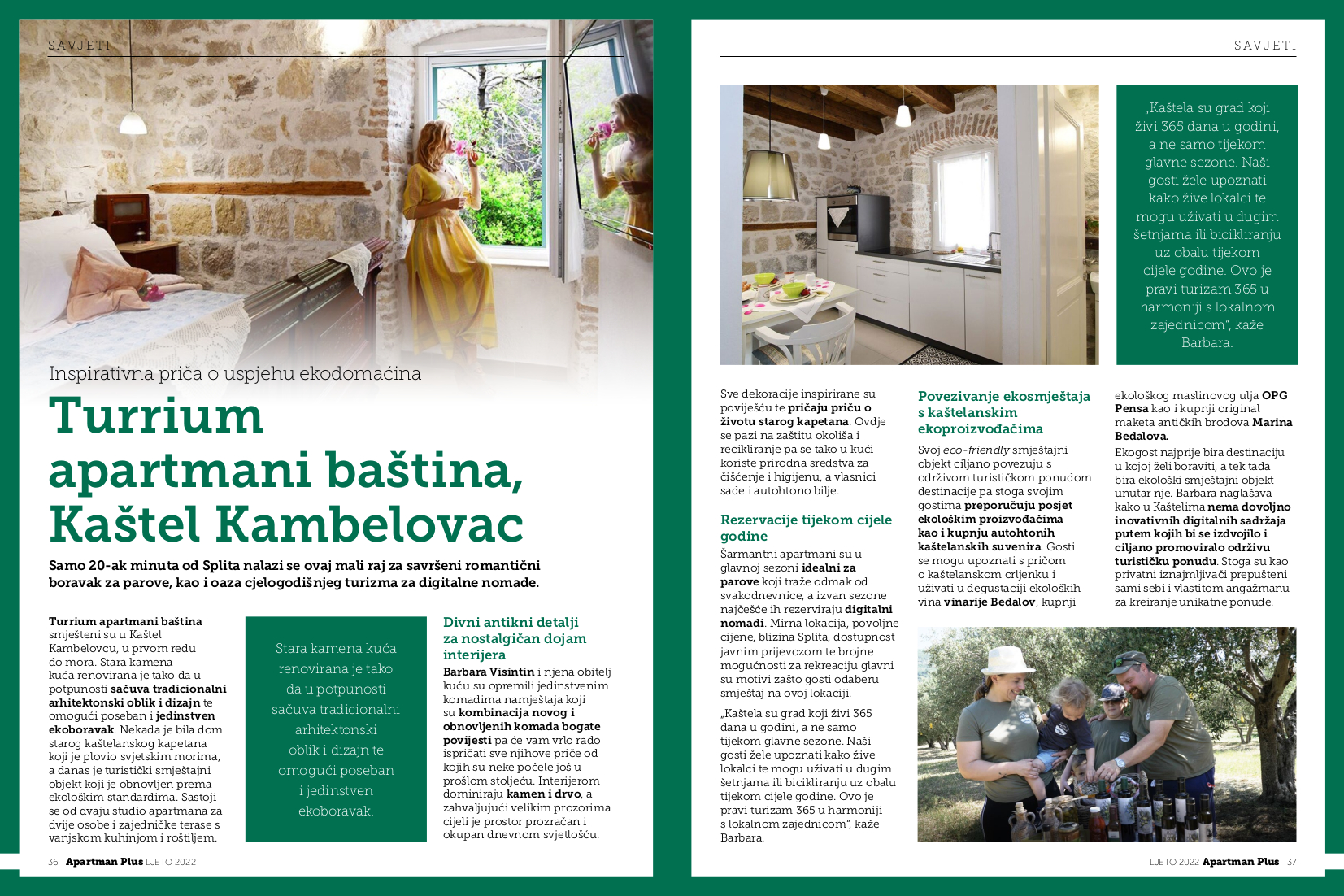 Barbara Visintin and her family have equipped the house with unique pieces of furniture that are a combination of new and restored pieces of rich history, so they will be happy to tell you all their stories, some of which began in the last century. The interior is dominated by stone and wood, and thanks to the large windows, the whole space is airy and bathed in daylight.
All the decorations are inspired by history and tell the story of the life of the old captain. Here, care is taken to protect the environment and recycle, so natural cleaning and hygiene products are used in the house, and the owners also plant indigenous plants.
In the main season, the charming apartments are ideal for couples looking for a break from everyday life, and out of season, they are most often booked by digital nomads. Quiet location, reasonable prices, proximity to Split, availability of public transport, and numerous opportunities for recreation are the main motives why guests choose accommodation in this location.
"Kaštela is a town that lives 365 days a year, and not only during the main season. Our guests want to get to know how the locals live and can enjoy long walks or cycling along the coast all year round. This is
real tourism 365 in harmony with the local community ", says Barbara.
They purposefully connect their eco-friendly accommodation facility with the sustainable touristic offer of the destination, so they recommend their guests a visit organic producers as well as purchase indigenous Kastela souvenirs. Guests can enjoy the tasting of organic wines from the Bedalov winery, the purchase of organic olive oil OPG Pensa as well as the purchase of the original model of ancient ships Marin Bedalov.
Ekogost first chooses the destination in which he wants to stay, and only then chooses an ecological accommodation facility within it. Barbara emphasizes that there are not enough innovative digital contents in Kaštela to single out and purposefully promote a sustainable tourist offer. Therefore, as private renters, they are left to themselves and their own engagement to create a unique offer.
The efforts of Barbara and her family were also recognized by Split-Dalmatia County, which awarded the Turrium heritage apartments the "Ambassador of Tourism" certificate. This certificate proves to guests the quality of the accommodation facility and knowledge of natural and cultural-historical heritage in the destination.