Apartman Plus is the main Croatian magazine for holiday accommodations. This month's number dedicates some articles to sustainable tourism, the latest trends in green tourism and to the online platform Ecobnb. Let's read it together!
Ecobnb published in magazine Apartman Plus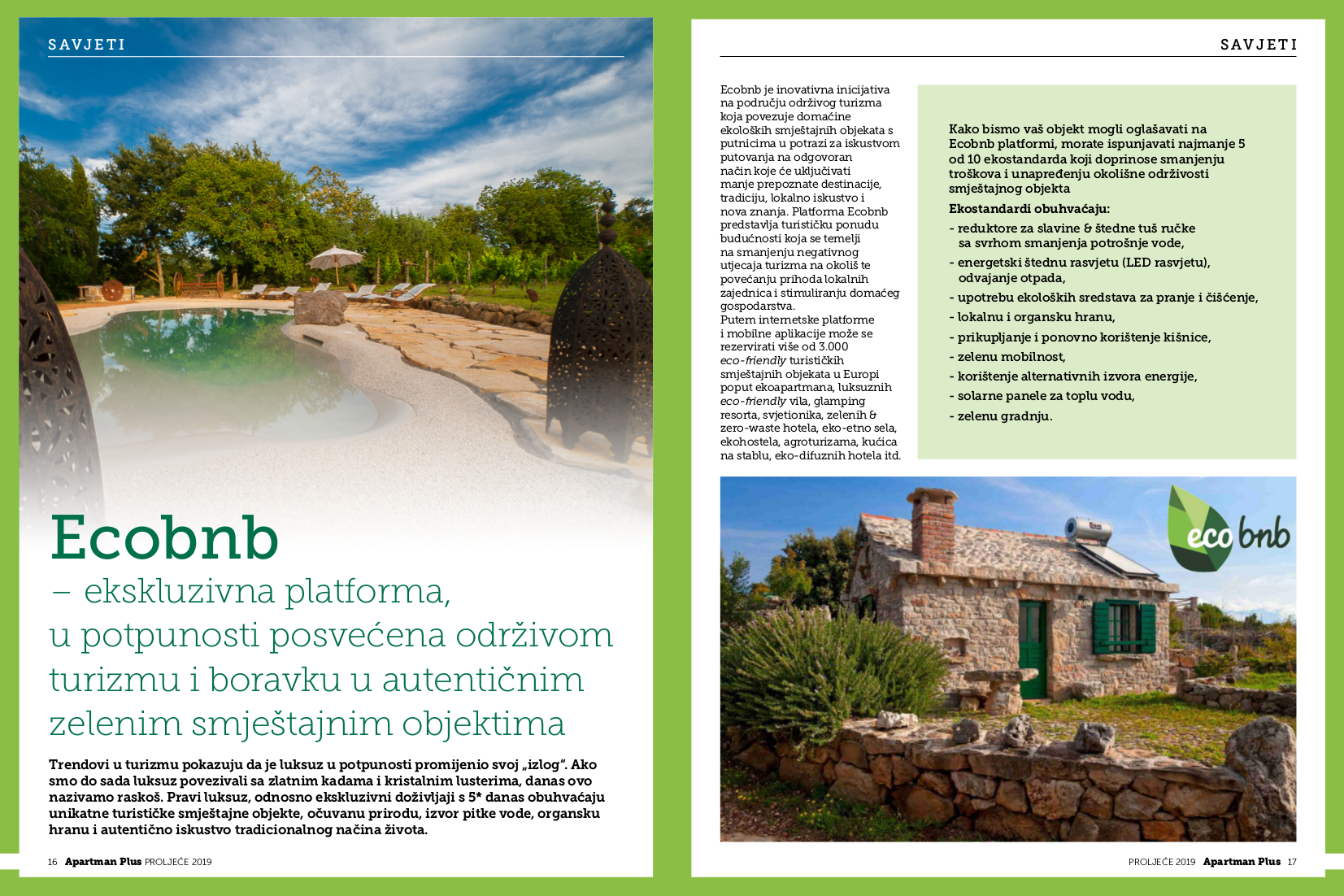 Ecobnb – an exclusive platform dedicated to sustainability, genuine and eco-friendly residence.
The trends in the tourism show that luxury nowadays has totally changed perspective. We are used to associate luxury with golden baths and crystal chandeliers. Today things are changing. Luxury is today represented by 5 stars experiences in unique accommodations: wild nature, organic food, and a jump into the most authentic traditions of any place.
Ecobnb is an innovative start-up operating in the field of sustainable tourism. It matches eco-friendly accommodation hosts with travelers looking for responsible experiences. In doing so, it includes not well-known destinations, traditions and places, a unique getting to know experience.
The Platform Ecobnb is the touristic offer of the future, aiming at reducing the tourism impact on the environment, protecting places and increasing awareness on local residents.
Through the online platform and the mobile app, it is possible to choose among more than 3000 eco-friendly accommodation in Europe and worldwide. Among the Eco-friendly accommodation, we find holiday houses in nature, glamping, lighthouses in the sea, zero-waste hotels, eco-villages, eco-friendly hostels, bio-farmhouses, cottages or tree-houses.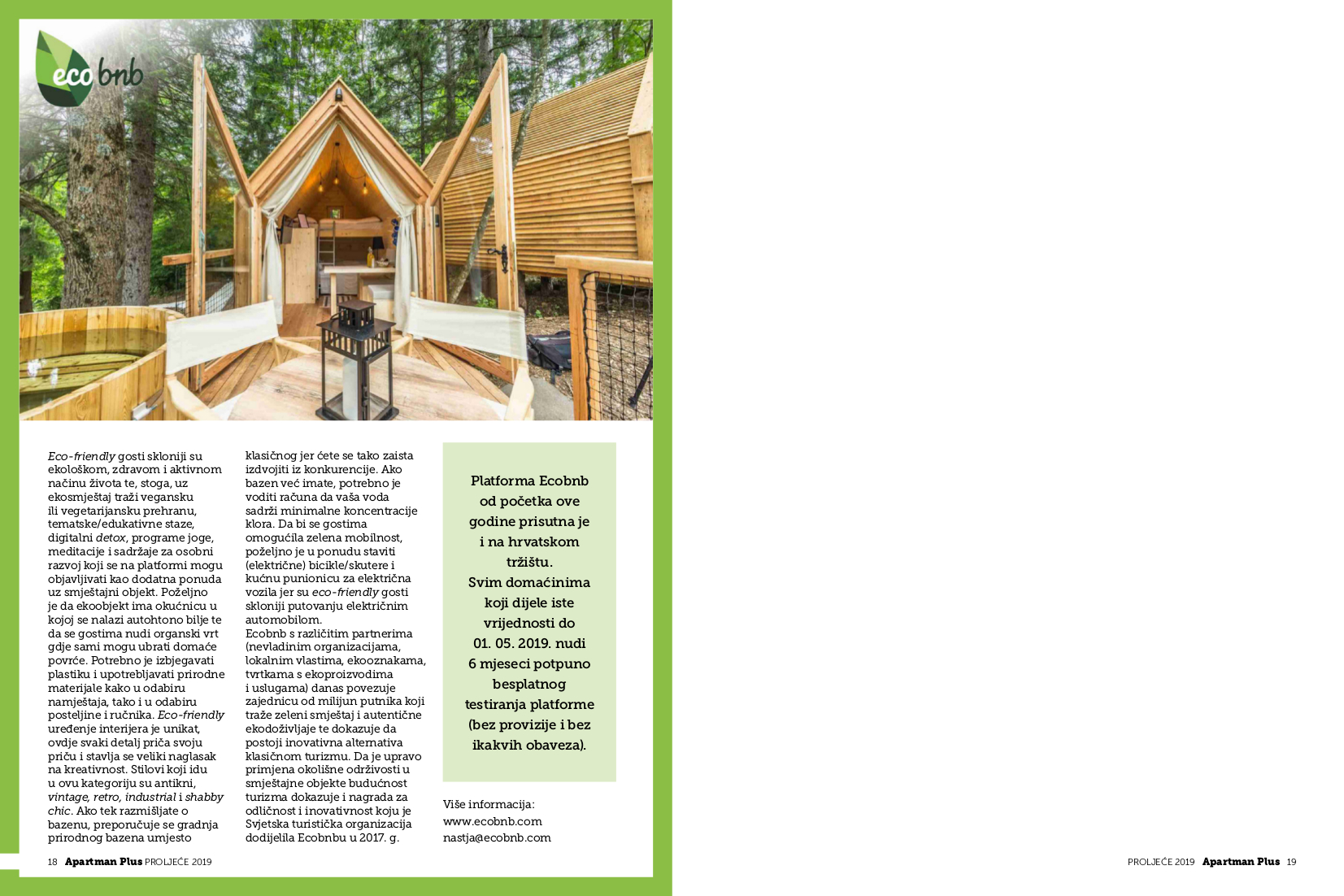 Responsible tourists are willing to choose the contact with nature, an active and healthy lifestyle, a balanced diet, either vegetarian or vegan, thematic and educative routes, digital detox, yoga, meditation, and personal growth experiences. In this way the Ecobnb accommodation, besides guaranteeing some eco-sustainability criteria, they meet the need for these particular services.
Eco-hosts should have a garden with native plants, normally offering to its guests an organic orchard with local fruits and vegetables. It is necessary to avoid plastic and use natural materials not only in the items of furniture, but also in choosing linens and towels.
Internal furniture has to be eco and unique: every detail has a story behind and creativity is encouraged. Styles belonging to this category are old-fashioned, vintage, industrial e shabby chic. If you are looking for a swimming pool, we suggest a natural pool. If you already have a pool, you need to take special care to water quality and check that it contains minimal chlorine concentrations.
To ensure eco-friendly mobility, it is recommendable to have some bikes, e-bikes or any other e-vehicle, and give guests access to an e-car charging service, so to encourage eco-tourists to travel with an e-car.
Today Ecobnb is the link of a million travelers' community looking for eco-friendly accommodations and authentic experiences, with several partners in Europe and worldwide (NGO, local authorities, ecolabels, product companies and green services). It demonstrates there's an innovative option to classic tourism. The recognition of the World Organization Tourism and the Excellence and Innovation prize assigned to Ecobnb in 2017, are clear signs that applying the concept of sustainability to accommodations is the future of tourism.
Read all the press about Ecobnb!