What do you need to go camping? Find out some elements that you cannot miss in order to live a sustainable and stressless experience.
The Covid-19 pandemic has created new trends and modified some habits. A lot of them have come to remain, especially since they improve the quality of life and our health. Some other habits, on the other hand, could be just fleeting. However, the sanitary emergency, with the 2020 lockdown, has surely meant that the quality of air improved a lot, as it always should be. Thanks to the search for outdoor experiences, the camping sector has registered a huge growth. Several people that in the past would have never chosen camping tourism, during the years 2020 and 2021 have started to see it as a viable and sustainable option.
The Pandemic is making Camping and Outdoor Tourism grow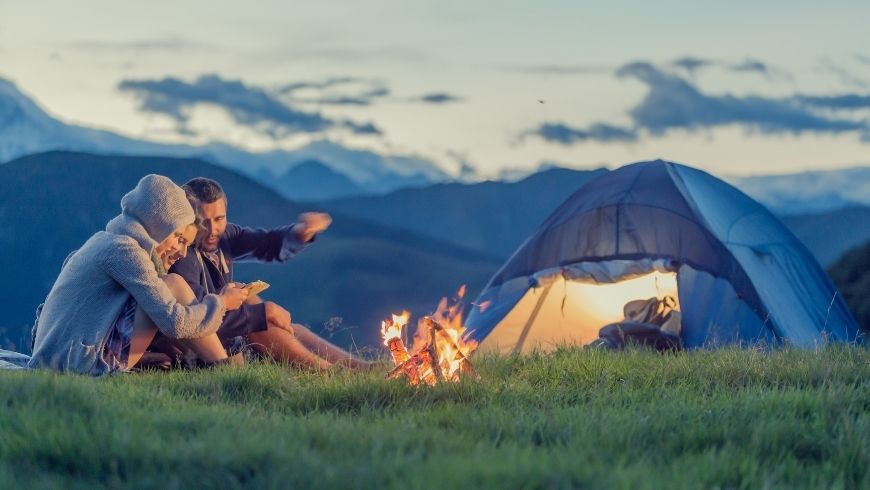 According to a platform of open-air structures, camping reservations have increased by 982%: a percentage that, by all accounts, will not last in time, but that is definitely worth of attention.
There are several types of accommodation and camping: tents in the meadow are not the only option, as many people think. Bungalows and the more modern glamping could also be a valid alternative. They are in fact perfect for nature lovers who do not want to sacrifice comfort. Camping has nothing to envy hotels or apartments. It is simply another type of accommodation, more alternative and without the obligation to stay in contact with other people. Actually, with this wave of interest in camping, there has been also a, increase in sales of campers and in transformations of vans.
A slow, sustainable and familiar tourism seems to be what several people have chosen to experience, in order to enjoy the holidays in their own way, with more freedom, without being dependent on reservations and availability of hotels.
What do you need to go camping in a sustainable way?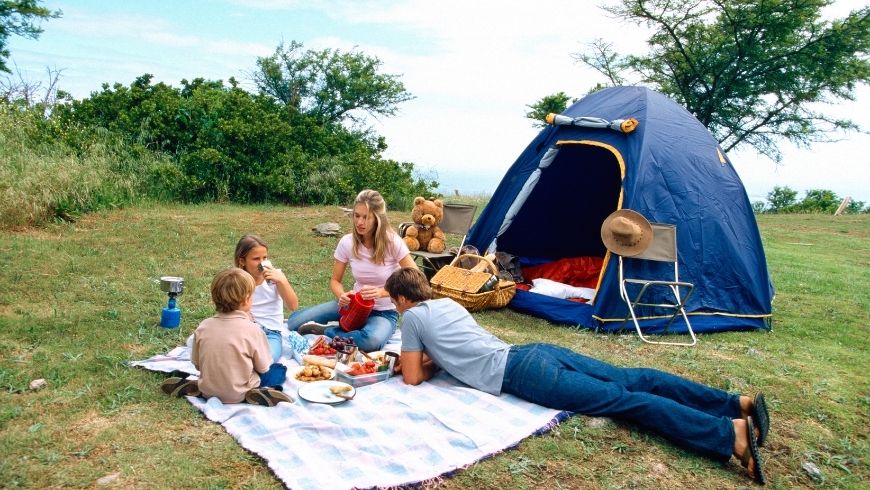 Since the camping and camper universe is so wide and people who experience it for the first time could have several doubts, let's answer the two basic questions. What should you necessarily bring? What can you do without?
Below we have listed some elements that you cannot miss during a stressless and sustainable camping holiday.
1. Tent
If you desire to sleep in a tent, it's worth visiting the many existing web pages which compare the various models with each other. The main differences are in the dimension and in the insulation capacity. However, in any case, remember that you will stay outdoor and, no matter how carefully you close the tent, you will never be completely protected from wind and cold.
2. Tarp
It is useful especially to make sure that, in case it rains, you don't put the sleeping bag directly in contact with the wet ground. Humidity can be very annoying.
3. Camping Lamp and Headlamp
Having a camping lamp is fundamental, especially when it gets dark early. Bring with yourself also a headlamp, in case you have to go the bathroom at dawn or during the night or if you have to go outside very early in the morning when it is still dark.
4. Kitchen Utensils
In addition to the camping stove, that is absolutely necessary, you also have to bring some cooking utensils. There are on the market various metal pots, of different sizes. In order to eat, many people bring disposable plates. If you want to be more sustainable, try to bring reusable and easy-to-wash plates and glasses.
5. Hygiene Products
In addition to what is needed to wash the kitchen utensils, you should also bring towels, shower slippers, shampoo and body wash. If you think it's practical, you can also take a dry shampoo. Always choose soaps as ecological and natural as possible.
6. Comfortable and Light Clothing
Travel wearing clothes which you feel comfortable. At the campsite, you will probably move more than you would do in a hotel, and for that reason, you should bring practical clothing. The same goes for the shoes.
7. Bicycle
Campsites are often far from the cities. In order to visit the various places, it's better for you to bring a bicycle and use it for travel. In this way, you will be more sustainable and you will enjoy the landscapes so much better.
8. Tool Kit
You never know what might happen to your tent or your bicycle, and, depending on where you will be, you will have more or less access to a repair kit. For that reason, we suggest you bring a small tool kit.
9. First Aid Kit
Also, in this case, you never know what might happen. From a mosquito bite to accidentally stumbling upon a branch, to a headache. It's better for you to be prepared and extremely cautious.