Lisbon gained the award of European Green Capital of 2020, thanks to its commitment to the environment. Let's find out how to explore the wonders that green Lisbon has to offer.
The Portuguese capital, already famous for its timeless atmosphere, rich in history and culture, also has a fascinating green side.
Let's explore green Lisbon together.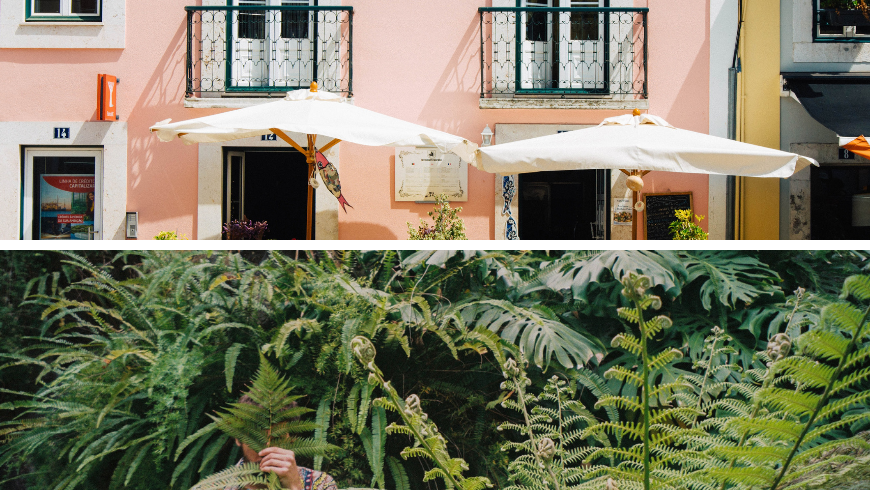 The European Commissioner for Environment, Maritime Affairs and Fisheries, Karmenu Vella, recognized the prestigious title of European Green Capital during the award ceremony in Nijmegen, the Netherlands. The European Commissioner chose Lisbon for its urban sustainability, thanks to better environmental management and careful urban planning. It is the first time a southern European capital received the award, which is usually given to northern European cities.
Lisbon has made great strides to become a green city by consolidating its environmental and social sustainability strategy and, consequently, improving the quality of life of its citizens, demonstrating that environmental protection and economic growth can go hand in hand. The Portuguese capital has shown how to turn environmental challenges into opportunities. In recent years, Lisbon has shown itself to be a pioneer in sustainable land management through sustainable mobility, ecological innovation, and landscaping.
Why did Lisbon get the award of European Green Capital 2020?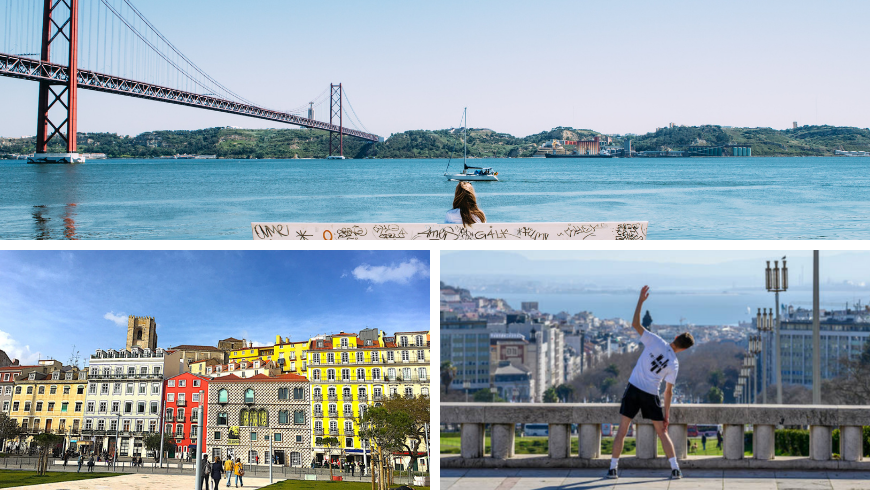 According to italiatravelworld.it, the reasons why Lisbon won this title include a 50% reduction in CO2 emissions between 2002 and 2014, a 23% reduction in energy consumption, and a 17% reduction in water consumption between 2007 and 2013, sustainable infrastructures to reduce the risk of unpredictable climate events. And more, bike-sharing projects all the way to the suburbs, a cycle network of over 90 km, pedestrianization of large areas and an increase in green zones, electric public transport, and new parks with sustainability certification, using a holistic approach to urban planning that considers all aspects of the city, including water, mobility, waste, education, and employment.
As far as public transport is concerned, since the management of Carris has returned to the municipality, the company has become greener. The fleet of 250 new buses works by natural gas (40% less polluting particles). 93.3% of the inhabitants live within 300 metres of a stop for efficient public transport, 39% of municipal cars are electric, 76% of people have green areas within 300 metres of their homes. Setting a benchmark for many other cities in Europe, Lisbon has also connected its green areas with the Vale de Alcântara green corridor, which links the city's natural amenities, such as Monsanto Park and the Tejo River, with cycle paths and walkways, offering its citizens greater access to green areas and related activities.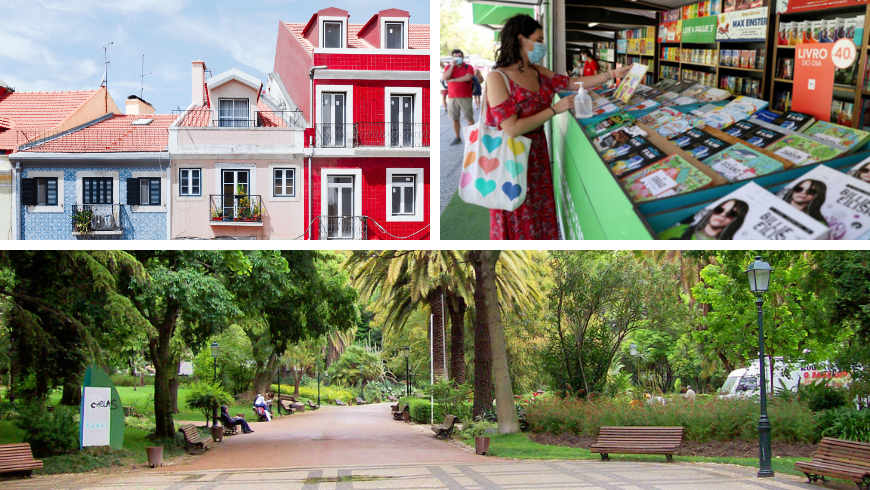 The city is also creating a new green space, allowing wildlife to thrive while respecting its biodiversity. Many stakeholders care about this ambitious project of urban innovation policies and programs: from citizens and businesses to universities and various international partners. It is a virtuous example in the pursuit of progress and environmental protection.
How to explore Lisbon in a Green style?
Lisbon has a lot to offer, and below, you can find our tips for discovering this city in a sustainable way, such as parks and gardens, beaches, hiking trails, mountain biking, organic markets, local arts and crafts, sustainable clothing.
Parks and Gardens
For what concerns the parks and gardens of Lisbon, we recommend that you go there:
Beaches and Outdoor Activities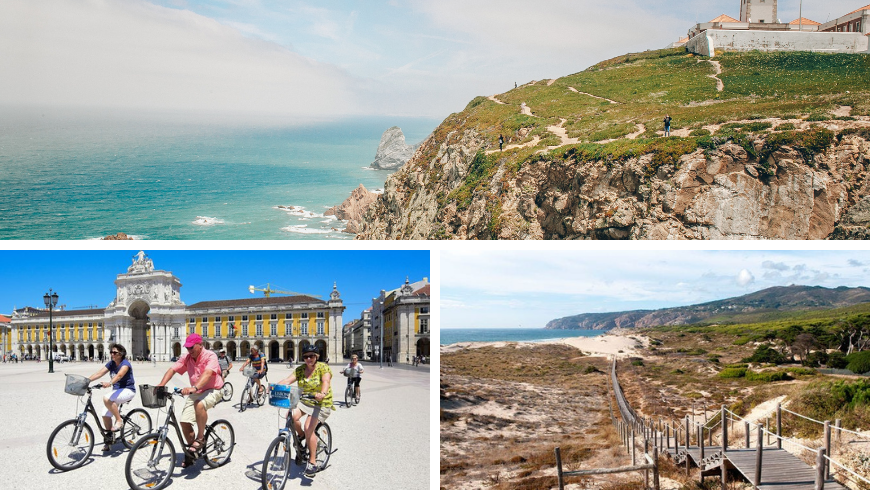 The most beautiful beaches in Portugal are not only in the Algarve region. There are also breathtaking beaches near Lisbon. Spend a day in nature walking or cycling through the dunes.
Hiking Trails
The area near Lisbon, in particular the Sintra Natural Park, offers numerous hiking trails among the cliffs and the vivid colours of nature.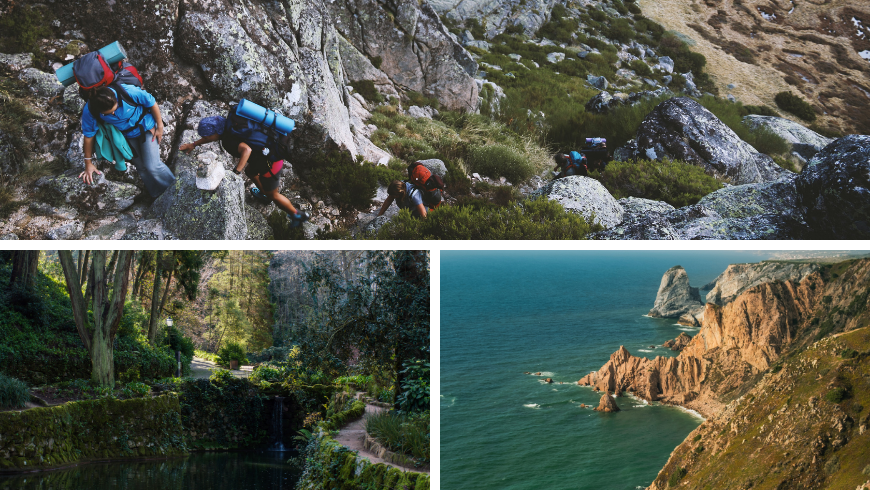 Cycling and Mountain Biking Trails in the Northern Area of Lisbon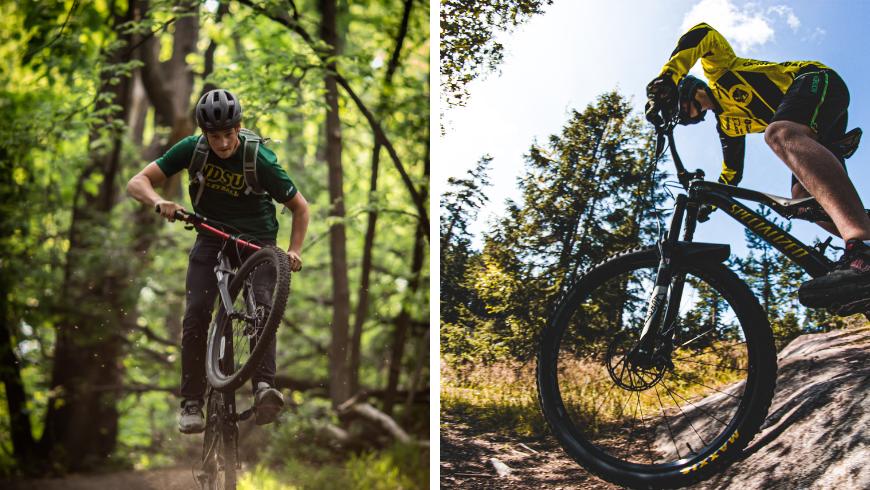 In the northern region of Lisbon, try at least one of these bike and mountain bike routes and venture out into nature.
Green Tastes
Below we list some of the biological markets, vegan shops, and sustainable projects in the city of Lisbon.
This is Portugal's primary organic market and a must-visit for those who appreciate good food and care about their impact on the environment. There is a lot to choose from: natural cosmetics, fair trade, household appliances made from sustainable materials, all kinds of organic products, two cafés, and a restaurant. They work with hundreds of Portuguese producers to offer a wide range of fresh, seasonal, and delicious fruit and vegetables!
This is the first zero-waste restaurant in Portugal. All ingredients are local: fresh products come from within a 50 km radius; other products come from no more than 500 km. Everything arrives in reusable containers. Food waste becomes compost using a composting machine that runs on a 24-hour cycle. The farmers receive the compost, who can put it back into the soil.
A vegan grocery and shop. For a world with more conscious and compassionate alternatives. They facilitate freedom of choice beyond the green!
Papafigos.bio is a regenerative agriculture project that focuses on the sustainable production of healthy food. They have been certified organic since 2004 and offer a variety of vegetables, fruit, herbs, and eggs produced weekly. You can order a box of seasonal fruit and vegetables and you can pick it up every Saturday morning at Jardim Botto Machado in Feira da Ladra, Lisbon.
It is an ecological kiosk offering healthy, premium fruit juices in an interactive and joyful atmosphere. Love is the special ingredient here: love for nature, love for health and love for people. They show respect and love for nature by minimizing their environmental footprint. They purposefully combine flavors and nutrients into healthy juices. The main aim is to make people feel good by sharing smiles and energy. These genuine initiatives provide top-quality fruit juices while creating environmental awareness in a friendly, fun, and young atmosphere.
This is a sustainable grocery store, where you can find nuts, dried fruit and other food products in bulk. They offer reusable products, natural cosmetics, and eco-friendly gifts. They also prepare delicious vegan meals every day to eat at home or take away (in non-disposable packaging).
Local Arts and Crafts
Lisbon has many sustainable arts and crafts businesses, such as shops selling organic cosmetics and sustainable household products. Discover your favourite shop!
This is a multi-brand shop with a careful selection of organic and ecological cosmetics brands.
Se.Di.Men.To started in March 2017 by Maud Téphany and Úrsula Duarte as a creative space where experience and research combine to create original ceramics and other artistic projects.
It is an online shop to share sustainable products for your home and everyday use. It was the first online shop with a focus on Zero Waste products. This project started in 2017 by a Portuguese (Catarina) and a Dane (Christian) who met in London and wanted to share what they had learned on their journey. Mind Trash currently distributes to several shops across Portugal so that more and more people can have access to greener products.
It creates unique pieces of decoration and clothing in the form of Wearable Art. Flora Silva, the creator, strives to develop light and flowing shapes with a practical and versatile design. Using only 100% natural materials such as Merino wool, silk, bamboo, linen or cotton, the garments are beautiful, light, durable, and offer thermal qualities that regulate body temperature and prevent the accumulation of sweat. Feltragem is an environmentally sustainable and biodegradable technique that creates no waste.
Sustainable Clothing
When we talk about sustainable fashion, we mean a brand or small business that has decided to produce its clothing without using fabrics and materials containing toxic substances to the environment and people. Below you can find a variety of choices!
CW aims to promote and educate critical thinking, environmental awareness, and circular economy by creating exchange points called SWAP SPOTs in different locations. These are already in operation in 3 cities in Portugal. To promote citizen action to reuse, share, and exchange existing clothes, increase their life span, and reduce pollution and waste for a sustainable, ecological, circular, and sharing behavior. Circular Wear's mission is to promote and educate environmentally conscious choices regarding purchasing goods in general, addressing the issue as a whole, and focusing on clothing. Likewise, to increase the useful life of these products as much as possible by promoting fun and accessible strategies and ways to do so.
It is a social brand that works on social and economic transformation in women's lives. Through training in the textile arts, they offer tools to women to start their journey independently / or collectively, improving their quality of life. They work to build a social, ethical, and transparent brand that offers fair conditions for local production and supports women's social and economic reintegration in disadvantaged social contexts. They currently focus on handmade knitwear and accessories.
It is a Portuguese brand of household, baby, and children's linen, as well as decoration. Having its production, it has the possibility of making its products in an exclusive and personalized way, with all the necessary details and advice.
A project focused on promoting a more sustainable urban ecosystem by implementing a community composting network powered by brigades of organic waste pickers and a shop with zero-waste, reusable, organic and sustainable products. Its official residence is the Mouraria Composta workshop, it focuses on the 5 R's: Refuse, Reduce, Reuse and Recycle.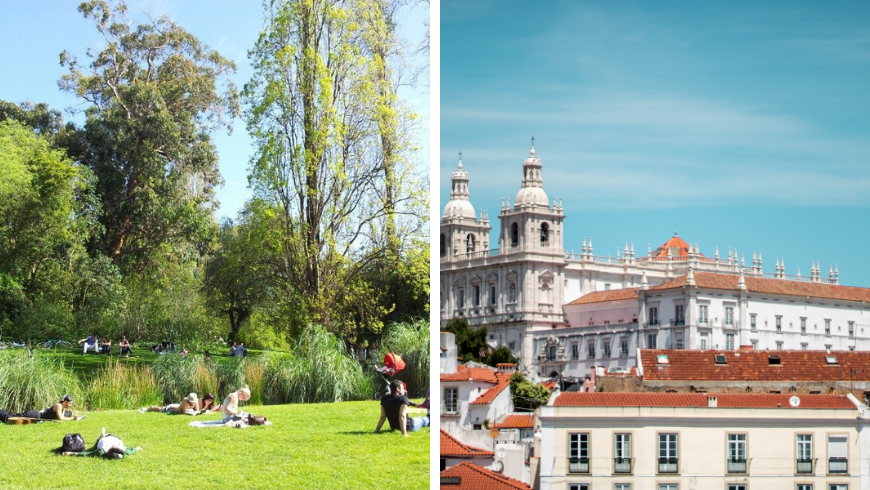 Let yourself immerse in the city's magical atmosphere and explore the green Lisbon!