Christmas 2020 is just around the corner. Although this year we cannot gather with our friends or relatives around large tables, I'm sure none of us want to renounce Christmas decorations. Especially after a tough year like this last one, we need to bring about the true Christmas spirit and its power to instill hope and positivity.
However, we should not forget that it's possible to realize wonderful decorations in a sustainable way and by respecting the environment. That's why we suggest you 5 ideas you should not miss out to recycle wood in an original way and create do-it-yourself Christmas decorations.
1. Rustic Candle Holder from Scrap Wood
Scrap wood can bring light into your home by turning into a charming candle holder.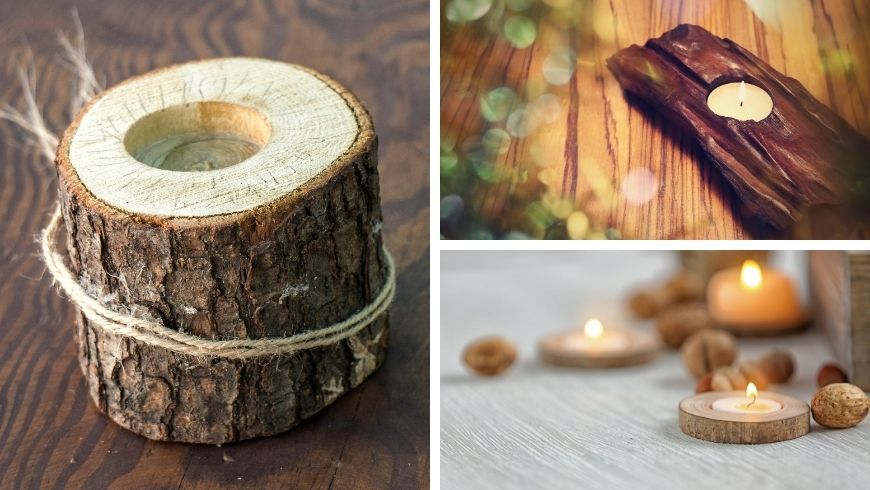 How to make it? : Carve a circle with a hacksaw from one piece of wood and smooth its irregular edges. Then stack the pieces of wood one above the other as you prefer and fix them with some glue. Remember that the carved piece should be the one on the top. Lastly, get your scented candle, put it into the circle and there it is your candle holder!


You can either embellish your new candle holder with some colored ribbons and pine cones or leave it rough.
Ideal for those who love rustic style.
2. Wreath of Intertwined Branches
You'll just have to pick up some branches during your walk in the woods to have a Christmas wreath to hang on your front door or on your fireplace.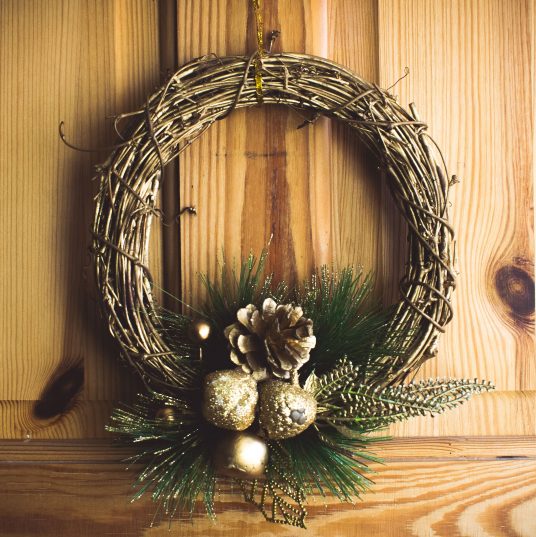 How to make it? : To create you wreath choose first of all how to build the circle. You can simply use an iron wire or a long and resistant branch you'll have to mold with caution into a circle. Now grab your shear and cut the branches of the length you prefer. Intertwine the branches around the circle with the help of a twine or of an iron wire. Continue until the whole circle is adorned!
Berries, laurel leaves or dried orange slices. It takes little to give your wreath a magical touch.
It's the perfect Christmas decoration for nature lovers!
3. Wall Christmas Tree
Characterized by a modern design the wall Christmas tree is easy to realize but of great effect!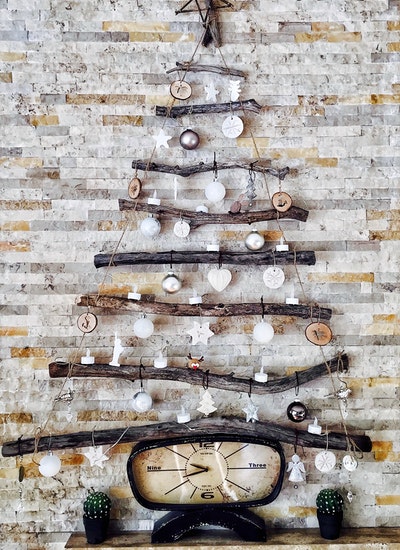 How to make it? : You'll just have to arrange the branches in increasing order of length and tide them with a rope. Then hang you tree on the wall with a spike and embellish it!
Ideal for those with little space who don't want to renounce their Christmas tree.
4. A lovely Centerpiece with Wooden Clothespins
Have heat, moisture or use ruined your wooden clothespins? Do not throw them away! With those ones you can create a lovely centerpiece to show off during feast days.
How to make it? : First of all you'll have to dismantle your wooden clothespins and take off the metal spring. Then fix the single parts of each clothespin with the hot glue. Pay attention to fix them back to front and not as they were originally assembled.
You'll get a lovely centerpiece you can adorn with a candle, a doily embroidered with Christmas motifs or a colored ribbon.
Perfect for those who love to decorate the table with personalized details.
5. Wonderful Christmas Clothespins
Your clothespins can also become wonderful Christmas decorations to hang on your tree. Indeed, they can turn into snowmen, Santa Claus or snowflakes.



How to make it? : You'll just have to paint your clothespins with the color you prefer and then add some details to make your Christmas characters even more realistic. Cotton wool is perfect for Santa Claus' beard, while a colorful twine can be the scarf of the snowman.
To create snowflakes you can proceed as for the centerpiece. However, this time, you will reproduce the form of a snowflake and paint it with white or silver.
They are perfect to be realized with your children!
Do you like our ideas for Christmas decorations? Now you just have to choose the one you prefer and have fun creating it!
Featured image by Arisa Chattasa via Unsplash