Christmas is already coming! Now more than everyone wants to travel. Obviously, the time to travel has not come yet. So, this is the perfect occasion to dream about your future travels. Christmas means also thinking about the people you love and how to surprise them. Why not making them dream about their next destination? Let's see 5 Sustainable Christmas Presents perfect for Travellers.
1.  Ecobnb Gift Card: to give a green travel experience
from 10 €
A green Christmas present that allows living an unforgettable green travel experience. Who receives this present will discover organic agritourism, picturesque glamping, or a sustainable B&B, something special that will impress them. Each gift card is active for 12 months and can be redeemed to book a stay or a vacation on Ecobnb. The gift card is worth a pre-payed amount of money. You can choose between over 3000 sustainable facilities in Europe.
This gift is perfect for: those who want to travel and to discover what "sustainable tourism" means
Water bottle: for a plastic-free travel
from 7 €
Everyone knows the huge damages that plastic waste is having on ecosystems. Every person can help the planet by using less plastic. A great way to start to reduce our plastic waste is to avoid plastic bottles. Sadly, too often during a stroll or a hike in nature, it is possible to see abandoned plastic bottles.
So, how to reduce our impact? It simple, by replacing all that plastic with a water bottle! It's always easy to carry, very light, and it lasts many years. Using a flask is the perfect way to stay hydrated while respecting nature!
A perfect gift for those who appreciate useful Christmas presents.
3. Organic cotton mask with travel pattern: to give confidence
from 15 €
Nowadays, it is important to always have on hand a mask. And, as we were saying before regarding plastic bottles, the number of produced, used, and wasted masks are huge.
Masks are absolutely useful to avoid the spreading of the virus. Hopefully, we will hug each other soon, without any danger. In the meanwhile, is it possible to use masks without wasting? Of course, it is, you just have to wear a reusable cotton mask. This kind of mask is machine washable and can be used much more than once.
Wearing a mask means not only to respect other people's health but also to express oneself, like any other item of clothing. A travel pattern on a mask – for example – communicate one's own curiosity, optimism, and will to travel again.
This gift is perfect for: those who can't wait for their next adventure.
4. Powerbank: to recharge a phone, even on vacation
From 20 €
During travels, hikes, or excursions, it happens to drain the phone battery too soon. Maybe even when it would be most useful. To avoid this to happen to a beloved of yours, you can give them a power bank for Christmas! It is light, small and, most important, useful. Of course, our green advice is to choose a solar rechargeable one. This present will make the device last much longer and allows it to travel without worries about the battery.
This gift is perfect for: those who love to travel, take pictures, and share them.
5. Ecobnb Gift Card: to discover green destinations in the Alps
From 10 €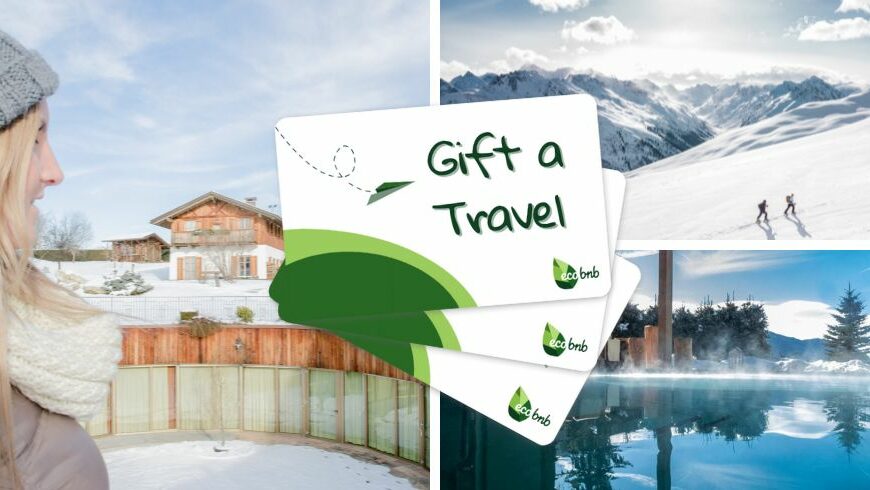 To live nature on the Alps in a sustainable and safe way. This will be the next goal for those who will receive an Ecobnb gift card for Christmas. Discovering the Alps is a unique travel experience to get close to the beauties of nature. You will allow a person you love to experience the mountain, enjoy the breathtaking landscapes, and to breathe the cleanest air they've ever breathed. You can customize and buy your gift card online, in only a few clicks.
This gift is perfect for: those who love mountains and active vacations in nature.
What are you waiting for? While projecting your next travel give special Christmas presents