Once upon a time lived a brown bear. He wanted to live in a calm and clean environment. He was longing for a comfortable bed, delicious gastronomy, tasty delights and people who would respect him. The bear has chosen sLOVEnia, why wouldn't you too?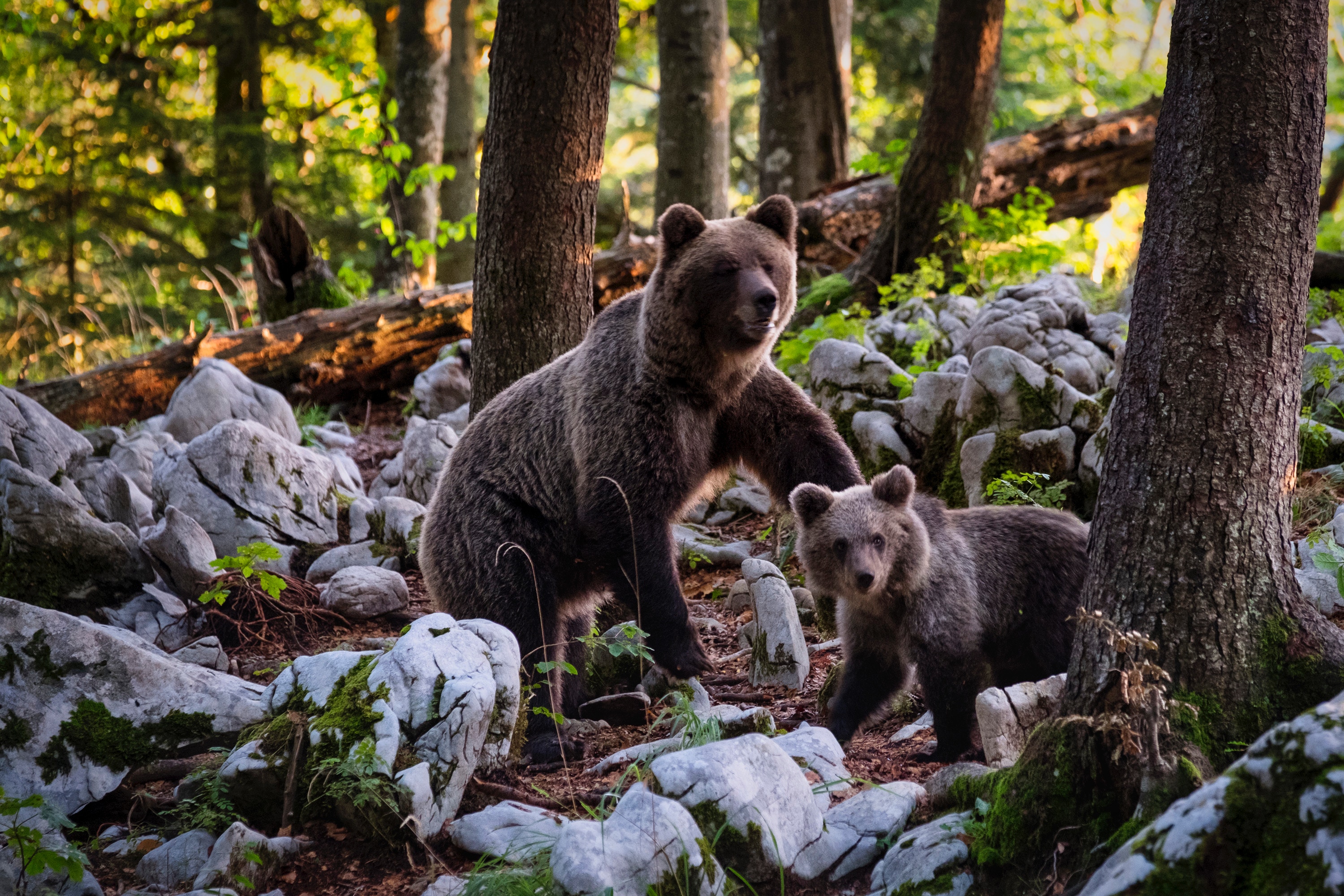 Approximately 60% of Slovenia is covered in green forests. Due to their density and scarce population, these forests are an ideal habitat for the brown bear – the King of Slovenian forests. It can mainly be found in the southern part of Slovenia – in Notranjska and Kočevsko regions where more than 560 brown bears live. Slovenia has the highest population density of bears in Europe, which means that humans and bears share the same space and coexist with each other.
Despite its clumsy and slow appearance, the brown bear is a great traveler, often covering tens of kilometers per day, a good runner, a better climber, and a fast swimmer.  Bear-watching holidays are becoming an emerging tourism trend gaining more and more attention from the travelers seeking authentic wildlife experiences.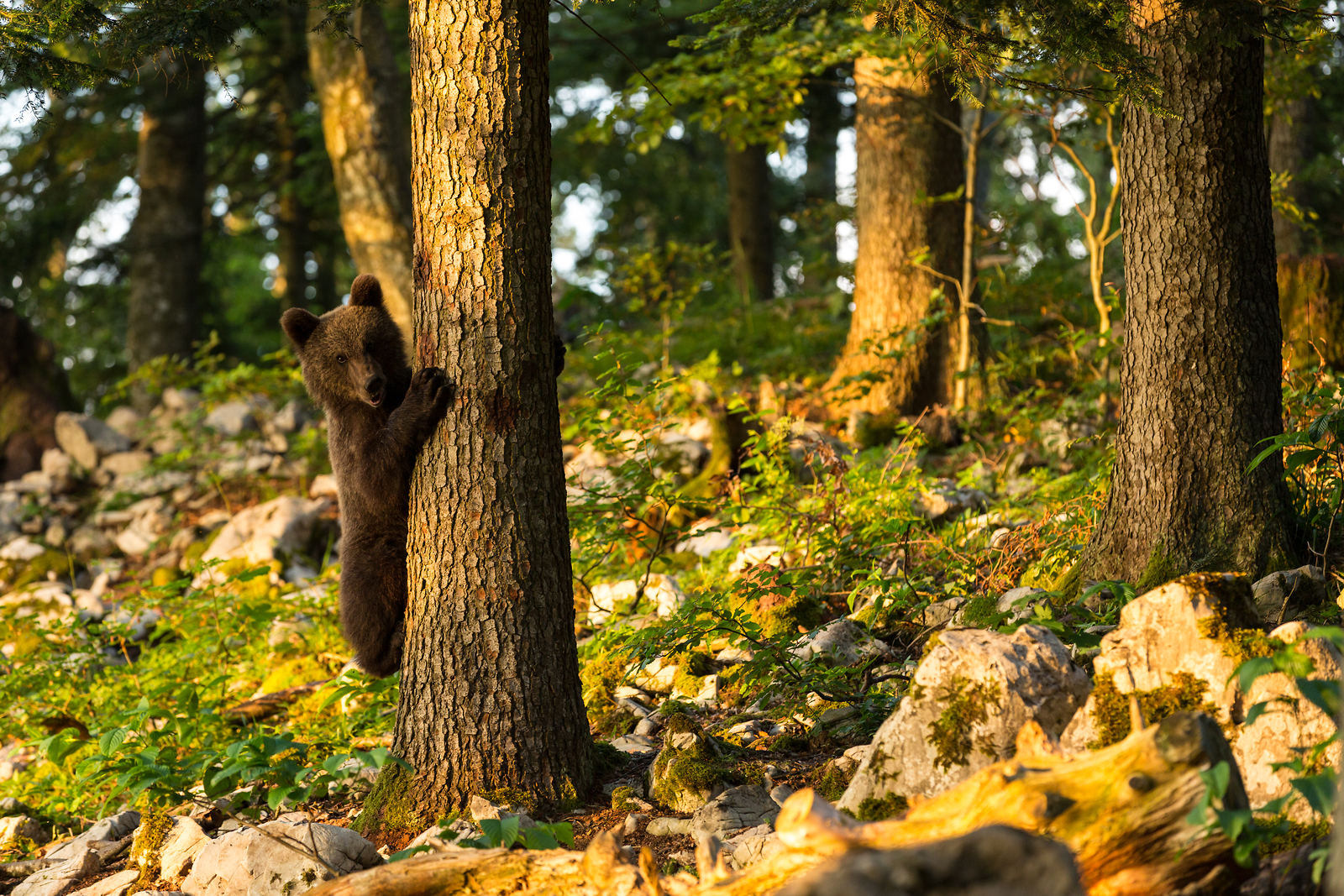 A bear is generally avoiding any confrontations with humans. The challenge occurs when it becomes fearless and starts to associate the presence of humans with the food (it curiously opens the garbage bins, checks if there is something sweet in the beehives, etc.). To maintain its independence and stimulate tolerance between bears and people, the bear-friendly label was developed. Select among an exclusive range of premium quality products and services that will support the local community and contribute to the long-term coexistence with bears by investing in the protection of livestock, beehives and bear-proof garbage bins.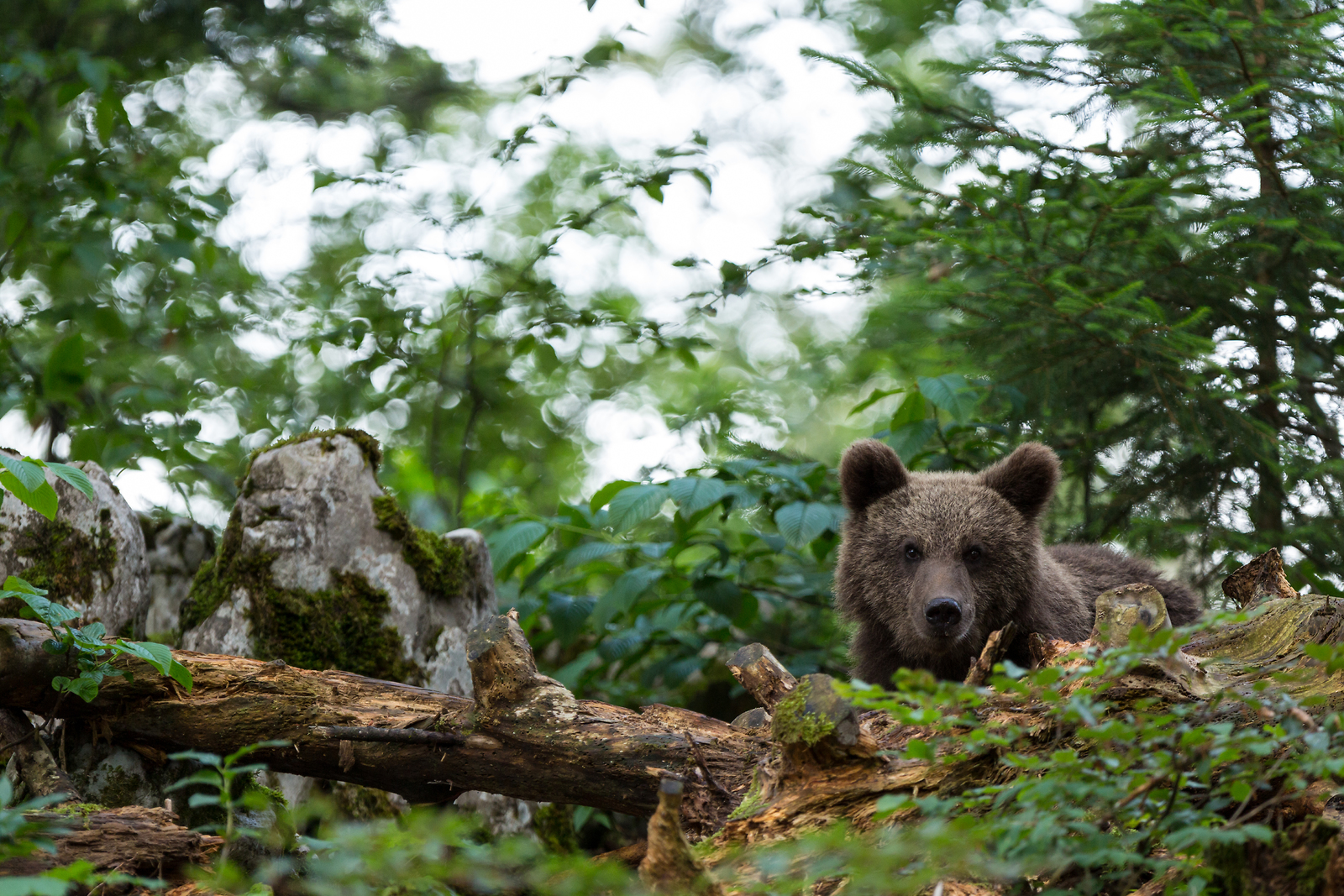 Here are 5 authentic tips for responsible bear-watching holidays in Slovenia that absolutely must appear on your eco-travel list!
1. Secretly observe a brown bear from the bear-hides
Learn about the life of bears in their natural habitat from up close. Observe bears from the safe bear-hides with an experienced guide and find out how the locals live with bears. Spend a day out with the bears and get memorable experiences that will leave a lasting impression.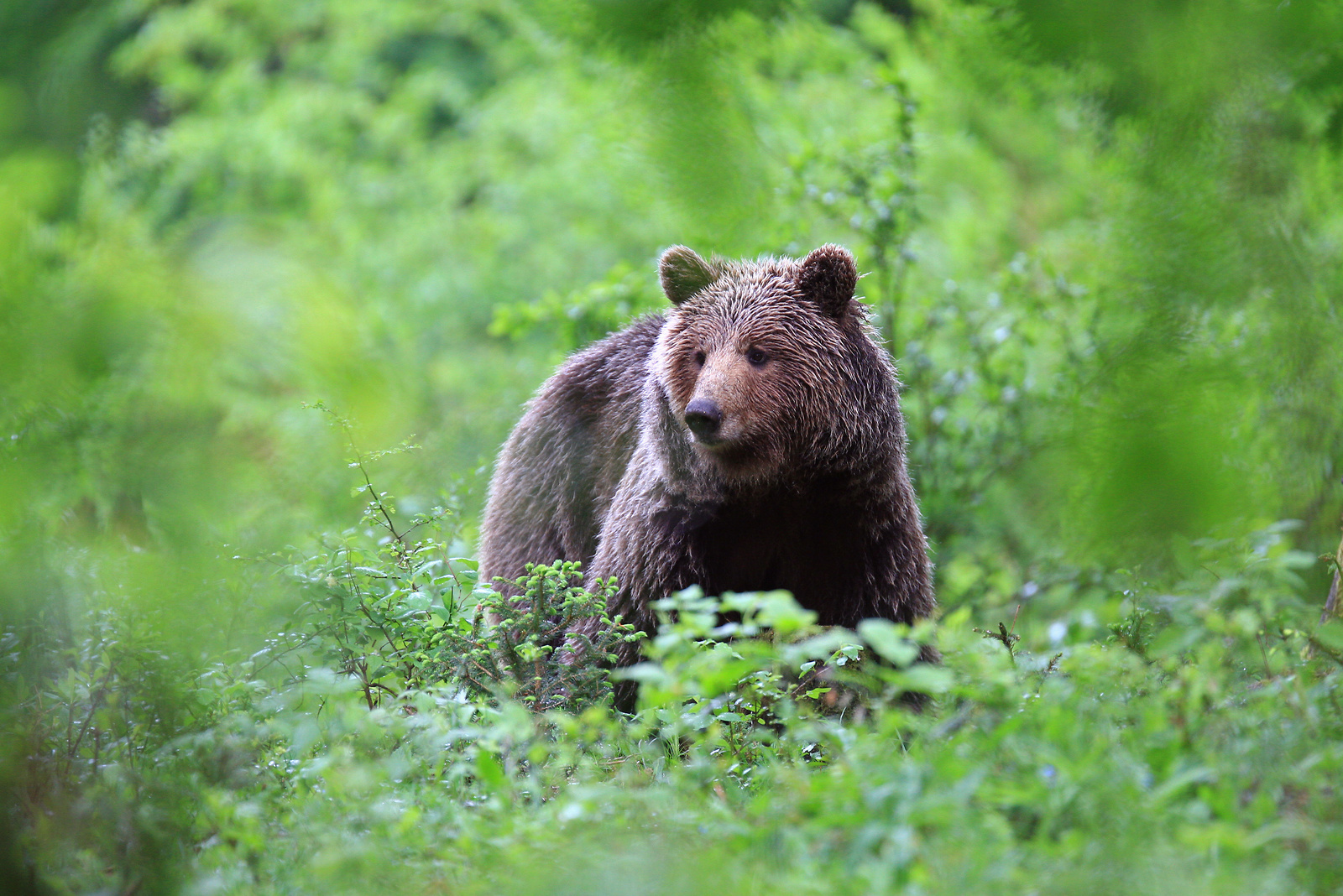 2. For your bear-watching holidays experience unique brown bear photo hunt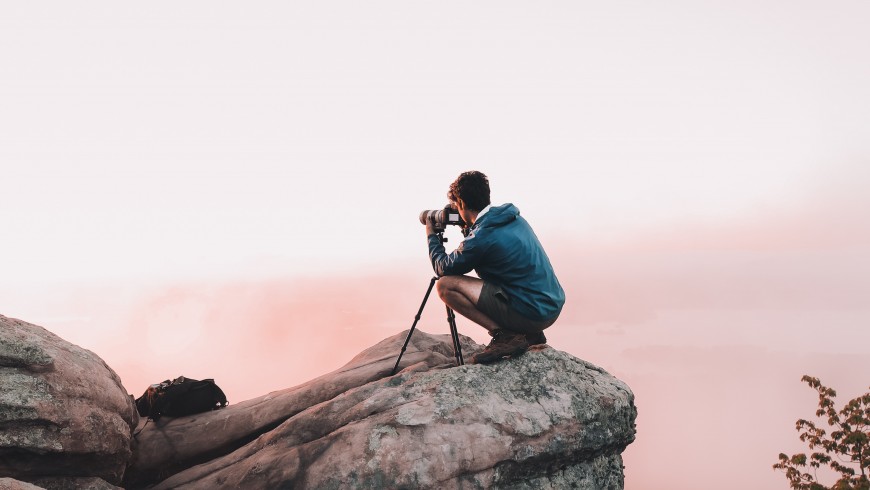 Photo hunt is ideal if you are a passionate photographer and eager to experience it all: divine nature, brown bears, pristine forests, and other wildlife. Take photos of the bears in love, a mother with newborn cubs and many more from the secret life of bears. Explore the most scenic wilderness areas in southern Slovenia and take fascinating photos of these forest giants with you!
Source: Janko Ferlic via Unsplash
Source: Anthony Renovato via Unsplash
 3. Follow the footsteps of a charismatic brown bear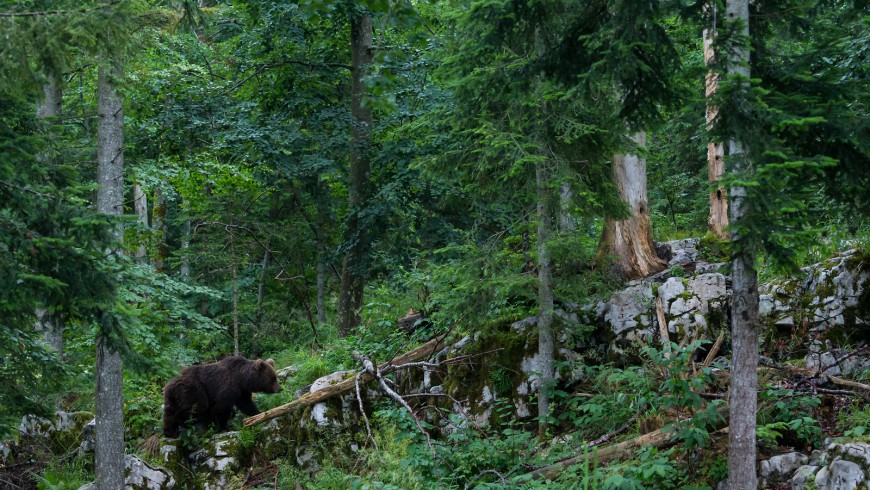 Awaken your senses in tranquil forests filled with natural wonders. With an experienced guide, you'll be walking along brown bear trails. You'll be looking for bear footprints,  witnessing bear behaviors like marking and rubbing on trees and learning about the impact of bears on other animals, the forest and humans.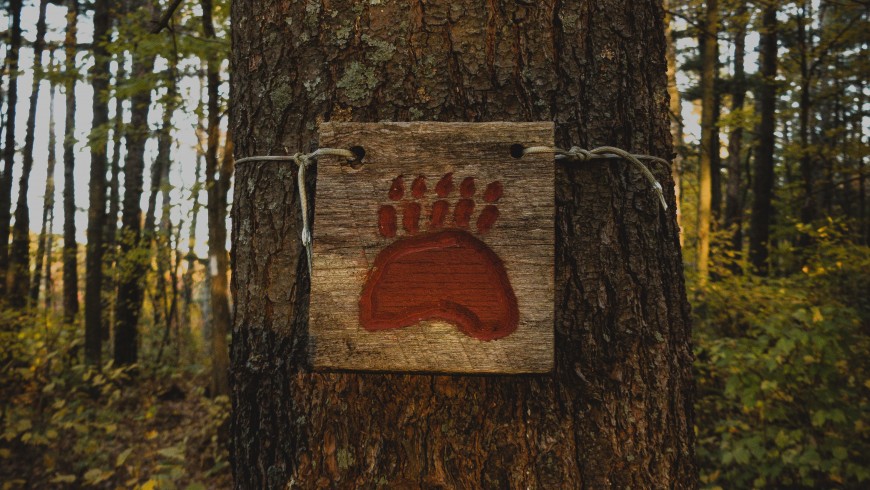 4. Become a shepherd in the bear area and howl with wolves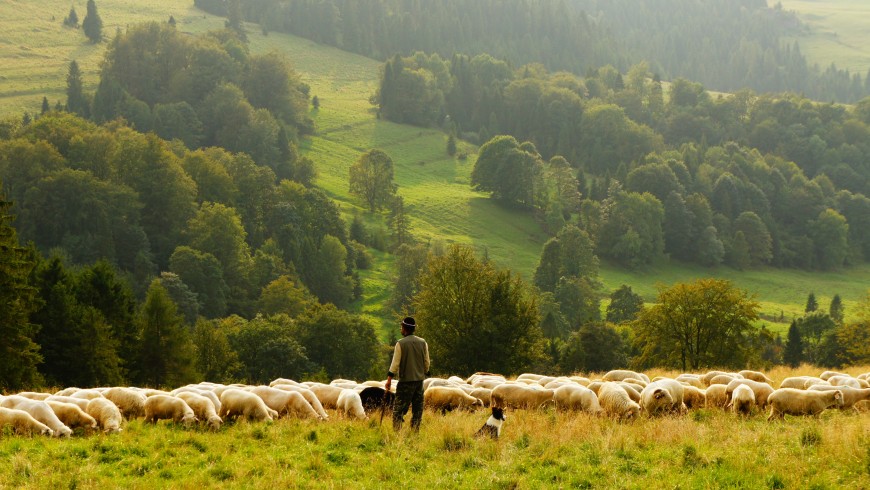 Experience the countryside way of living while helping to achieve coexistence between bears and humans. For the most authentic contact with locals, book your stay at the tourist farm Pri Andrejevih, located in the heart of the bear area. Involve in their everyday activities, become an assisting shepherd at remote pastures, experience howling with wolves, learn about the bears and other wildlife. Howling with wolves is a way for detecting the presence of the wolves and baby wolves living in that territory. In order to prevent human interference in the lives of wolves, you can only experience the howling program from August until the first half of September.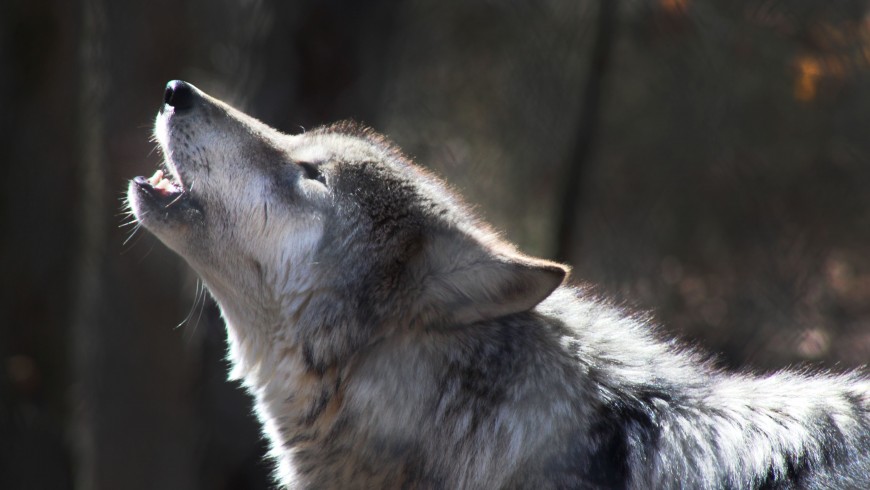 Where to eco stay on your bear-watching holidays?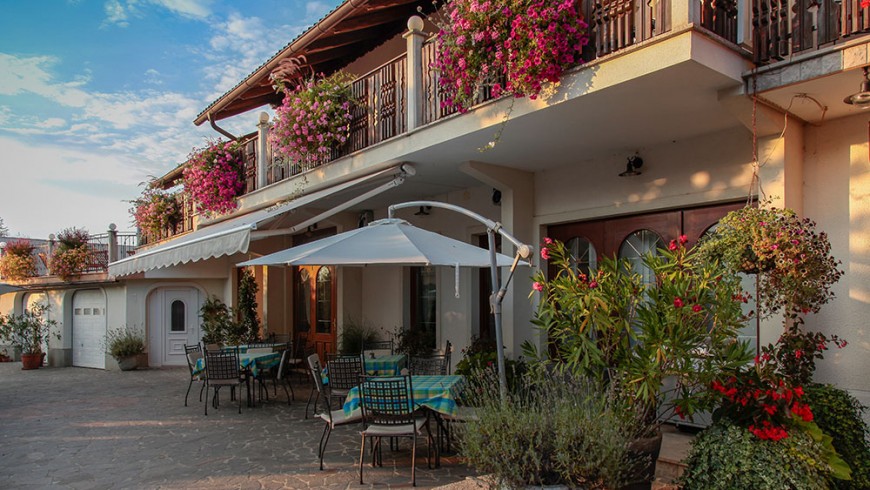 At the Tourist Farm Pri Andrejevih you will meet amazing organic farmers who are also devoted culinary enthusiasts, animal lovers, beekeepers, and musicians. Indulge in a culinary adventure in a pleasant village residence, away from the hustle and bustle of the city, surrounded only by the song of birds and beautiful nature.



5. Follow the bear trail bicycle adventure in the deep wilderness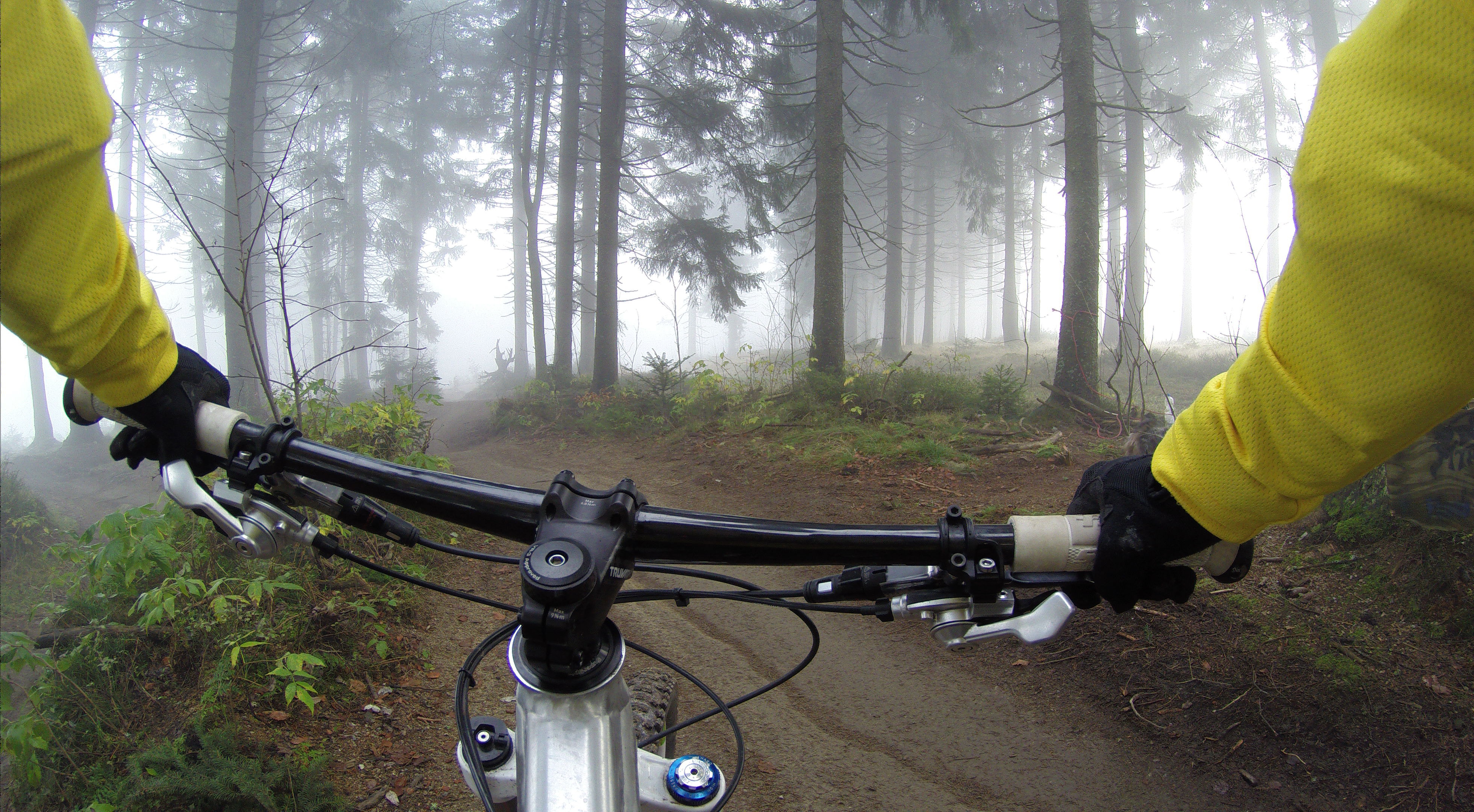 Embark on the epic tour with your mountain bike and feel the scenic nature that surrounds the bears. Cycle through the intact natural environments and be prepared for the possibility of seeing bears, wolves, lynxes, owls and other forest birds and stags. Await the night in a tent or under the clear sky for maximal adventure.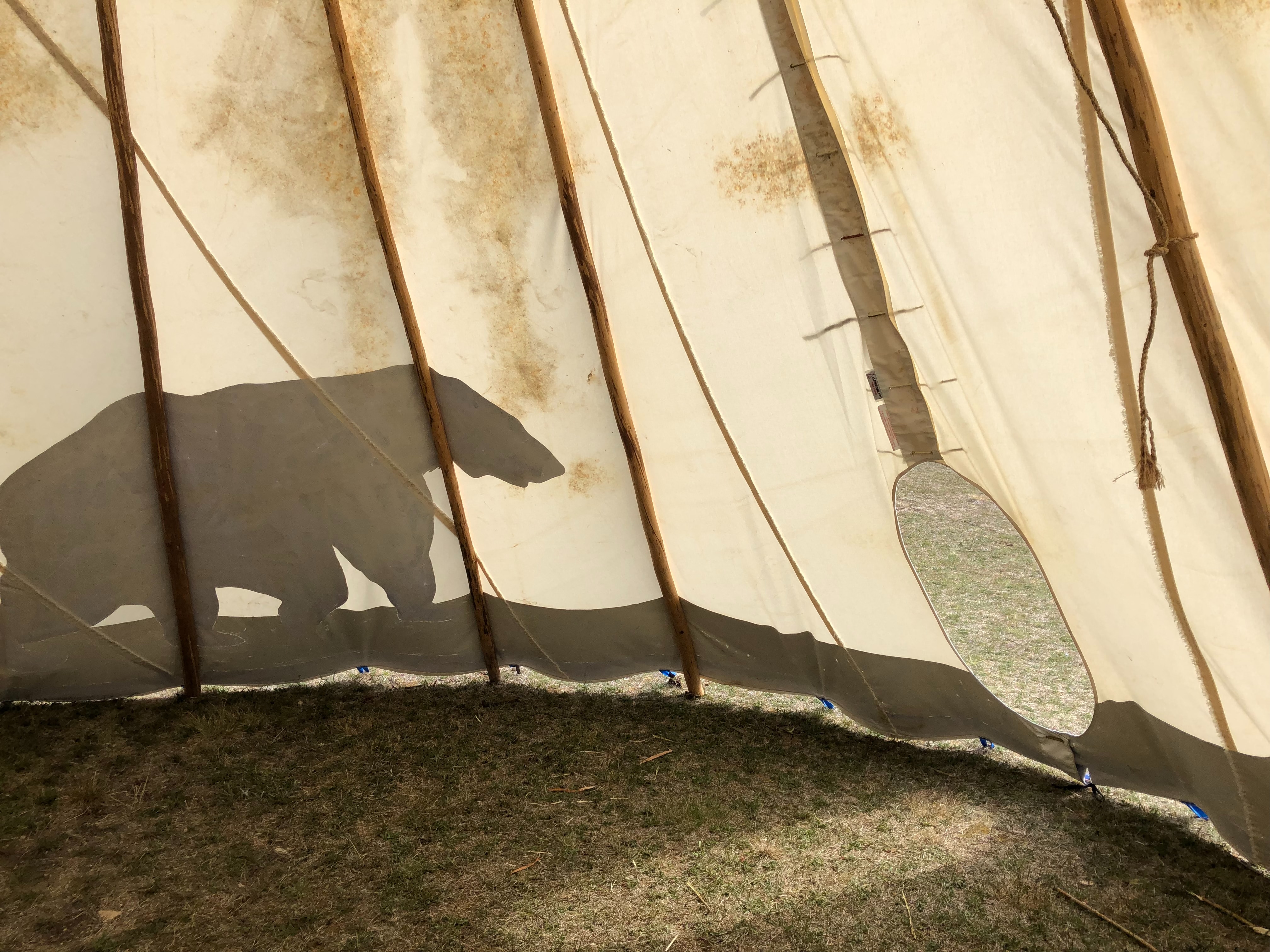 6. Visit the Bear tunnel in an emerald river cave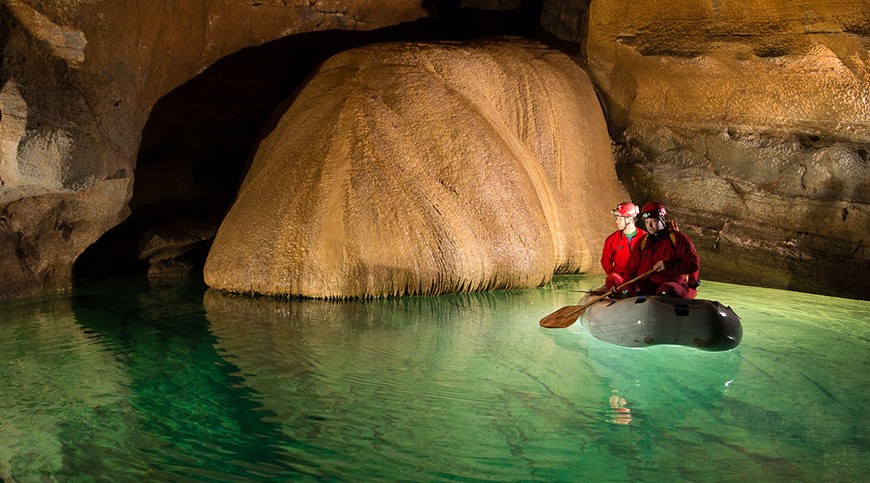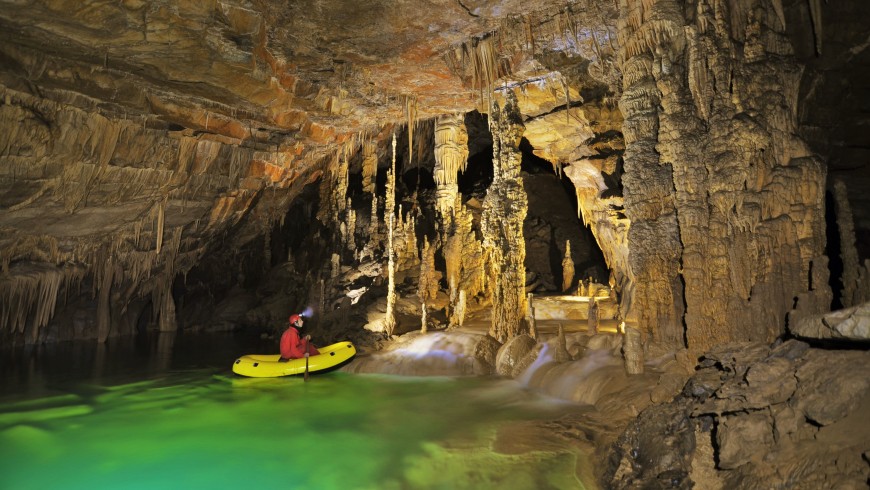 Krizna cave is considered to be one of the most beautiful and best-preserved caves in Europe, known by a chain of over 45 underground lakes of emerald green water. It doesn't have just lakes with beautiful water but also big rooms which lead to dry passages.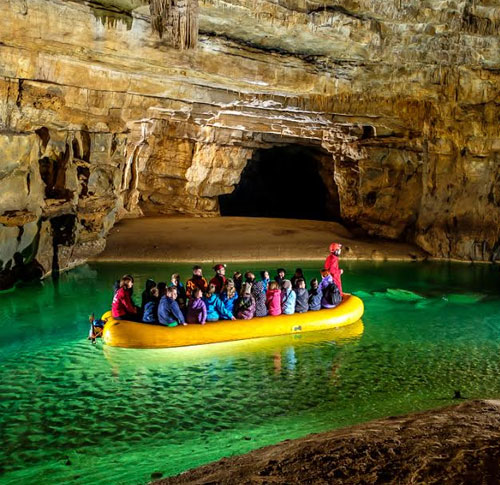 In Bear tunnel, you can see one of the important bones of the cave bears.  Krizna cave is an awesome alternative if you like mysterious underground experiences but prefer discovering hidden gems instead of mainstream attractions.
Source: Jošt Gantar for Slovenia.info
Photo: Gašper Modic for Association of Krizna cave
7. On your bear-watching holidays, buy premium bear-friendly products for unique souvenirs
Photo: Martina Osmak for Discover Dinarics
Photo: Petra Draškovič Pelc for Discover Dinarics
Photo: Dejana Majstorovič for Discover Dinarics
Take a gentle feeling of wilderness from your bear-friendly holidays. Select among unique bear-friendly local products with an impact; from hand-made natural soaps in a form of bear paw, premium forest honey from 600 m above sea level, to unique cups with bear motifs. By buying these products you are not only supporting the local economy but also contributing to the protection of the bear and his natural habitat.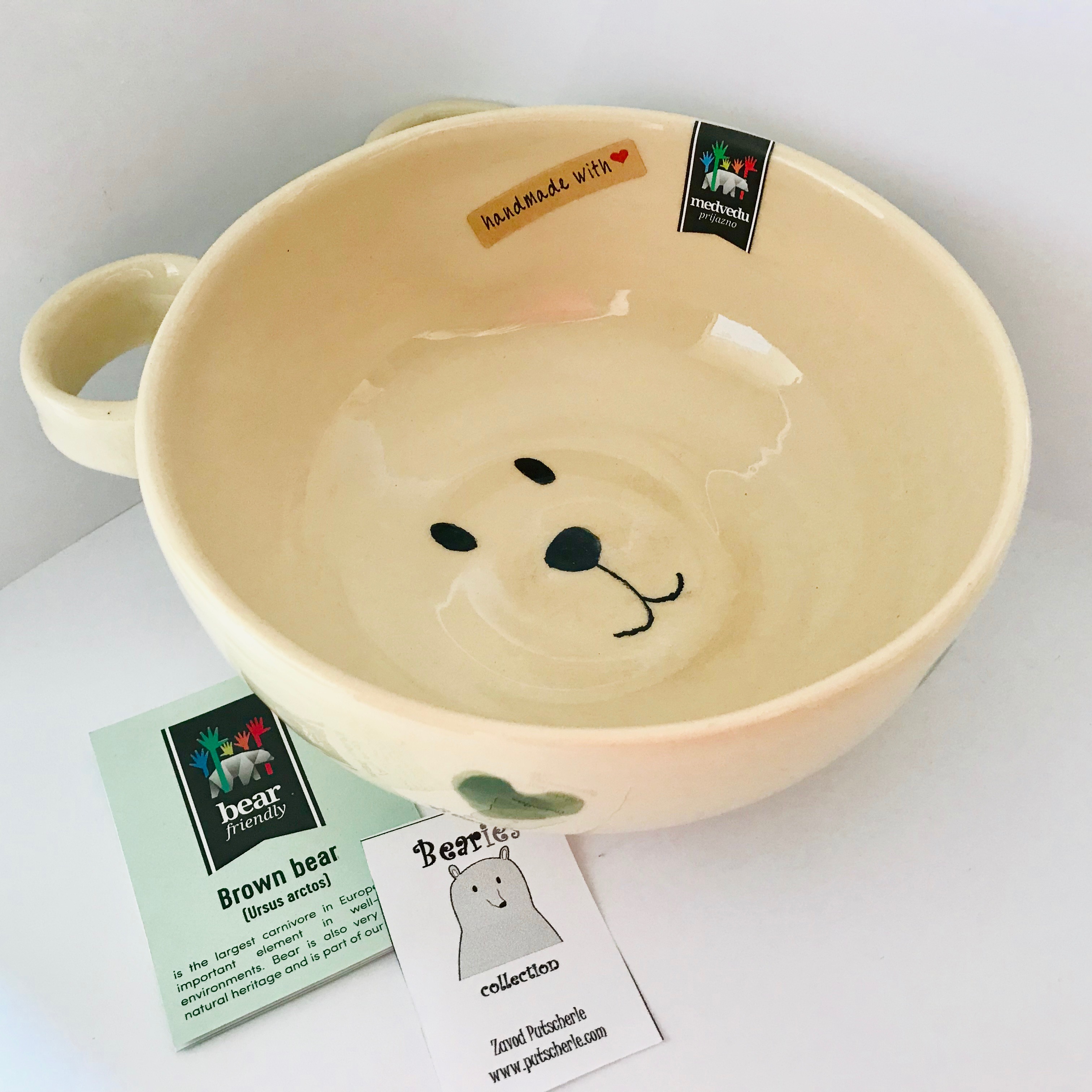 Where to eco stay on your bear-watching holidays?
Bearlog hostel is a comfortable and best place for the brown bear fans. The historical house is renovated and located in the heart of Kočevje old town. Hostel Bearlog is awarded by Travelife certificate for commitment to sustainability. The modern interior design is implicating wooden elements providing extra comfort. Eco-travelers are amazed by organic breakfast that is served from local products. You can choose among different room types as a double room, mixed room or room specially adjusted to the person with disabilities.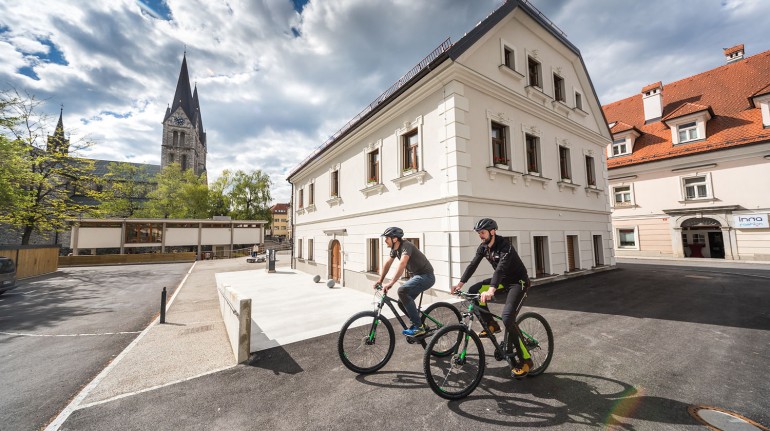 Bear-watching holidays are an absolute must for wilderness lovers and seekers of really authentic experiences. Do you know for any outstanding bear-watching experiences in your country?
Cover photo: Christine Sonvilla for Slovenia.info