"Most people have no idea how good their body is designed to feel." -Kevin Trudeau
Yoga holidays in Italy are the ideal vacation both for the enthusiasts and for those who are willing to try something truly new. And what better occasion than today, the Yoga Day, to find out 10 yoga experiences in Italy? From the seaside to lakes, to the mountains; from south to north, you will find your cup of tea!
Yoga: give a special touch to your holidays
For those who turned yoga into a lifestyle, why should you give it up on holiday? Take the opportunity to practice yoga in a new way, maybe overlooking the sea, by the pool, among the scents of the woods. Perhaps, you could do it with your partner, with friends, with a group, or in solitary with the company of the silence all around you.
On the other side, if you have always wanted to try yoga but never found the right encouragement, here we are for you. Nothing could be better to fall in love with yoga than an unforgettable journey, a real turning point! Many accommodations offer yoga classes. This is the genuine best way to start your love story with yoga – and eventually yourself.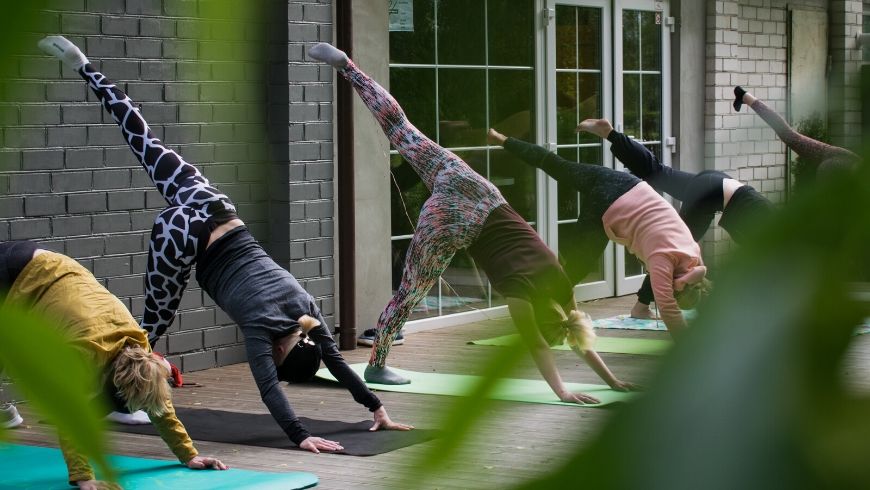 Improve yourself thanks to practicing yoga
Yoga Holidays are a unique and memorable experience, yet they offer much more than this. Therefore, you can understand the great benefits derived from the practice of yoga. Naturally, you won't be able to experience them all in a few days. It is all about perseverance. Thereby, we want to reveal the advantages you'll benefit from by being consistent with this discipline.
Physical benefits. It is nowadays certain that a consequence of yoga is a physical improvement. For those who suffer from chronic pain, such as back pain, the consistent practice of yoga will soothe your pain. It is thus considered a blessing to concentrate on exercises for your posture.
Flexibility. In contrast to some beliefs, being flexible is not a requirement to practice yoga. It is genuinely one of the benefits coming with consistent practice. Indeed, an unparalleled advantage if we consider the saying "blessed are the flexible, for they are never losing their shape".

Increase happiness. Yoga helps to keep your mood high. In the long run, in fact, it is demonstrated that yoga increases serotonin levels and immune activity of the body.
A well-being routine. The discipline of yoga is an encouragement to put you in the right attitude to undertake a healthier lifestyle. Better sleep, better digestion, stronger control of the nervous system, and blood pressure.
After all, why not give it a try? In order to convince you even more – as if it was necessary – here we collected 10 astounding experiences in Italian eco-stays. A piece of heaven for yoga lovers and a springboard for beginners!
1. Couple's yoga and local happy hour
Farmhouse "L'Origano", surrounded by nature of Liguria, offers to its guests not only breathtaking views but also an incredible experience for couples. Yoga lessons for two people, touching the wooden platform in the green. Furthermore, after this hour of relaxation, lay in the splendid garden, and enjoy a happy hour with organic and local products.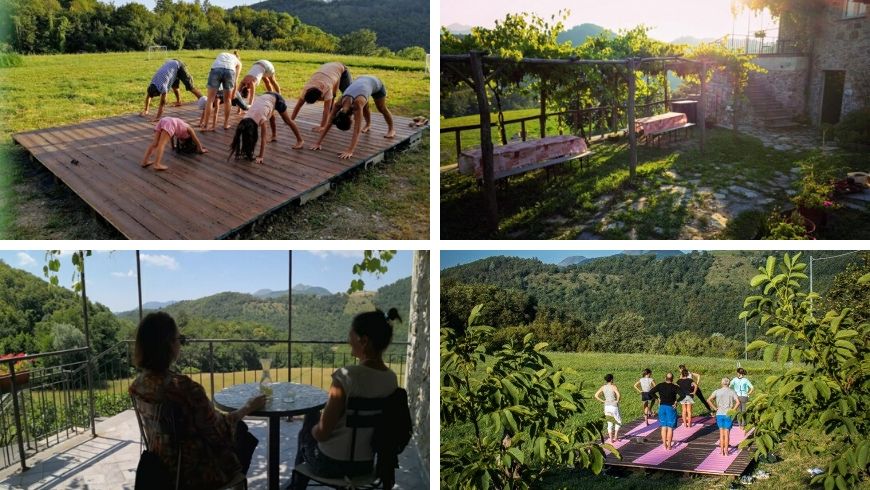 2. Yoga Holiday in the scent of citrus of Sicily
Sicily is welcoming you in the farmhouse Don Ignazio, through oranges and unique adventures. Among them, you can find yoga lessons taken in a dedicated wooden platform in a large green garden. Let yourself be inspired by the silence of nature. Moreover, they often organize ayurvedic weeks. They are a full-immersion experience, with special diets, yoga teachers, massaging, readings and workshops.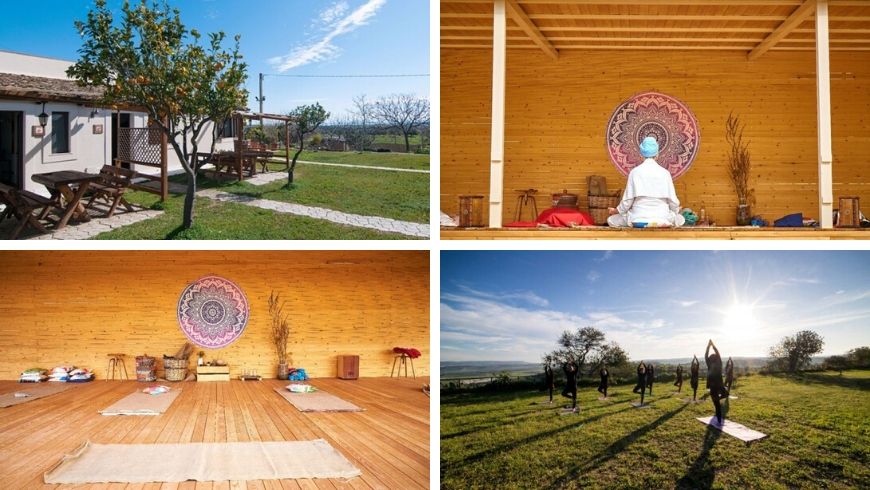 3. Yoga inside and outside – equipped gym and garden
From southern Italy, we move to the northernmost province of Bolzano and knock to the door of vegan hotel La Vimea. Doors are opening towards yoga and relaxation. You can decide whether to practice yoga with the breeze in your hair. Otherwise, an equipped gym is waiting for you to offer yoga classes and groups.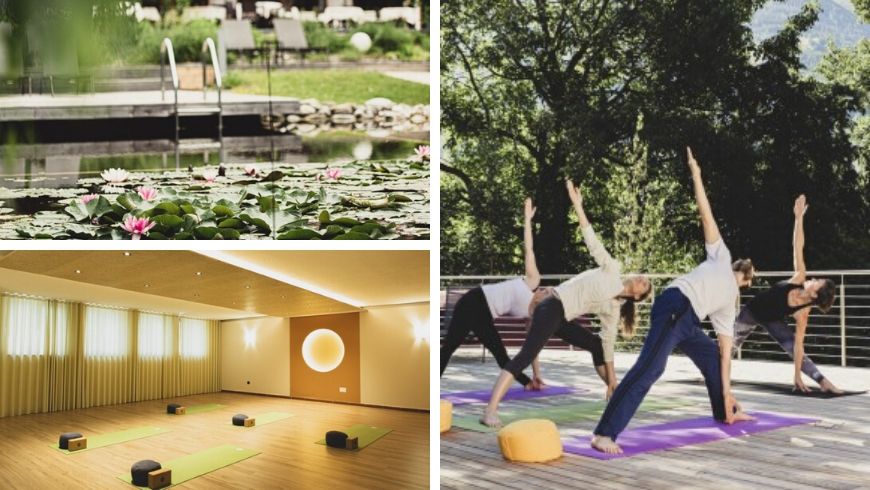 4. Yoga holidays through art and creativity
Let's fly towards the center of Italy, in the hills of Chianti. At Art Retreat B&B you can breathe the air of creativity, authenticity with a wide range of workshops. Painting, creative writing, but most of all Yoga! You can attend their yoga classes in the studio. Moreover, through its large windows, you can enjoy the view of vineyards.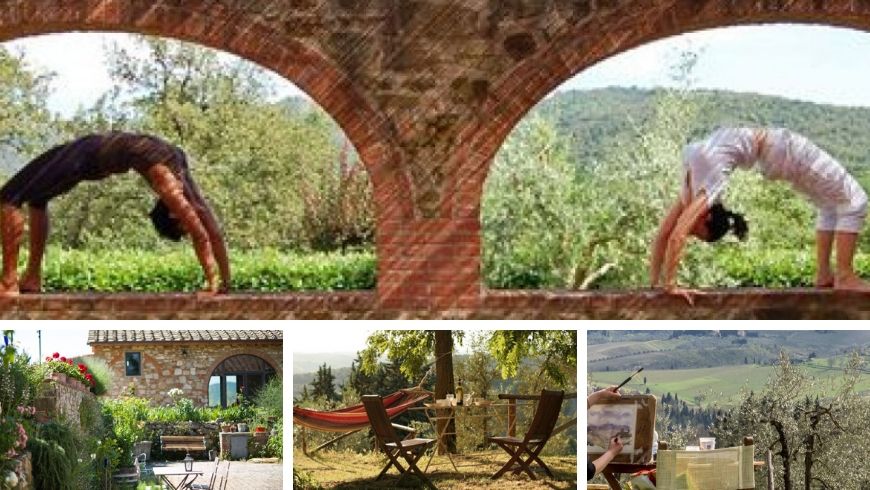 5. Yoga and history – classes among Trulli in Puglia
The authenticity of the traditional Trulli houses, their white stone, the scent of history. This is the astonishing context that is welcoming your desire to practice yoga and will satisfy it all. How? With unforgettable classes in a unique atmosphere. And now, let yourself be inspired by the breeze of Puglia.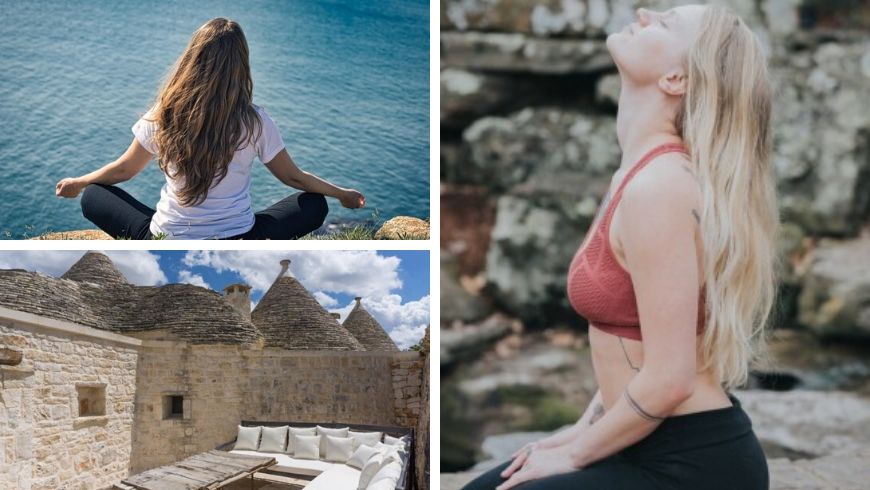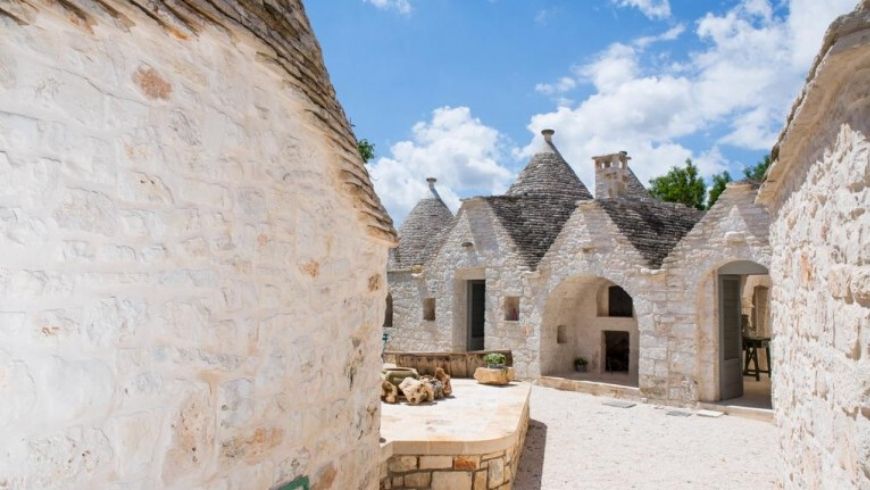 6. Yoga on the shores of the lake
Italy's heart beats for yoga. Umbria is thus offering you a relaxing and engaging experience at B&B Cavalieri del Lago. Yoga classes on the shores of the splendid Lake of Piediluco. Moreover, you will enjoy the background of the breeze, of the calmness of the lake. And finally, you and your partner will be guided by an instructor in this magical adventure.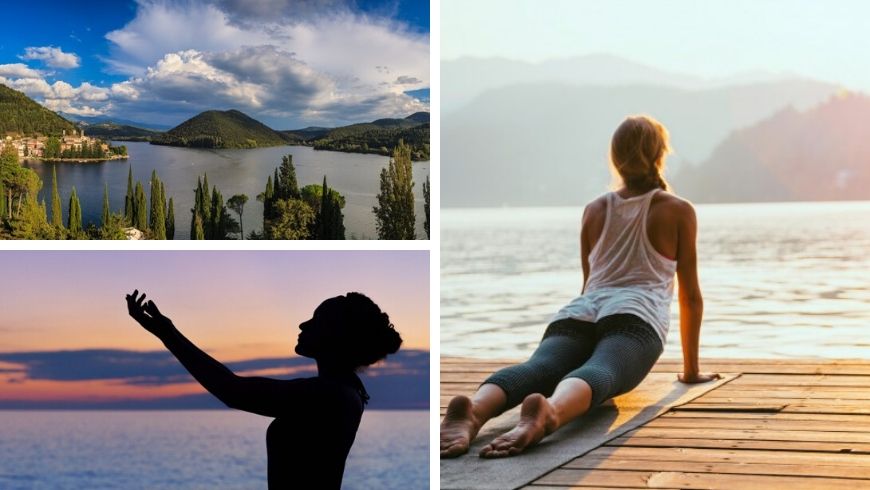 7. Yoga holidays in agri-camping – live the group yoga
If you go back to Liguria, we can find Centro Anidra, an eco-village and organic farmhouse that leaves its heart open to yoga. Often and however, it organizes workshops, classes, and meetings all about yoga. This is the perfect location as the landscape is genuinely peaceful. Moreover, this Center comes with equipped special spaces that you could not imagine.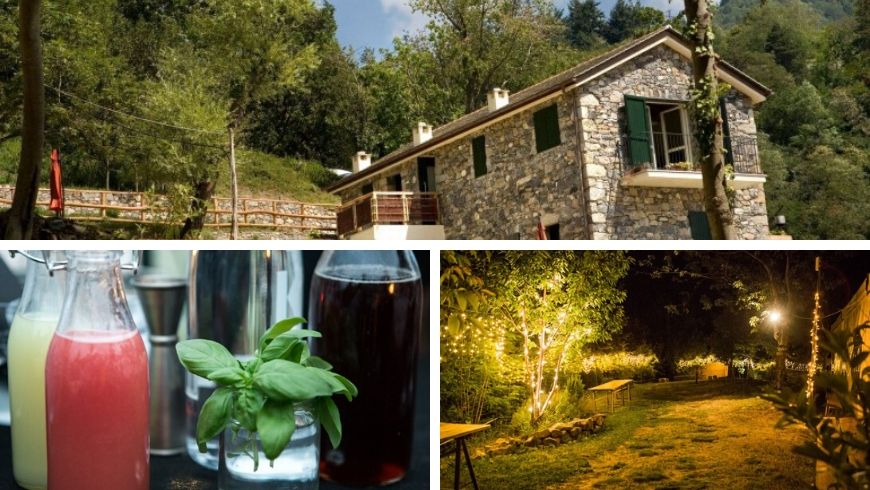 8. Back in the days – yoga in the Flintstone-like hut
In Frosinone, you can look at nature with fresh eyes – or I should say old eyes! As if your neighbors were the Flintstone family, this eco-stay offers a hut made of stones. We are really talking about more unique than rare experiences. And, if we add some healthy yoga with lessons designed for you, well I'm sure you are never getting back home!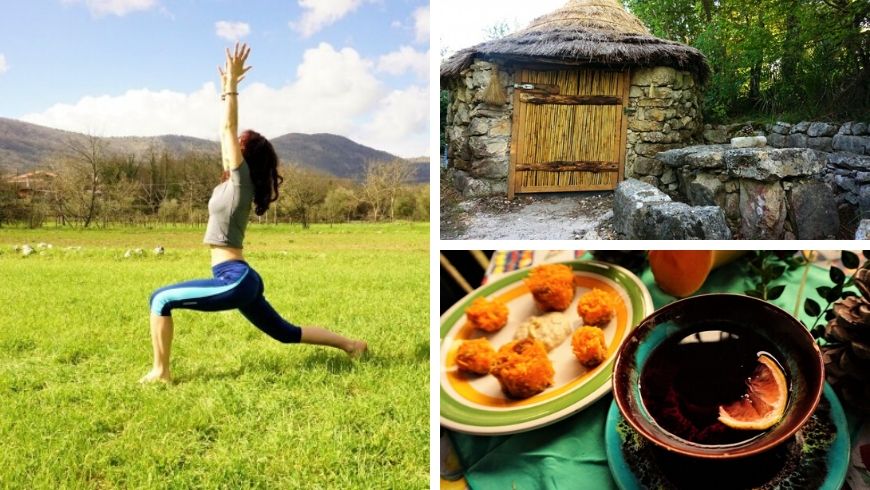 9. Yoga in a Yurt in the oriental atmosphere
The oriental culture has gifted us with many ideas to improve our busy life. Among them, yoga surely stands out. However, why don't you combine it with a stay in a yurt? You will breathe relaxation, authenticity, and a lot of originality. Many holistic disciplines are about to enhance your holidays, such as yoga and meditation.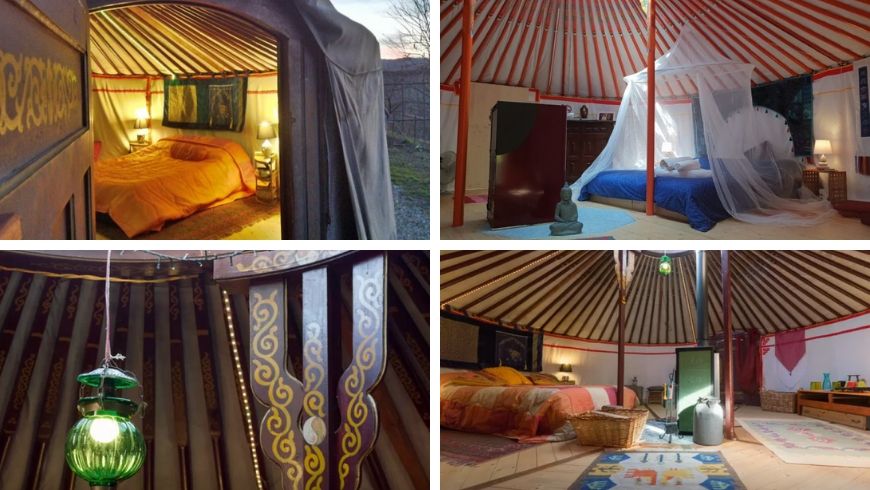 10. A colorful yoga in nature
At the Libera Università di Alcatraz, you can finally fulfill your desire of nature, of disconnection from the busy life, and switch it to slow motion. The many and colorful bungalows on the hill will welcome you to satisfy these dreams, and that little wish you have been keeping… taking up yoga! For you, both individual and group yoga classes.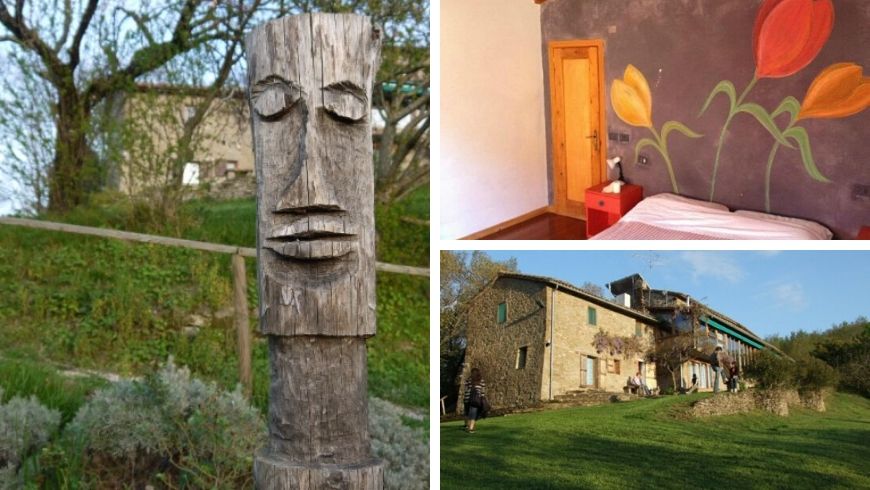 Celebrate the Yoga Day browsing among these special experiences and getting to know something genuinely new. Which one of these yoga holidays in Italy captured you the most? Let us know! This year you can fulfill your little dream on holiday. In the meantime, make a good choice and have a good journey!
Cover image: Photo by Eternal Happiness from Pexels