A lake nestled in nature, charming villages overlooking the clear waters, and an almost magical atmosphere: Italy offers beautiful lake environments, perfect for a green holiday. We discover the most beautiful lakes and routes by foot or bicycle to really get to know these places.
Every lake is a little gem: there is no better way to discover these places than on foot or by bicycle. Let's go to the discovery of the most beautiful lakes in Italy, and let's cycle or walk surrounded by postcard views.
Lake Garda, between the mountains and lemons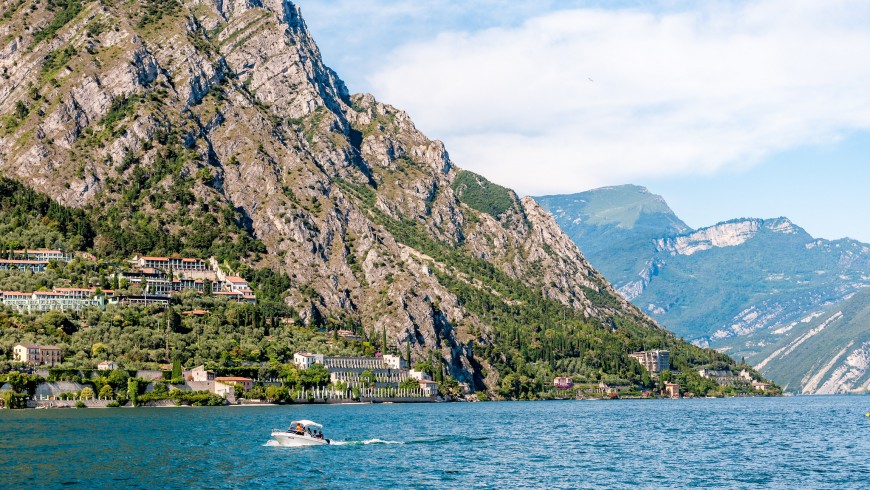 Garda Lake is a wonderful place, between Trentino, Lombardy and Veneto. Soon there will be a cycle-path all around the lake, but for now there are many routes to do. Today we suggest you to arrive on its shores from the beautiful Mantova, cycling along the beautiful river Mincio and arriving in Peschiera sul Garda.
Fun fact: one of the 25 tributaries of Lake Garda is considered the shortest river in the world, the Aril river is 175 meters long!
Where to stay: in Torbole, Trentino, we can find the Eco Hotel Bonapace, a zero-impact accommodation that offers organic food, comfortable rooms and a beautiful bath tub on the terrace. Not far from Peschiera del Garda there is the Organic Farm Vojon.
Lake Maggiore and its islands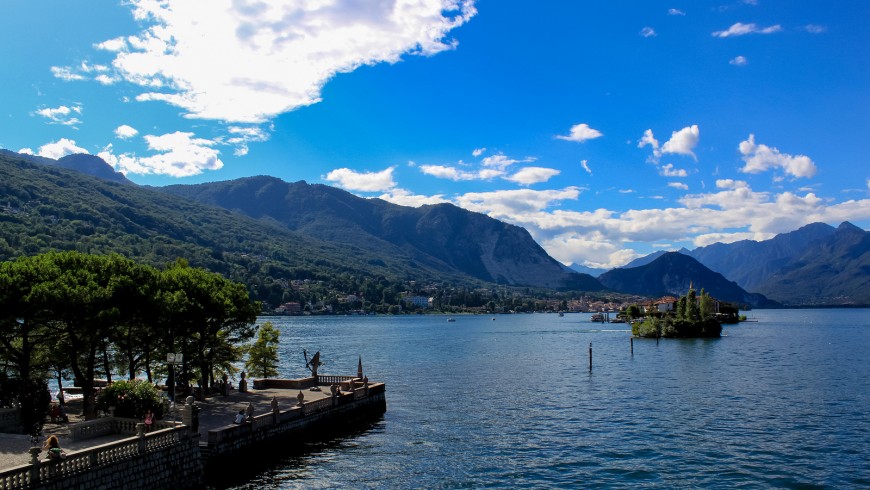 We get in the cable car to the top of Mount Mottorone and from here we will reach Baveno. Initially we follow the VM3 trail that reaches the CAI Alpe Nuovo hut. From here we continue towards the summit of Mount Zughero and then, through a forest of birch, the foothills of Mount Crocino. Here the view is breathtaking, it almost seems a balcony on the wonderful body of water. We continue toward the Lodge Papà Amilcare and subsequently towards the top of Mount Chamois, second vantage point of the route. From here, after three hours of walking, we reach Baveno, small town that overlooks the azure waters.
Fun fact: art, nature and architecture are mixed together in the three islands of Lake Maggiore, the elegant Isola Bella, Isola dei Pescatori and Isola Madre.
Where to stay: Paola and Alberto invite you in the B&B Il Feriolo, in Baveno.
Lake Orta, romantic atmosphere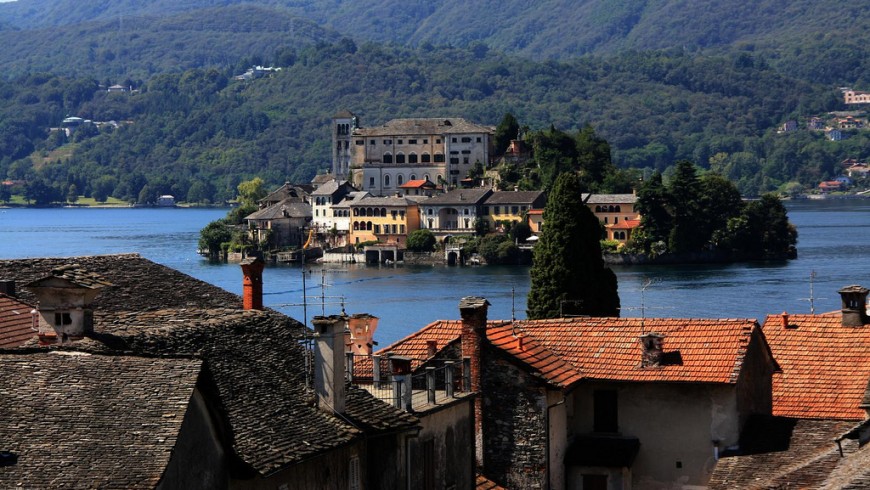 We move a few kilometers to reach the romantic Lake Orta, nestled between the Alps and the Piedmont woods. In less than four hours you can go around the lake by bike, along the so-called Anello Azzurro (Blue Ring), a scenic route that offers excellent views.
Fun fact: Many writers and poets have been inspired by this jewelry, including Honoré de Balzac, Eugenio Montale and Carlo Emilio Gadda.
Where to stay: Nestled in the green hills, there's the bed&breakfast Bellavista that has a fantastic view.
Trasimeno Lake, between the hills of Umbria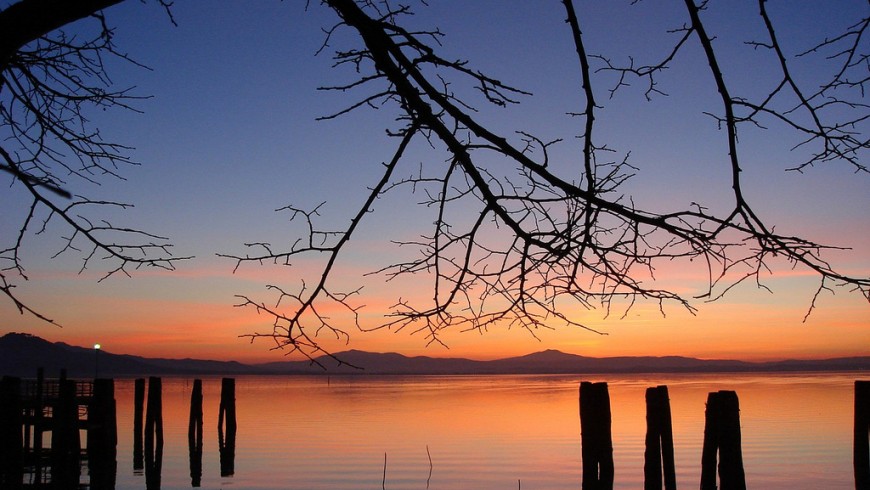 71 km by bicycle to discover the landscapes of Lake Trasimeno and its surroundings. We discover this natural paradise between reeds and water lilies, among birdsong  castles, strolling through the cycle ring.
Fun fact: This place not only offers natural landscapes, but also history ancient testimonies. For example, it was the scene of one of the greatest defeats of the Romans, by the Carthaginians under Hannibal's leadership in 217 BC.
Where to stay: for sleeping sustainably near this basin you can choose between the Farmhouse La Dogana, which offers a rural setting and a huge swimming pool, and Il Cantico della Natura, an eco-resort with an incredible view.
Lake Bracciano and its castle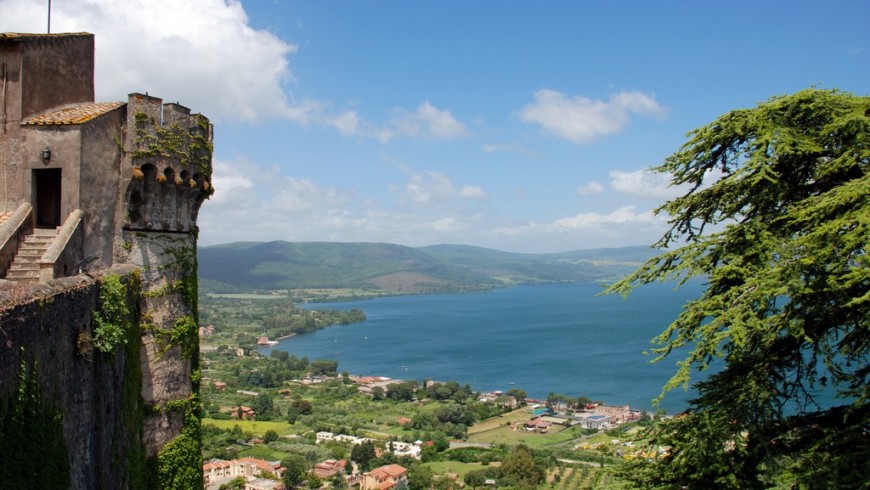 To discover this pearl of Lazio and its surroundings we go for a short bike tour in the Regional Natural Park of Bracciano – Martignano. It starts from the town of Anguillara and we bike for 7.8 km through the meadows that offer wonderful sights on the lakes, on Sabatini mountains and on the Roman countryside.
Fun fact: The Castle of Bracciano, also known as the Castle Odescalchi, is one of the obligatory tours of the area.
Where to stay: on top of an Etruscan necropolis, a few steps from the lake, you can stay at Suncave Gardens, charming B&B that offers an authentic lifestyle and organic food. Towards the Manziana wood you can book Casacocò, lovely and charming resort in the Roman Tuscia.
Reschensee and its bell tower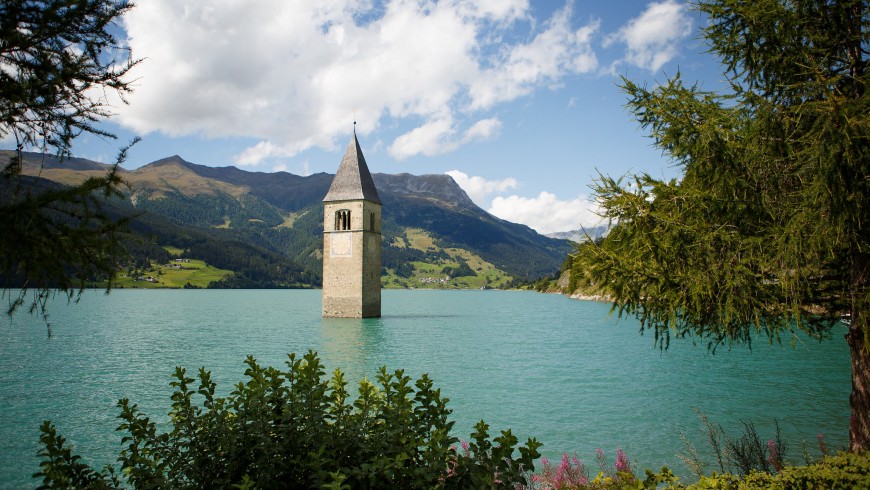 The largest lake in South Tyrol is bordered by a path of 15 km, passable on foot or by bike and perfect for watching closely this wonderful body of water.
Fun fact: The small village of Graun was flooded in 1950 following the creation of a large dam which unified three lakes. Since then, the bell tower appears from the water, making Lake Reschen unique and magical.
Where to stay: discover all the eco-friendly accommodations close to this jewel of South Tyrol!
Lake Iseo and its pyramids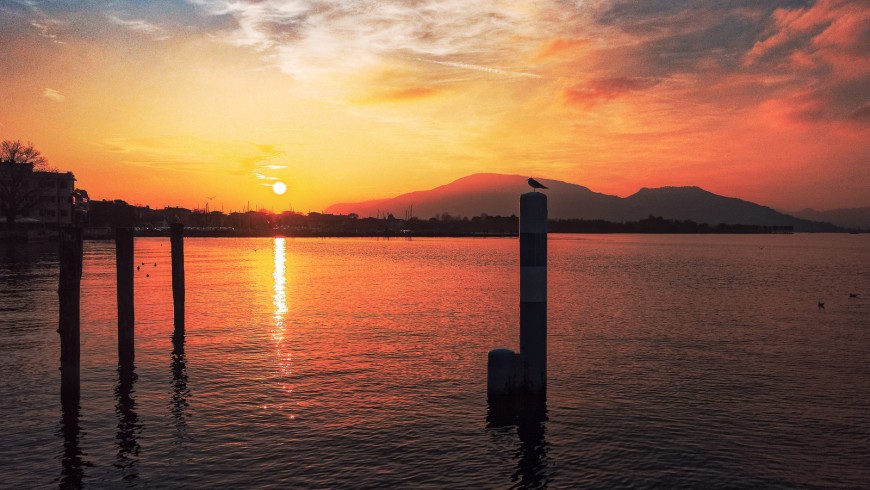 5 hours walk to discover this pool of rare beauty, nestled between mountains and hills, with ancient and magical villages overlooking its waters. You start from Lovere, from the church of St. George. Here you go left along via Celeri, then immerse yourself in the chestnut woods. So you arrive before in Devine and then in Carassone. Now the road, uphill and always surrounded by vegetation, brings us to the Shrine of St. John from which you have an incredible view of the entire basin and the Camonica Valley. We resume the journey, taking a left towards the town of Bossico, a natural balcony on the lake at 900 meters above sea level. After reaching the paved road, turn right and continue until the junction with the Santella "Madonnina of Steegn". Then you reach the historic Villa Pincio and you continue to Ceratello, a hamlet of Costa Volpino. Here we cross the old town, and and we follow the road that takes us towards Lovere.
Fun fact: Montisola is the pearl of Lake Iseo and is also the largest lake island in Europe.
Where to stay: near Iseo you can stay in this lovely eco-friendly farmhouse where you can test Franciacorta wine, organic oil and honey.
Lake Caldonazzo, a dip in an alpine lake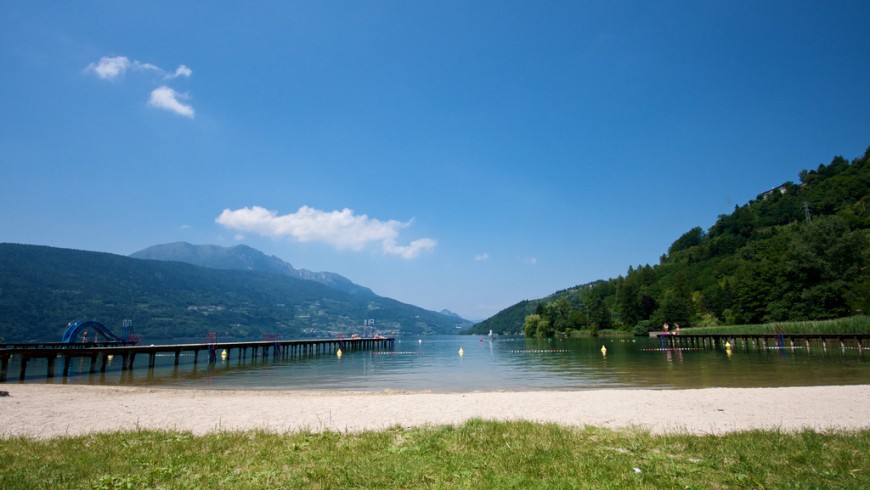 Near this lovely lake in the Trentino there's the starting point of a beautiful route along the cycle-path of Valsugana, land of apples and vineyards, which ends in Bassano del Grappa.
Fun fact: it's an alpine lake, but the water temperatures easily reach 24° C in August, making it one of the warmest lakes in southern Europe.
Where to stay: 200 meters from the beach you can stay at the eco-friendly B & B Casa sul Lago, offering 3 rooms with private bath, organic breakfasts and a huge garden.
Lake Piediluco near the Marmore Falls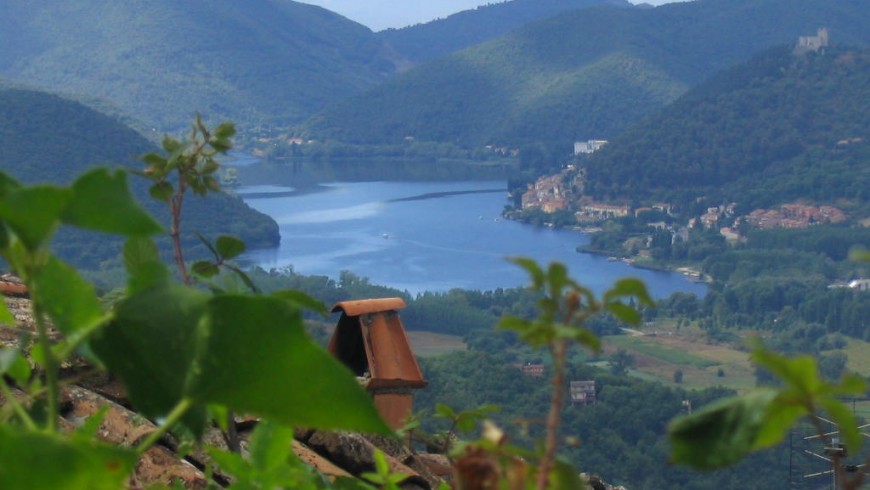 A simple and suitable itinerary allows everyone to visit Lake Piediluco and imperious Marmore Falls. We start by bike in the park I Campacci, in Marmore, near the lookout on the Falls. From here we continue on the left, riding along the river Velino, and in just over five kilometers we arrive in Piediluco, on the shores of the lake. We then continue towards Colli sul Velino, immersed in nature. From here we then return to the starting point.
Fun fact: Mount Caperno, which stands on the shore, is commonly called Echo Mountain because it is possible to hear a clear echo, under favorable conditions, even of an entire endecasillabo.
Where to stay: B&B I Cavalieri del Lago is a stone villa, surrounded by 5 hectares of parkland and nature, with heated swimming pool, organic garden and services for cyclists.
Lake Nembia, 800 meters above sea level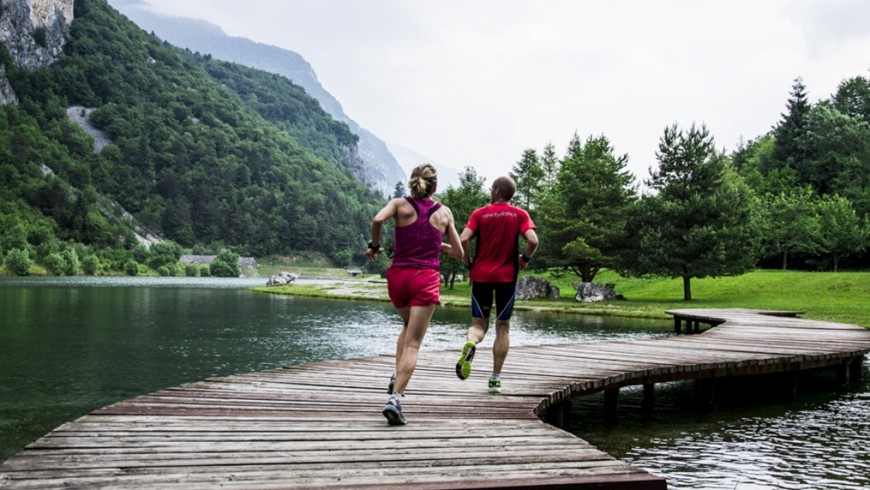 Our journey through the lakes of Italy ends in Trentino, near the Brenta Dolomites. Here you will find Lake Nembia, oasis of peace surrounded by prstine nature, and Lake Molveno. The two lakes are connected by an easy hiking trail: 14 km to travel on foot, by bike or snowshoeing in the winter.
Fun fact: in the surrounding is easy to see foxes and deer.
Where to stay: this eco-friendly hotel is perfect for nature and sports lovers, but also for families with children. It offers typical breakfast, private beach and sauna.
Cover image: Resia Lake, Italy Photo by Roberto Ferrari on Flickr