Ljubljana is a beautiful, vibrant, clean and safe Slovenian capital with a green soul. Here, the environmental awareness is on a very high level which preserved its green character to the present day. The city of Ljubljana proudly holds the title European green capital 2016, it received several prestige sustainability awards and the heart of the historic city center has been car-free for over 10 years. Follow the Ljubljana green travel guide with a list of unique eco-friendly proposals and experience the city through the eyes of a local.
Start your day with delicious coffee along the Ljubljanica river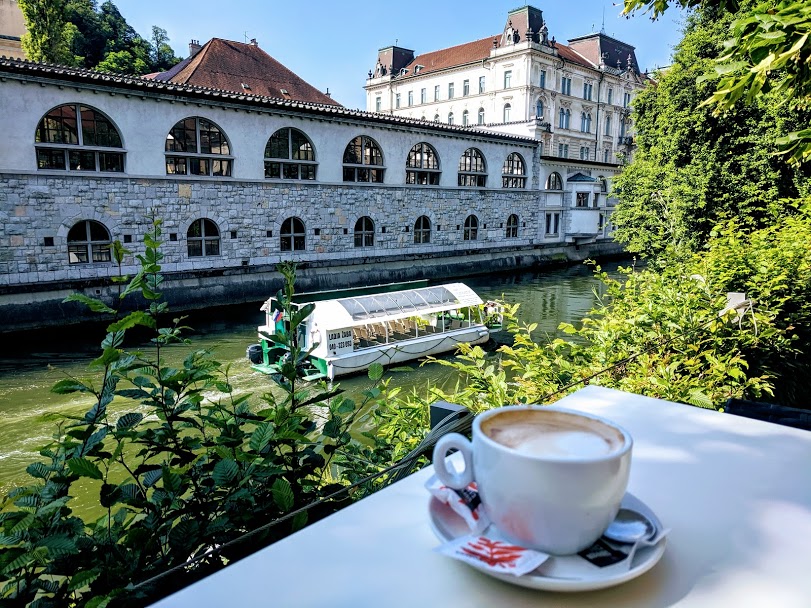 Feel the morning vibe of the city as it is vibrantly waking up. Observe the locals and enjoy your coffee. As more and more locals have become conscious of the necessity for a healthy lifestyle, cafes in the city center are now offering coffee with plant-based milk and various menus of the healthy breakfast.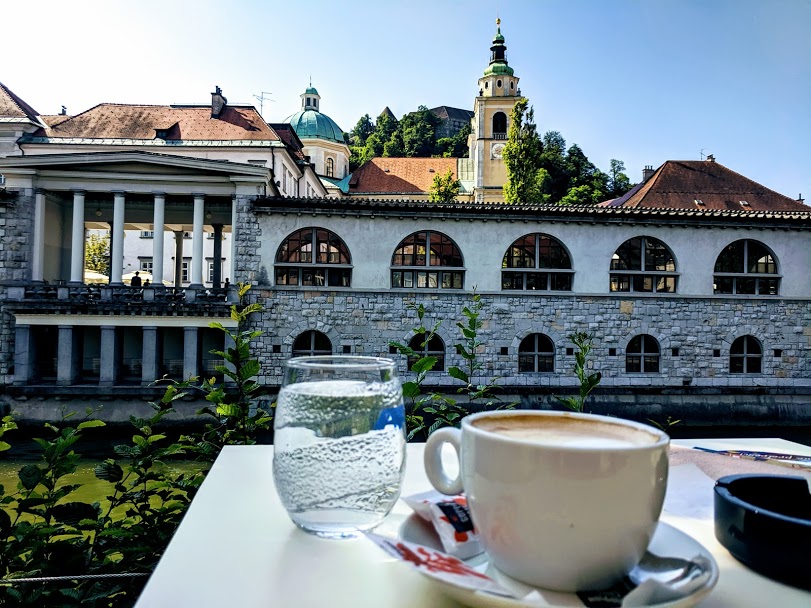 Discover the charming streets of Ljubljana in a socially-responsible way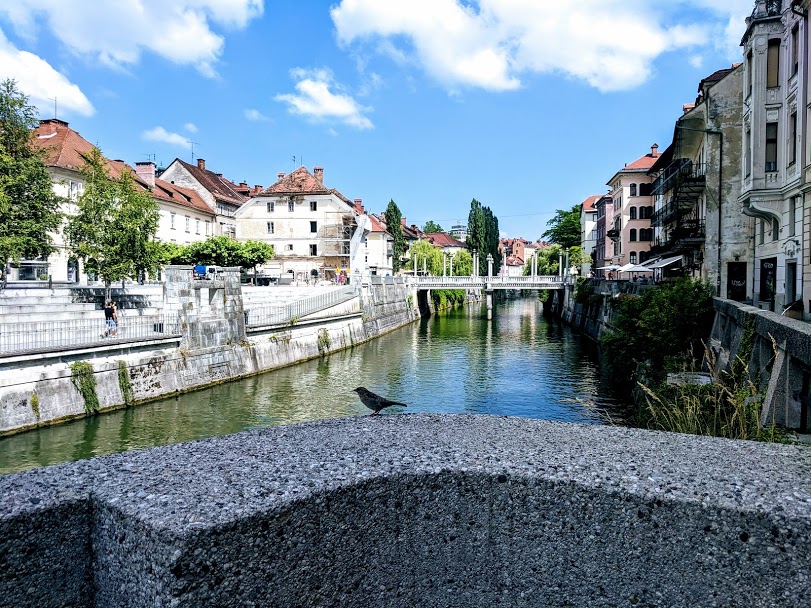 Immerse in the stories, meet the locals and feel the magic of Ljubljana as it exists today. Instead of the typical tourist sightseeing tour, you can fully experience the city through the eyes of a local. CurioCity guides will enable you to focus less on the buildings and landmarks, and more on the people living here and their stories. You'll be guided in small groups with a more personal approach, exploring the side of Ljubljana that often remains undiscovered by tourists.
Source: Author's gallery
Source: Author's gallery
Source: Author's gallery
Feel like a local and cycle with mustache cultural tour around Ljubljana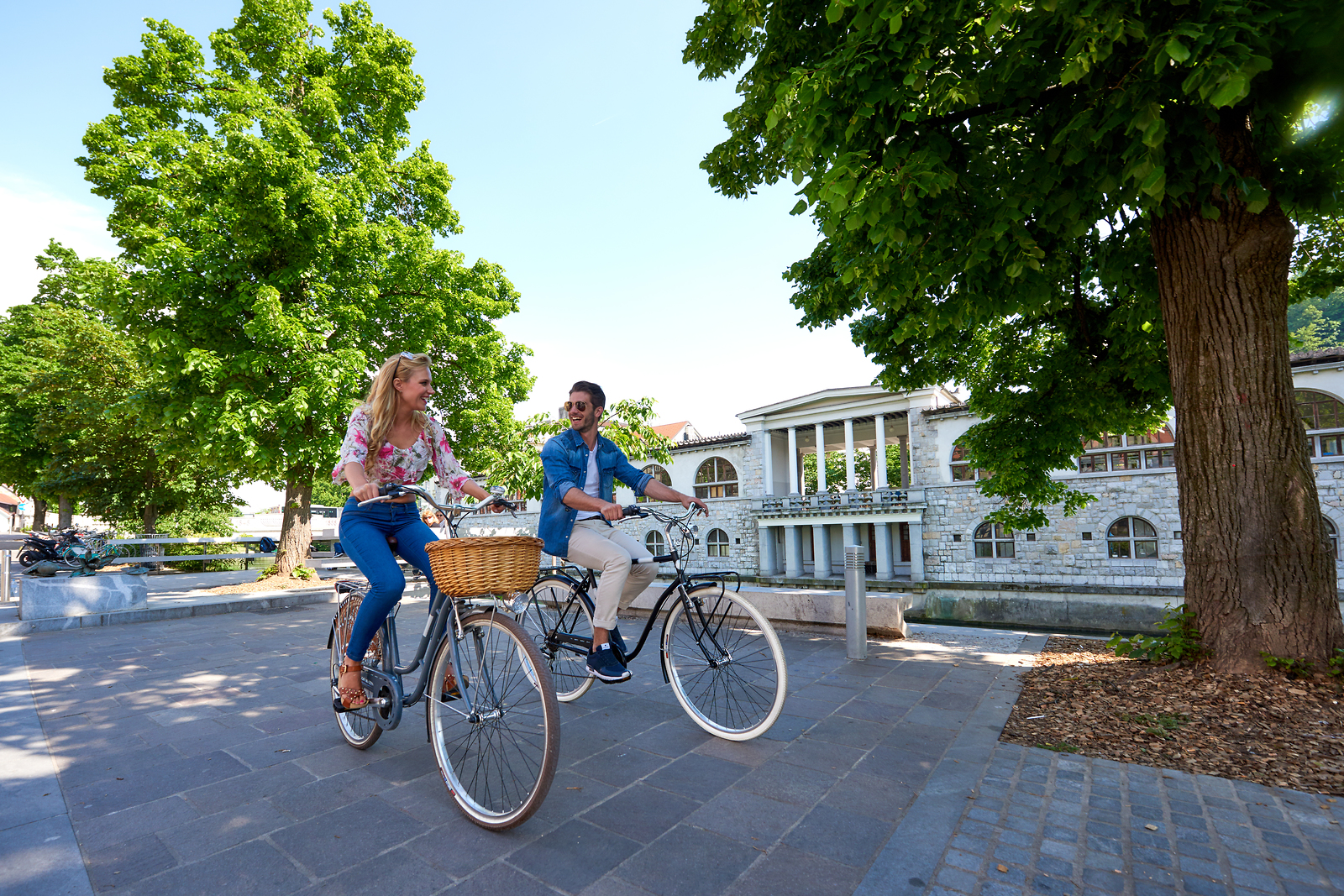 Ljubljana is bike-friendly capital and residents really love to cycle in a chic way. You'll be amazed by the number of colorful vintage bikes with stylish ladies and gentlemen. Here, green is not only a color, its a philosophy and a way of life. Cycle through the most beautiful streets of Ljubljana and feel the lifestyle of an architect, writer and a painter who styled Ljubljana 100 years ago as great national artists. Book the most unique cultural experience and explore their creative power, the secrets of the city and the features of the Slovenian character.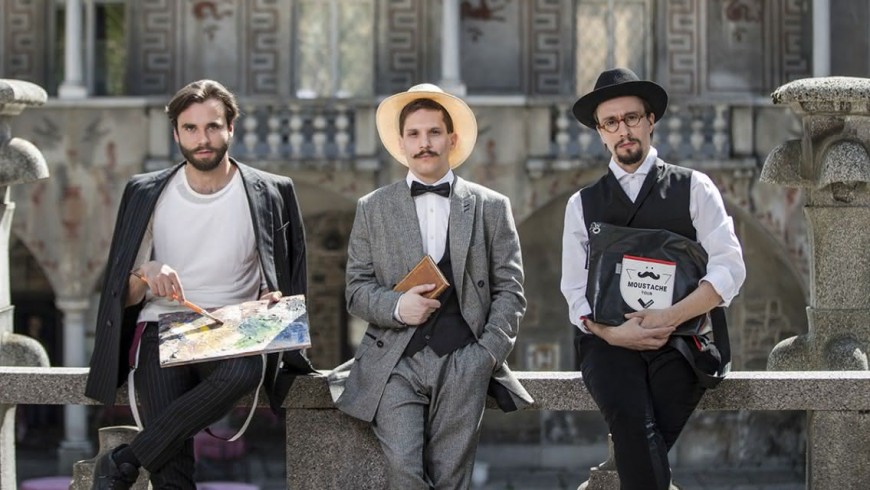 Take the urban SUP tour to see Ljubljana from a completely different angle
Paddle-boarding in Ljubljana is a unique experience because Ljubljana is the only European capital that offers an exclusive adventure of stand-up paddle-boarding through the very heart of town. Indulge in unique views of the castle, iconic city sights, architectural heritage and hustle and bustle of the streets.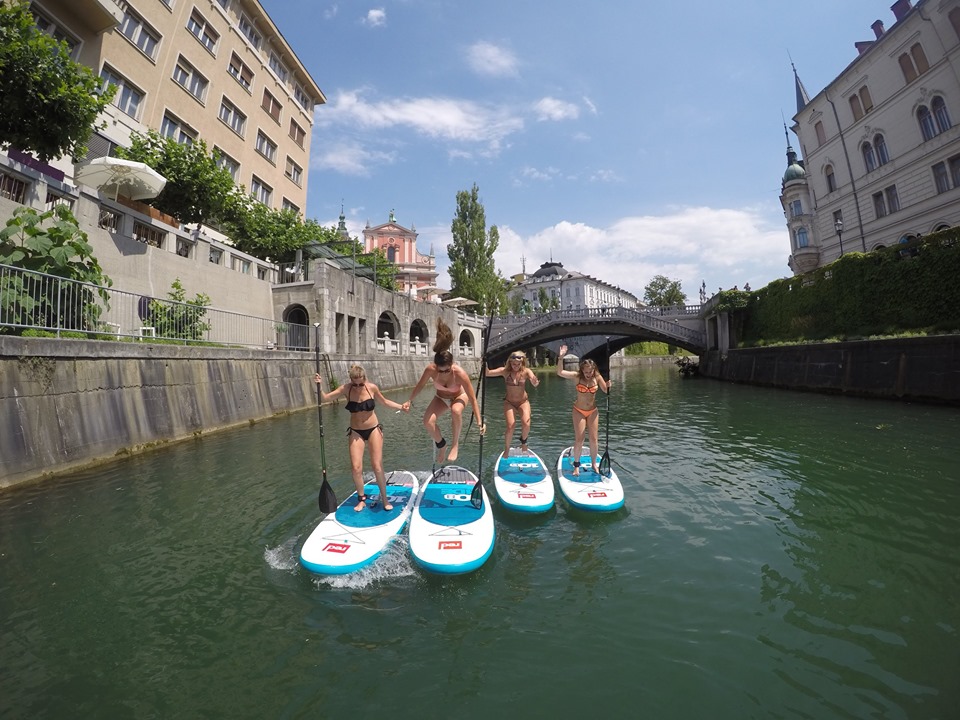 Feel like a king or a queen and exclusively indulge in a private castle experience
Book a private tour for the utmost personal approach and unique experience of Ljubljana's castle. A personal castle assistant will take care of you throughout your visit. He will guide you through the history of the Ljubljana Castle right up to the present day and reveal its hidden corners only to you.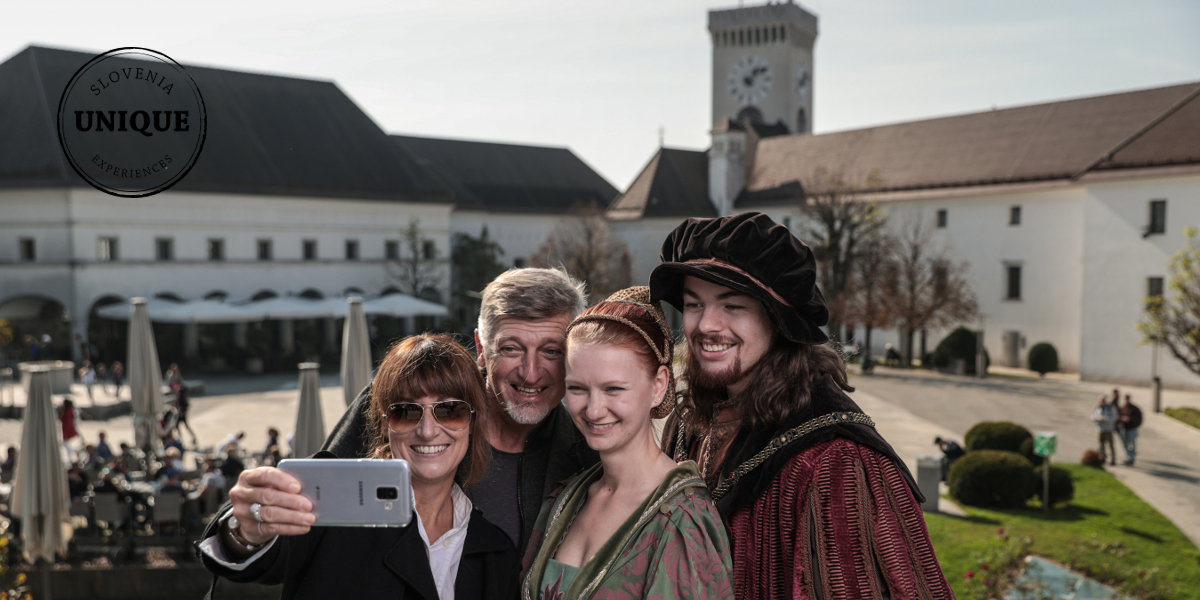 Sip a glass of champagne and observe Ljubljana from the sky
Ljubljana has the awesome scenic green surroundings to view, and it's perfect to view it from a hot air balloon.  If you love exceptional adventures, hot air balloon flight is ideal for you. Your flight will take you over Ljubljana where you'll be able to admire the breathtaking views of the city, the Kamnik and Julian Alps, and the Ljubljana Moors.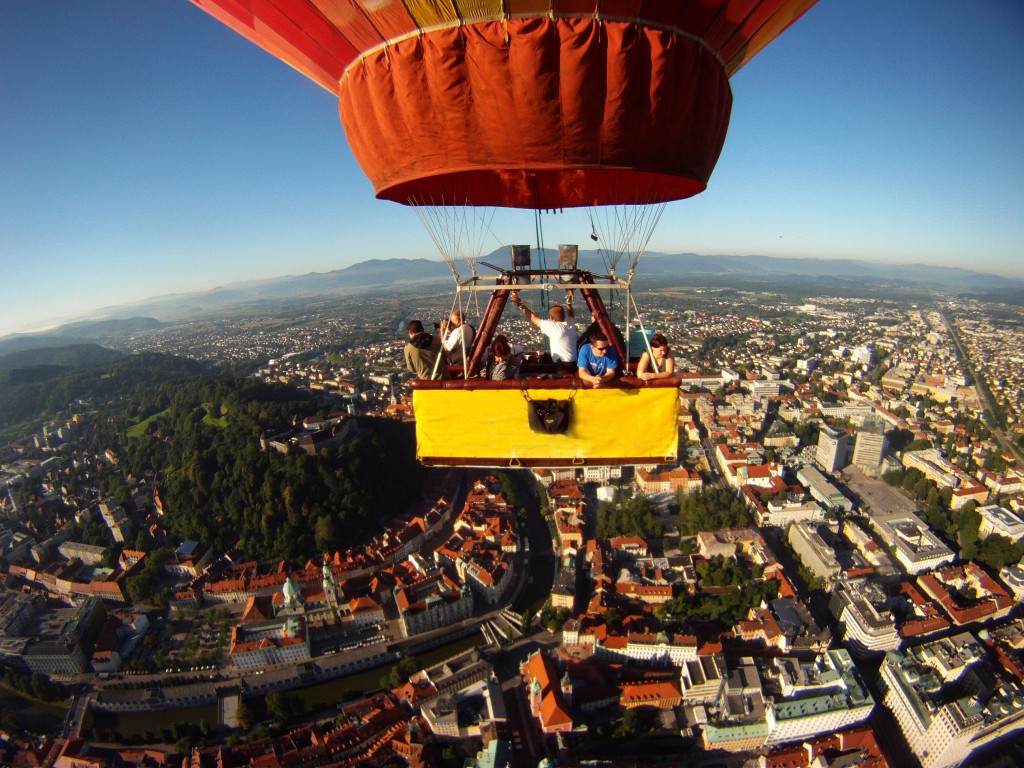 The organic culinary scene in Ljubljana: top places to eat for responsible healthy eaters
Taman organic – the true taste of nature during the city tour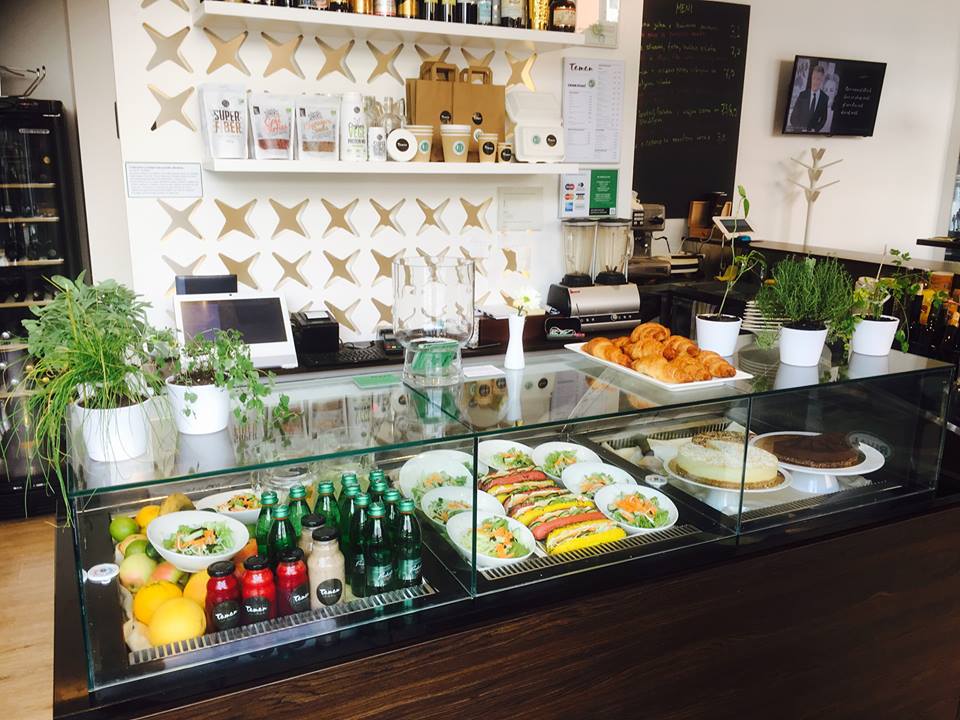 Taman is a certified organic, vegetarian and vegan restaurant, also offering daily gluten-free meals. All of the ingredients are straight from the garden to the plate and from local farmers with organic certification. Therefore, the dishes have the original taste and you'll absolutely feel the difference. The rich selection of wines is offered, as well as delicious cakes, coffee, hand-made croissants, sandwiches, freshly squeezed juices, and smoothies.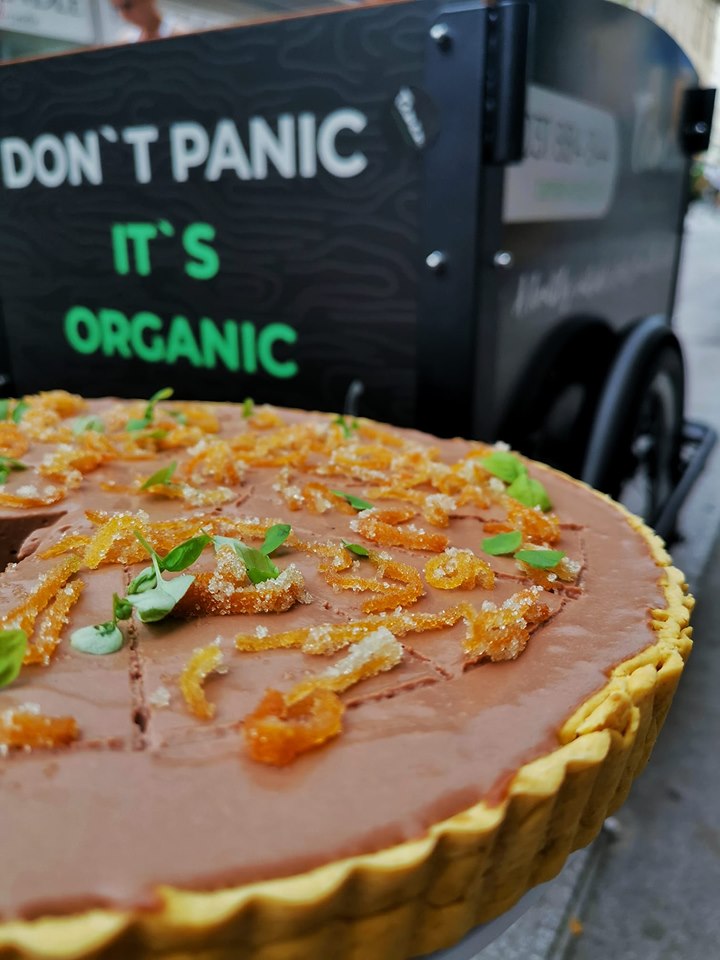 Gostilna dela – homely place where you can eat tasty and make a change

Gostilna dela is a small but special centrally located restaurant offering young people from vulnerable social groups and the disabled an opportunity to receive training under the mentorship of experienced chefs. Breakfast and daily changing lunchtime menus are based on the principles of balanced nutrition. The menu choice is based on traditional  Slovenian dishes, seasonal dishes, seafood, and vegetarian dishes.

Source: Gostilna dela

Skuhna – ideal place for passionate foodies in love with exotic dishes
Skuhna restaurant is a social enterprise providing authentic and delicious homemade dishes from Africa, Asia, and South America, prepared by migrants based on their heritage. Skuhna restaurant with chic decor and stylish interior employs the migrants and through delicious exotic gastronomy connects them with locals. Each day of the week,  authentic dishes from a different country are served. Skuhna is a vegetarian and vegan- friendly restaurant.

Source: Skuhna restaurant

Grand cafe Ljubljana – a vibrant place with original cake Ljubljana
The cake Ljubljana (Torta Ljubljana) is an absolute must if you have a cakeaholic obsession and original cake is served in Grand cafe Ljubljana. This cake that fully represents the tastes of Slovenian regions.  Organic buckwheat flour represents the Gorenjska region, figs from the Adriatic region give the cake its authentic sweetness, along with traditionally harvested honey. The Pannonian region is represented by pumpkin seeds which are also used to decorate the outer edge. A rich chestnut filling and topping of honey-sweetened chocolate finish off this superb cake. All ingredients are of the highest quality without artificial sweeteners or additives.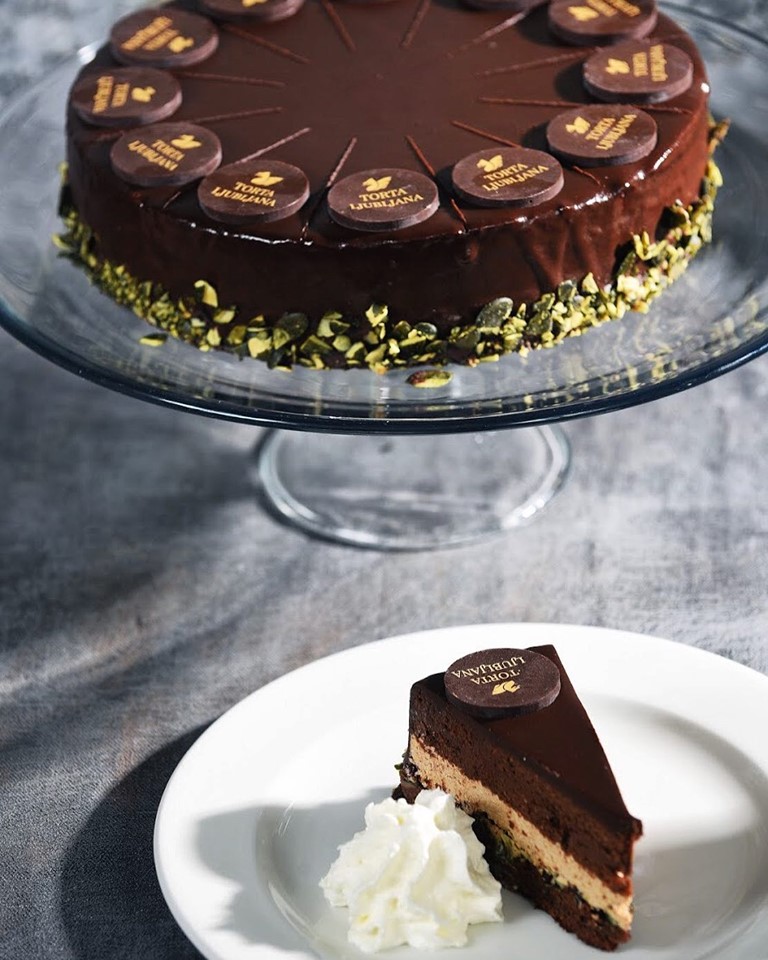 Eco-friendly shopping in Ljubljana: top places for stylish, ethical and responsible shopping
Vintage Divas –  the most popular vintage store in Ljubljana
In Vintage Divas you can find exclusive vintage fashion and a rich selection of second-hand designer clothing of great quality at reasonable prices. Various fashion accessories including hats, scarves and vintage costume jewelry are also available.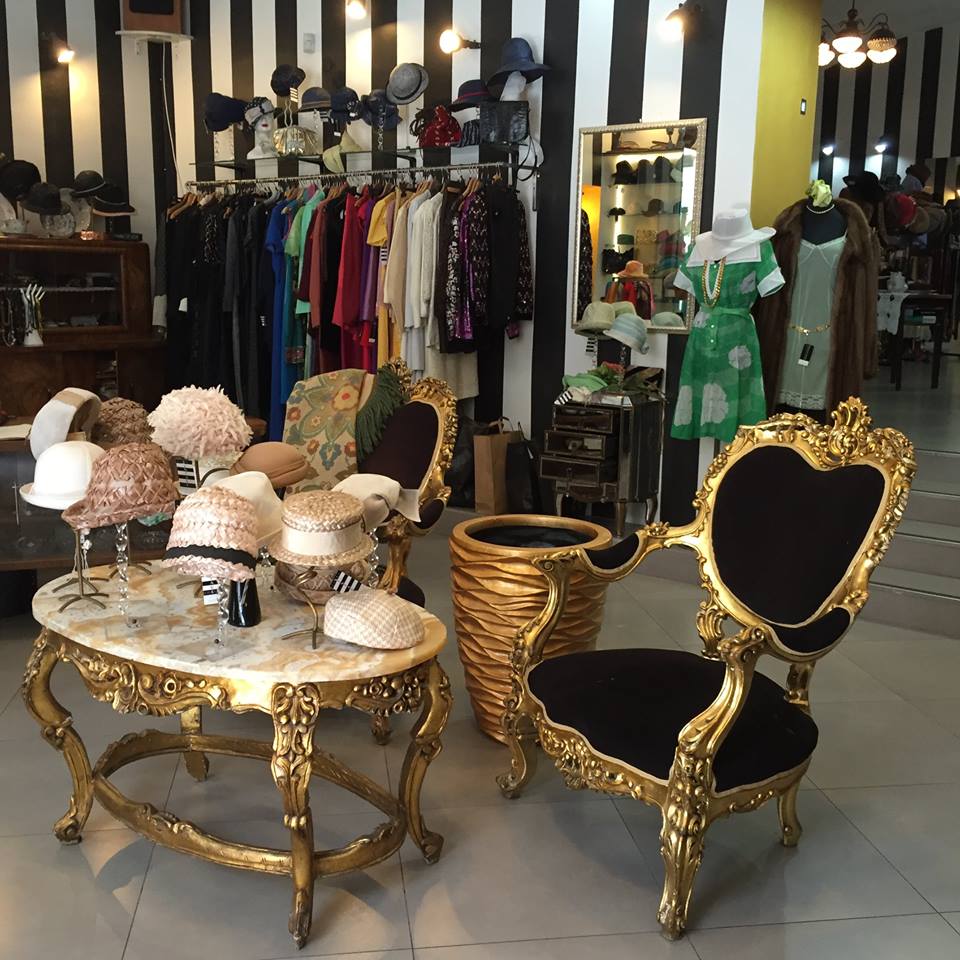 3MUHE – Slovenia's first fair trade shop
In fair trade shop 3MUHE you can buy products grown, produced or processed in accordance with the principles of fair trade. This ethical and socially responsible shop sells arts and crafts items perfect for decoration of your home or giving as a gift, musical instruments, jewelry, and textile products. Also available are a range of food products including various kinds of coffee, tea, herbs and spices, rice, pasta, sugar, and chocolate, all of them certified as organic and fair trade.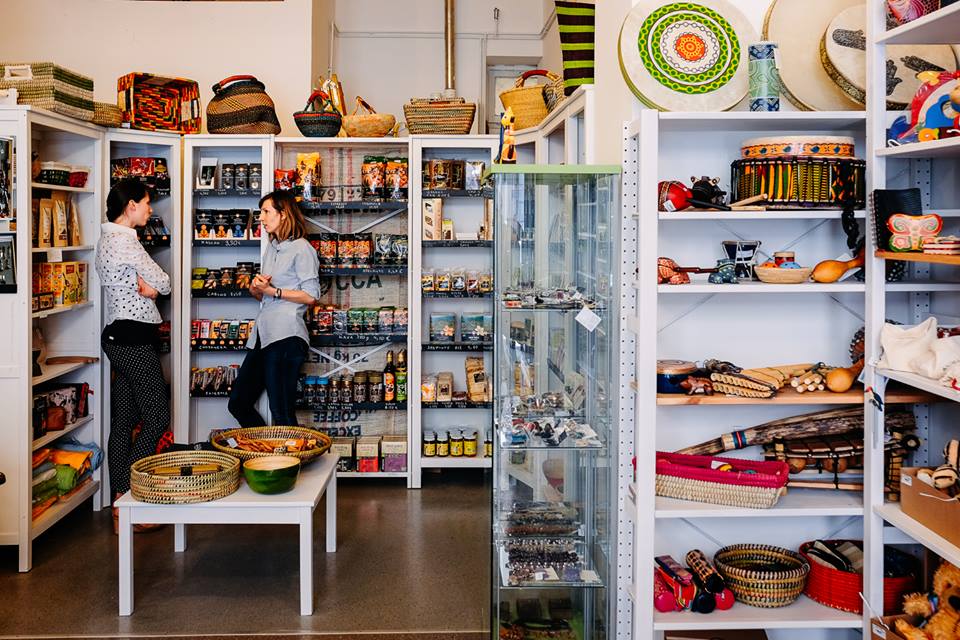 Art&Craft Slovenija – buy traditional souvenirs from local artists
In Ljubljana's city center you will find numerous shops, fairs, and master craftsmen workshops with unique handmade souvenirs. The most sustainable are the ones that carry the distinctive mark Art&Craft Slovenija. Souvenirs inspired by tradition are the pottery and ceramic products, the charming and protected bobbin lace from Idrija that looks awesome as a necklace, knitted and felted products, stone craft, painted beehive panels, etc. Very popular is also a wooden butterfly tie made from Slovenian wood.
Source: idrijskacipka.si
Source: galerijarustika.si
Source: lesenimetuljcki.si
Enjoy the best 360° views in the city and magical sunset from the Nebotičnik – SkyScraper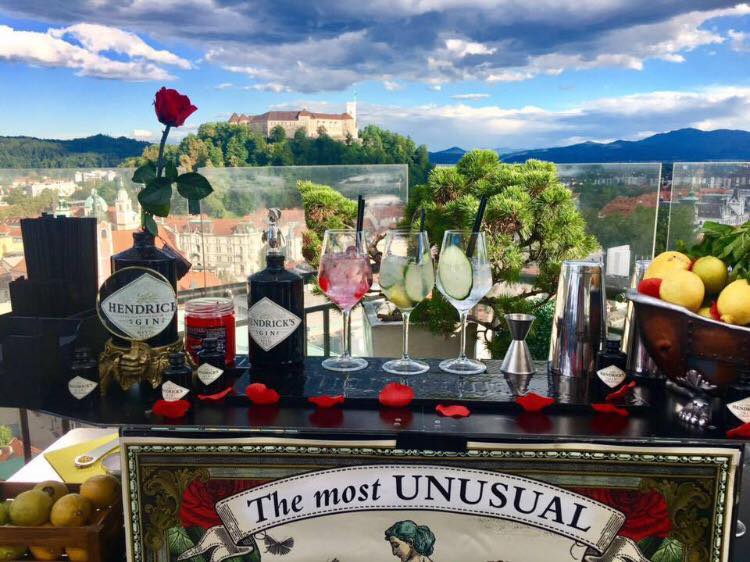 Nebotičnik – SkyScraper is the famous building in the middle of Ljubljana's city center, which was long known as the highest residential structure in Europe when it opened in 1933 and thus the highest building in Ljubljana. Even today, its terrace has the most breathtaking 360° views from the Alps to the castle to the mountains in the south. It is the perfect place for a mindful sunset gazing while sipping a well-deserved cocktail.

Source: Neboticnik- SkyScraper

Green networking – meet the eco heroes who shape our greener future
Is your work related to sustainability and would you like to find out who rocks the sustainable (tourism) scene in Slovenia? They are strongly motivated and passionate about their work and the utmost open for new projects.
Its prime objective is to be introducing the principles of sustainability, nature and culture prevention into the development process of tourism programs.
They are most known by ''Let's clean up Slovenia in a day" – the largest volunteer project ever. They are also active in reducing food waste,  promote the zero waste approach and offer really awesome e-shop Zelenci with innovative eco-friendly products that should be part of each green home. 
Lushna – experts in glamping                       
Lushna is a team of outstanding experts who know that only preserved nature represents the true glamour. Their mission is to explore the surrounding natural wonders and expose local riches in order to define a distinctive destination identity for the rising segment of eco-conscious guests.
Where to eco-friendly stay in Ljubljana?
The B&B Hotel Ljubljana Park is the most urban and green hotel in the center of Ljubljana. The hotel is surrounded by parks and lively cultural and artistic events. The B&B Hotel Ljubljana Park is committed to sustainable development, environmental responsibility, and engaging with local communities. The roof of the hotel houses very special guests – Carniolan bees. The hotel is a part of the Bee Path (Čebelja Pot) with acquired certificates of Slovenia Green Accommodation and Travelife.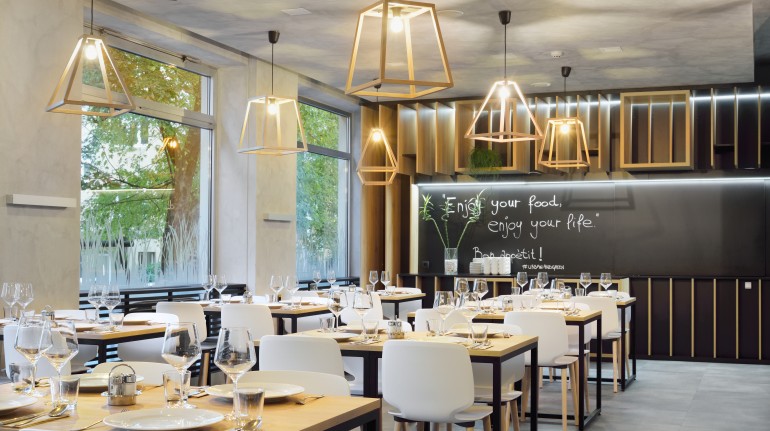 The Lazar Tourist Farm is a perfect choice if you want to combine a city break with the countryside. It is more than 300 hundred years old farmstead,  situated in a forest below the Podgrad Hill, surrounded by green slopes and pastures. They will prepare your meals from fresh and home-grown food. You can taste different milk products and homemade juices, tea and a wide selection of homemade brandy. The farm also offers a visit to the old tool shed, the wooden sheepfold and a typical Slovene double hayrack which represents a pleasant place to regain your strength. To fully experience life on a farm, you can help with work in the barn or on the pasture.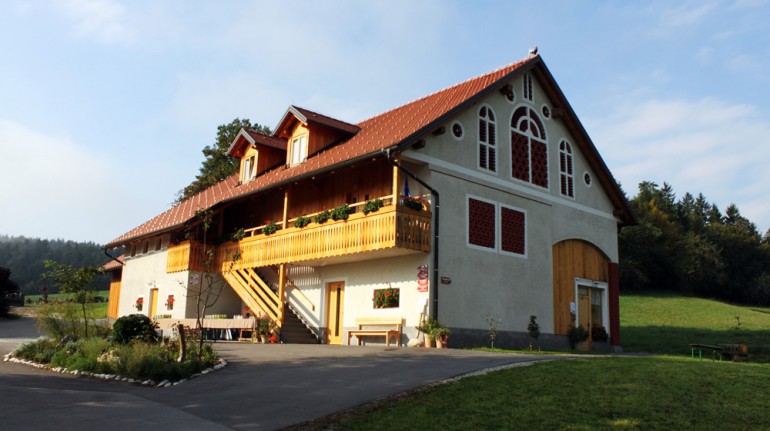 Cover photo: Nea Culpa, source Slovenia.info