Walking among dry-stone walls and fields of potatoes, we discover old paths of prehistorical villages, immersed in the harmony of nature and local tastes. So we knew Rotzo and the Altopiano dei Sette Comuni, together with Federica, owner of the eco-friendly BnB Hémmara.
Only looking at the place names in this land, we become aware of the story of this fascinating melting pot of languages and cultures. Rotzo, for instance, comes from "Rotz" which means "rock, cliff, reef" in old Cimber language. Hémmara too has a Cimbrian name, the name of a flower, the Hellebore. I choose to call my B&B Hémmara–  told us the owner Federica Capriz – because I especially like this little flower coming out in winter; it's a simple flower which mirrors my hospitality.
Hemmara is also the name of a small village near Albaredo di Rotzo, where forests in winter are full of these flowers.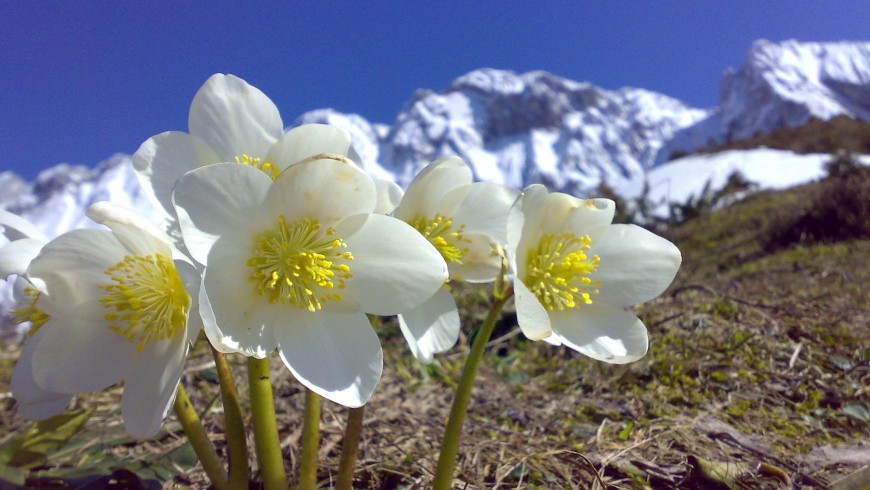 Who were Cimbers? They were Bavarian loggers, peasants, and farmers. Around year one thousand, they were called from Vincentian bishops to colonize the land. It's in this way that this German language was spoken as well in Rotzo, the oldest municipality in the Altopiano dei Sette Comuni.
Our weekend to discover this place starts here, in an old house in Albaredo di Rotzo which has now become a wonderful eco-friendly bed & breakfast.
Rotzo is the smallest and oldest village in the land, like they demonstrate the iron age findings in Bostel di Rotzo. Today it is an accessible park, very attractive for tourists especially thanks to the archeological site with restaurants and the multimedia museum: "Museo Archeologico Sette Comuni".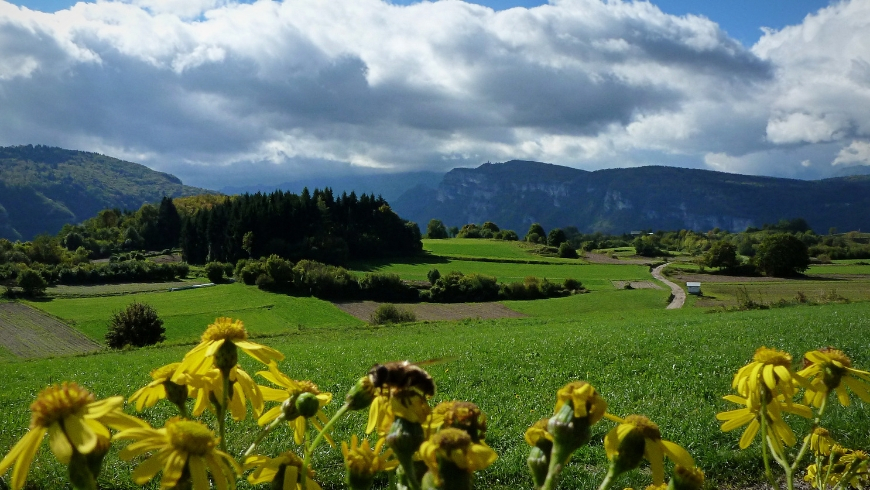 Moving southern, we find Campagna di Rotzo, one of the renewed potatoes De.Co. production spots. A green sunny highland with a network of pedestrian paths, rural streets and small trails leading to wild nature, meeting waterfalls, small churches and breathtaking terraced landscapes on the way. On the other side of the village, spruce and beech forests grow and it is possible to have a deeper look to legendary places, like Altaburg and Altar Knotto, reachable with on a CAI path. Going up in the mountains, we can see the fields meadows of alpine pastures, which is possible to visit through the Altipiani Cimbri pedestrian path. This wonderful path has been built to practice Nordic skiing in winter and starts at Rifugio Campolongo.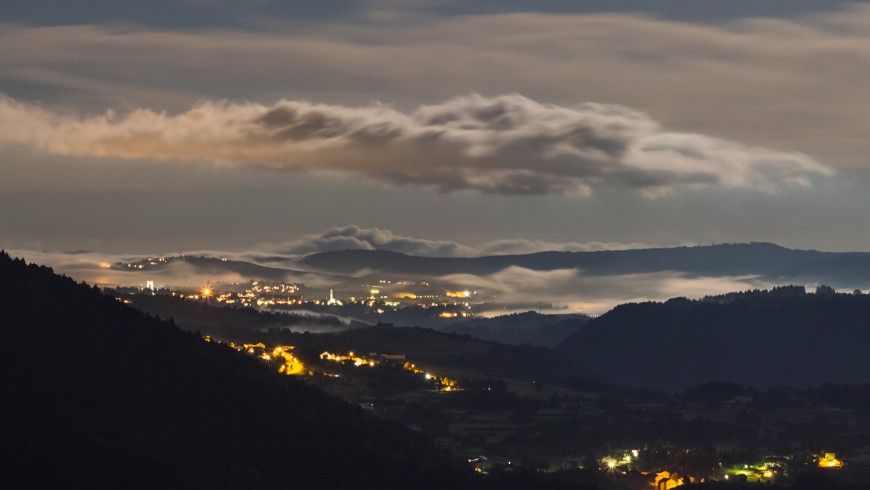 So we leave B&B Hémmara by feet, walking among pathways and ancient mule-tracks immersed in Rotzo's countryside.
An amazing landscape made of green grasses and white stone terraced. On these green hills, between 800 and 1000 meters in altitude, they grow from generations the famous "Rotzo's potatoes". This tradition is celebrated from over 40 years every first Sunday of September with the "Rotzo's Potato Party" – Federica told us.
The cultivated landscape too has left some signs of the presence of the old Cimber, living in this place for centuries. White stone slabs delimitate each farmer's land. Dry-stone walls made up terraces to soften the altitude and constitute the border between the several pedestrian and bike paths.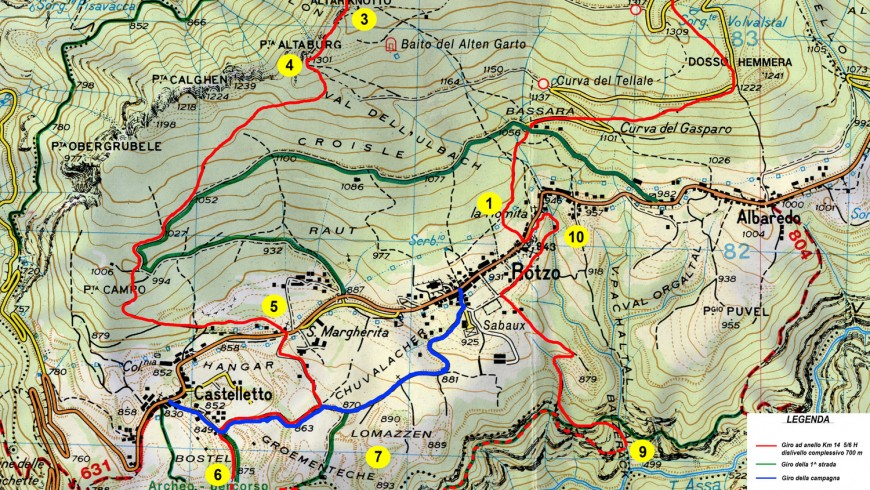 We walk along the fields, following the small pathways, until we reach Bostel di Rotzo, archeological site dating back to the Venetian-Rhoetian period. Here historical abbot Agostino Dal Pozzo di Rotzo, around the end of the year 800, discovered some remainings of an Iron-age building, which has interested researchers for a long time. Even today, during September, some researchers from the University of Padua gather to come to light new findings.
At Bostel di Rotzo it is possible to visit the model of an iron age prealpine house, which was built following the instructions given from the archaeological researches. Wooden walls and thatched roof, the old house is tremendously suggestive and catch immediately the attention of every visitor, child included. It is possible to enter the house and start the journey in a prehistoric life atmosphere, thanks to the use of recent technologies such as augmented and virtual reality (more information on bosteldirotzo.it, in Italian).
Itinerary toward Bostel di Rotzo
Rebuilding on an house in Bostel di Rotzo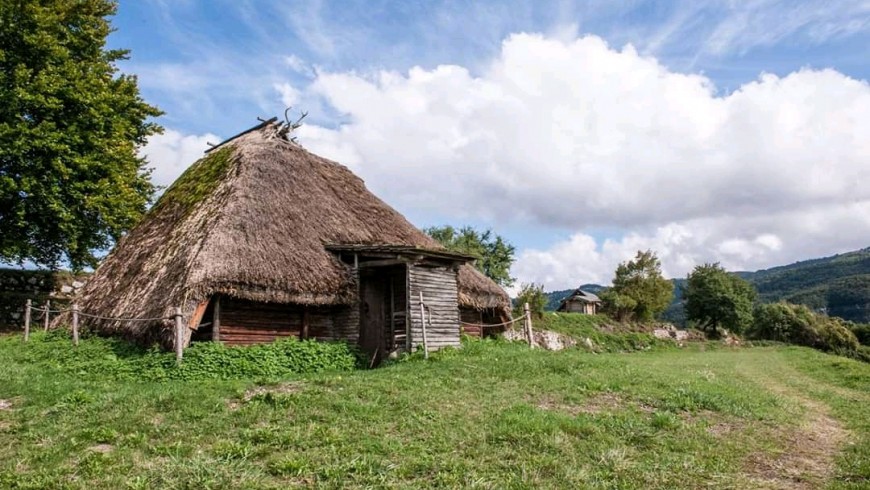 Here in Bostel di Rotzo history and landscape goes hand in hand, giving visitors a breathtaking view on mountains and on Valle dell'Astico. But it does not stop here. The Bostel Archeological Park is a must do wine and food experience for traditional tastes and receipts lovers.
With this in mind, Federica invited us to try the Baita del Bostel's delicious dishes, cooked by passionate chefs/researchers. With a few local ingredients, they lead us to discover Altopianese kitchen's tastes and flavors.
In the plate, we find the food of the season. The dandelion has been collected by the chef from the grass and it goes with every plate of the daily menu. Potatoes have been grown in a close farm and are served as gnocchi, filled half-moons or strugolo, a typical dish of farmer's tradition. Then there are alpine cheese, meats of animals grown in the Highland Meadows… We even try considera, a pale local porridge, made of potatoes, flour, butter, onion and a little bit of cinnamon: delicious!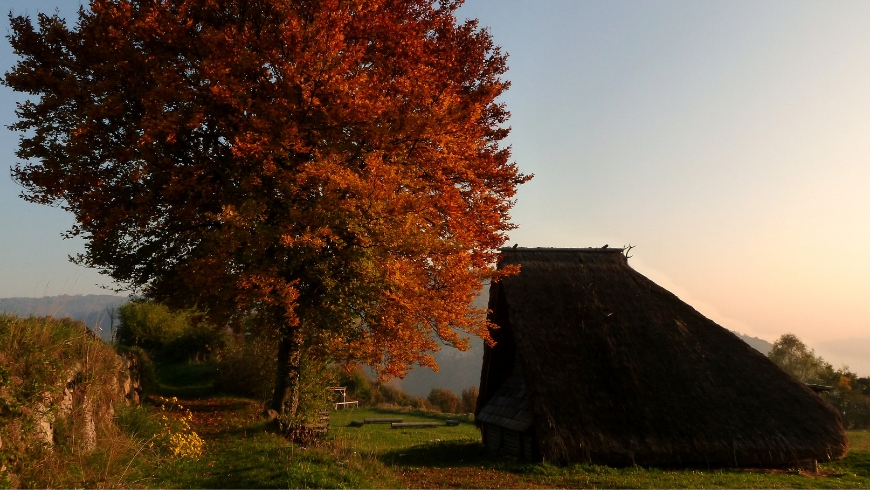 Interview to Federica, from B&B Hémmara
During lunch, among tastes and scents from Baita del Bostel, Federica tells us how her eco-friendly Bed & Breakfast was born. But also the must-visit trekking paths in the Highland… Here's what she told us:
How does B&B Hémmara come to life?
B&B Hémmara was born some years ago from the restructuring of an old historical building in the ancient village of Albaredo di Rotzo. Following a suggestion from an expertise person, I decided to save the building paying very attention to bio-architecture and the place's identity.
Initially, I thought of a holiday house, but then I choose Bed & Breakfast. This choice has been way better, giving me the possibility to establish direct contact with my guests, to know them, to live with them important moments of sharing. I just love telling them the many beauties of my land and invite them to discover these beauties; taking care of the b&b and the breakfast, so that they could live a pleasant experience.
Local and Bio Breakfast
Book Crossing Corner
What eco-sustainability criteria you adopted?
At B&B Hemmara I came out with different strategies to improve sustainability. First, recycling: I do it and I always recommend my guests do the same (I wrote it everywhere!).
I bought a double entrance washing machine, in a way that for the laundry I can use the water warmed up by the sun, through solar panels. I also have an energy-saving boiler which uses the water pre-warmed by solar panels.
When I restructured the building, I also create an important isolation space of 12 centimeters, and I choose double-glass windows. In this way, I can almost totally avoid heat losses in the house. In fact, when I put off warming, the internal temperature remains constant for a couple of days.
I eliminate single-dose and single dose packaging. Jams are served in glass boxes. In the toilet, there are dispensers for soaps and shampoo. In this way, I significantly reduced waste.
I choose soaps with natural and bio ingredients. For breakfast, I like buying local products, such as yogurt, milk, cheese, ricotta from Pennar cheese factory and other local farms.
It's with small things that we can make a difference!
BnB Hémmara's Room with a window on nature
Local and Bio Ingredients Breakfast
What does it mean to you to be an Eco bnb?
Being an eco-bnb for me is having an edge. I realized choosing green is not difficult at all: it's all in the products you buy, for example. Guests notice you clearly make a choice and they appreciate it, this makes me feel on top.
Tourism could have a great impact on the environment, this is why it's crucial to make responsible choices. From a single individual perspective, it's basically effortless, but it could make a great difference for the Planet.
What about your future projects?
I would love to create a small wellness area inside the B&B with IR rays sauna. Apart for this, I'm already working to create an e-car charging spot and a bike rental and deposit for all our two wheels lovers 🙂
What are in your opinion the must-visit places for your guests?
With the new slow mobility pathways, it's lovely to walk along all Rotzo's countryside. They give the possibility to enjoy the view even to families with small children.
Very wonderful hiking is Altar Knotto, a giant stone suspended on a cliff which gives a view on Val d'Astico. It's a panoramic and evocative walk, a magic place.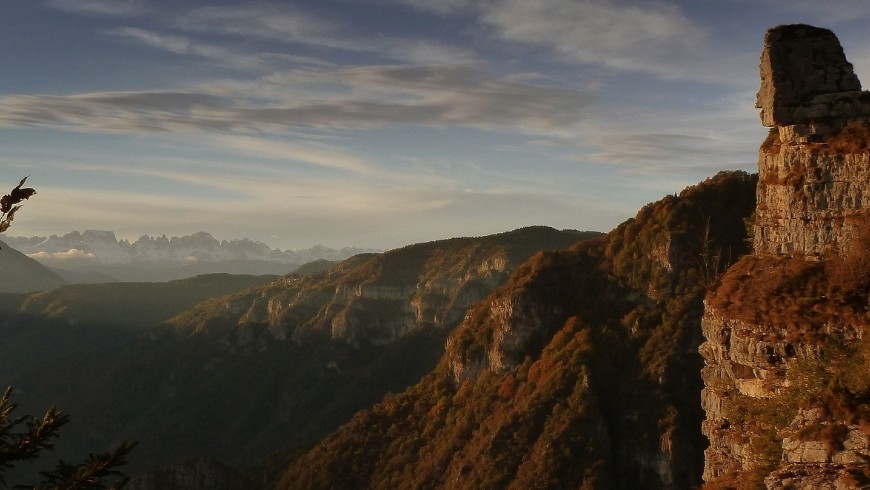 Another not-to-lose trekking is the one on Pach Waterfalls, very beautiful to see in spring with the first thaw.
I suggest as well to discover the First World War findings in Forte di Campolongo and in Forte Verena. From here, you have a sight on all the Highlands and the surrounding valleys. Near Rifugio Campolongo, it deserves a visit the natural Sciason sinkhole, a cave with a deep cut in the stone.
In Rotzo land by feet
Altar Knotto
Toward Cima Campolongo, photo by Edel, via girovagandoinmontagna.com
Entrance of Campolongo, photo of Edel, via girovagandoinmontagna.com
Voragine Sciason, photo by Edel, via girovagandoinmontagna.com
Voragine Sciason, photo by Edel, via girovagandoinmontagna.com
You can walk house by house among green fields and grazing cows, giving a look at the working of milk still following the old tradition and try local products in the place where they were made.
In the Highland, there are as well two very interesting parks: Selv-Art, reachable by feet from the B&B, and the Sojo Park, in Covolo di Lusiana. They are amazing destinations for nature and land-art lovers. Once entered in the park, you can see several installations and pieces of arts realized with different materials, from wood to stone, from metal to ceramic.
The Silence Pathway in Campomuletto a Gallio is a ring path along which a lot of different art installations have been set. They invite us to think about the value of peace.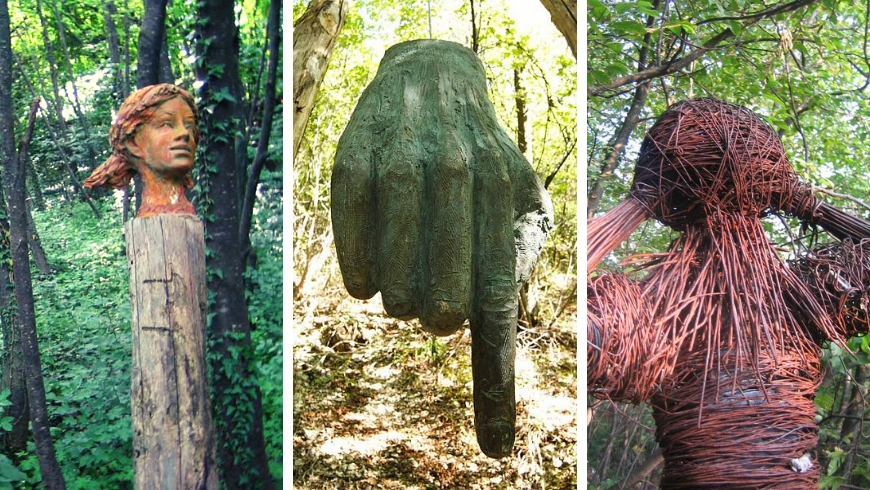 Thank you, Federica, for the interview!
If you have not visited Rotzo yet, don't waste time and book your eco-friendly weekend and adventure at B&B Hémmara!
Front Picture: Rotzo's land in spring, photo by Caterina Zancanaro