A charming and eco-friendly house to discover the other site of Venice. Cycling along canals, canoeing or boating … from Casa Fiorindo you can enjoy the beautiful Venetian Lagoon. Between old mills, Palladio's villas, archaeological sites, fisherman's houses and magical nature corners. We have interviewed Paola, the host of Casa Fiorindo, passionate about sustainability but also about flowers and gardening.
An ancient country house turned into a beautiful and eco-friendly retreat. Paola Coppe, the owner and host of Casa Fiorindo, has recovered the old house and has created eco-sustainable apartments, together with her husband Giorgio and their children. She also grows flowers and plants for work, for this reason Casa Fiorindo is surrounded by beautiful orchards, roses, hydrangeas… "I like cultivating special old species of plants, chosen for their fragrance, shape and the color of leaves, trunk or cortex".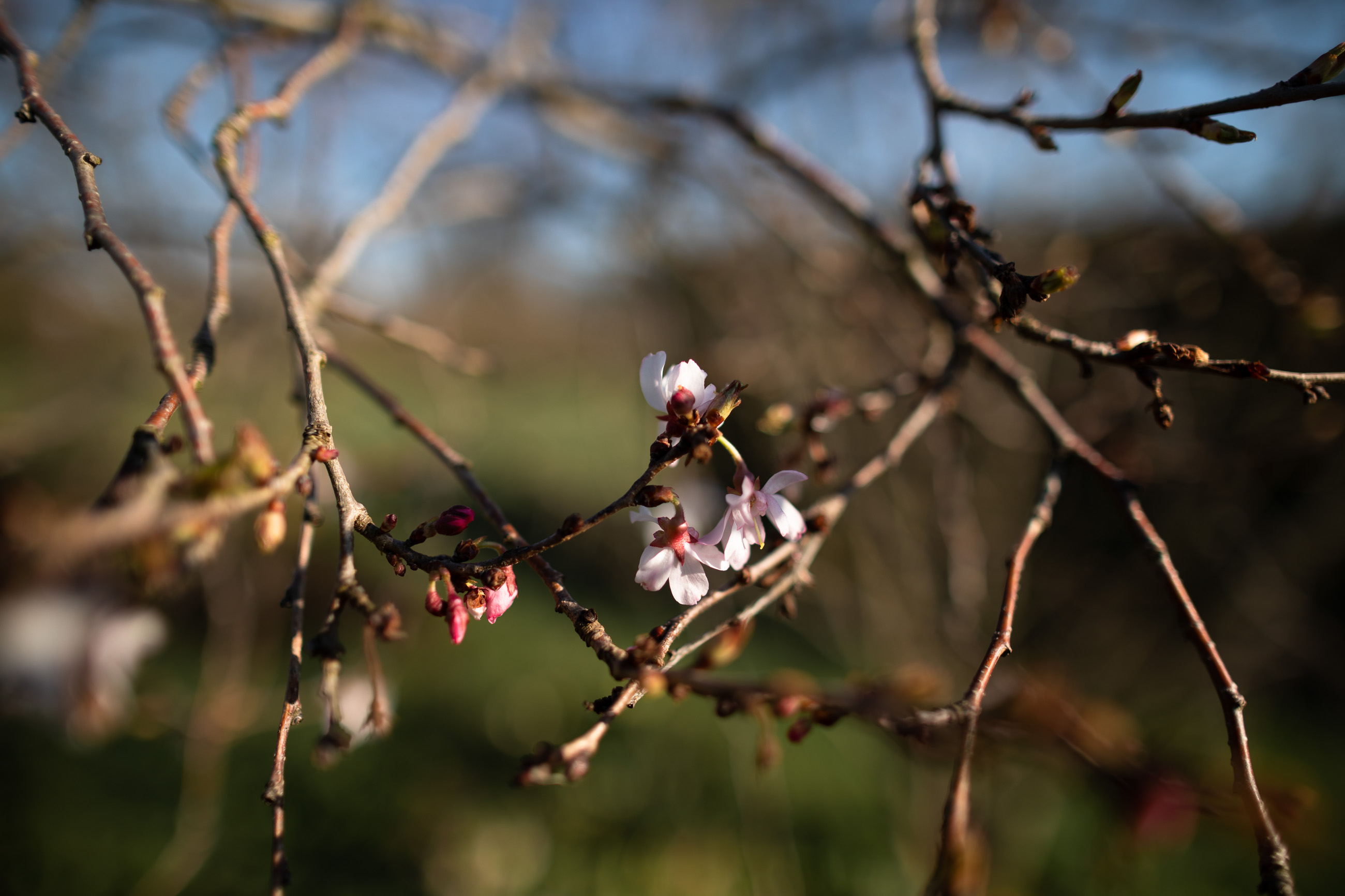 Traditional variety of fruit tree, near Casa Fiorindo
Paola Coppe with her children
Flower
In this country house, surrounded by flavorings and colors of nature, Paola shares with her guests her love for sustainability. Casa Fiorindo is the ideal starting point for the discovery the other site of Venice. Few steps from the eco-friendly house you can enjoy the amazing landscapes of the Venetian Lagoon. We have interviewed Paola. Here's what she told us:
What's the story of the eco-friendly house Casa Fiorindo?
I've always lived in this places right on the other side of the river, few meters far there's my parents house. In 1988 we bought this small piece of land with mr. Fiorindo's house, with cowshed, storerooms and cellar. A little at a time, along the dirt road that surround the house we planted a lovely hedge and a lot of ancient fruit trees.
To me planting trees is like creating beauty and transform the territory. I've started the nursery cultivating roses, hydrangeas and peculiar shrubs. This gave me the possibility to know beautiful persons both costumers and others nursery colleagues and artisans. All nice people passionated about their job and with which the working relationship turned in friendship.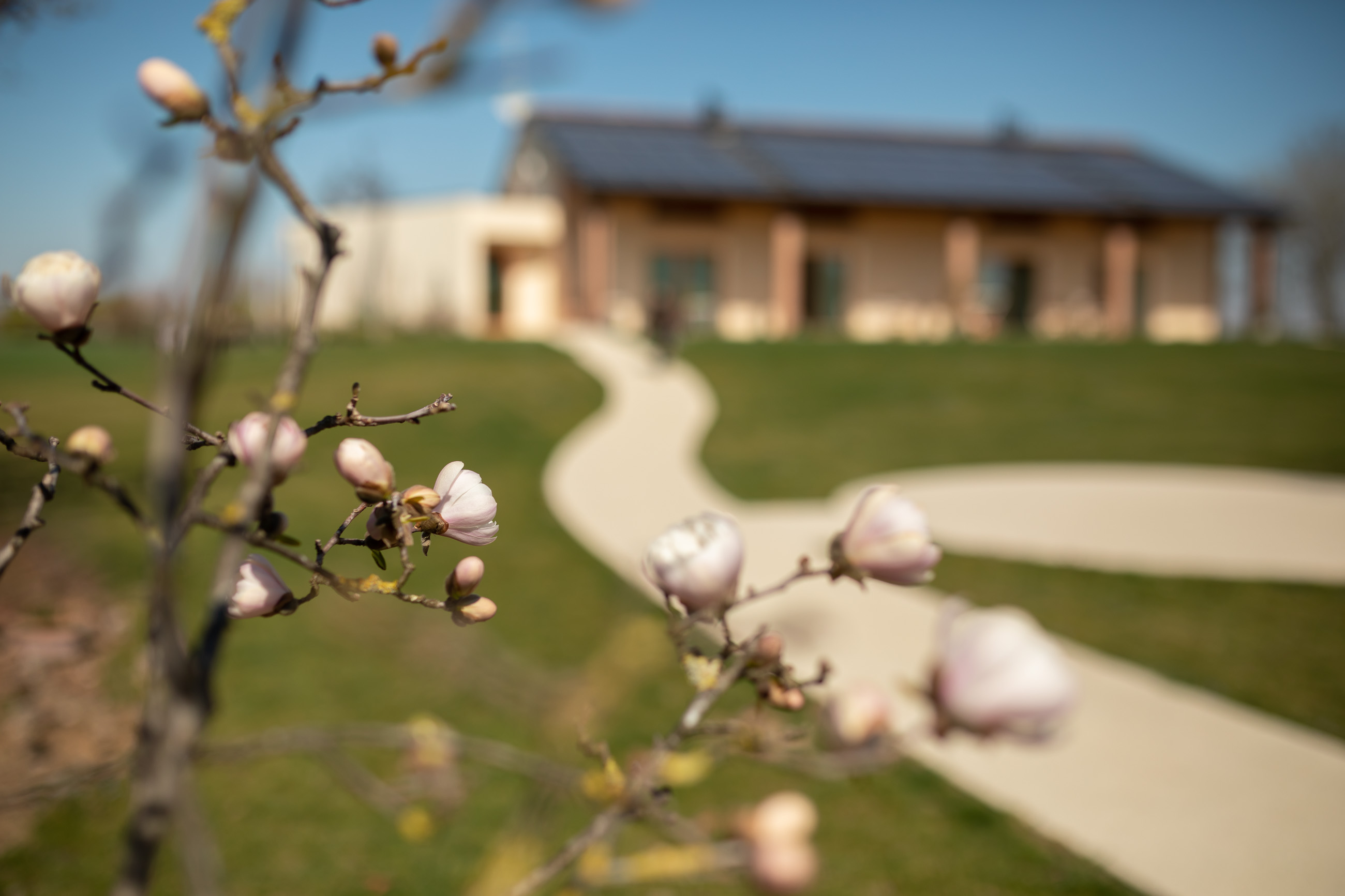 The eco friendly house's solar panels, with roses in the foreground

At the start of 2000s, with my husband Giorgio, we built our own house and we came to live here. We made a nice garden and planted lots of trees. Gradually the place became marvelous. The old buildings were still there and we decided to renew it a bit at a time. From the old house of mr. Fiorindo we had the chance to create an eco-friendly country house. We put together Venetian tradition, with projecting, technologies and materials adapted to security, sustainability, energy saving, comfort and beauty standards.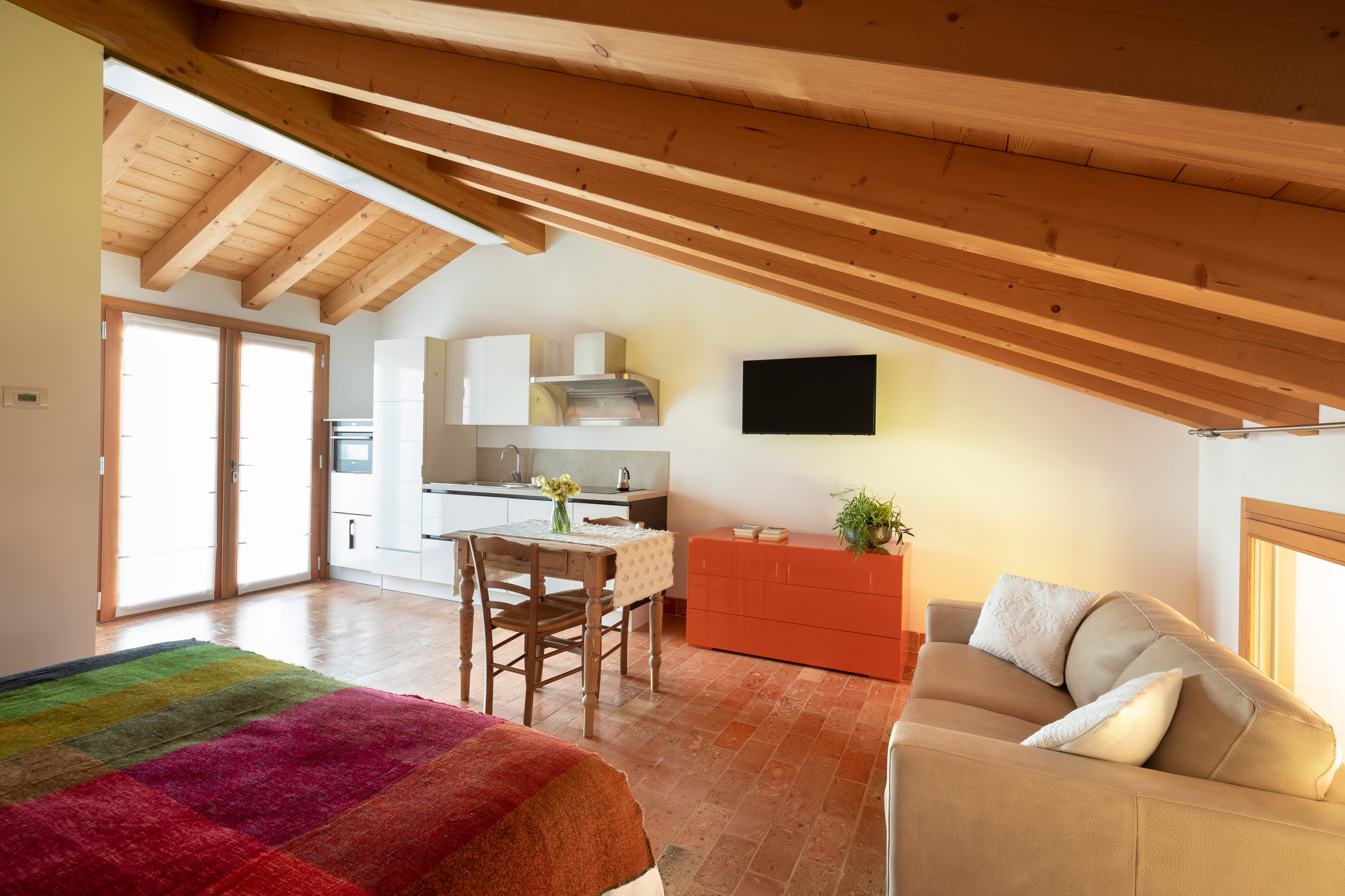 Casa Fiorindo by night
Natural architecture
Natural textile
In the project we focused on the choice of materials. So, hand turned materials we found nearby, the old ones recovered and the new ones finely crafted. Bricks and blocks from the old building, stones and tiles handcrafted in the old furnace "Fonti". Earth colored mortars, cleaned gravel, smooth cement, spruce wood and marble.
We put together modern furniture and the old that was restored. For the curtains, kitchen linen, pillows and bedspreads we used the gorgeus textile of Michele, from the historic factory Eger (1877). Bed linen is made of stone washed cotton, a special treatment that makes it soft and pleasing. Its natural fabric don't have to be ironed and it's widely used in the scandinavian countries.
Our agritourism is new but we wanted to give back the identity of where it was built. So we gave every house the name of special persons like a goddess, an ancient road, a neighbourhood that influenced and shaped the place.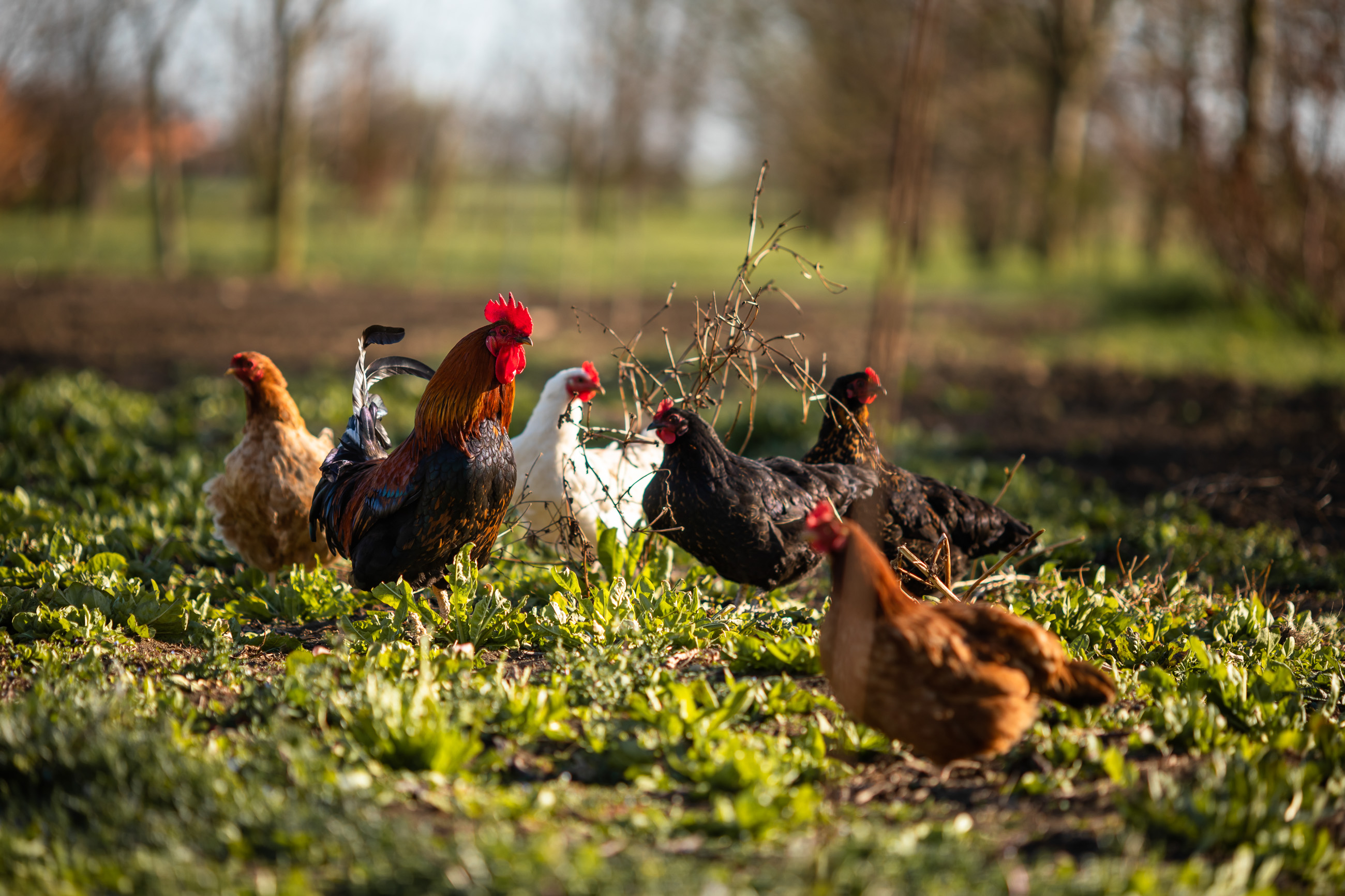 Casa Fiorindo
Venetian countryside
Porch
What sustainable habits did you adopt?
First thing was south oriented planning for the correct insulation, as well as insulation to protect from heat and cold. Then we decided for auto-powered electricity with PV panels. Also the kitchen burners are induction plates, using clean energy. We have an electric heat pump that heats all the water supply needed and the same goes for air conditioning. All the bulbs are low-energy led. We have a biologic sewage plant for the waste water. We put a lot of effort on recycling, so we put containers for the separate collection.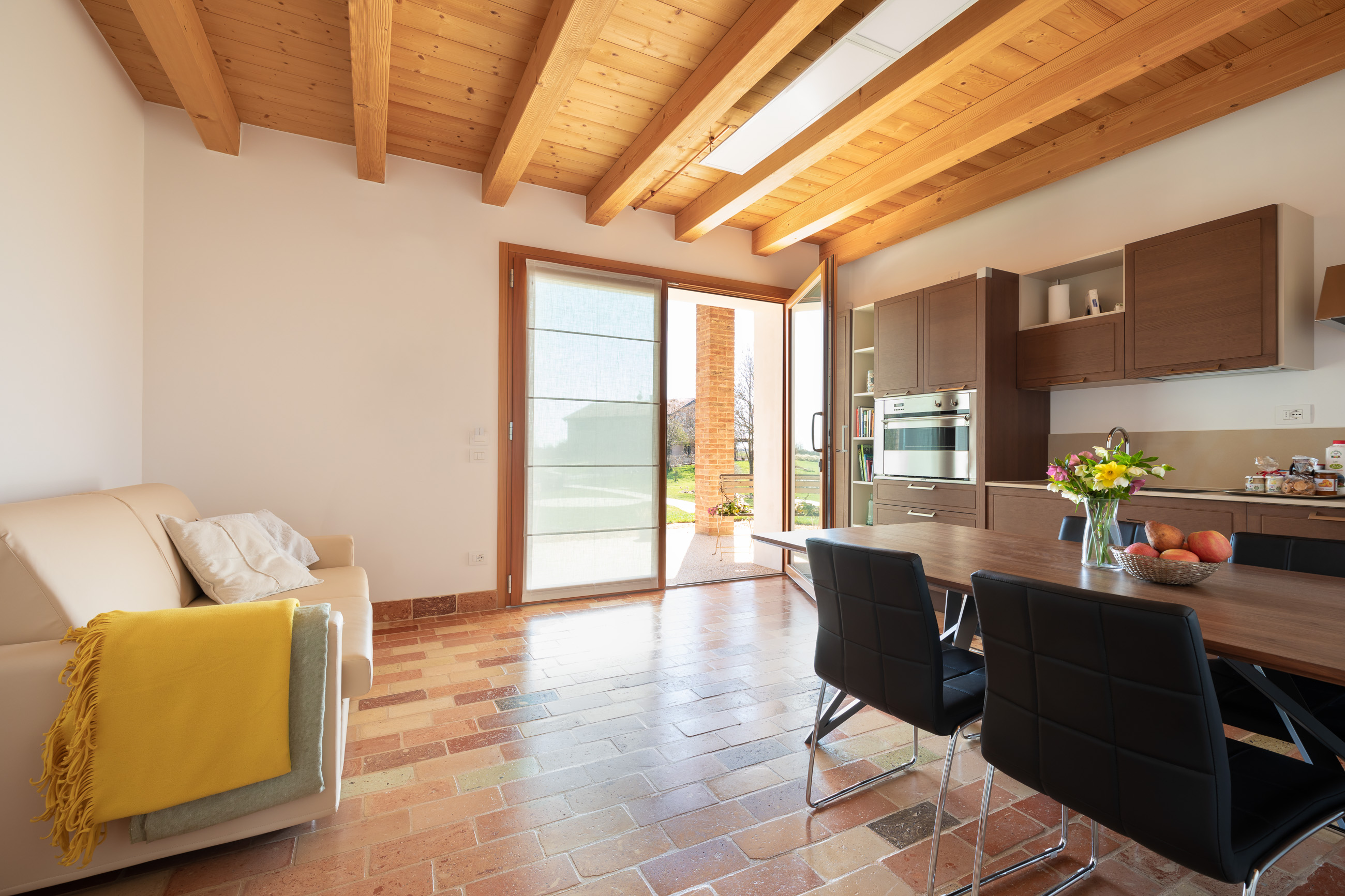 Room with terrace
Bathroom
Room with terrace
We had a positive influence from you – Ecobnb – and we started using bio-based soaps and detergents.
Into the apartments we provide for breakfast fruit juice and compote made only with fruit, brown sugar, lemon and water. They're made by "La Giasena", a factory that produces fruit and transform it. Organic milk comes from Cansiglio's breeders, and handmade biscuits from the great "Bettina", which produces with big passion and fine selection of raw material. A good example of eco-friendly food selection.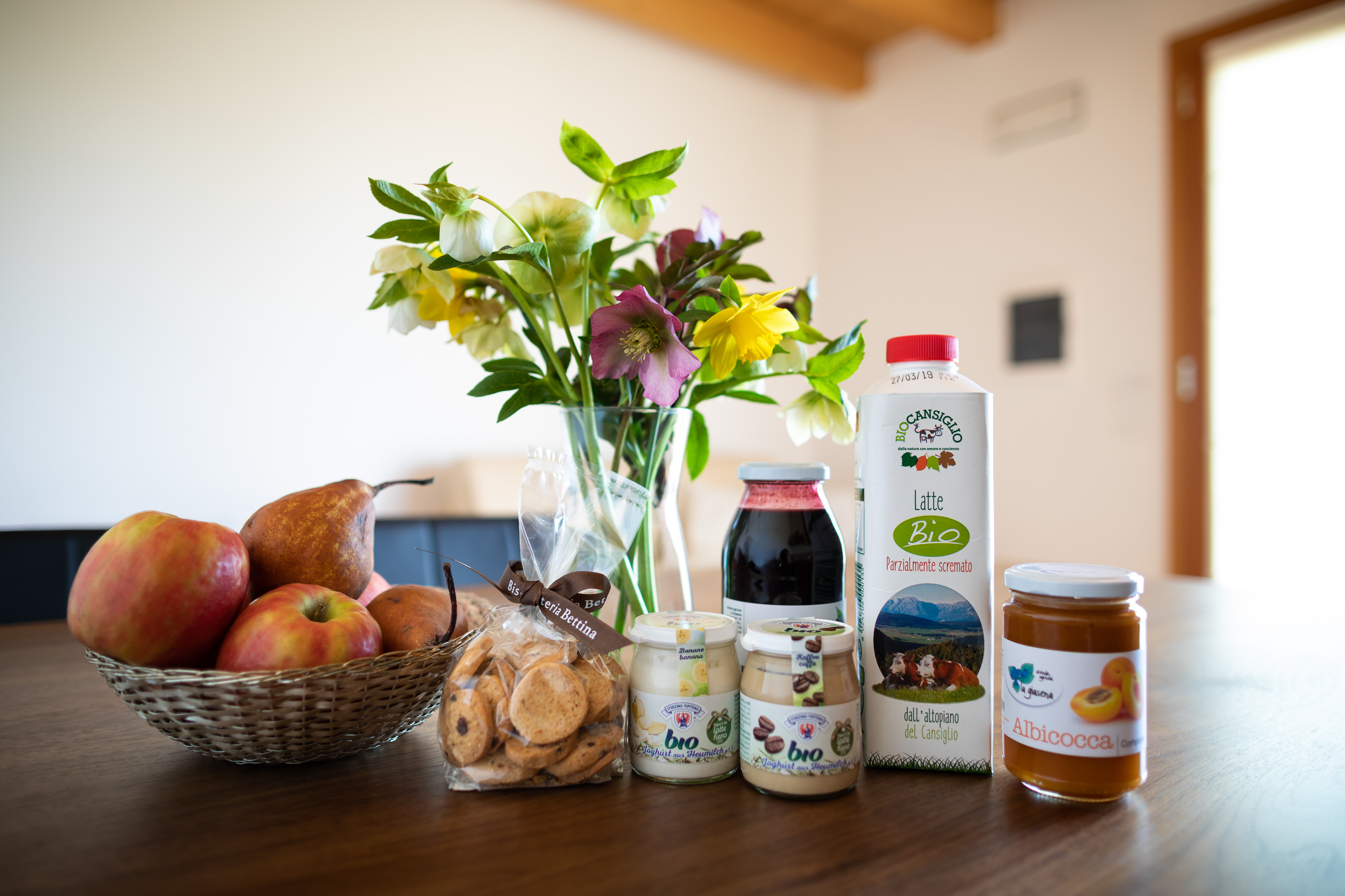 What are the best places to visit and the recommended slow routes (walking, cycling, etc.) starting from your house?
We are very close from Venice lagoon. 4 km far from Casa Fiorindo, in Portegrandi, there's the dock for touristic ferries, for trips up the Sile river, islands of venetian lagoon and to Venice.
You can do beautiful bike tours by yourself or with a guide down Sile river from Treviso to the sea, Jesolo or Cavallino, famous beaches. We offer some free bikes or you can rent high level bikes. Going down the cylcing greenway from Treviso to sea, you'll pass by small towns of S. Elena di Silea, Casale sul Sile, Musestre, Quarto d'Altino, Portegrandi, Caposile and Jesolo.
It's possible to visit the nature of Sile river also by water with canoe, kayak or rubber boat. You can go with the flow and meet old mills, submerged boats, marinas, beautiful venetian villas, but also trattorias, taverns and small nature corners where you can bird watching and relax.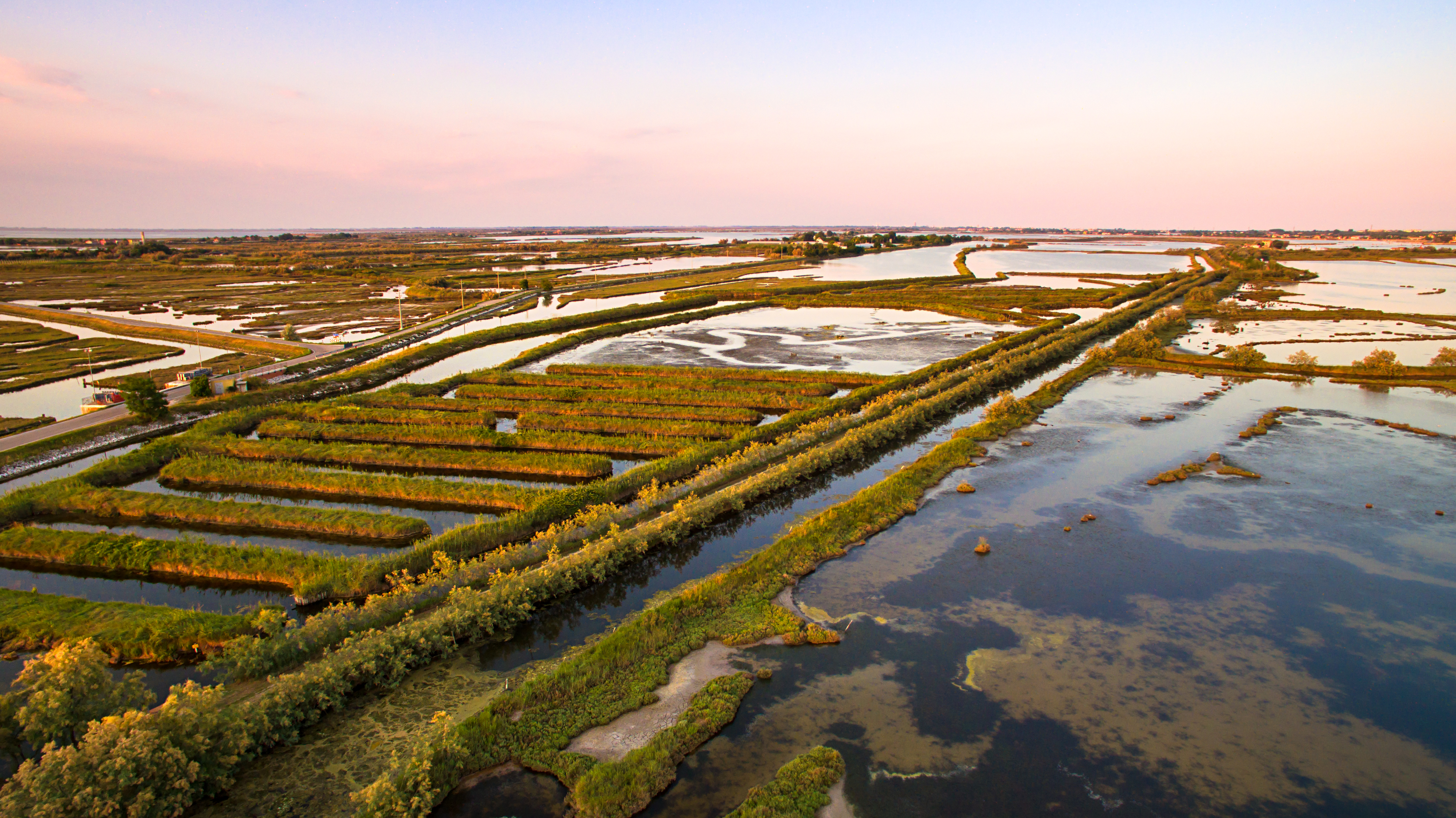 Villa Valier Battaggia, venetian villa in Sile Park. By Gianfranco Speranza, via parcosile.it
Pantana, a characteristic river boat in Sile,by Francesco Ramponi, via parcosile.it
Brid watching, photo via pxhere
Those who are way into birding, will find various watchtowers along Sile river and into the lagoon to see coots, mallards amd herons.
From Caorle there are very nice boat trips to lagoon. You can visit  fisherman's  "casoni" (the mansions) and have a break together. Otherwise you can plan a boat+bike itinerary to visit Livenza river, channels, valleys, country roads and farms. Here you can visit the house which hosted writer Hernest Hemingway.
A student of history can't miss National Museum of Altino (10 min from Casa Fiorindo). Altino was the main port of ancient venetians, before the rise of Venice. There you can find antiquities of Mesolithic, Bronze Age, Iton Age and pre-roman and roman's age.
Archeological museum of Altino
Archeological museum of Altino,via Wikimedia
Archeologic area of Altino
We are also close to historical cities like Treviso, Asolo, Castelfranco, Cittadella, Bassano del Grappa, Vicenza, Padova, Verona. Not to be missed also coastal towns Cavallino, Jesolo, Eraclea and Caorle. In Meolo you can see Villas of 1500, property of venetian nobles that came to administrate the countryside during summer.
If you like typical cuisine you can try trattorias and restaurants with excellent fish or meat menù. Various wine factories have typical local wines: merlot, cabernet sauvignon and franc, refosco, raboso, pinot grigio, chardonnay, glera, prosecco.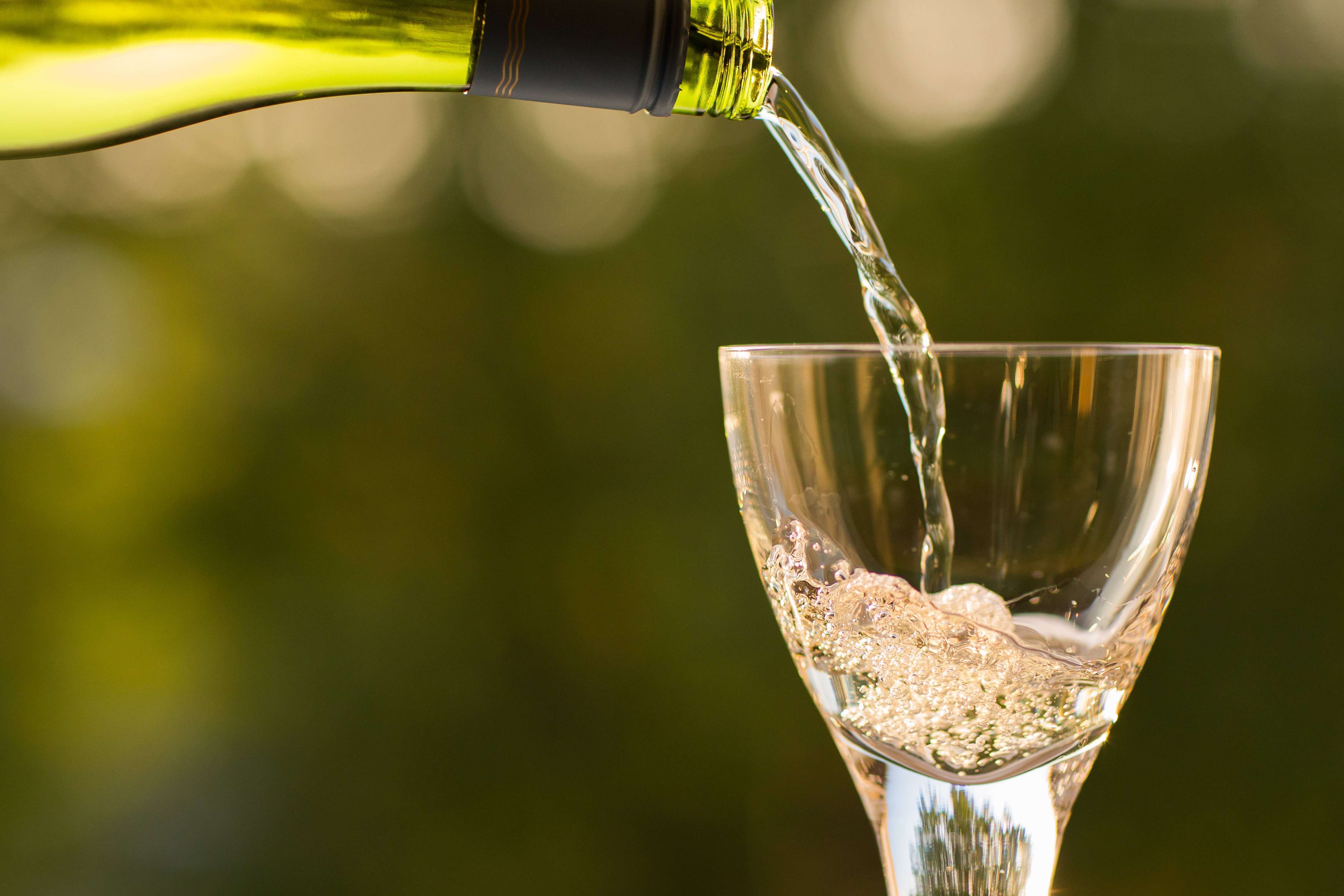 Which green experiences do you recommend to your guests?
Definitely the bike tour in the Sile river to the Venice lagoon, which starts exactly 4 kilometres from the house. But also the trip boat+bike on Lemene, a river that flows into Caorle. Here you can have lunch in the old town, or in the seafront, with the view of Scogliera Viva, the cliff where rocks have been sculpted by artists.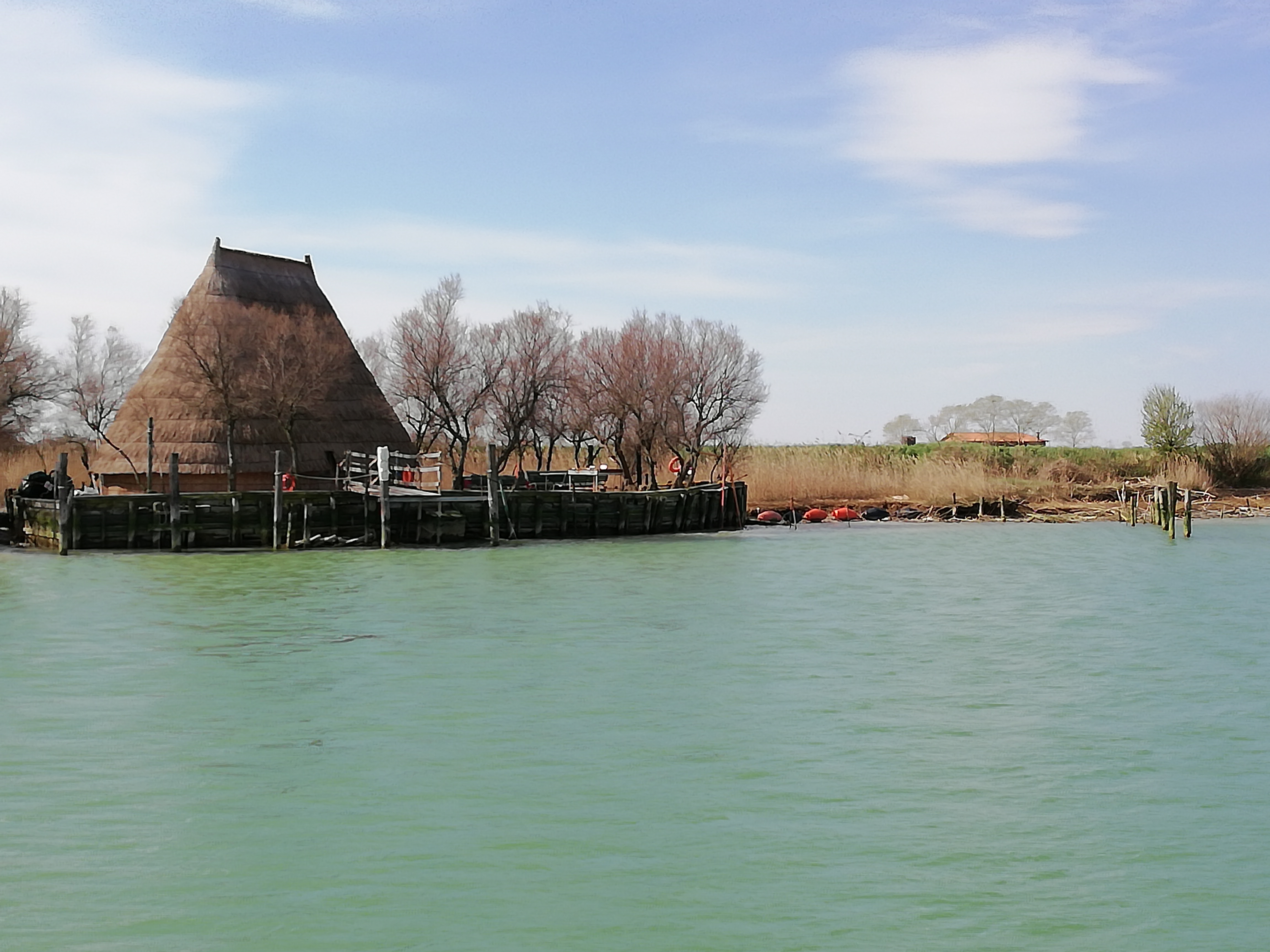 Scogliera Viva in Caorle
Work of art on the cliff
Work of art on the cliff
Coloured houses of Caorle
Caorle's old town, window
Caorle's bell tower
Boat with bikes
A "casone" in the lagoon
landscape of the lagoon from the boat
What does it  mean to you being an Ecobnb?
Hosting respecting nature and landscape, focusing on quality.
Enhancing the beauty of your own territory, growing flowers and plants, preserving and protecting the amazing landscapes around you.
Thank you Paola, for the interview!
If you're searching for an unusual experience near Venetian Lagoon, this authentic and eco-friendly house is the perfect place to discover an other Venice.