A country house… cosy and glamour. Ca' delle Rose is an eco-friendly and charming B & B surrounded by the scents and the colors of the roses, a stone's throw from Portogruaro and the most evocative corners of the Veneto countryside. We interviewed Grazia, the host, here's what she told us…
Ca' delle Rose that recently opened its doors as 4 stars B&B is not just a B&B but offers an unforgettable experience in the countryside of Veneto. From the moment stepping through the door you will be immersed in an atmosphere of a fairytale, all eco-friendly and biodynamic managed. Rich of itineraries to do nearby the B&B where you feel the real authentic nature and culture of the countryside of Veneto Region. At Ca' delle Rose you can enjoy your holidays being in a fairytale, in pure peace, in luxury comfort and with the service of a warm-hearted host. We talked with Grazia, the owner of the B&B Ca' delle Rose, who tells us her story and eco-friendly hospitality.
How did your project of eco-friendly hospitality start?
It started from the deep nature of Ca' delle Rose: a bewitching blend of grace and classic style. Ca' delle Rose is a private home in the countryside of Veneto which is well positioned, close to Portogruaro and not far from Venice and main art cities. Ca' delle Rose have two entry gates; as in the past I opened my rose garden for public visits because I got these requests from people, I didn't manage to work enough in the garden anymore. Therefore I said okay! I will dedicate two days opening the garden to passionate persons and garden lovers, as I had the entry on the provincial road it made it easy for me to organize these public visits.
When later my children became older and started to follow their own life journeys, I found myself alone in this big house. As everyone always said to me that they valued my hospitality so much, I thought why not dedicate this hospitality also to guests that appreciate details and who's seeking above all a hideaway of tranquility, where they can rest, where they can read, or where they can drink a cup of tea feeling at the centre of the universe.
We are thrilled to welcome our kind Guests to Ca' delle Rose Eco Luxury Bed and Breakfast where they can drift off to sleep on the finest embroidered fine bed linen, fresh from a rose-scented bath with organic oils; upon waking, they can enjoy a delicious continental breakfast with organic foods and beverage. Guests will enjoy the opportunity to relax and can read or listen to music in their room, garden or sitting area of the house. Well there it is, the reason why I opened the B&B Ca' delle Rose.
Which green itineraries or experiences do you mostly recommend to your guests?
According to me, the itinerary by bike that you can enjoy is the cycle path to Portogruaro and Concordia Sagittaria as well as to Cordovado, passing by the mills of Boldara and Stalis, and arriving at Cordovado where you can fully enjoy the atmosphere of its Castle. This itinerary by bike is delicious because you go through an area of silence and peace. Amazing!
For those who like walking, I recommend from Ca' delle Rose to Alvisopoli which is here nearby, 4 km, and is an itinerary you can do only by feet so well protected as to say. There are beautiful realities here, simple, but still very fascinating and above all relaxing, very refreshing. If you wish, you could go everywhere from Ca' delle Rose because of its position!
Venice is easily reachable every hour by train from the railway station Portogruaro-Caorle: no need to drive! Situated just 40km from Venice, it's also near the Adriatic coast, mountains and the most beautiful ancient villages of Veneto and Friuli-Venezia Giulia.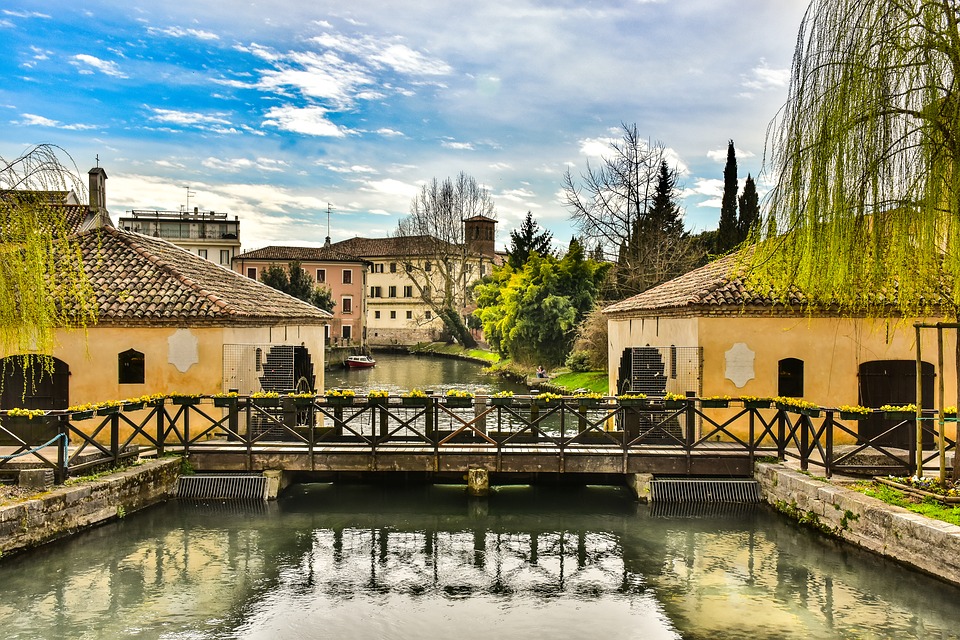 What best practises of eco-friendliness did you adopt?
We are proud advocates of responsible tourism with reduced environmental impact so we take care to use organic food and drinks, suggest environmentally friendly itineraries and encourage the rediscovery of nearby places. As far as we can, we sought to really realize every little thing that is eco-friendly.
It goes from every daily action from the use of ecologic detergents, to the light bulbs, to the recycling of waste, to the use of only natural fibres as cotton, wool, silk, etc. to organic food and beverage. Besides that, also all bath products are natural and organic or from biodynamic production.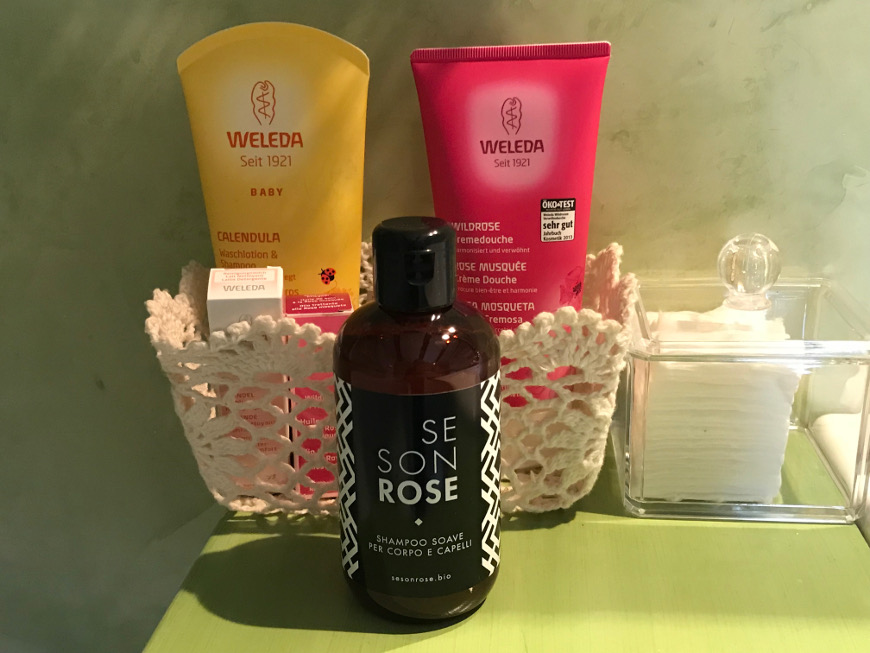 Our gardens too are cultivated according to the Principles of Biodynamic Agriculture.
Therefore, there's absolutely no use of chemical products here.
We encourage the idea 'Slow life' and 'Digital Detox': a well-needed break to recharge surrounded by simplicity in a biodynamic garden and a warm and relaxing home.
Discover the mystical spell of this charming private country house and spend your holidays enjoying the slow life, absorbed in the superlative of the Venetian countryside.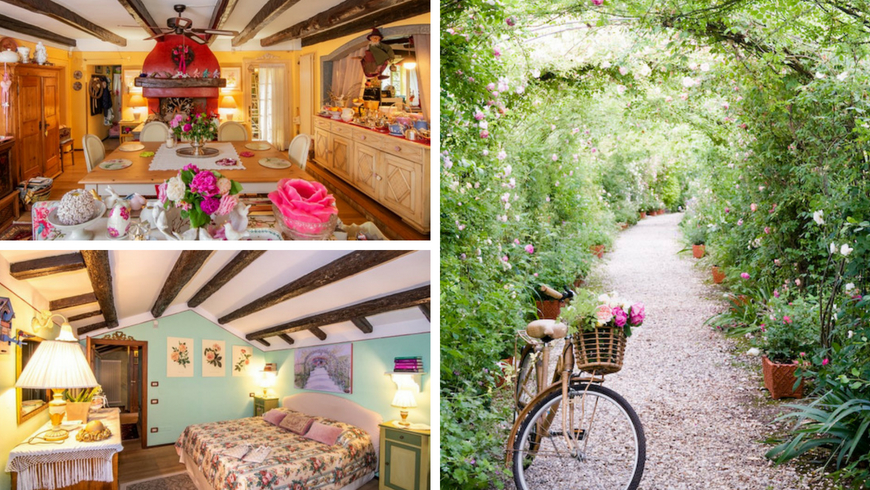 What does travelling sustainably means to you?
Well eco-friendliness means the complete package of nature and human being. It is within my awareness to do everything possible for the nature, which is also our own life, the life of our grandchildren, our future and of course it concerns everyone.
The people today have hunger to travel, to see as much as possible. But if, instead, during holidays everything would move more slowly as waking up with calm, enjoy the right time and slowlife, walking and cycling, then it could mean to travel and live in a sustainable way.
Besides that, Ca' delle Rose is not an hotel of 50 rooms, we have 2 comfortable rooms and a cosy cottage and our guests can feel themselves to be the center of my attention and this is exactly my desire of a slow and authentic tourism.
The next initiative for your B&B in sustainable tourism?
Above all to install a photovoltaic system, this is really my dream which is with this structure not that easy, but I would really like to realize it.
Now I am also finishing writing a new itinerary in this zone which I will give to the various tourism sites. For me the first objective here is the well-being of my guests, to give them a personalized service with a personal touch blended with the Italian sense of style and the interiors and peaceful life which is in no other place to be found!
Thank you very much Grazia for showing us your fairytale B&B and telling us your story!
B&B Ca' delle Rose has a lot of value within sustainable tourism with a beautiful story.
If you liked this article, you might also like: