Some children dream to become a good doctor or an astronaut, someone wants to get married or to travel the world. Vilson dreamed to build a stone house, where he could live in total connection with nature. He got the chance to realize what he wanted, after working and travelling a lot. He made it by creating a sustainable and comfortable place. Join us and let's discover his story.
Once upon a time – well, truly, just 8 years ago – there was a land left out in the cold. And there was a boy, named Vilson, traveller, hotel-industry expert, nature lover. And it was love at the first sight. Do you want to know what happened then and how this eco-story began? We tell you about it.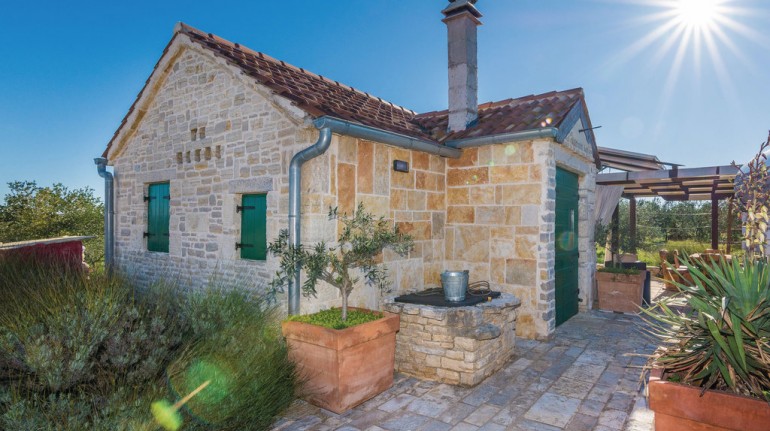 How it all began
Vilson Bratovic had a dream: building a stone house which was self-sufficient and sustainable, similar to the one that he saw on a newspaper when he was just a young boy. He cut the picture out and brought it with him in all of his travels. Eight years ago, his dad was trying to sell this huge land – about 10 thousand square meters – in Croatia, but nobody seemed interested. So Vilson decided to take care of the property and to catch the opportunity of fulfilling the dream of a lifetime. The first step was a tribute to his family tradition, and especially to his grandfather. He planted 365 olive trees, the perfect number to produce enough oil but without any external aid. He still heal the trees with his own hands.
And then, with a little help from a couple of friends, he started to build his off-grid mansion.
Building a dream…
Stone by stone, Olive Garden Paljka started to take shape. Vilson recovers boulders in the ground and he cut them to the right size. He buys the missing one from a pit. The choice of material is not casual: everything in his property must be environmental friendly. Stone is also a natural insulating material: the temperature remains around 21/25 degrees, even when it reaches almost 40 degrees outside. The house has a surface of 41 square meters, and it's perfect for two.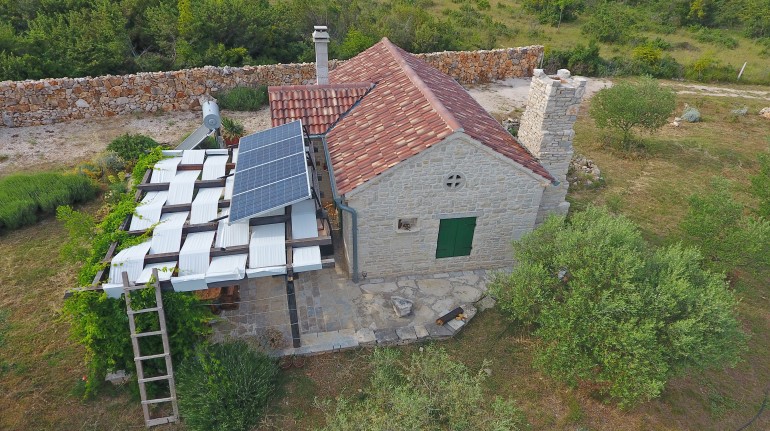 The wooden roof is sloping; doors are made of wood as well. Vilson builds a flue pipe and a tank for rainwater collection, which contains up to 32 thousand liters. Electricity is produced by a photovoltaic system: another choice would have been impossible with 2500 hours of sunshine per year. The system has 1 Kw of power and it is designed to work up to 7 days without sunlight. It employs the best regulators and batteries on the market, there are LED lights and the small appliances are class A+++.
Warm water is produced by a solar thermal pump that made up 150 liters for more than 6 months a year. The other months you can use a gas boiler.
The leitmotiv of Vilson's project is easy: living off-grid without harming the environment. But he made his ideal real in today's world. To "unwind" and live in a responsible and eco-friendly way doesn't mean pretending to be back a century. Olive Garden Paljka has modern appliances, Vilson has a smartphone… Modernity and technology don't make us careless about what we have around. How we decide to use these tools makes the difference.
…And living it
Let's step in. Immediately on the left, there's the bathroom door. And then there's the open space, which makes feel welcomed and pampered. The kitchen is made of Slovenian and Croatian wood. The dominant element is a beautiful sink, created with local stone by a friend of Vilson.


The living is the real gem: a big sofa, wooden furniture. All the small furnishings have been collected or bought by Vilson during his years around the world, to make the identity of the house stronger. Some others were gift by friends. What Vilson is more proud of is the fireplace. It's been built creating a ventilation system that avoids smoke dispersion in the space. It's not only to warm up the environment, but it's used to grill deliciousness. One of those is a typical dish, called "underbell".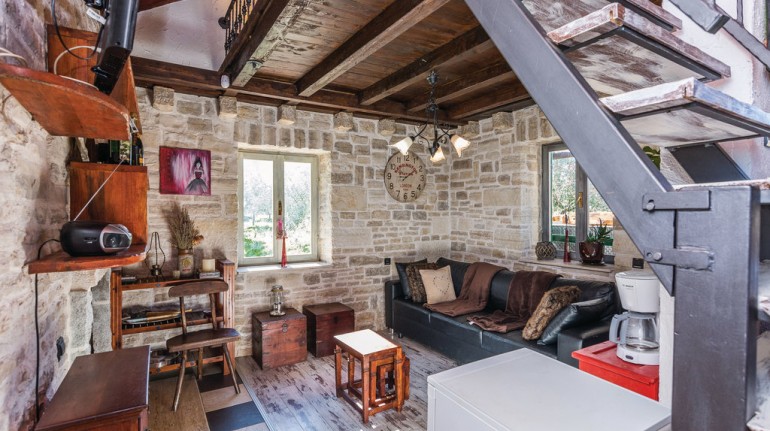 The open space is separated by a stair, leading to the gallery, devoted to the bedroom. Light comes in through a tiny window, that seen from outside is a circular stone with four holes. Just like those of tales books. And what a dream it is to wake up there in the morning! And realizing that every centimeter of the place you're in was though just to make you feel fully connected with the nature around you.




Finally, the bathroom has two distinctive elements. The first one is an ancient wooden furniture, restored and red-dyed by Vilson. The second is a masterpiece of handcrafting, originality and style: a washbasin, shaped from a huge boulder, found in the property but unsuitable for building the house. It was cut and crafted ad hoc and then placed on the base of an old Singer sewing machine. So, an artisan and vintage jewel.
Living in an off-grid stone-house among olive trees
Not only indoor, but Olive Garden Paljka offers the elements for a wonderful stay also outdoor. Vilson has created a space right next to the house, providing it with a wooden gazebo, covered with light curtains. It's furnished with a wicker living and a wooden dining table. There's a grill made of stone, for delicious barbecues at summertime.
More, on the side of the house, there's a short stair, leading to a wine cellar. The micro-climate of the room is ideal for wine storage. Vilson uses it to plan local wines tastings for his guests.
The outdoor living
The wine cellar entrance
The olive trees in the wide field are grown by Vilson himself. He does not employ chemical agents nor fertilizers: the fruit must be 100% natural and genuine. There's also a vegetable garden, watered with rainwater from the tank.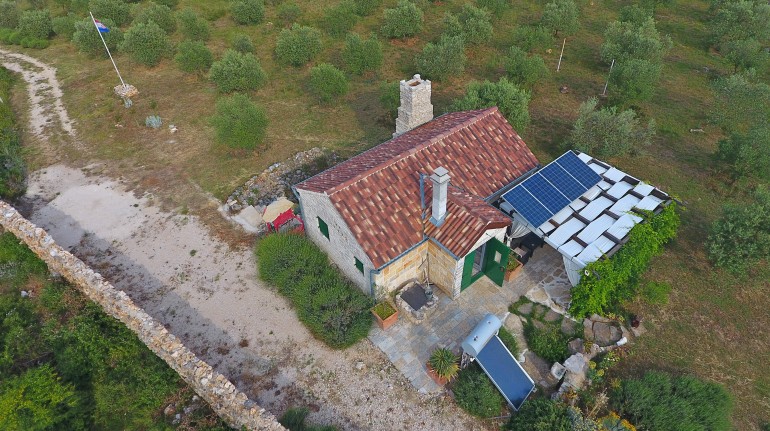 Olive Garden Paljka is deep in the heart of Dalmatia. It's just 3 km far from beaches , 22 km away from the city of Zadar and 15 minutes away from the airpoty. Moreover it's surrounded by three natural parks: Kornati, Krka and Paklenica . The first one is a wide archipelago; the second one is known for the wonderful waterfall of the river naming it and for a XV century monastery built on a small island; Il primo è un grande arcipelago; the last one is perfect for hiking and wandering.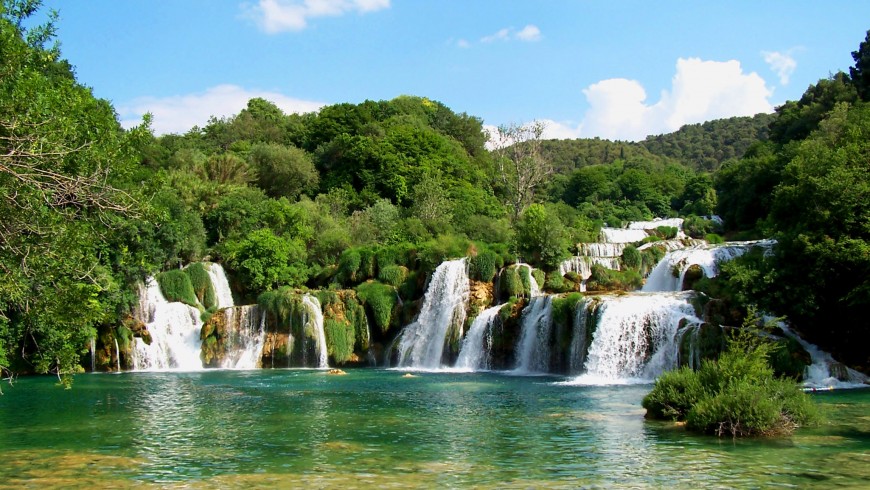 Every fairytale has a moral, hasn't it? This eco-story teaches us that dreams come true with patience, effort and perseverance. But it teaches us also that, even nowadays, it's not impossible to create a space and a lifestyle that is perfect for our needs without harming the environment. To live off-grid does not mean to close off from the rest of the world, but rather find a new harmony with it. Would you like to experience this style, even for a few days? Don't wait any longer, and let yourself being involved by the eco-friendly comfort of Olive Garden Paljika!
Cover image made by Lucia Anastasi with Canva.