It happens to everyone to feel the need to escape from the world's frenzy, from daily routine and responsibilities. It happens to everyone to dream of living a few days far away, immersed in a pristine world. Fortunately, the solution exists: there are so many perfect places to find a connection with nature, forgetting the stress of the city. With winter on the doorstep, we found some that are ideal for the colder days, that you can spent between walks in the snow and hours in front of a fireplace, enjoying the local delicacies. They are places accessible only without a car, whether on foot or by snowmobile. They are unique locations immersed in the nature of the Alps, where you can experience the luxury of sustainability and contact with nature, but also unusual and green experiences.
1. A winter at 1700 meters of altitude in Piedmont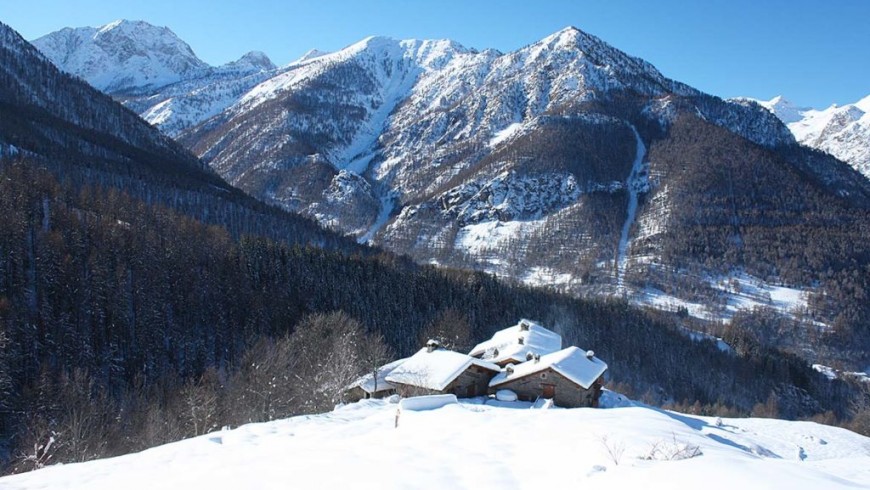 The first thing that amazes about Borgata Sagna Rotonda is precisely its location, truly unique. In winter you can immerse yourself in a wild and snow-covered nature, on a mountain pasture at 1,700 meters above sea level, in the sunny Maira Valley. When there is snow you must leave your car a kilometer away, the hosts will arrive with the snowmobile to take you to destination. It is a small village completely renovated, with 13 fully furnished and heated apartments with wood burning stove. Everything is sustainable: the energy is clean, the detergents are eco-friendly, there are water flow reducers. From here there are many paths, both for ski mountaineering and for snowshoes. Every corner of this still little known territory leaves us breathless and intoxicates us, only as nature can do.
2. An authentic mountain refuge in the Gran Paradiso National Park



There are 3 possible paths to reach the Sogno di Berdzè refuge, in the Graian Alps at 2,526 meters above sea level. All to be covered on foot, by mountain bike or on horseback. In this corner of the Val d'Aosta you can discover the true mountain life, let yourself be carried away by the scent of the undergrowth fruits used to prepare tasty jams and freshly made bread. Inside the accommodation, which fully respects nature and meets all our 10 sustainability requirements, you will find a dining room, a bar area, a large dormitory and nine rooms for 2 to 6 guests. In a few minutes you can reach the wonders of the Gran Paradiso National Park.
3. A magical paradise without cars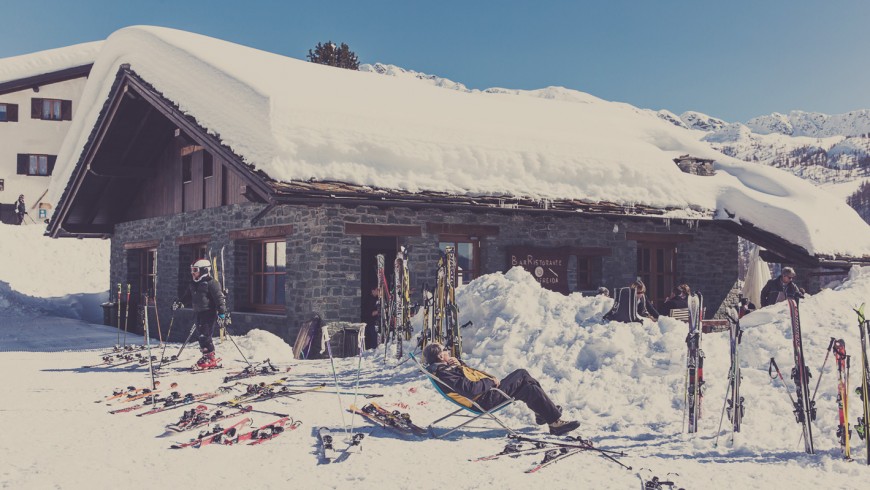 Chamois is the only municipality in Italy without roads, an Alpine Pearl ideal for sustainable and exciting winter holidays, among skiing, snowshoeing and nordic walking. Forget the noise of cars and discover a unique place, an oasis of peace where nature is always the main attraction. Maison Cly, a 4-star eco-hotel, welcomes you in a romantic setting, characterized by typical mountain architecture and the addition of modern design elements. It is easy to indulge yourself in doing nothing, in the little pampering offered in the restaurant or in the wellness area, in moments of silence and peace that allow you to rediscover the great little things of life.
4. Your winter between Dolomites



What once was a stable that served as a shelter for cows in the season of the alpine pasture, today is an eco-sustainable accommodation, which externally reflects the original traditional features and inside offers a warm and welcoming environment. Through a beautiful path that crosses enchanted forests of conifers for a total of 2 kilometers and 400 meters in altitude, you arrive at Malga Cere, in the heart of Val Calamento, in Trentino. It is one of the wildest and least tourist valleys of the South Eastern Alps, where it is easy to spot deer, chamois and roe deer, listen to the marmots' whistle, meet the fox and, looking towards the sky, admire the flight of the eagle. And after a day in nature, you return to the warm rooms of the accommodation, which offers an ecological restaurant based on local and organic products.
5. The highest sauna in Europe and beyond
Our last suggestion for unusual winter holidays far from the hustle and bustle is the Bella Vista refuge, at 2,845 meters above sea level, in Val Senales, surrounded by the ice of the glacier of Giogo Alto. A beautiful sun terrace where you can relax after a day on skis, a breathtaking view, a starry sky that cannot be described, an authentic and tasty restaurant, a stube room where you can meet travelers from all over the world, and even a Swedish sauna with brazier in wood and three authentic igloos, which offer the possibility to spend a really special night: this accommodation has everything you need for an unforgettable holiday. To get to the refuge you can choose the snowmobile, the chairlift or the cableway.
Enjoy a special holiday this winter, forget your car and experience the most pristine nature!
You might also like: