Feeling in need of clean air, silence and enchanting places? Here there are six unique and eco-friendly locations in Italy for your winter holidays in the snow. There's a little village where cars can't even go through (not even a single one!) and a mountain, which seems to be made specifically for walking with ciaspole, snowshoes. From a no-ski vacation (with fat bike and sleds) to some eco-chalet which follow the km 0 philosophy. Ready to go?
Winter has finally come, and with it the desire to get away from the daily hustle and bustle to take a break and relax. For your winter holidays we have selected the perfect eco facilities: bio hotel, wonderful eco-chalet, b&b with km 0 breakfasts and lovely wooden maisons, ready to take care of you. Itineraries with snowshoes, snow sports, saunas and swimming pools and delicious traditional dishes (and not only) are waiting for you if you decide to spend your winter holidays in one of these pieces of heaven. Who said that comfort and sustainability couldn't get along?
1. A world of ice an wellness in Valle d'Aosta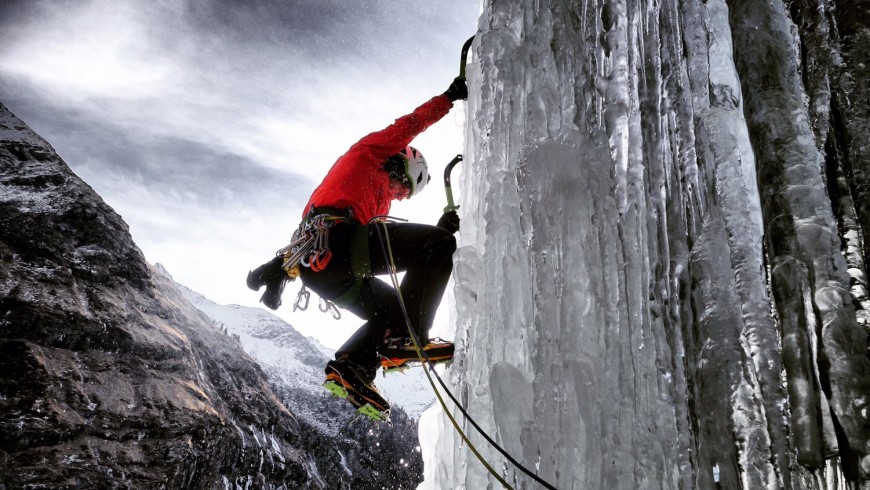 More than 80 kilometers of ski slopes which go through the whole Gran Paradiso's National Park, the most ancient national park in Italy. But also many altenatives to skiing: paths with snowshoes, equipped snow parks for those who want to learn, many beaten paths and finally more than 150 frozen waterfalls to climb for the most fearless.
This is what you are going to find in Cogne, in the heart of the Gran Paradiso's National Park, if you'll stay at the Notre Maison, cosy family-operated eco-hotel. To delight your winter holidays, there is a traditional restaurant with local products and a lovely spa with swimming pools, saunas and an amazing little alpine lake heated at 35°C.
Why is it green? The hotel offers a holiday in the spirit of love for nature and sustainability, taking care of your wellness, but also taking care of the environment that surrounds us.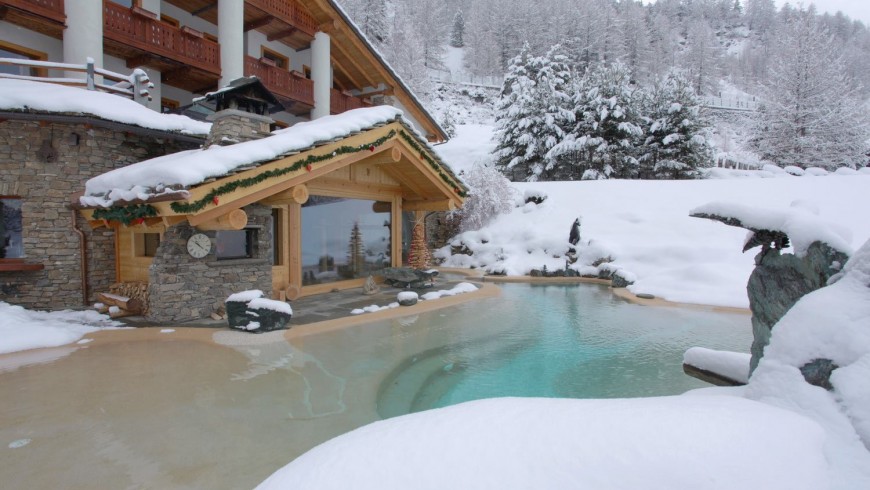 A special offer for you: One-night (or more) romantic getaway. Leave from Turin with an electric BMW i3 car (included in the offer) for a getaway in the Alpine pearl of Cogne, producing no emissions on the way and arriving to a perfect destination for a total relax holiday. The offer includes 2 nights with breakfasts and dinners (in a traditional restaurants), plus unlimited access to the spa, starting from 288€ (instead of 300€) per person if you book with Ecobnb!
2. Among snow-covered mountains and romantic chalet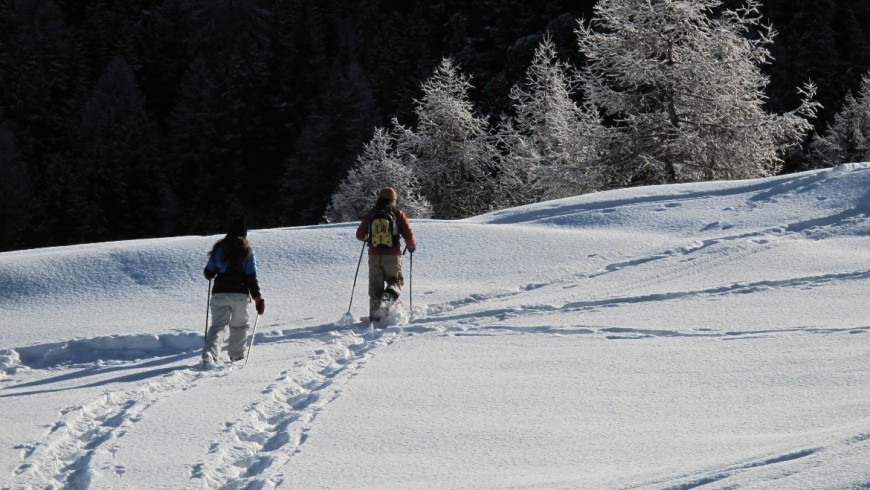 Villes Dessous, it's an enchanting village in the city of Introd, in the heart of the Gran Paradiso's National Park. It is situated just a few km from the most important ski areas of Valle d'Aosta and it is also a good starting point for your excursions and trekkings on snow, with or without snowshoes.
The eco-friendly option for your winter holidays is the hotel Relais du Paradis, a facility characterised by a warm and cosy atmosphere, which reminds us of a chalet, and by a profound love for traditions and history of Valle d'Aosta. The owners will welcome you with delicious and tasty breakfasts and then suggest you the best paths to take starting from the hotel. Each chambre, room, of this wonderful hotel is different from the others: there are rooms suitable for one person, rooms for small or large families and rooms for couples, with an hot tub and personal sauna for a totally relaxing holiday!
Why is it green? The entire facility has been built taking into account the environment, using sustainable technologies with low CO2 emissions and led lamps in each room to decrease the consumption of resources. Furthermore, the main energy source are solar panels, which provide hot water and heating during cold times!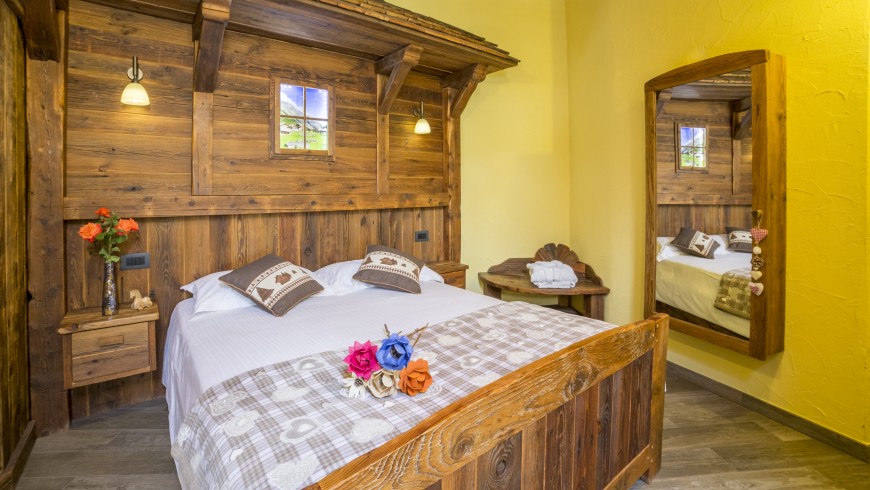 A special offer for you: 3 days/ 2 nights stay for 2 people for 208€ – you'll find a bottle of champagne waiting for you in a double room with a hot tub and buffet breakfast. Moreover, you can use the B&B's snowshoes for free during your winter holidays!
3. Not just ski areas: sleds, ciaspole and fat bike in Trentino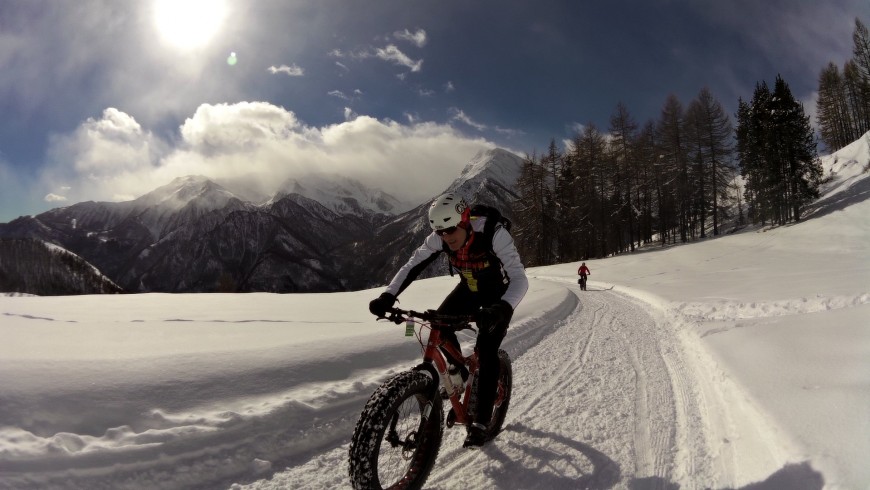 Val di Non, one of the richest and actually the largest valley in Trentino, famous for its apple orchards which can reach high altitudes and its castles and wonderful lakes, not to mention Brenta's Dolomites in the south-west area, part of the UNESCO heritage. For your winter holidays, apart from skiing, you can try cycling on snow-covered paths, sleds and the famous ciaspole. Ever heard of fat bikes? They are special bycicles with very large tires ("fat" indeed) that manage to pass through paths covered in snow without sinking in the snow.
To visit these lovely places, why don't you stay in a romantic alpine chalet? These beautiful indipendent facilities, made of wood, offered by the Pineta eco-sustainable hotel, possess all the services and comfort that you wish for during your winter holidays. In Tavon (Val di Non), you can choose between a cosy chalet or a lovely wooden room, which resembles the traditional moutain houses, making your experience more rural and original. Pineta hotel offers a spa centre, with heated swimming pools, hot tubs, a solarium and a beauty farm for beauty treatments, where you can relax and shut your brain off for a few hours.
Why are they green? They are characterised by a strong love for family and tradition, not to mention the respect for nature and environment. Pineta is based on a eco-sustainable tourism philosophy, which tries to produce the minimum environmental impact.
A special offer for you: Chalet Holiday to discover Trentino's Canyons, the offer includes 3 nights in one of the Pineta chalets, suggestions and maps with paths to discover amazing itineraries in Val di Non, 2 guided excursions to discover the Rio Sass' Canyon and the Novella's Canyon, 1 excursion with Livio along San Romedio's Canyon with view on the Santuary, free rental of bycicles and trekking sticks, and last but not least the Trentino Guest Card to travel all around Trentino with public transport e visit museums e parks for free for all the duration of your journey. It costs 460€ (for 2 people) + 160€ (for each +1).
4. No-car winter holidays in Chamois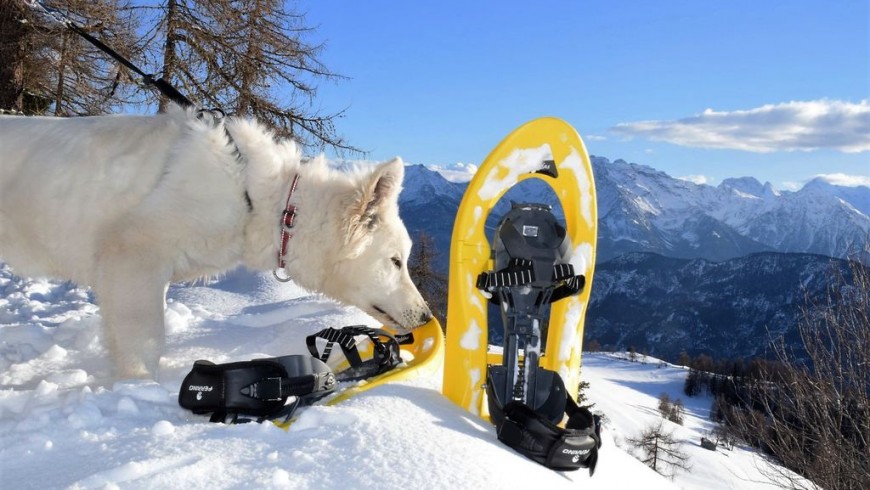 Chamois (Valle d'Aosta) is the only town in Italy that has no passable-routes and it is totally car-free. It is the town that you cannot reach with a car, but only with cable cars or on foot; for this reason, it is an untouched place, completely in harmony with nature. Children can play freely, without any danger related to cars. You can move around only on foot, skiing or with sleds. Therefore, it is a real paradise for your winter holidays.
Chamois offers beautiful ski slopes connected to the ski area of Cervine, and it includes (with the skipass) the possibility to reach up to Zermatt, in Switzerland. In Chamois there is also a ski school with highly qualified teachers. The town has many offers also for alpine and cross-country skiing, and you can also rent the equipment for any activity (including snowshoes for those who love slow mobility).
The Maison Cly, a paradise of silence, as the owners describe it, it's a 4 stars facility in Chamois, which provides 21 rooms and 6 junior suites for your winter holidays, each one of them with different characteristics depending on the guests' preferences. Whatever choice you make, each room of this structure has a cosy and welcoming atmosphere, which will surprise you e leave you pleasantly satisfied and.. relaxed.
Why is it green? The Maison Cly is completely surrounded by mountains, so everything about it is centered on nature and on the importance of the maintenance of its beauty and health. The hotel aims at maintaining harmony and a sweet cohexistence between humans and environment, not to mention the exaltation of landscape and local traditions, so that they won't get lost with the passing of time.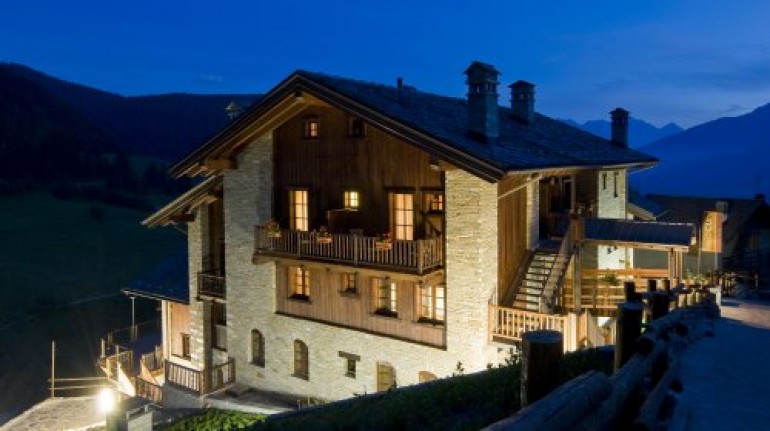 A special offer for you: Cuddles and relax in the Alpine Pearl starting from 249€ from the 11th of December to the 22nd, a one-night stay for couples in a Suite, with buffet breakfast and dinner à la carte, including:
unlimited access to the spa (over 14 years old)
1 kit per person including flip-flops and bathrobe
a 50 minutes relaxing massage (to book in advance by phone call)
One 30 minutes long face treatment (to book in advance by phone call)
free late check out (depending on availability)
5. Winter holidays, looking for the perfect ski slope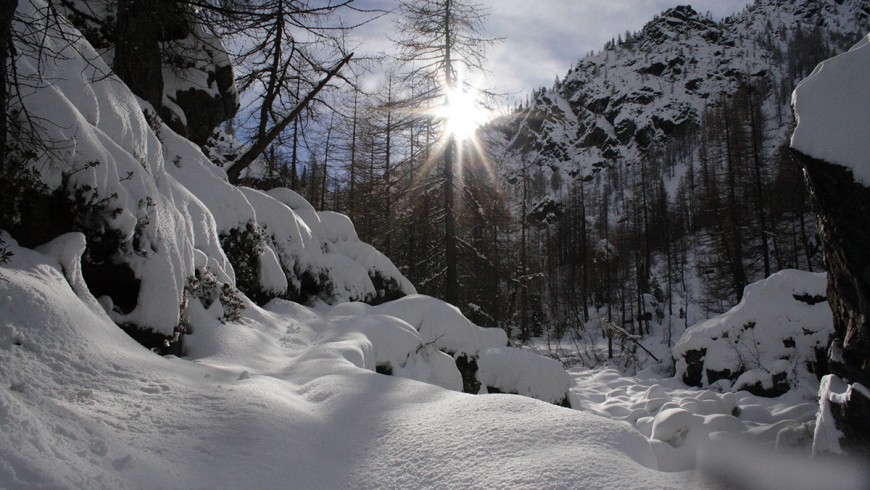 Valle d'Aosta's wonders are not over. In Champorcher you will find a ski area surrounded by the Rosa dei Banchi, which goes from Cimetta Rossa (2500 m) to Champorcher (1408 m), where you can find the cable car Chardonney-Laris. The installation transports skiers to the 21 km long ski area. For beginners, there are 2 school camps with 2 tapis roulant, while children can play in Baby Park Laris.
If you want to spend your winter holidays here, we suggest you stay at the Maison de grand maman, ancient farmhouse from the 19th century, which has been recently transformed into a cosy B&B or mountain chalet, with special bedrooms, each one of them built with wood and embroidered in a different way, creating a different atmosphere. Divided in two floors, in the maison you can smell the scent of wood and feel closer to nature. Furthermore, it is near Mount Avic's National Park, where you can go for excursions!
Why is it green? The Maison is an example of eco-sustainable B&B, as it is built respecting the environment and ancient traditions: the inside part of the house is made of old wood, the garden and terrace will make it look like you've been catapulted in the past, back when mankind was still living in peace with nature. Breakfast is home made with local products and soap is made with natural herbs. You can also taste km zero fruits and vegetables directly from the Maison!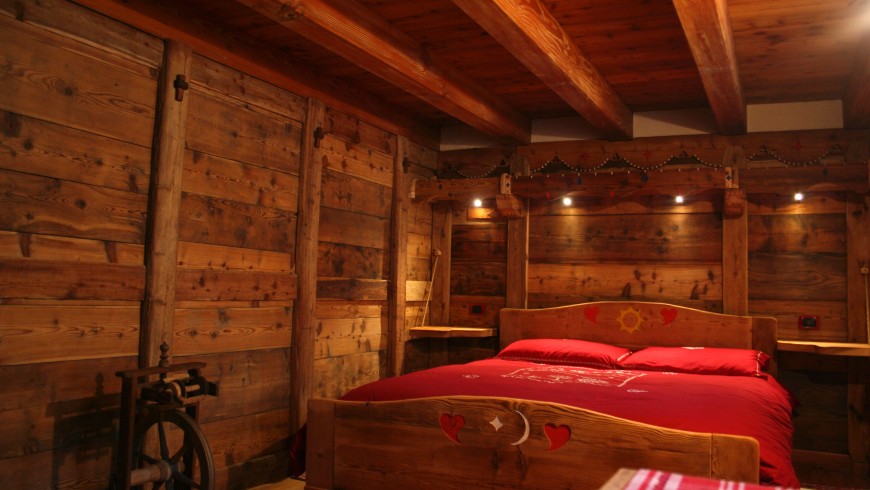 A special offer for you: you can book a single room or the entire chalet: 2 bedrooms (each one with 1 double bed and 1 single bed) for a maximum of 6 people, for 920€ per week, Mount Avic tour included!
You can also book here via Ecobnb!
6. Km zero-holidays in Adamello-Brenta's Natural Park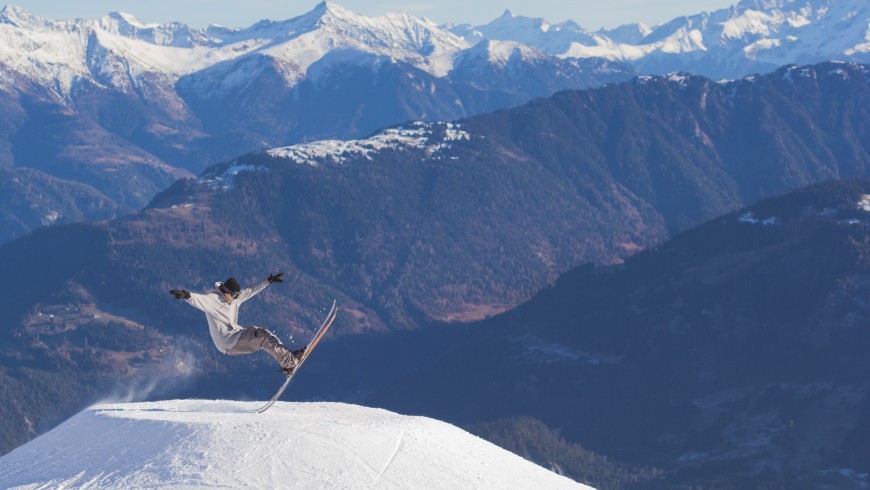 Adamello Brenta's Natural Park  is the largest protected area in Trentino Alto-Adige and it extends itself inthe western part of Trentino between Val di Non and Val di Sole. In the area of the medieval suburb of Caderzone Terme, we find a special hotel for your winter holidays, which was born with the idea of giving value to the culture and tradition in Trentino, but it is also based on the concept of sustainability, for example by using km 0 local products when it comes to cooking. Generally, the hotel is characterised by a biological kind of agriculture.
Indeed, Hotel Regina Elena has received various recognitions in Trentino for its politics of respect and safeguard of the environment. Besides, the hotel has special conventions with Val Rendena's thermal baths and the spa is only 100 meters away from the structure!
For those who love skiing and other sports on snow,  it is the perfect starting point to reach Doss del Sabion and the skiarea of Pinzolo: more than 30 km of ski slopes, with the possibility to reach the remaining 120 km in the Skiarea Madonna of Campiglio – Val Rendena – Val of Sun through the connection Pinzolo – Campiglio Express. Here there are ski slopes for all levels (with smart cards to fasten the access to ski installations), a snowpark, an single skipass for the whole skiarea but also different combinations for all preferences and prices. Furthermore, there is also an après ski to enjoy (without having to ski) and a miniclub doing other activities and laboratories for the smallest.
Why is it green? Perhaps one of the greenest facilities in Trentino, it is almost entirely based on ecosustainability and the maintenance of natural resources that keeps it alive: it takes care of its guests as it does with nature and its products. An example of this is the small biological garden next to the hotel, where plants are cultivated and where you can breathe fresh air and relax. Besides, heating is provided by two pellets boilers and two ceramic heaters, part of the electric energy is produced with solar panels (and the remaining energy originates from 100% renewable sources). Needless to say that they practice a meticulous recycling and water flow is reduces, so that the consumption of water will remain within certain limits.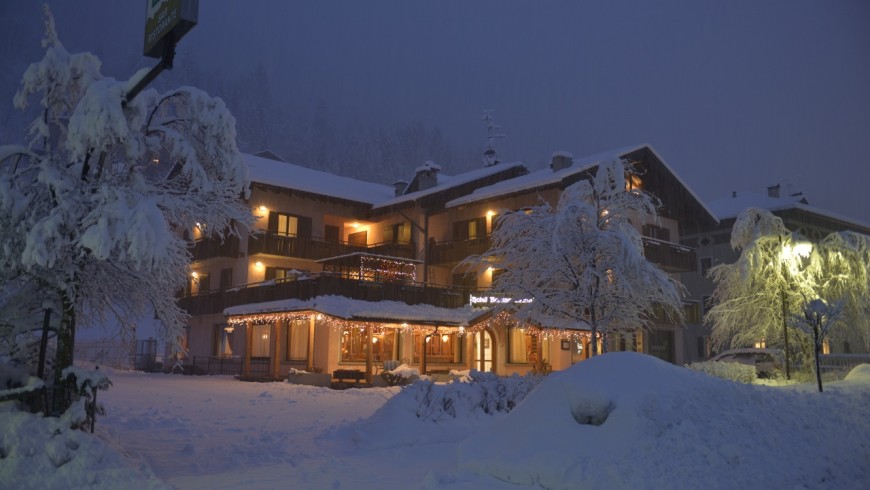 A special offer for you: 1 night for 2 people, double bedroom, biological breakfast and fresh vegetables included, starting from 50 €!
For your winter holidays, it is always important to choose the best. And by that we mean a peaceful coexistence between nature and human beings, that level of equilibrium that sometimes appears to be far far away from us, but that it is actually inside us, inside our awareness that sustainable tourism is possible, and the amount of opportunities that we offer everyday, proves it.
Do you have some other locations to suggest (even better if you have been there yourself) for a eco-friendly winter holiday? Please comment below!
Photo by asoggetti via Unsplash
See also: