There are places where you need some time and patience in order to discover their real essence and learn to value it. There are places instead, which catch your eye, but most importantly your heart, straight away, from the moment you step foot in them. And that's for sure, because in the world there are cities that will make you feel like you've just dived into a rainbow of colors: yellow, blue and red little houses, surrounded by endlessly green fields and the blue stretch of the sea are just some of the colorful wonders which you'll find in these pieces of heaven, perfect to spend a holiday in the warm spring breeze…
The sun is slowly starting to come out and with it also the desire to take a break from the usual routine and spend some day of total relaxation. The cold and darkness of winter are finally stepping back and cities start to fill up with plenty of lights and bright spring colors…and this is absolutely the most perfect time to visit some of the most beautiful multicolored destinations of the world!
To help you choose your favorite destination, we decided to suggest 10 of them, each one with its own characteristics and peculiarities. Let's make this holiday a little more fun and cheerful than usual!
10 destinations to add some color in your holiday
1. An explosion of color in Burano, Venice
Colors in Burano, photo by Christian Holzinger via Unsplash
Burano, photo by Dirk Sebregts via Unsplash
Burano, photo by Luca Bravo via Unsplash
A small residential area composed of 4 islets/islands in Venice: that's right, Burano is a little pearl of colors in the Venetian lagoon, with its famous pastel houses, of which origin is not clear yet. Some people say that each color belongs to a different family name, others think that they only used these bright colors to help boatmen finding their house even when in the thick fog.
Whichever reason, Burano's houses are a real pleasure for the eyes. When walking in the alleys, it almost feels like having been teleported in an imaginary and idyllic locality, not to mention the fact that Burano is in the city of Venice, one of the most beautiful and romantic cities in Italy.
2. Island of Procida (Naples): painting or reality?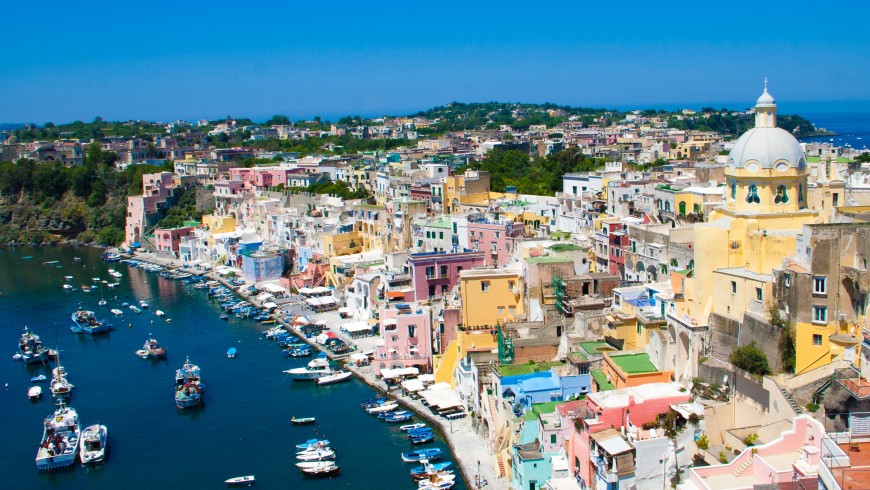 The island of Procida is the smallest of the province of Naples, but it is just as beautiful as the other ones. The idea you get after getting off the boat is the one of being catapulted into a real painting, full of extravagant colors, put together in a precise way, in order to enhance even more the beauty of the island.
It is just 45 minutes by boat from Naples and its surface is only 4 km squared wide. However, Procida will amaze you with its wonderful medieval towns, its wild beaches and clear and refreshing waters.
3. Colors on the Italian Riviera: Cinque Terre (Liguria)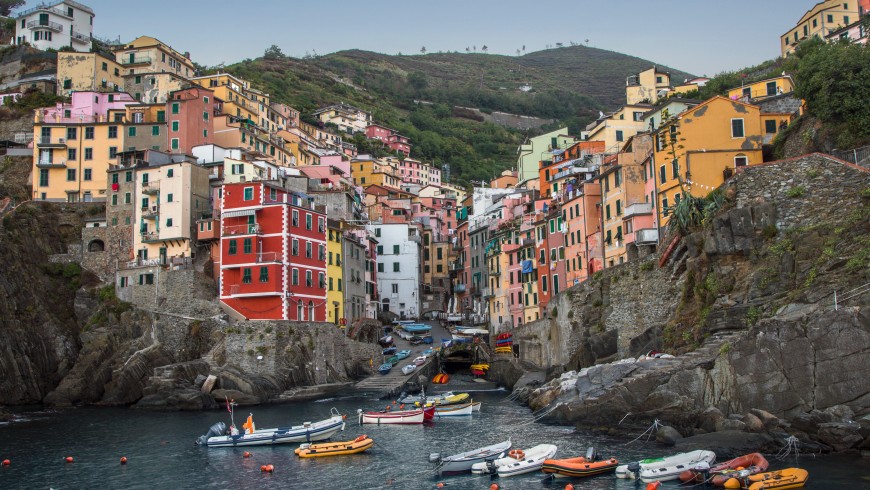 Recognized as UNESCO heritage in 1997, the Cinque Terre, namely Monterosso al Mare, Vernazza, Corniglia, Manarola e Riomaggiore, are a real seaside paradise. You won't just be amazed by the enchanting jagged coast, that falls into the sea, but also by the colors and brightness of the houses which have been built on it.
Cinque Terre from above, photo by Wellington Rodrigues via Unsplash
Cinque Terre, photo by Yifei Chen via Unsplash
Colored houses, Cinque Terre, photo by Sarah Ferrante via Unsplash
The villages in Cinque Terre, ancient fishermen's villages, are characterized by bright and intense colors, which create an incomparable show of lights during sunset. The fishermen's boats in the harbor complete the lovely picture.
In this article we suggest what to see and where to sleep 'green' in Cinque Terre!
4. Bergen, a colorful jewel among Norwegian fjords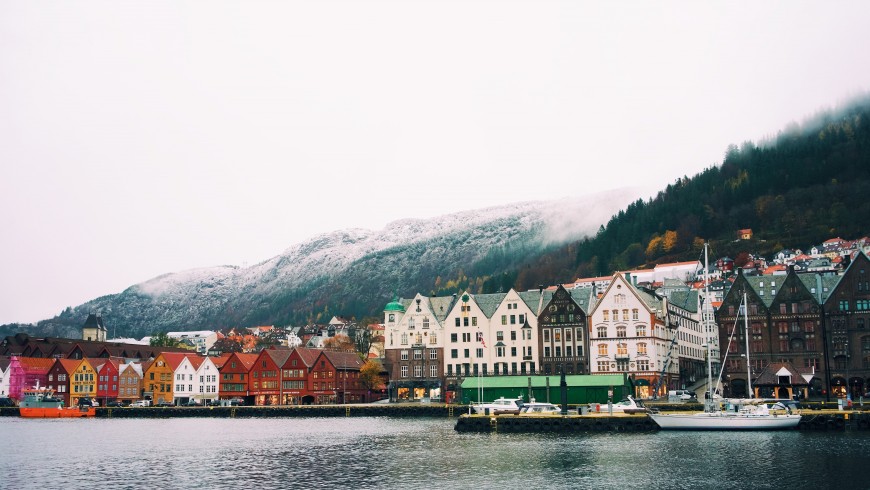 Now let's move a little bit up north, in Norway, where the city of Bergen stands out with its splendor in the untouched nature of the fjords. Imagine yourself walking in the streets of the city, surrounded by the colors of the houses and of the aurora borealis. It sounds like a dream but it's nothing you cannot do in this almost utopian northern pearl…
In Bergen you can visit the district of Bryggen, with its famous wooden houses recognized as UNESCO's heritage in 1979. Despite the Norwegian weather, the atmosphere in Bergen has something so warm and cozy that could heat up the coldest of the hearts.
5. From North to South, here we are in Cape Town (South Africa)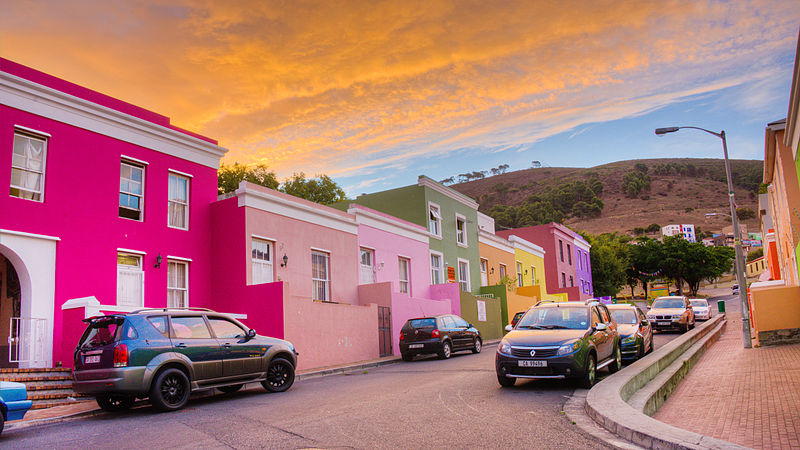 From the high North to the deep South, we are now in Bo-Kaap, the most colorful district in Cape Town, South Africa. Only 10 minutes away from the city center, it is a multicultural area, location of the Islamic mosque of Nurul and historic center of the Malaysian culture in Cape Town.
In this area you find houses with low ceilings and bright colors, which fully reflect the atmosphere of hospitality and happiness of the little district… it is definitely something you don't want to miss during your vacation!
6. In the most colorful district in Buenos Aires (Argentina)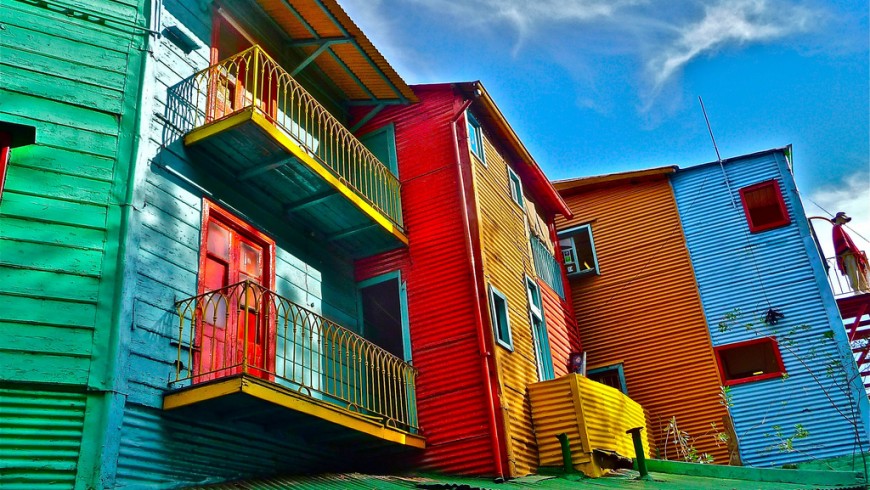 On the shores of river Riachuelo we can find La Boca, one of the most colorful districts of Buenos Aires, Argentina. During Colonialism the area was used to build shacks for slaves, but at the end of the 19th century, many genoese immigrants moved there, transforming it in a real residential area.
One of the most beautiful streets in La Boca is the Caminito, which is considered a sort of open-air museum because of its lovely wooden houses (more or less 30), which had been repainted in the fifties by Benito Quinquela Martìn, a painter who wanted to give the area its original appearance. Orange, green, red, yellow are just some of the amazing colors and shades that you'll find in this place, which is both picturesque and full of stories to tell.
7. A light show in New York (US)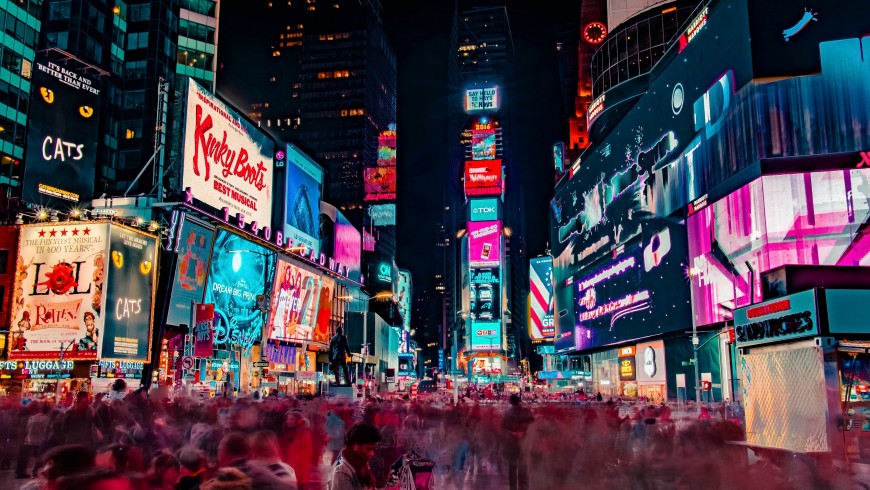 New York, New York… It might be different from the little towns on the seaside we talked about before, but the Big Apple has some colors to offer itself: you'll just need to take a stroll at night (but not only) in this incredible city to be overwhelmed by thousands of bright and flashing lights and color screens.
If you want to organize something in advance for your Christmas holidays, New York is the perfect destination for you. In fact, in this period, the city comes to life with lights and decorations, especially in the district of Dyker Heights (Brooklyn), of which nickname is Dyker Lights for a reason!
8. Copenhagen, a real gem from Denmark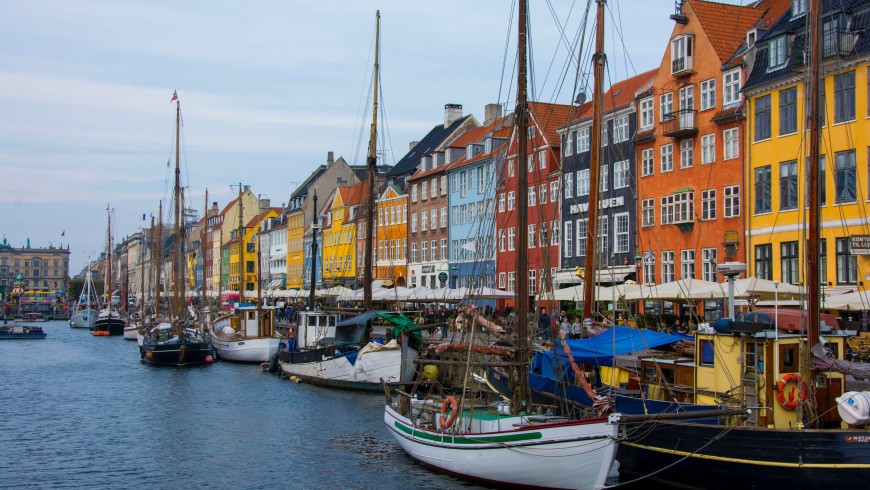 It almost feel like being inside a postcard when walking along Nyhavn, a canal full of boats and colors in Copenhagen. The scenery is unbelievably beautiful and almost surreal during the day but also at night, when the artificial lights of the harbor are turned on.
Copenhagen, Denmark, photo by Cheng Ling via Unsplash
Nyhavn, photo by Nick Karvounis via Unsplash
Vesterport, Copenhagen, photo by Dmtri Popov via Unsplash
Despite the meaning of Nyhavn, which is "new harbor", it is actually the ancient harbor of Copenhagen, full of bars and pubs for tourists, where you can also start your boat trip and visit this advanced and super green city through its canals.
9. A colorful trip in the old San Juan (Puerto Rico)
Viejo San Juan, Puerto Rico, photo via wikimedia commons
Viejo San Juan, photo via flickr
Viejo San Juan, Puerto Rico, photo via wikimedia commons
In the western part of the island of San Juan in Puerto Rico, we find the Viejo (old) San Juan, the roaring and lively cultural center (and main tourist attraction) of the country, characterized by cobblestone streets and old colonial buildings of many different colors, like pink, yellow and blue.
This area of San Juan is particularly suitable for newlyweds looking for a romantic honey moon, thanks to its warm atmosphere, excellent restaurants and its ancient fortresses and walls, which still run along the borders of the town.
10. And last but not least…Barcelona with Antoni Gaudí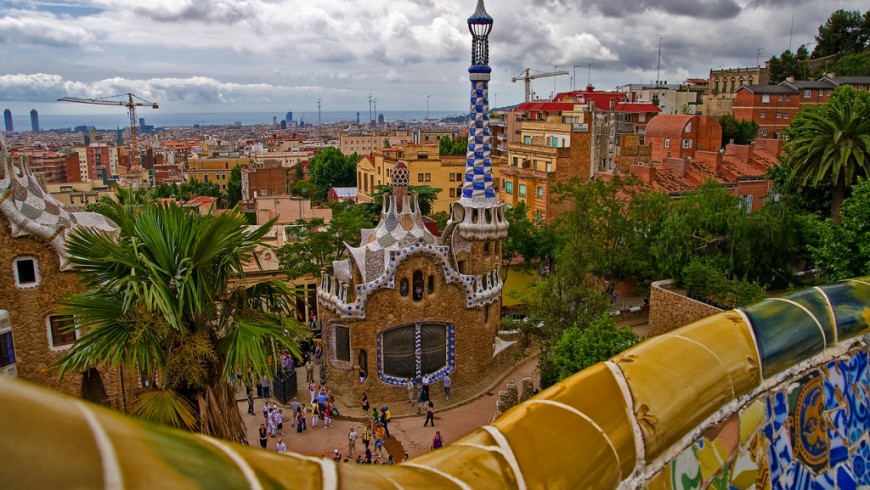 Among the Sagrada Familia, Casa Batllò, Casa Milà and Parc Güell, the art of Antoni Gaudí, the most important esponente of Catalan Modernism, is spread all around Barcelona (Spain) in a series of absurd and extravagant shapes, mosaics with bright colors and unique architectural constructs.
It is definitely a multicolored destination which will delight you with its streets and market booths, among the scents and gastronomic delicacies of Catalonia.
What's your favorite color destination? Leave a comment below and let us know!
Cover photo by Fabio Mangione via Unsplash
You could also like: