Copenhagen is European Green Capital of 2014 and by 2025 it will be the world´s first CO2 neutral capital. Green vibes of this city can be seen everywhere- thousands of bikes, green parks or farmer´s markets. You just have to explore it!
Copenhagen is perfect in sustainable solutions- whether you want to sleep, eat, travel or shop. This city is a match of environmentally conscious Copenhageners and sustainable options.
Where to sleep in Copenhagen?
There are many options for eco-friendly accommodations. Did you know that more than 50% of hotels in Denmark´s capital have environmental plans regarding water, laundry, cleaning, energy consumption, waste, food, administration or indoor climate? Actually, 71% of all hotel rooms in Copenhagen had eco-certification in 2013.
Crowne Plaza Copenhagen Towers is a 4* hotel build by one of the greenest hotel chain in the world. The building is CO2 neutral, all the energy consumption comes from renewable sources. It is perfect accommodation for business travelers or visitors enjoying weekend stay. 25 floors of luxury are perfectly connected with sustainability.
Scandic Hotels has a good location right next to the train station and famous Tivoli Gardens. All of the food and drinks are organic, hotel´s furnishing is made from environmentally sound textiles. Hotel´s plan is to be 100% CO2 neutral till the year 2025.
WakeUp Copenhagen Budget Hotels are proud to have "Green Key" certification. It is a guests' guarantee of choosing a hotel which looks after the environment. Their toilets have dual flush, and showers are water saving. Rainwater is collected and used to water the plants.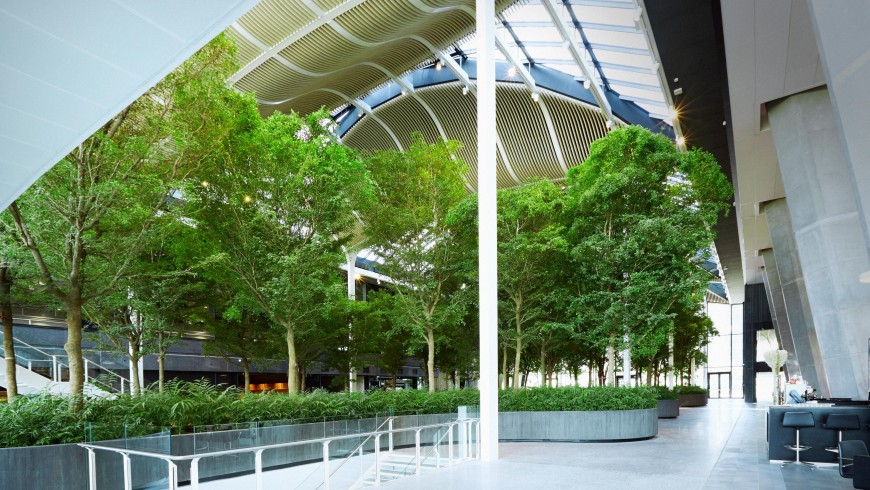 Where to eat organically?
Organic consumption in Copenhagen reaches up to 20% of all food sales. 90% of of the food consumption in the City of Copenhagen's public institutions, such as daycare centres, nursing homes and schools, is organic.
As we indicated, there are many organic food options. You can choose from the very expensive ones up to fast-foods. The choice is only up to you.
Noma, world´s famous restaurant is a bit more expensive experience. In fact, it is the world´s best restaurant so you really pay for what you get. Seasonal cooking with local products and own herb garden is a standard for this restaurant.
Geranium is the world´s only all-organic restaurant with three Michelin stars. The chef Rasmus Kofoed is titled as a World's Best Chef 2011 by Bocuse d'Or.
BioM is completely organic restaurant. Even the walls are painted organically. You can order light dishes such as salads or sandwiches, but you can also try more substantial dishes, soups, and desserts.
If you are a Raw lover, 42°Raw restaurant is a perfect choice for you. They offer organic-plant based food, maximum heated on 42°C. SimpleRaw is also a great choice. They offer meals, cakes, and drinks produced from organic ingredients. You can also order take away here.
A complete burger experience can be found in Green Burger. This fast-food restaurant offers plant-based vegan burgers, which are sustainable for the planet and animals.
Sustainable shopping
There is a growing number of shops specialized in organic and eco-friendly products.
Eco Ego is a lifestyle shop selling everything from clothes through skin products and toys up to glass. Everything is fair-traded, organic and sustainable.
Pure Shop is the first organic perfumery in Denmark. They are specializing in organic beauty care, hair and make up.
Small department store K29 is selling organic clothes, silver jewellery and others from three famous Danish design brands Maxjenny, Margareta Forslund and Owe Johansson.
Many second hands and beneficent shops can be found in this city. There are Red Crosses, Blue Crosses and many other, where earned money goes to people in need. Copenhagen is also famous for its vintage shops. One of the best ones is for example Time's Up.
Bikes Bikes Bikes….
Whether is sunny, extremely windy, rainy or snowy, Copenhageners always ride their bikes. They bike everywhere, even on social gathering or work. Did you know that even top politicians ride their bikes every day to parliament? Only 29% of Copenhageners own a car. However, there are more bikes than people in this capital. The best thing on biking is, that you are much faster in work, school or grocery store, than going by car.
If you want to experience the real Denmark, we suggest you to use bikes as well. Don´t be scared of the number of cyclists around you. You will soon get used to it. Ask in your hotel about the bike rental options. Many hotels offer bikes to their guests. However, there are many bike rentals all around the city as well. You can rent an electric bike, one of the free city bikes, bicycle taxi, a guided bike tour or usual bicycle. It is just up to you.
If you are not a bike fun, there is an option to book a CO2 neutral taxi via Amager-Øbro Taxi.  If you like sightseeing buses, take the CityCirkel buses, route 11A. These buses run all day on batteries, which are charged during the night. Therefore, they produce less CO2 than ordinary buses.
What to see in Copenhagen and nearby
Are you a fan of energy use and production on climate and the future, Experimentarium is exactly for you! Even though it is in Hellerup (north from Copenhagen) it is worth it. They offer tangible picture of opportunities provided by individual and technology.
Dyrehaven, is also a bit north from Copenhagen. It is translated as a deer park. More than 2000 free range deer inhabits the park and you will surely come across a herd of grazing deer. It is great place for relax in open landscape near lakes and forest. You will see many people having picnic, jogging, biking or horseback riding in this park.  Dyrehaven is also a part of UNESCO World Heritage Site.
If you want to be a captain of one of the canals in Denmark´s capital, choose GoBoat. Everybody can sail a GoBoat. It is equipped with solar cell powered engine and has a maximal speed of 3.5 knots (6.5 kph/4 mph).
Botanical garden right in the centrum of Copenhagen covers an area of 10 hectares and contains more than 13 000 species of plants. It is open to public and free of charge. Opening hours are from 8:30 till 18:00 (in low season till 16:00). Among other things, this garden offers 27 glass houses with the most popular Palm house.
Grab something to eat and make a picnic in King´s garden, the oldest royal gardens in Denmark, established in 1600´s. It is popular place for many locals and tourists as well. You will find a Hercules pavilion and famous Hans Christian Andersen´s statue here.
Colorful Christiania is a must see for all free spirits. It is a green and car-free neighborhood in Copenhagen. A group of hippies established it in 1971, who transformed military barracks into society completely independent of Danish government. Now, there are galleries, music venues, cheap and organic restaurants and coffees, workshops, homemade houses, all surrounded by beautiful nature. We advise you not to take photos in Christiania, especially around Pusher Street (as it is the place for illegal hash dealing). Follow all signs with dos and don'ts for your own safety.
Capital of Denmark is beautiful city to explore with many green options. So… when are you heading to Copenhagen? ?
You might also like: