Do you consider yourself a traveler who loves adventures and discovering unknown and unique locations? Italy is a country full of heavenly places, which not many people are aware of: natural caves, lakes, rocks and many other natural wonders that will charm and delight your explorer's eyes, thanks to their peculiar beauty and uniqueness.
10 Italian Wonders you must see
1. The enchanting and suggestive Lake Resia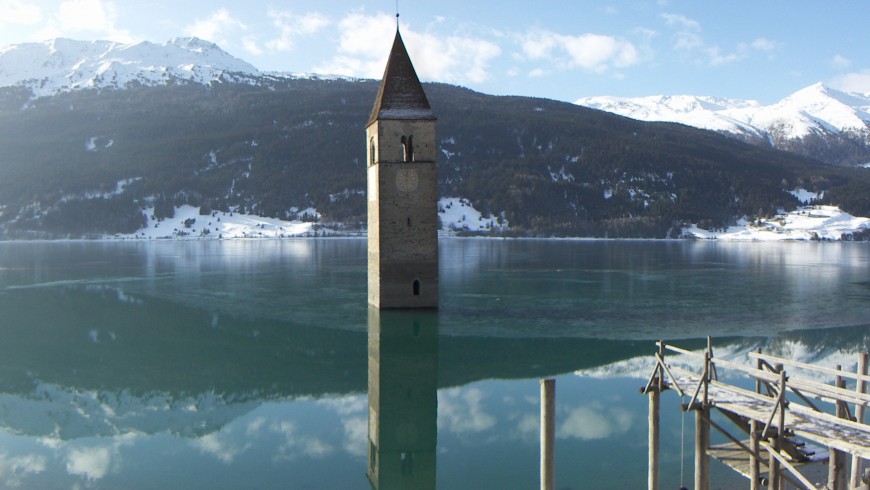 Here we are in Val Venosta (Alto Adige), where the splendor and poetry of Lake Resia welcomes us in an atmosphere which appears still and silent, same as the lake's waters. An ancient bell tower, which belonged to the old town of Curon, flooded after they dammed the river, arises from the lake turning the landscape into something magical, almost resembling a fairy world.
To learn more about the bell tower's story, we suggest you read this article on Lake Resia
A suggestion from Ecobnb: if you are very fond of photography, don't miss the chance to capture on your film the majesty of this place and if you wish to take an up-close look at the bell tower, just wait until winter comes and reach it directly on foot stepping onto the frozen lake for a one-time experience!
2. Celano Gorges: an amazing natural habitat
We find ourselves in Abruzzo, Aquila's province, more precisely in the regional natural Park of Sirente-Verino. The Gorges were dug by a stream, called La Foce, which created a wonderful natural path, more than 4 km long and easily viable by excursionists. If you are lucky enough, you'll get to see some specimen of the local eagle, a protected species that finds shelter on the upper part of the gorges.
A suggestion from Ecobnb: the path is walkable both uphill (starting from Celano) and downhill (from Ovindoli, valle d'Arano). If you come from afar, Ecobnb suggests this amazing and green B&B Casale Le Crete, just 20 minutes by car from the Gorges, which you can book by clicking on this link, starting from 50€!
3. Frasassi Caves: a museum of natural sculptures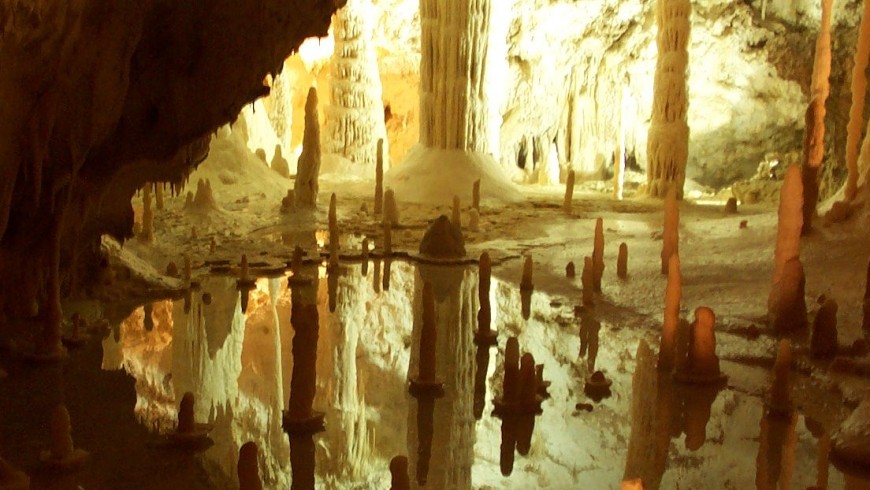 In the town of Genga (Ancona), we can find some caves, in which the layering of limestone has formed some wonderful natural works of art over the years, which have become the object of study of many speleologists, who have renamed a huge part of them according to their form and dimension. Frasassi Caves cannot only be compared to a natural museum, but they are also a wide nature reserve of animal species, such as bats and tiny crustaceans!
A suggestion from Ecobnb: luckily for you, nearby these can't-miss caves, there are many green accommodations, in which you can spend the night, such as Agritourism La Becerca, starting from 50€, or the lovely Antica Dimora Italiana, a farmhouse surrounded by green nature, a great starting point to go and discover the caves and not just that!
4. Necropolis of Pantalica: Sicily fills with history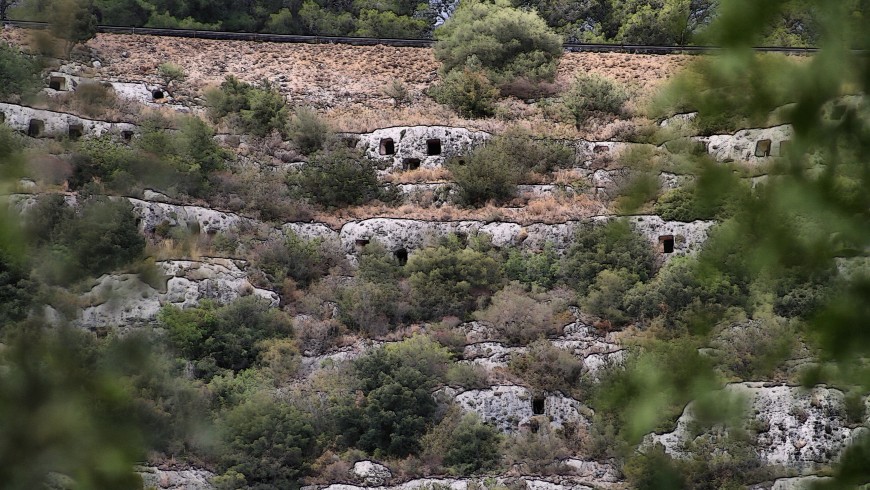 In the province of Syracuse (Sicily), it is possible to admire the cave necropolis of Pantalica, a location whose value goes beyond mere natural beauty, as it is also an archeological and historical site, which tells us something about the Sicilian prehistoric times, specifically the transition from Bronze Age to Iron Age on the island. In the picture you can see just some of the 5000 cave tombs which inhabit the walls of Pantalica making it a highly suggestive place. The Necropolis, together with the province of Syracuse, are now part of the UNESCO heritage, considering their unquestionable historical relevance and landscape uniqueness.
A suggestion from Ecobnb: Pantalica is the perfect place to hike, but if you are also very passionate about fauna and flora, you'll have the possibility to see various species (even endangered ones), of both plants and animals. Furthermore, besides the tombs, you will also learn more about the culture and life style of the population of the island during Bronze and Iron Ages. The place is not reachable with public transport, therefore we suggest you find your own means to get to Pantalica's entries, and then continue your adventure on foot!
On this web site you will find more information on the entries of the Necropolis and its corresponding paths
5. The Giant Cave: where different geological Eras meet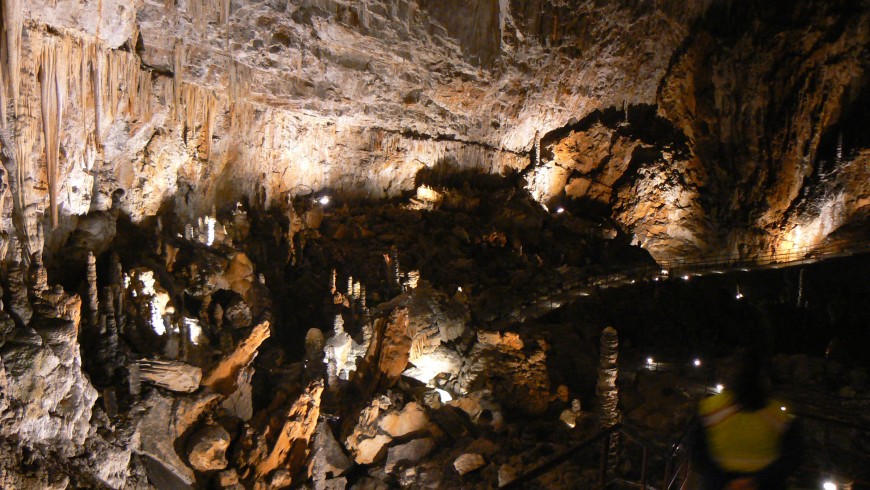 The Giant Cave, located in Carso's plateau, just a few km from Trieste, owns the biggest natural cave room in the world (a single compartment 114 meters tall, 280 meters long and 76,3 meters wide), which also allowed the Cave to be part of the Guinness World Record in 1995. Furthermore, during the many exploration over the years, several artifacts from different ages were found in the gallery (Neolithic, Roman Empire, Middle Age), meaning that the cave also represents an important historical and archeological source. In short, it is an experience you don't want to miss: take on a 850 mt long path and reach a 101 mt under surface's depth, followed by the watchful gaze of trained tourist guides, who will tell you everything about the history of the cave!
A suggestion from Ecobnb: the temperature in the cave is constant throughout the whole year (11°C) so every season is good to visit, and why don't you chose the b&b alla Casetta, the perfect green facility where you can spend the night, just a few km from Trieste's city center and the cave!
6. Piedigrotta's little church, another carved-in-rock wonder
Pizzo Calabro, a seafaring village in Calabria, hosts one of the prettiest carved in rock Italian wonders: the little chapel of Piedigrotta, entirely carved in tufa and containing other sculptures (in tufa as well). The sculpture groups, as you can see from the central image, are particularly suggestive and characterized by a mystical and unearthly atmosphere. The place has indeed a strong spiritual and religious component, which is connected to the history of its construction, which you can find out here, on the church's website, full of images and stories.
A suggestion from Ecobnb: the church is open everyday (except during bad weather), but if you are particularly interested in religious cerimonies, every year on the 2nd of July (Madonna delle Grazie), you can attend the mass. The entry for a normal visit is 3 euros, whereas for your little ones, as long as they're not over 6, it's free!
7. Turkish Steps: wonders on sea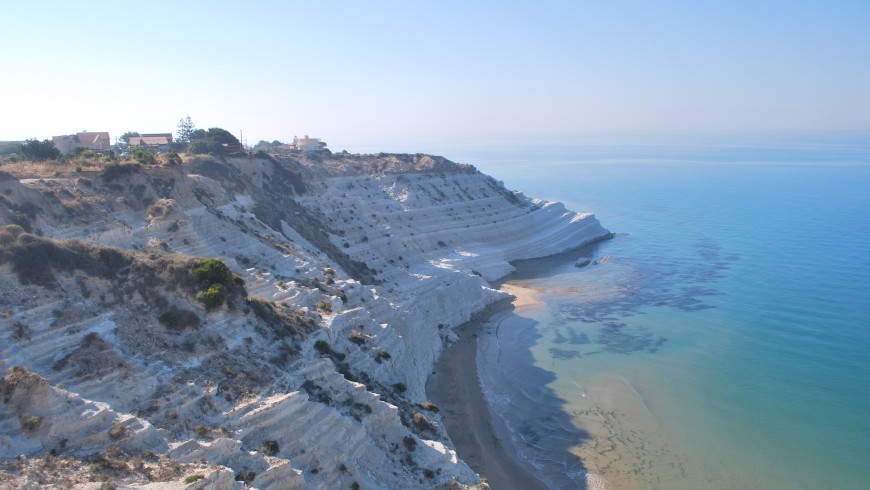 One of the most beautiful and breath-taking beaches in Italy, surrounded by a rock wall, which appears to be made of porcelain as its color is of a white delicate shade. The peculiar form of the cliff reminds the observer of some steps, with rounded edges, among which Saracen pirates used to find shelter; this is also why they have inherited that name. Turkish Steps, this idyllic place, is located in the province of Agrigento, between the coast of Realmonte and Porto Empedocle.
A suggestion from Ecobnb: it is possible to climb the 12 stone steps of the stairs and enjoy the view of Agrigento's coasts but also choose between many itineraries starting in Realmonte!
8. Lake Carezza: magic among the Dolomites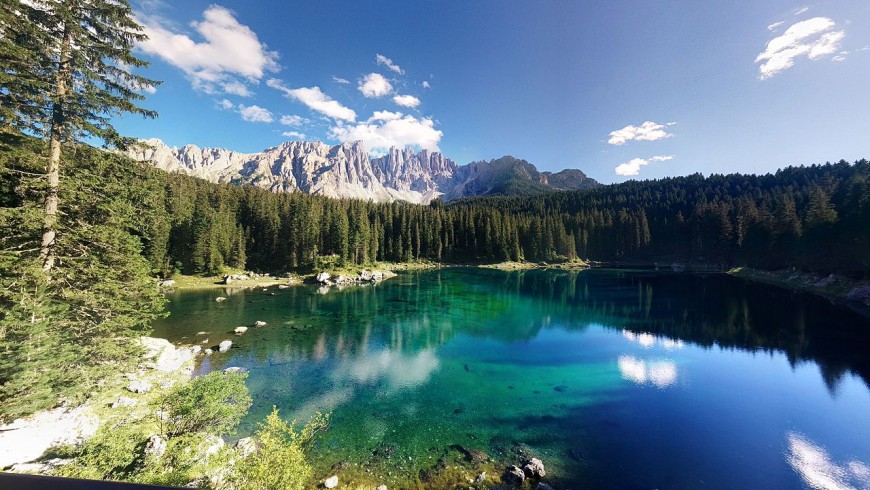 We have now arrived in the magic Trentino Alto-Adige, more precisely in Val d'Elga (Alto-Adige), 25 km from Bolzano: here we find Lake Carezza, famous for its intense and bright colours, from which it got its other name "the rainbow lake" (Lec de Ergobando, in Ladin). The lake has no visible affluent and it is supplied with water by underground sources, which take it from Latemar peaks. In each season the lake's extension and depth are different!
A suggestion from Ecobnb: It is the right place for divers, who wish to take underwater footages of the lake's wonderful waters, but also for photographers who want to capture an instant of its unique beauty.
9. Sasso Pisano Fumaroles' Park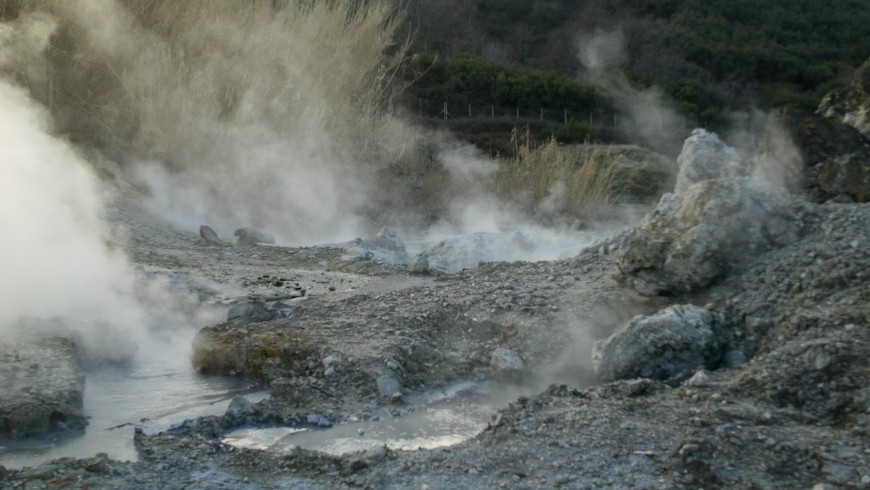 Located in Toscana, Sasso Pisano Fumaroles' Park finds its peculiarity thanks to the highly active geothermal movements underground, which cause the release of gas and water vapor from the ground, thorugh some fractures in the soil. This creates a surreal show, which kind of looks like cinematographic special effects. When passing through the park, it almost looks like you have been catapulted in a Lord of the Rings' scenario, with a grim and fascinating atmosphere.
A suggestion from Ecobnb: There are many paths to go through the fumaroles, such as a free path (equipped, it connects the two medieval towns of Sasso Pisano and Monterotondo Marittimo) and a longer one, the Sasso Pisano's ring (a wonderful circular route which brings you back to Borgo del Sasso when it is over).
10. Red rocks of Arbatax: Sardinia's wonders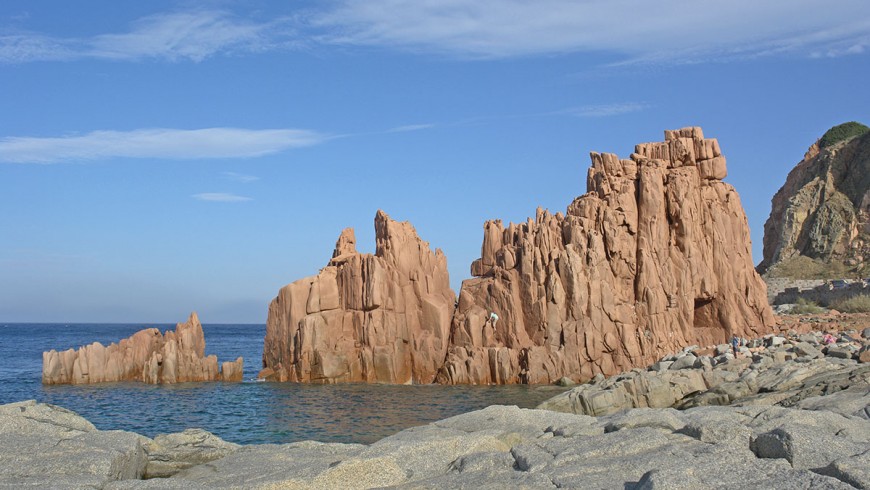 No picture can be good enough to fully represent the beauty of Arbatax's red rocks, in the province of Nuoro (Sardinia), which look like natural sculptures arising from the sea just right in front of the entrance of the harbor, at the bottom of Bellavista's hill. They delight the eyes of tourists and residents with their warm and reddish colour. The beach is made of little granite and red porphyry pebbles, the same shade as the bigger rocks. The landscape becomes particularly interesting during sunset, when the colours are highlighted by the burning sky.
A suggestion from Ecobnb: for your Sardinian holiday, we suggest this green B&B, in Tortolì (of which Arbatax is the only district), which will allow you to take lovely evening strolls in town and visit the rocks whenever you like!
If these 10 wonders did not manage to amaze you, don't worry. Italy hides plenty of other places just as impressive and peculiar, which are waiting to be discovered and contemplated. Nevertheless, if the places described above did manage to get your attention, don't miss the chance to visit them, possibly choosing a type of vacation which is also sustainable and eco-friendly, just like the ones Ecobnb recommends!
Cover image: ph. by Davide Ragusa via unsplash
If you liked this article, see also: