Salt therapy in an eco glamping cabin
Ladra 1b - 5222 Kobarid - Kobarid - Slovenia
Halotherapy or salt therapy is the inhalation and exposure of the body to a dry salt aerosol. Salt therapy works by placing the halogenerator in a salt room, which systematically blows micron fragments of dry salt aerosols. The main task of dry salt aerosol is to clean and separate respiratory and skin. It has a beneficial effect on your well-being and is suitable both for asmatics, people with frequent colds and similar problems.
This glamping unit has a magnificent position with the open view to the lush outside, a traditional Slovene saltern worker depiction in salt on the wall and all equipped for halotherapy with halogenerator.
Salt room is available for guests in Koren's eco chalets, glamping and camp.
one therapy per person 5€
one therapy per person 5€
By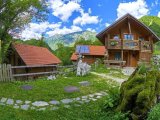 Kobarid (Tolmin)
Starting from 27,00 €