Outdoor Painting Workshop
Borgata Chiapili di Sotto - 10080 Ceresole Reale - Italy
The program includes four days at 1,600 meters to experiment to brush out the natural landscape and colors with brushes and watercolors, comparing with the high mountain light and the landscape amplitude of the Ceresole Reale lakes.
The life of the Alpine hut for 4 days will be spartan, but very significant, curious and special. Each participant, in addition to some spare parts, will have to get their own sleeping bag for sleeping (compulsory). The hut has small twin rooms with only one bunk bed and hot water baths.
Equipment needed
Normal equipment for mountain hiking and mountain backpack, wind jacket and polar vest, sunglasses, protective cream. A toilet bag. Also be equipped with a "sleeping bag" to sleep in the shelter and towels for the bathroom. .
The guide
Gianni Tamiozzo, Park Guide (Aigae & Agenva VdA), graduated at the Albertina Academy of Arts in Turin. For some years he has been organizing watercolor courses in the open air to observe the animals and the wildlife of Gran Paradiso.
Prices
For 4 days € 260 per person with stay at our refuge: dinner, overnight stay, breakfast and food for outdoor lunch (excluding drinks and extra personal). In case of bad weather, the program will be evaluated by changing the outputs of the day. Paint kit if you do not have it: euro 60 (drawing material, base watercolor colors, two brushes, two watercolor paperboards + support tab and tweezers or pencils).
4-days Workshop + overnight stay + breakfasts + dinners 260 €
4-days Workshop + overnight stay + breakfasts + dinners 260 €
By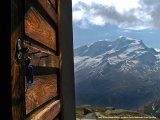 Ceresole Reale (Piemonte)
Starting from 40,00 €