Your eco-friendly holiday in Rome
Via Genova 18 - Interno 3 - 00184 Rome - Italy
If you have decided to take a break to visit one of the most beautiful cities in the world, walk through its incredible works of art and discover every corner of our history, you can take advantage of this special offer and stay in a beautiful eco-sustainable house a few steps from the Colosseum.
The house is just a few minutes walk from the Colosseum, Termini Station and Trevi Fountain.
We will advise you on the most interesting places for an eco-friendly holiday!
7 nights 499 € (instead of € 670)
7 nights 499 € (instead of € 670)
By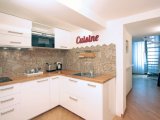 Rome (Lazio)
Starting from 80,00 €