Night and Romantic Dinner in the Yurta Relax
Loc. La Patassa - USCITA CIVITELLA MARITTIMA - 58045 Civitella Paganico - Grosseto - Italy
The Yurta tent is environmentally friendly and made of natural materials: completely made of wood, felt and cotton. From the top of your head you can see the stars ... and feel the birds and the wind comfortably relaxing in the comfort that yurta offers ... incense, essential oils, herbal teas and infusions, chromotherapy, reading, kits for massages ...
And then a very good candlelight dinner at km zero with only Bio products from our farm served directly in yurta .... you are expecting really special and unusual emotions. Come try it!
The offer includes overnight stay at Yurta Relax x 2 with buffet breakfast, candlelight dinner served in yurta with two courses, outline and sweet, water included, drinks excluded.
Possibility to take a guided tour to the company seeing our animals when we give them food and we are accustomed to them.
On request single or couple massage in the lodge next to yurta, upon reservation.
you just have to ask for a list of the types of massage available on the part of our very good Silvia operator.
night with breakfast and dinner for two people 125 € (instead of € 140) for 2 people
night with breakfast and dinner for two people 125 € (instead of € 140) for 2 people
By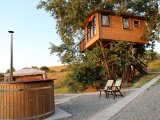 Civitella Paganico (Toscana)
Starting from 70,00 €