Finding the Harmony
via del Massone, 15 - Località San Michele - 50064 Figline Incisa in Valdarno - Firenze - Italy
To find harmony between body and mind, and recover the physical and mental well-being is not necessary to go far. Ecobnb takes you on an eco-friendly farmhouse in the Chianti foothills, where breakfast is organic and local, the restaurant serves delicious vegan meals and all around nature and silence are there to savor.
The offer includes:
- 2 nights accommodation
- Breakfast basket of local organic produce
- Massage with Tibetan singing bowls
- Dinner at local vegetarian restaurant
During your stay you should visit the Masaccio Museum of Sacred Art of Cascia Reggello where you can admire the San Giovenale Triptych by Masaccio.
2 nights + breakfast basket + massage + dinner from 130 € per person (instead of € 150)
after checking availability
2 nights + breakfast basket + massage + dinner from 130 € per person (instead of € 150)
after checking availability
By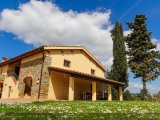 Figline Incisa in Valdarno (fi)
Starting from 60,00 €