Wellness in the heart of the Gran Paradiso
Frazione Cretaz, 8 - 11012 Cogne - Italy
In the heart of the Gran Paradiso Natural Park, in the Para Alpina of Cogne, you can use your coupon for a midweek stay (this offer is unfortunately not valid for the weekend) in the beautiful eco-friendly hotel Notre Maison.
Guests have access to beautiful rooms furnished in alpine style, a restaurant with typical cuisine and zero-kilometer products, an alpine lake and a wellness center overlooking the hotel's park, with whirlpool, solar shower, and swimming pool.
In addition to the night for 2 people and breakfast, also based on organic products and zero km, you have free wi-fi, mountain bikes and electric bicycles to cycle in nature and rent our bmw i3 electric car from Turin to Cogne and return to join us in sustainable mobility!
The offeta also includes entry into the beautiful wellness center all managed by renewable sources.
It is the ideal destination:
- to experience a sustainable mobility experience
- for a romantic getaway
- for those who love nature and the mountains
- for a wellness stay
1 night for 2 + breakfast + spa + electric car + bike rental 69 € (instead of 110 €)
Valid for midweek stays in low season periods (11-12-17 to 22-12-17; from 7-1-18 to 29-3-18; from 1-6-18 to 30-6-18; -9-18 to 29-9-18)
1 night for 2 + breakfast + spa + electric car + bike rental 69 € (instead of 110 €)
Valid for midweek stays in low season periods (11-12-17 to 22-12-17; from 7-1-18 to 29-3-18; from 1-6-18 to 30-6-18; -9-18 to 29-9-18)
By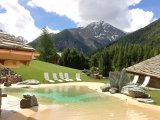 Cogne (Valle d'Aosta)
Starting from 128,00 €