Escape in the Alps by an electric car
Frazione Cretaz, 8 - 11012 Cogne - Italy
If you want to visit Cogne, the beautiful pearl in the Alps, you can do it by Electric car.
The Notre Maison Hotel has activated a special offer that includes the rental of an i3 electric bike for the trip to the hotel and back. The offer (from 288 euro/person) includes two overnight stays, two dinners, buffet breakfast and unlimited access to the wellness area. The electric car + living formula is also available on weekdays.
Notre Maison is a beautiful ecological hotel with a spa, an outdoor alpine pond and a restaurant with à la carte menu.
PROGRAM
Friday afternoon pickup of the BMW I3 at biAuto dealership in Via Bologna, 102 in Turin. You can drive autonomously from Turin to Cogne and throughout the weekend by the electric car, with a technology that will give you unexpected comfort and emotions.
Two days half board, with dinner at the hotel's typical restaurant and entrance to the wellness center with alpine pond surrounded by greenery and heated by renewable sources.
Return to Turin on Monday morning, returning the car at the BiAuto dealership in Via Bologna, 102.
Price June July and September 2017 per person including:
Rent a BMW i3 complete with electric refill for the entire stay.
Free access to the wellness center with Alpine pond for 2 days.
Two Typical Dining Dinners on a 4 course meal.
Two overnight stay in double room and buffet breakfast.
With standard room rate € .288,00.
With superior room rate € .336,00.
With mini suite suite € .380,00.
With suite in suite € .426,00.
2 nights + breakfast + 2 dinners + wellness + electric car 288 € (instead of 300 €) per person
2 nights + breakfast + 2 dinners + wellness + electric car 288 € (instead of 300 €) per person
By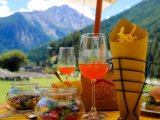 Cogne (Valle d'Aosta)
Starting from 128,00 €