Romantic getaway: No stress on Cres!
Melin 1, 16 - 51557 Cres - Općina Cres - Croatia
Run away from stress and book your romantic getaway on Cres!
Indulge in the scents and sunsets of Cres island. Take time to get away from the daily distractions, get your energy back and spend some quality time with your partner. Experience the top green itineraries on the biggest island in Adriatic sea. 10% discount for early bird reservations in 2020 is available until the 31th of January 2020!
Discount for romantic early birds 10%
Discount for romantic early birds 10%
By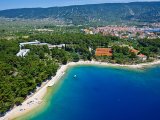 Cres (Primorje-Gorski Kotar County)
Starting from 73,00 €