Unique griffon vultures watching
Beli 4, 51559 Beli - 51559 Cres - Općina Cres - Croatia
In Croatia there are only 100 families of Griffon Vultures left. Visit the rescue center for Griffon Vultures in Beli (www.belivisitorcentre.eu) and help to preserve this glorious species.
Watching griffon vultures in flight is always a special experience. Flying mostly in groups and barely flapping their wings, griffon vultures spend hours searching the terrain for food, which is very interesting to observe. Vultures are charismatic birds.
Although they may not be attractive at first glance, they have shared their living space with humans for a very long time and have thus entered into folk stories and legends, playing an important ecological and cultural role on the island. Their charisma is attested to by the fact that they are considered to be a symbol of the island of Cres. Everyone who visits Cres and the other Kvarner islands should look up into the sky in search of the magnificent silhouette of the griffon vulture in flight.
an entrance fee for the visitor center 5€ per person (adult)
an entrance fee for the visitor center 5€ per person (adult)
By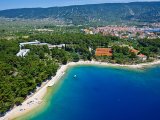 Cres (Primorje-Gorski Kotar County)
Starting from 73,00 €