Looking for an eco-friendly hotel in Madonna di Campiglio? Surrounded by the nature of the Brenta Dolomites, the eco-hotel Gianna is the perfect place!
Wood-scented rooms, traditional Trentino dishes, and farm-to-table food. And also a wellness centre with a swimming pool where you can relax after long walks to discover the wonders of Adamello Brenta Park.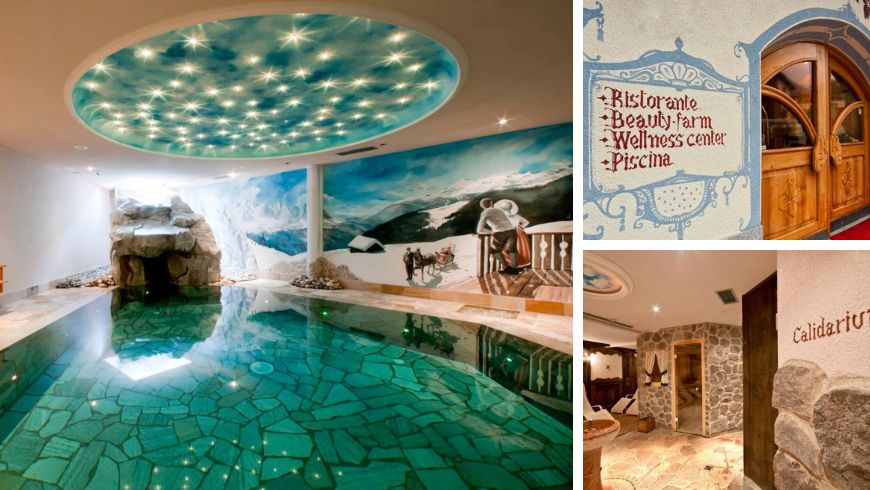 If you want to combine sustainability with a really regenerating holiday in the mountains, the Hotel Gianna is the solution for you.
This eco-sustainable hotel in Madonna di Campiglio is set in a large garden surrounded by trees. The hotel is characterized by wooden furniture typical of the mountains, a focus on ecology and waste reduction, and a warm and familiar welcome. In other words, it is the perfect location for a wellness and relaxation escape, in harmony with nature.
We had the pleasure of interviewing Christian Armani, owner, and manager of Hotel Gianna. Here is what he told us: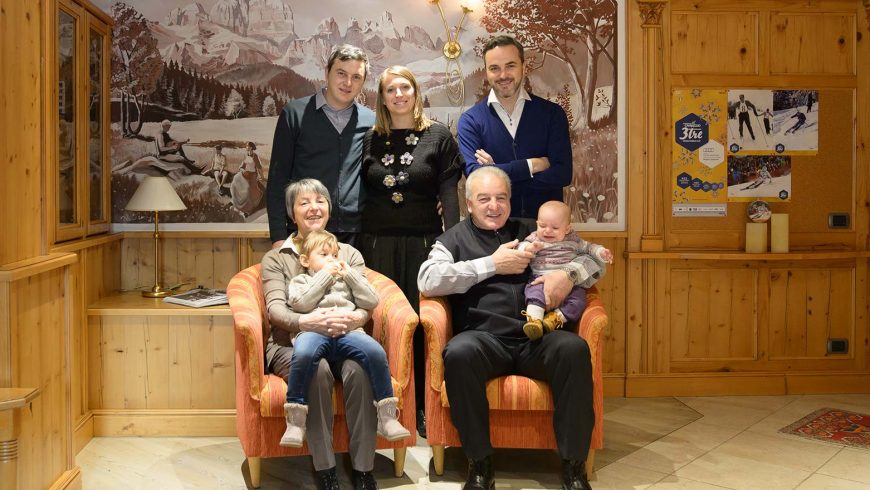 1. How was Hotel Gianna born and when did it receive the CETS-Quality Park label?
The hotel was founded on the initiative of my maternal grandparents in 1951. Since then, the business has been family-run. In the last twenty years, we have made an important commitment to environmental sustainability. Besides, we wanted to help reduce our ecological footprint and take concrete action to preserve the beautiful nature of Adamello Brenta Park. In 2012 we received the CETS-Quality Park label.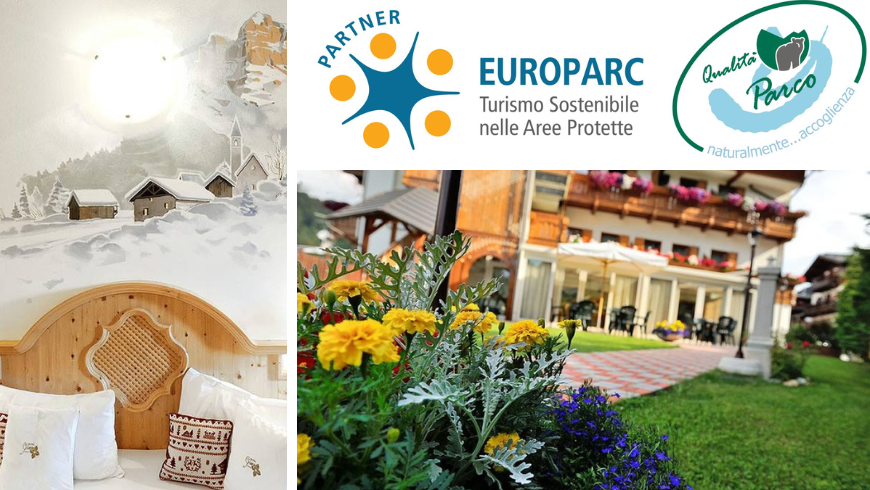 2. What good sustainability practices have you adopted?
The main sustainability measures we have implemented are:
Building thermal insulation to save energy
Use of certified 100% renewable electricity (hydroelectric)
Use of pellet boilers (compressed wood) for heating and water
Automation and home automation to avoid energy waste
Access to rooms with badges
Gradual replacement of classic light bulbs with new low-consumption bulbs or LEDs
Waste sorting
Use of biodegradable or recyclable materials and products
Where and when possible, purchase of local and Trentino food products
Incentives to customers to use cars as little as possible
Incentives to customers to walk or cycle
Promotion of sustainable urban and extra-urban mobility thanks to territory cards (included in the cost of the stay or provided at a discounted price)
Promotion of local culture and traditions
We are members of the Group Friends of the Campiglio Trails
We participate in the Dolomiti Natural Wellness program to promote wellness in contact with nature.
3. What do your guests appreciate most?
We get significant positive feedback from our guests about the reception service, especially the hospitality offered by the family and the staff.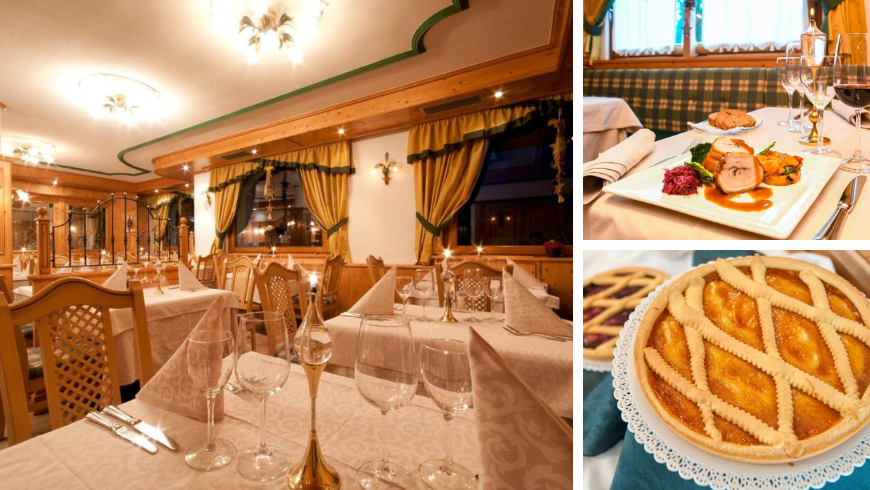 In addition, our guests appreciate the quality of the cuisine and the cleaning. Those who stay with us particularly like the wellness centre inside the hotel, the private garden, and the beauty of the landscape.
4. What slow itineraries (on foot, by e-bike..) do you recommend in the area?
It is surely worth taking a walk and visiting the Vallesinella waterfalls because they are an amazing spectacle.
Also, for sports enthusiasts, it is possible to go on a bicycle excursion to enjoy the beauties of Lake Valagola.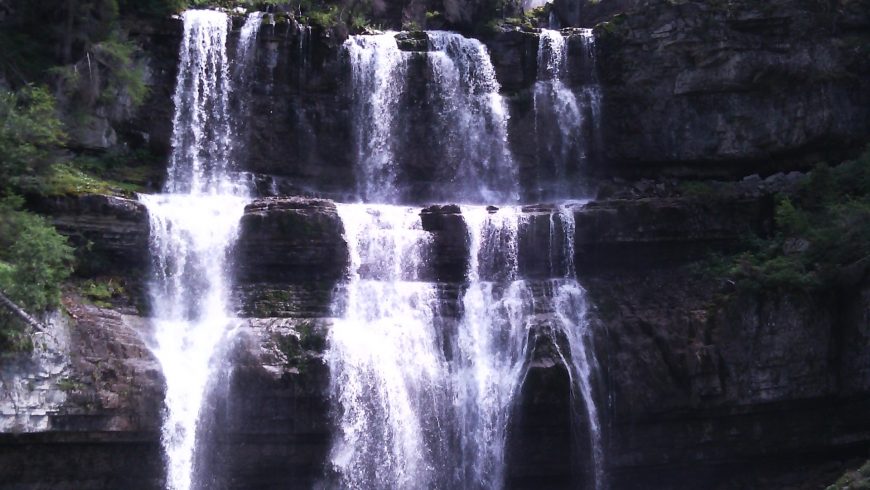 5. What does being part of the Adamello Brenta Nature Park and Ecobnb mean to you?
First of all, we are very proud to be part of a network of hospitality structures.
We do all this with the awareness that the territory can and must be used to create value without compromising it, but protecting it for future generations.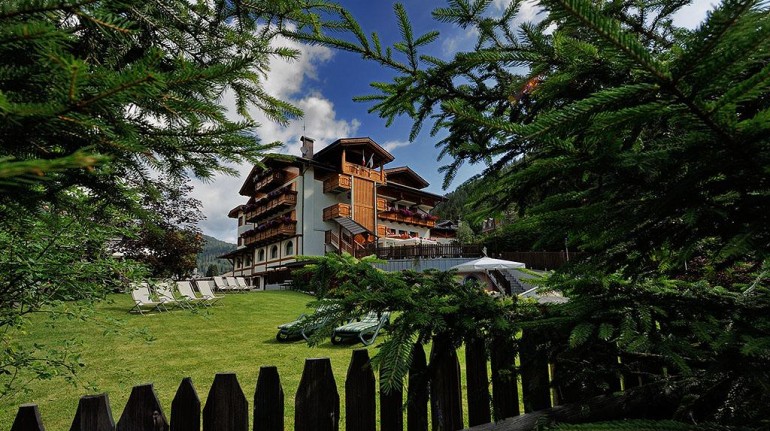 What are you waiting for? If you want to enjoy a sustainable and relaxing holiday in Madonna di Campiglio, this is the perfect address!