Here it is, nestled between the green of the Alps and the dense woods of the hills. We are in front of Lake Orta, an unmissable destination for all those who are in Piedmont. Of course, it's not as majestic as Lake Maggiore, or glamorous like the more famous Lake Como. But, precisely because of its more human-sized dimensions and its rustic aspect, Lake Orta has an even more engaging and evocative beauty.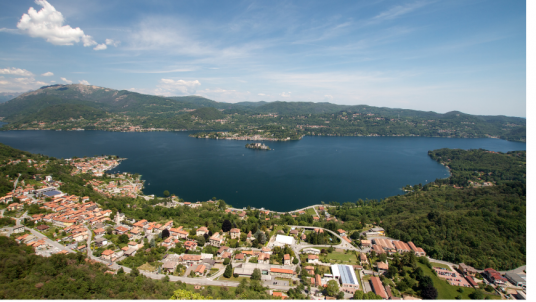 The bicycle is perfect for following its contours and for discovering the small villages that dot its banks. Once in the saddle, we are ready to face the 40 kilometers of the Blue Ring, a route that follows the circumnavigation of the lake. Ideally, the starting point is Orta, but you can start in any other town overlooking the lake. The itinerary does not present major difficulties, except for a few short climbs, but given its length, it is still advisable for those who are a little trained.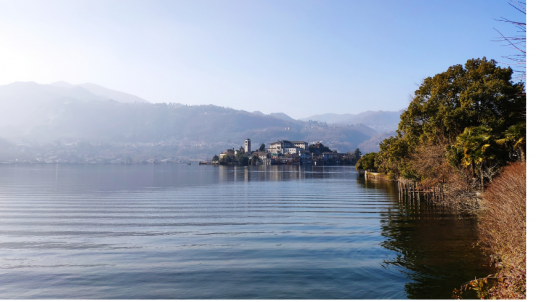 It is all a succession of coves and equipped beaches, pine forests, historic villas, architectural treasures, reeds, woods, ancient villages. Honoré de Balzac, one of the many writers who fell in love with Lake Orta, described it well. He wrote: "A delightful little lake, like Lake Orta at the foot of Monte Rosa, an island lying in its calm waters, flirtatious and simple, natural yet adorned, solitary and well accompanied: elegant groves of trees, statues of beautiful effect. All around, shores now cultivated now wild: the grandiose and its tumults outside, within human proportions".
The path is perfectly marked and certainly, there is no lack of opportunities to make stops.
What to see on Lake Orta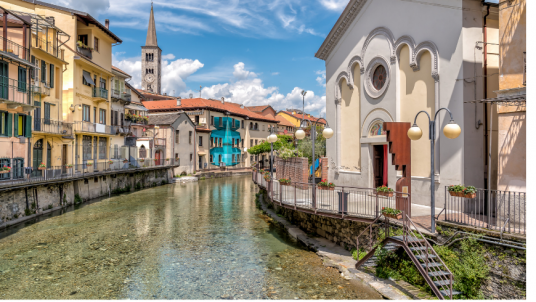 The Blue Ring allows us to discover romantic villages, prehistoric caves, historic buildings, Romanesque basilicas, unspoiled nature, and panoramic balconies; all from our bike. For example, there is Omegna, the main center of Lake Orta. Located on the northern offshoot of the lake, the village offers us a suggestive lakeside promenade and picturesque views. Do not miss Porta Romana, the collegiate church of S'Ambrogio, and the Romanesque church of San Gaudenzio.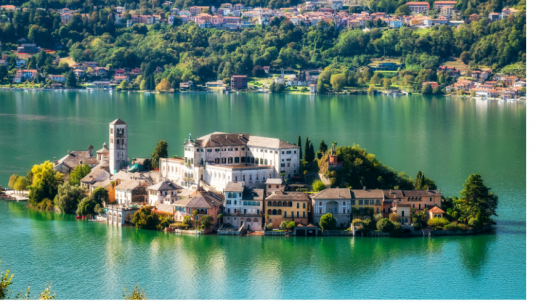 Orta San Giulio is certainly a must. Walking through the characteristic alleys full of stately buildings and elegant arcades, we fully experience the charm of Lake Orta. In front of the village, there is also the gem of the lake: San Giulio Island. Accessible by small boats, the island now houses a female monastery, but also ancient residences, splendid gardens, and the beautiful Basilica of San Giulio.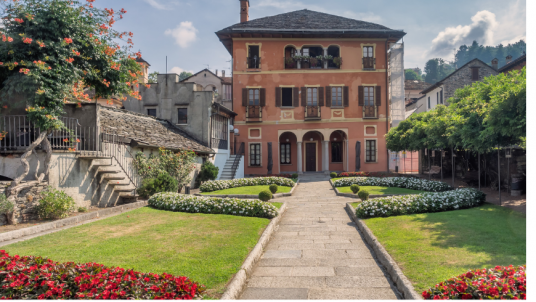 But Lake Orta still gives us many jewels: the eighteenth-century palaces and elegant villas of Miasino, the Sacro Monte Nature Reserve, the ancient village of Pella, and Mount Mottarone. Riding your bike you feel part of these places, where life flows slowly and in close contact with nature.
A green stay with a lake view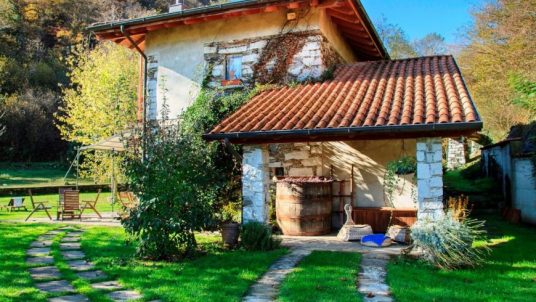 True, the Blue Ring allows us to go around the lake in three hours. But why not stop for a few days and relax? A few steps from Lake Orta, there's B&B Melizio, an old stone mill renovated with love and inserted in a highly suggestive context.