Take time out in the peaceful inland Marina. Get away from the crowd and escape to the serene countryside of Marina. Just a short drive from the historic city of Trogir will bring you to an old world of picturesque Dalmatian villages. 
Photo by Ivo Pervan
Photo by Ivo Pervan
Discover the hidden jewels of nature and culture
Discover a slower pace of life among olive orchards, drystone walls, and fertile fields. Let your senses be awakened by sounds and smells of beautiful, green nature.
Head to the green Marina's countryside. Lasting impressions await you.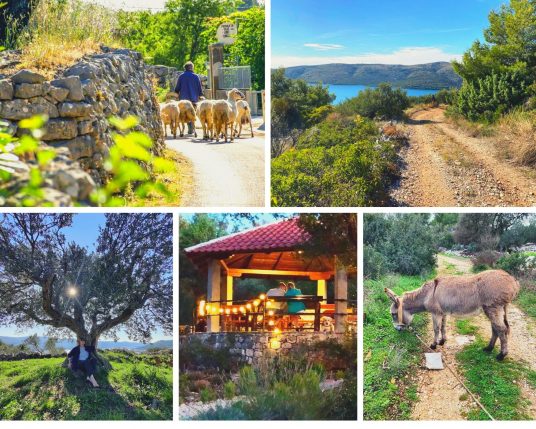 Indulge in Unique Experiences
Enjoy a selection of eco experiences that go hand in hand with the seasons. Explore authentic local customs and traditions, culinary specialties, taste organically produced food, buy quality handcrafted products and experience the genuine hospitality of local people.  
Get to know the green stories of local people from inland Marina
A sneak peek into local life
Locals will welcome you with open doors and invite you to visit them all year round. Find out more about the most passionate ambassadors of sustainable tourism. Let their authenticity, ingenuity, and perseverance inspire you.
Experience the olive oil-making tradition with Šalov family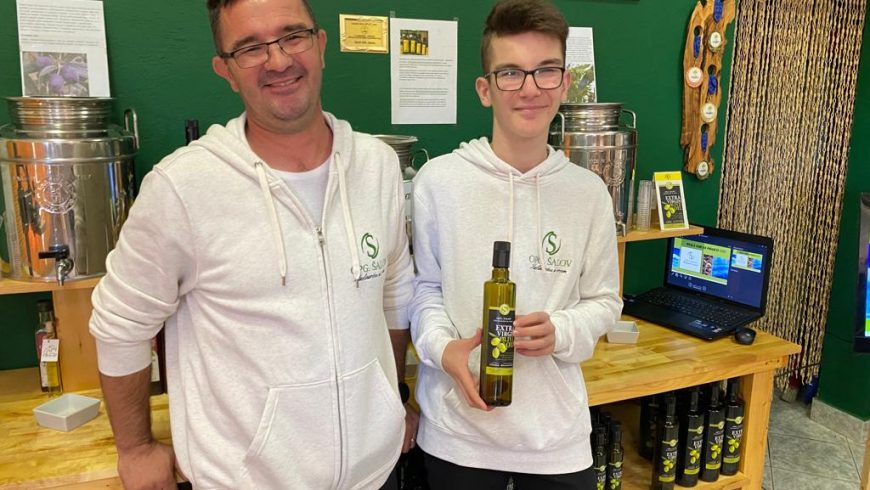 The world of liquid treasure
Follow the story of Šalov olive oil farm from Gustirna and how their best olive oil is made – from picking olives to bottling their unique Golden Olive Oil.
As you explore the green inland areas of Marina, you'll come upon olive groves at almost every step. This area produces excellent olive oil, due to a perfect combination of sunshine, great soil composition and gentle Mediterranean climate. All of this gives olive oil a distinctive taste, and it is highly regarded by gourmets.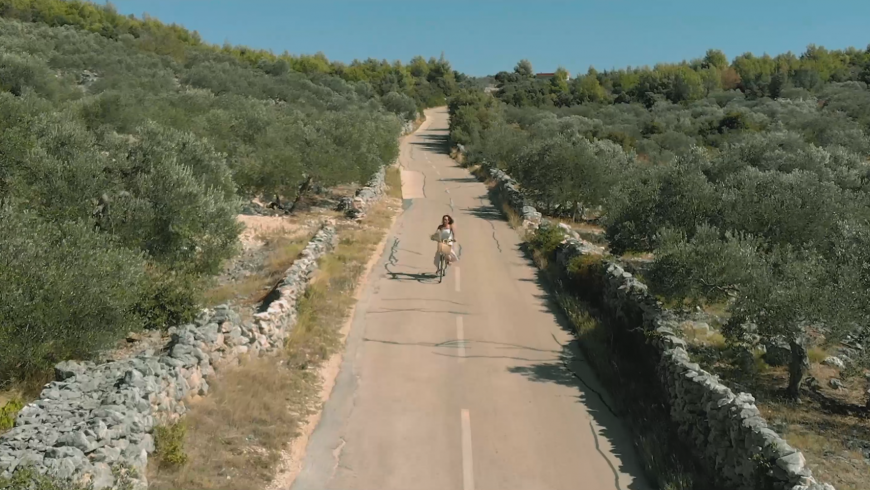 Sun-filled olive oil in inland Marina
"Three generations live and work at Šalov family farm. We deeply respect nature and produce in the most natural way possible. A blend of sun and sea breeze, along with the microclimate of the hinterland area add a distinctly unique flavour to our olives," says olive grower Alen Šalov.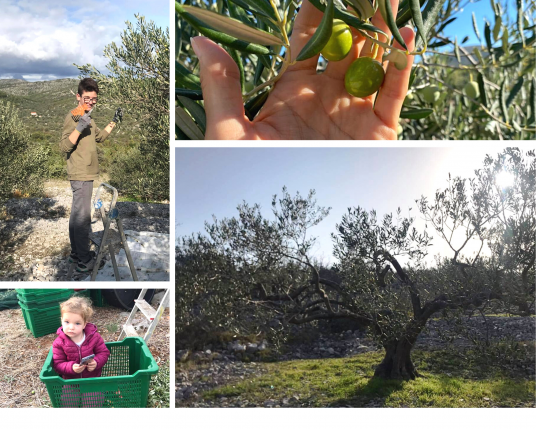 Building on traditions of the past and integrating sustainable practices into their production, creating award-winning extra virgin olive oil and a boutique range of organic gourmet produce.
A to Z of olives and olive oil
Learn the entire story of how olive oil is made in its unique way. At the Šalov tasting room, Alen will tell you about 200 years old olive trees, olive groves with more than 650 olive trees, olive oil, and how the management of the grove aims to preserve species diversity and reduce the footprint on the environment. 


You will also learn about the process of determining the quality of olive oil. By tasting, you will get to know the characteristics of the samples by yourself and learn about the properties of extra virgin olive oil. You will also have a chance to buy their premium hand-filled olive oil.
Unique collection of olives from Mediterranean countries
Every oil producer leaves a unique mark on their oil.  Olive oil farm Šalov took a step further and planted special olive grove with more than 50 varieties of olives from different Mediterranean countries, especially from Italy. Planting such a precious collection of olives at one grove is an outstanding project and it will result in a rare ultra-premium extra virgin olive oil.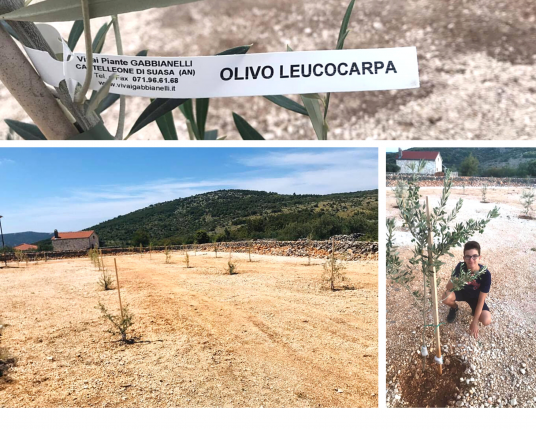 Handpicked harvesting
Olives have been grown for centuries using traditional farming methods and are all handpicked during harvest time. Handpicked harvesting is of great importance to the quality and provenance of their extra virgin olive oil. The olive harvesting season runs from October to November and they'll also be happy if you give them a hand in the olive grove.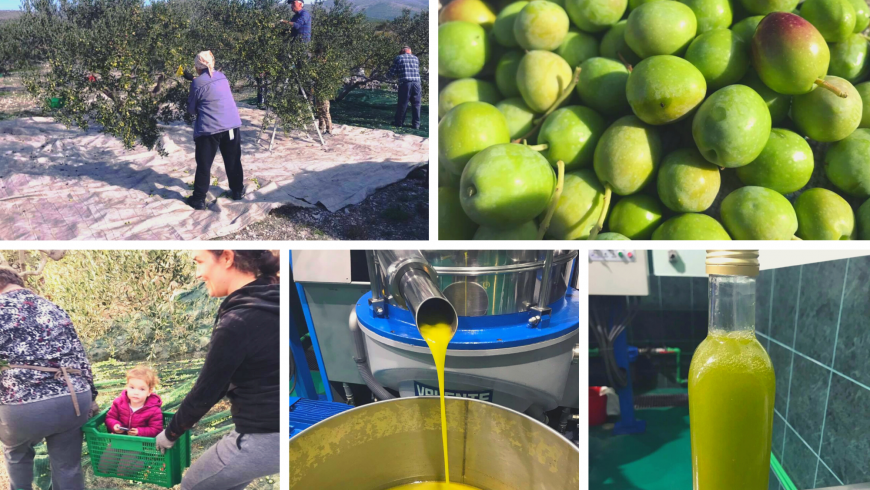 Carefully picked olives make their way to a special oil press within 24 hours. There is no mixing or blending with other oils to ensure the genuine extra virgin olive oil quality.
Golden Olive Oil – a true taste of luxury
"We have decided to offer memorable, boutique experience to our guests. The hand-picked high quality extra virgin olive oil is infused with 24-karat edible gold flakes. Golden Olive Oil goes well with bitter chocolate cakes, mousses or ice cream or as dressing for creamy soups and salads. Its aromatic and golden properties are truly captivating!" says Alen.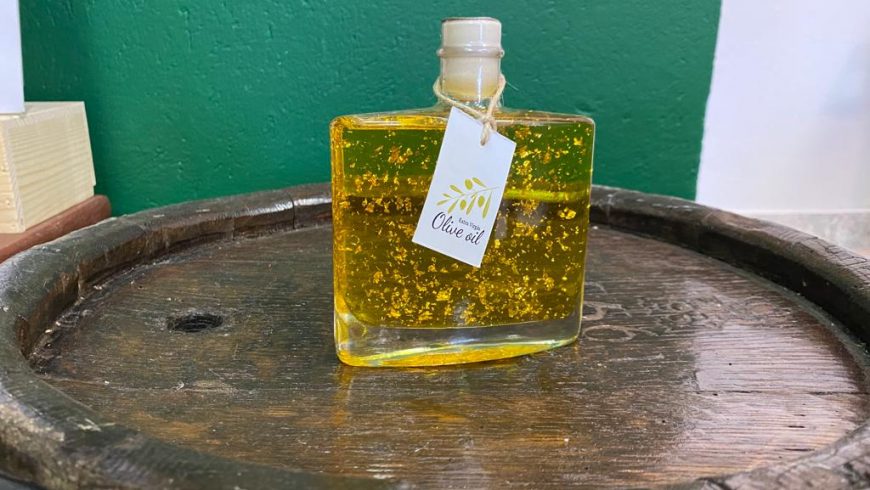 Natural Olive Wood products of inland Marina
Family Šalov also handcrafts the finest olive wood products. Alen loves the woodcarving craft and with his father and his son, they have formed an experienced team of hard-working artisans. 


They produce naturally beautiful kitchen products, lamps, pens, and other souvenirs, all boasting the distinct swirling patterns of the trees' twisted trunks. Their products are safe and sustainable, coated in a protective layer of olive oil.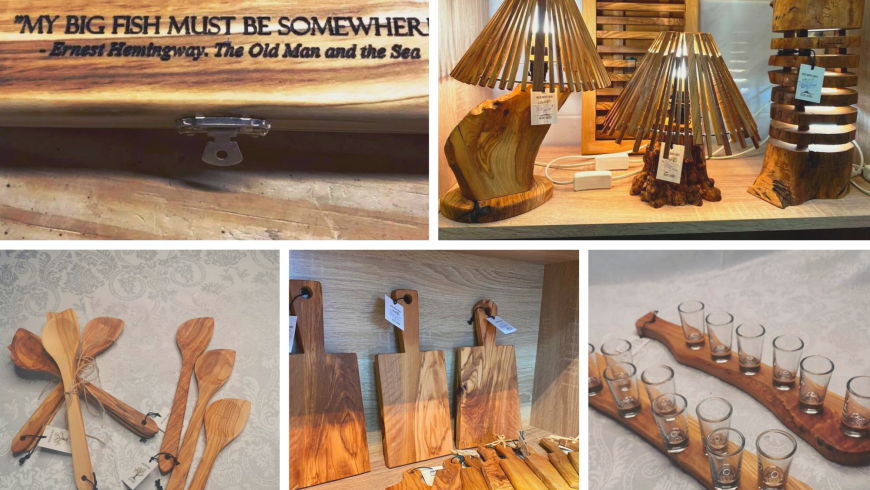 From the heart, for the home
Would you like to see how olive oil is made? Or buy unique olive wood products? Visit Šalov olive oil farm, learn about their story of olive oil and let your taste buds feel its quality.
More info: Šalov olive oil farm, Gustirna 1/28, 21.222 Marina, +385(0)98/963-5466; opg.salov1@gmail.com
Buy superfood from Vesna Jakus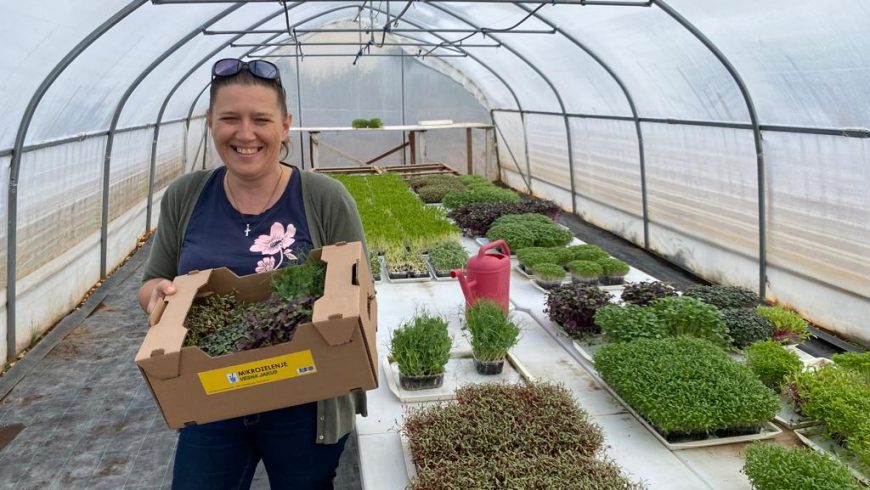 Microgreens, herbs, and edible flowers
Microgreens from Jakus family farm are full of antioxidants, vitamins, and minerals – perfect superfood products for foodies, families, and restaurant chefs.
Vesna Jakus is an entrepreneurial agronomist with a passion for growing the highest quality, nutrient-dense microgreens that will help you live a healthier lifestyle! She owns a small family farm located in the beautiful village of Vrsine, where you can visit her all year round.  Everything she produces is grown using only organic and GMO-free seeds and all-natural methods.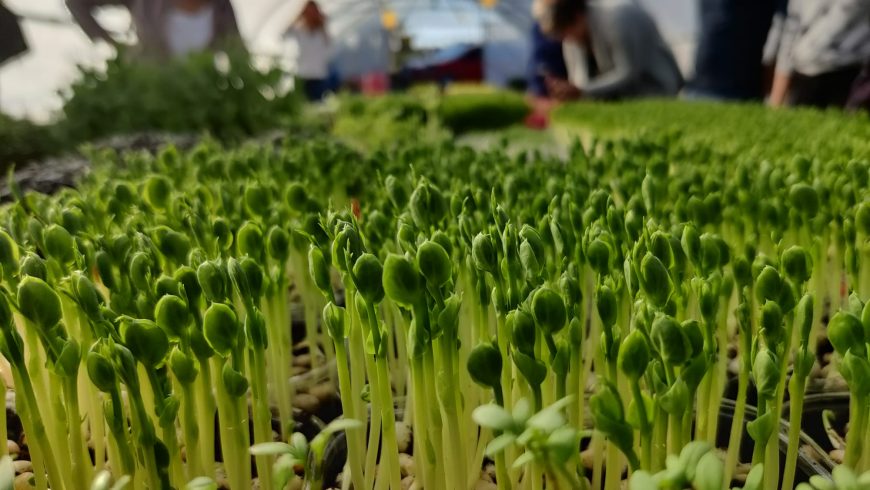 Some of the varieties that she grows are green peas, red beets, mangold, red radish, beans, adzuki beans, sunflower, basil, etc. Microgreens might seem small and fragile, but they are superfoods ready to change the world. These herbs will boost color, enhance flavor and add texture to any dish while providing invaluable nutrition.
A better world with better food
Vesna wants to set her business model as a sustainable example for the local community, her young son Jakov and future generations. She emphasizes how she loves her work because it gives immediate results. On the other hand, it can be very stressful, when crops do not grow as planned.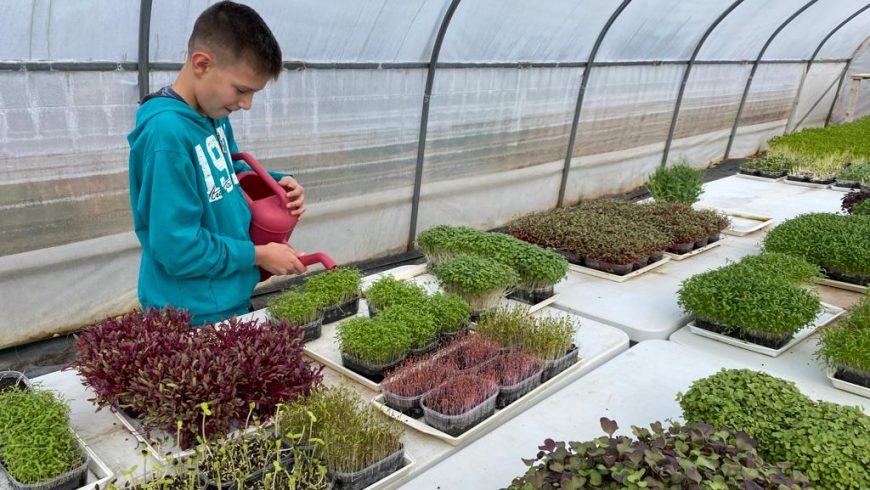 Fresh products from farm to fork
 »I believe in a future that is cleaner, healthier, and more sustainable. I am fully committed to low-impact agriculture and my products are free from GMO, chemical pesticides, and herbicides. I think that clean-grown superfood can help make the world a healthier place. I guarantee a super fresh product from farm to fork, because I deliver microgreens in small pots and customers can harvest them anytime they want. «
Super nutritious & delicious all year round
Microgreens from the Jakus family farm are not grown indoors with LED lights. Instead, they have a greenhouse, where they use the organic method for growing in compost soil, pure water, fresh air, and natural light. This results in a higher content of vitamins and minerals. The greenhouse traps heat from the sun, which allows the plants to thrive all year round.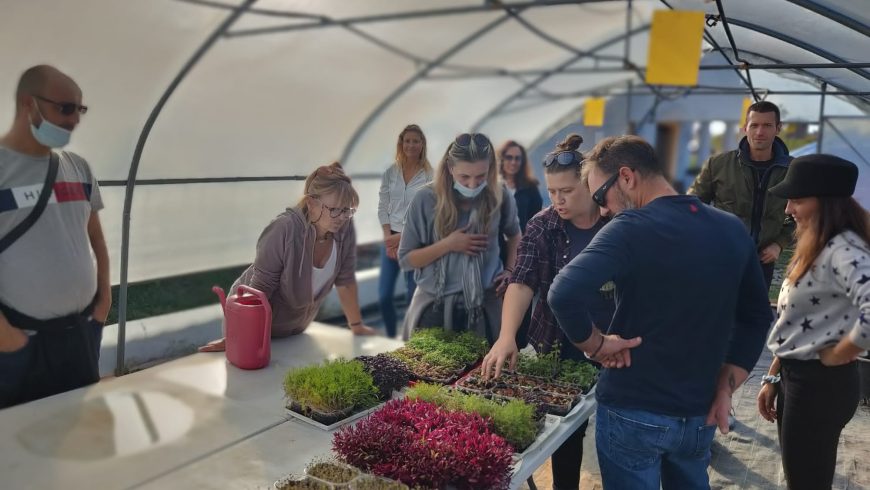 Good for restaurant chefs
Microgreens are often added to dishes for color, texture and flavour enhancement and restaurant chefs love to use them in their dishes. Vesna proudly explains how chefs from the most prestigious restaurants in Dalmatia visit Vrsine village in order to buy microgreens.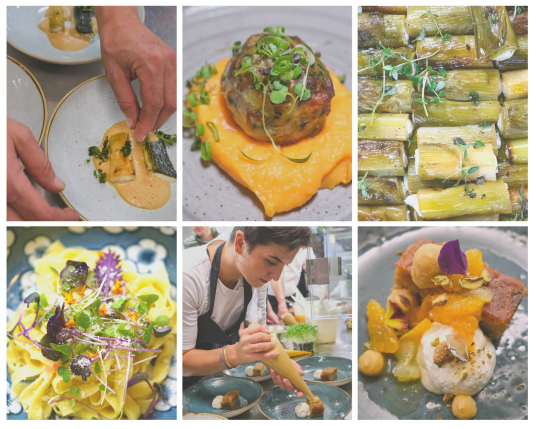 Where nature and evolution meet
In a time where clean and nutritious land gets more scarce, it is time to think innovatively. Vesna is very excited about her future plans.  »In the last months, I have had an increasing demand for edible flowers. This inspired me to expand my offer and approach agriculture in an innovative way – by growing vertically. I will use less water and also save considerable space.«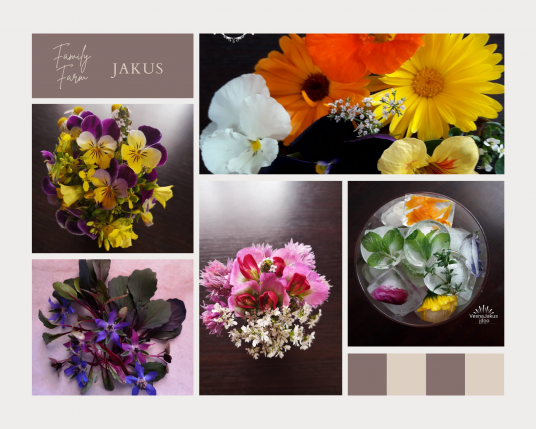 More info: PG Vesna Jakus jdoo, Vrsinska cesta 11, Vrsine 21222 Marina,
+ 385 98 189 0703, vesnajakusj.d.o.o@gmail.com
Discover herbal treasures with Mira Rozga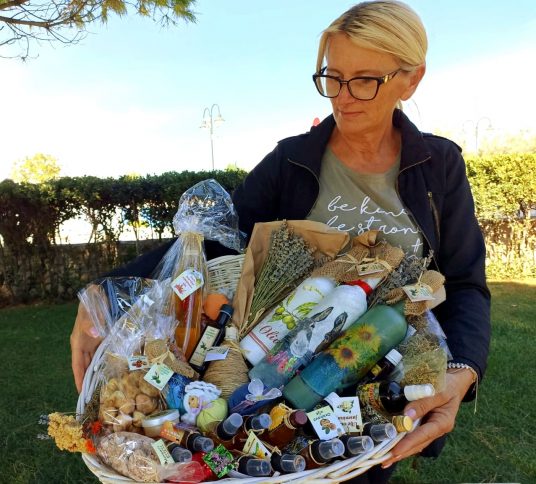 Take in the scent of herbal Dalmatia
Inhale pleasant scents of the herb garden and take home a piece of nature with home-grown herbal products.
Area around Marina has wonderful natural spots where you can find an abundance of medicinal herbs. Locals have used herbs to enhance flavours in cooking, and to promote health and wellbeing since ancient times. That knowledge and wisdom are being kept alive by the herbalist Mira Rozga.
Rozga Herb Farm is located in the small village of Blizna Gornja, 25 minutes' drive by car from Marina. There is a wonderful view of the rolling countryside hills and on a clear day, you may even see the Italian coast. The signature aromas, flavours and health benefits of herbs can be combined with unique herbal experiences.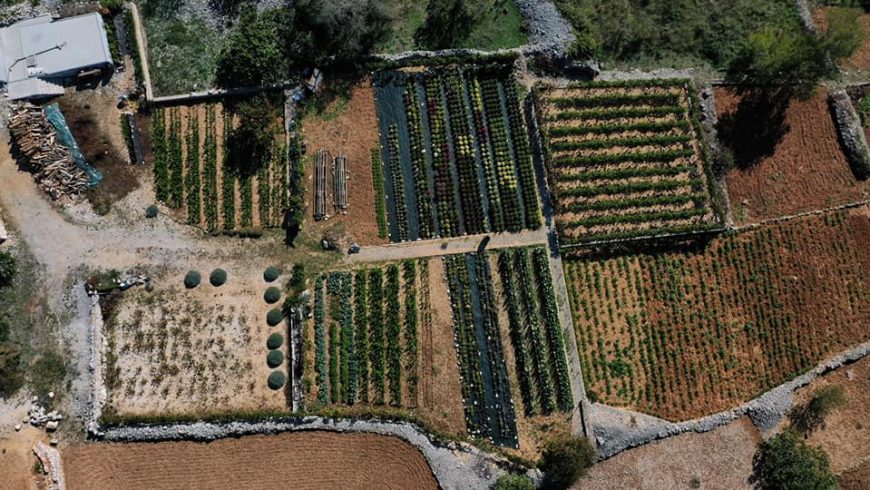 »In the unspoilt nature of our village, we began growing medicinal and aromatic plants. Natural conditions allow us organic – nature-friendly production, without the use of mineral fertilisers and sprays. We are cultivating the fields, harvesting, and pruning all herbs by hand. We are not growing large quantities of herbs, but rather focus on the quality which is exceptional, « says Mira.



More than 30 species of ornamental and medicinal plants are grown in their fields in an organic manner. »Our production allows us to preserve the environment. Herbs grown, purified and packaged in such manner encapsulate the beauties of our landscape, filling you with the extreme power of nature," she explains.
Wild herbal heritage
Within their drystone walls, native herbs such as lavender, immortelle, sage and heather thrive. They are used for the production of liqueurs, essential and massage oils, flower water and creams.
 "What we inherited from our ancestors we accepted with gratitude, and we add to this gift our own ideas. They are a reflection of the times in which we live and I am very proud that we can offer quality and authenticity to our buyers," says Mira.
Spoil your senses in the herbal wellness garden
Walkthrough the intoxicating aroma of the herbal garden and explore the positive effects of medicinal plants. Indulge your senses and let them bring you closer to nature. Relax your thoughts and enjoy the peaceful countryside.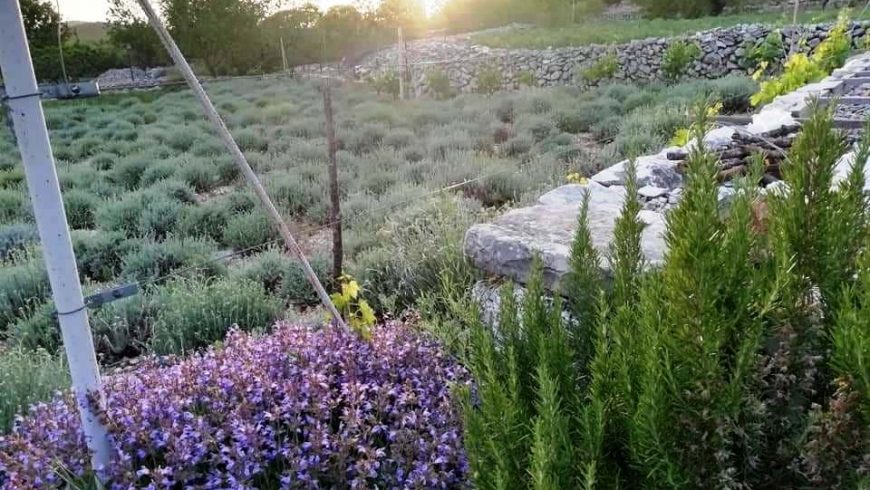 Cosmetics made with medicinal plants
At Rozga herb farm you can also buy herbal cosmetics. You can choose from calendula ointment which helps heal cuts, scrapes, and chapped skin; comfrey ointment to heal bruises, pulled muscles and ligaments, fractures, sprains, strains, and osteoarthritis; and immortelle cream to diminish the appearance of wrinkles and improve skin's texture and smoothness.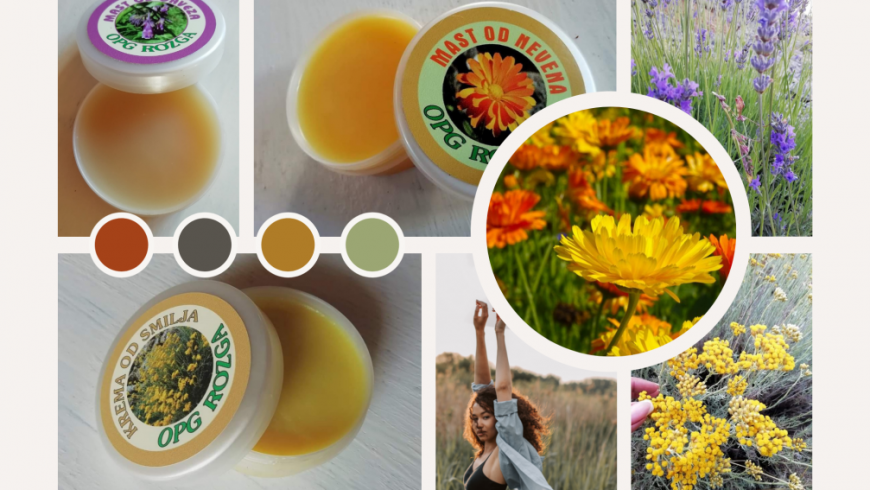 Upcycling glass bottles
If you're looking for something natural and beneficial from the local area where you're spending your holiday, support Rozga family farm.
Mira is also an expert for decoupage – the delicate art of enhancing the beauty of a bottle by using tissue cut out and creating special paint effects. She is turning boring glass bottles into masterpieces with traditional rural symbols and fills them with oil, obtained only by the pressing of lovingly hand-picked olives.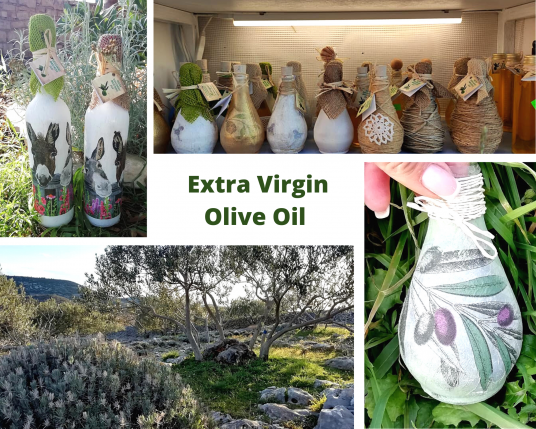 Rozga herb farm guarantees product authenticity and local origin. You can buy herbal products that embody the characteristics of the surrounding nature and Mediterranean climate. By selecting handcrafted products, you will take home a small piece of Dalmatian tradition and creativity while making a step towards sustainability.
More info: Rozga herb farm, 21 228 Blizna, M: +385 99 683 7426
Reconnect with Sylvia Nunes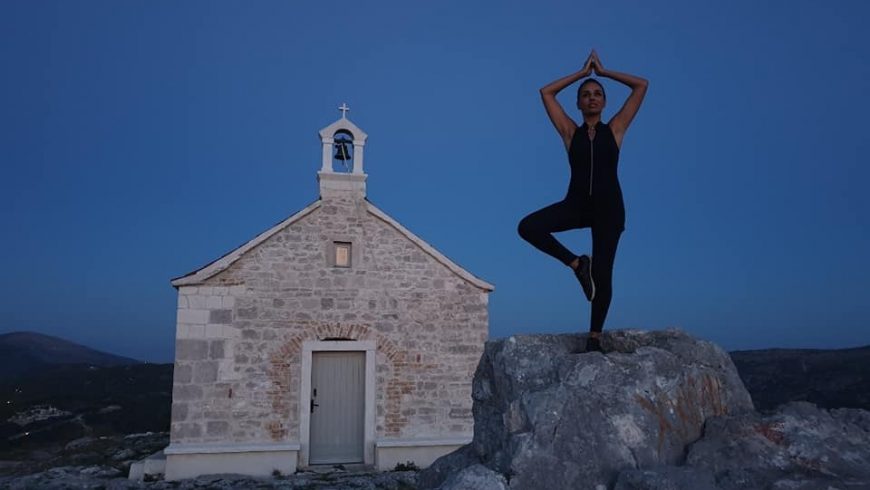 Inspiration for Holistic Wellness & Yoga Retreat
Reconnect and reinvigorate your senses in a picturesque village of incredible natural beauty, with meaningful experiences and boutique wellness treatments.
In this disconnected world, you need to find a way how best to reconnect – firstly, within yourself and secondly with the people and world around you.  Sylvia Nunes will guide you on a journey of discovery through your body, mind, and heart, to help you reestablish your relationship with others and the natural world.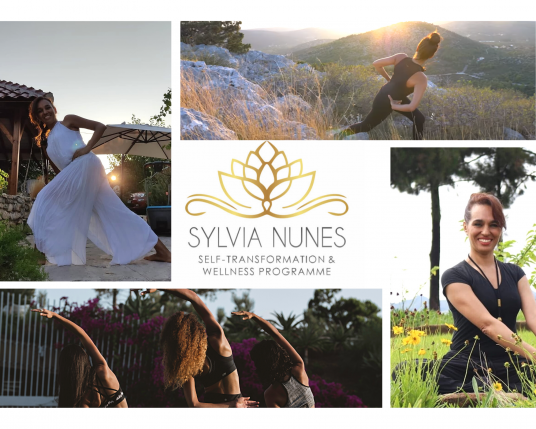 Sylvia is a certified coach specializing in self-transformation & holistic wellness programs. She teaches daily practicing of Tibetan Yoga which promotes harnessing the fountain of youth within us. She is originally from Brazil and has moved to the small village of Vrsine, the home of her partner Mario. The incredible natural beauty of inland Marina inspired her to combine ecotourism with wellness knowledge and develop boutique holistic retreats.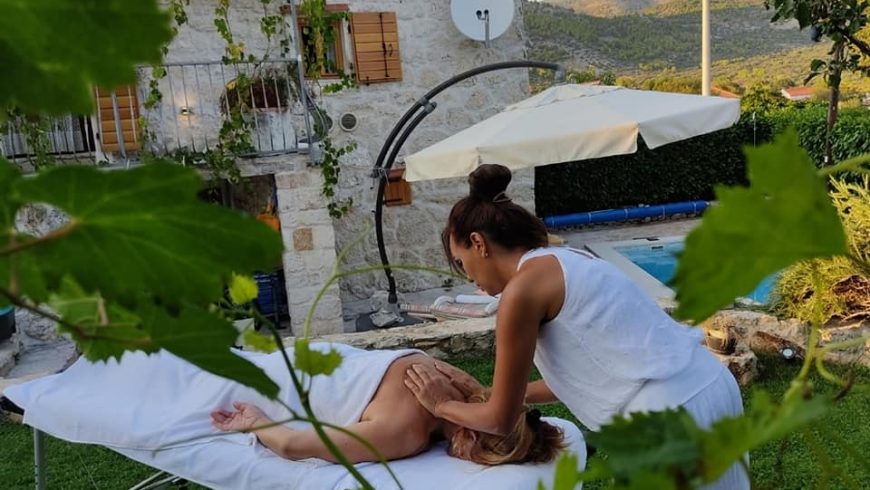 Her story and wisdom
»I start each day with gratitude in my heart. I connect with my divine feminine which is full of energy, intuition and unconditional love. I live with a purpose because I want to contribute to society. I am aware that learning never stops. I believe that long and healthy life is only possible if it is aligned with the beauty of our true nature – from within to without."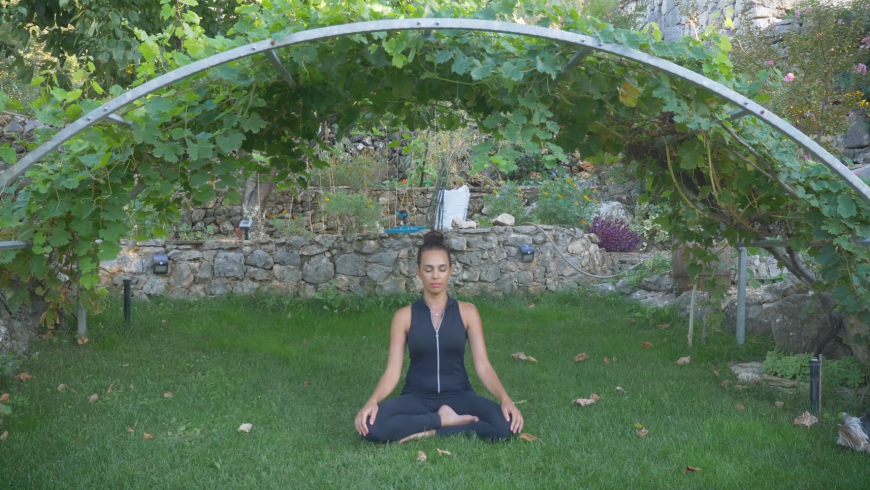 Measurable actions for positive impact
»We live on Mother Earth just for a very short time, but we leave behind such a devastating trail. I feel obliged to take responsibility, to respect and preserve what our ancestors gave us and to regenerate what has been destroyed.«
She cares deeply about the people, the culture, and the ecosystem she is part of and wants you to experience the magic first hand. Everything from planting fruit trees and reforestation projects to clean-ups in collaboration with the local association "Eco village Vrsine".



Say hello to a whole new you!
Sylvia designed her own holistic wellness program "360° Quality Life" that promotes connection with nature, relaxation, self-care, pushes the reset button and opens up new possibilities. It takes place at eco-village Vrsine, in the midst of olive groves and ancient trails, during the spring and autumn months.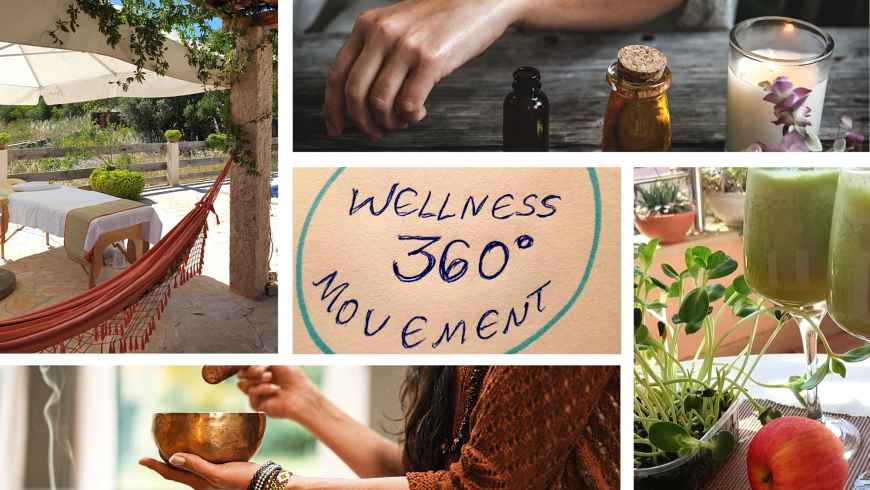 You will experience a layered approach to wellness in tune with your natural flow. To find harmony and balance from the inside out and outside in. The unique approach will take you as deep as you would like to go – from core beauty that will change the way you look, to personalized wellness programs that can change your whole outlook on life. Connect with Silvia and book your holistic retreat!
Unplug to recharge in Open Village Vrsine
"It's about the natural beauty of this place that stops you in your tracks. A lesser known, yet accessible location.  A sense of community with sustainability at its heart.  A truly sustainable lifestyle. And about distinct wellness experiences, so you feel the difference in your mind, body, and soul." says Silvia.
More info: Sylvia Nunes, M: +385 91 726 5508 , snqualitylife@gmail.com
Learn about traditional architecture from Irina Salvezani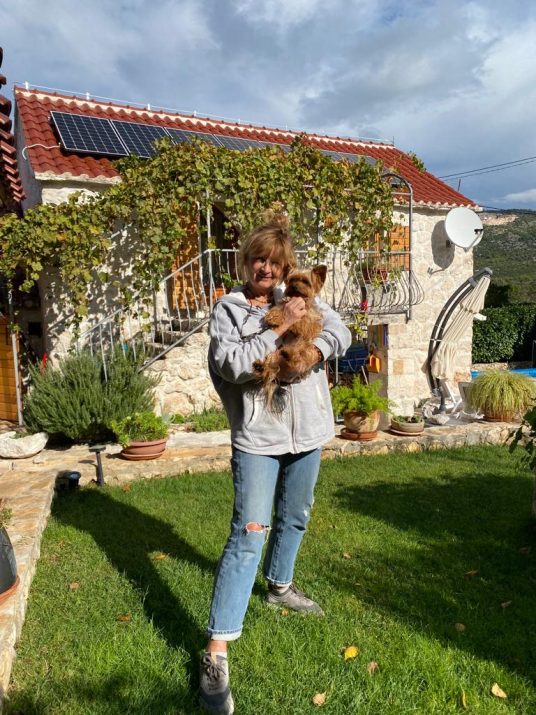 Heritage rural stay that champions sustainability
Return to nature and to your own true self in accommodation that has preserved tradition in a contemporary way.
Spend the night in a renovated stone house that was once inhabited by locals. At eco villa Home Sweet Home, tradition blends with modernity and the local authentic natural environment.  Romantic souls will love this rural villa with unique character and charm. It is located in Marina countryside, in the village of Vrsine, only 15 min drive from the city of Trogir.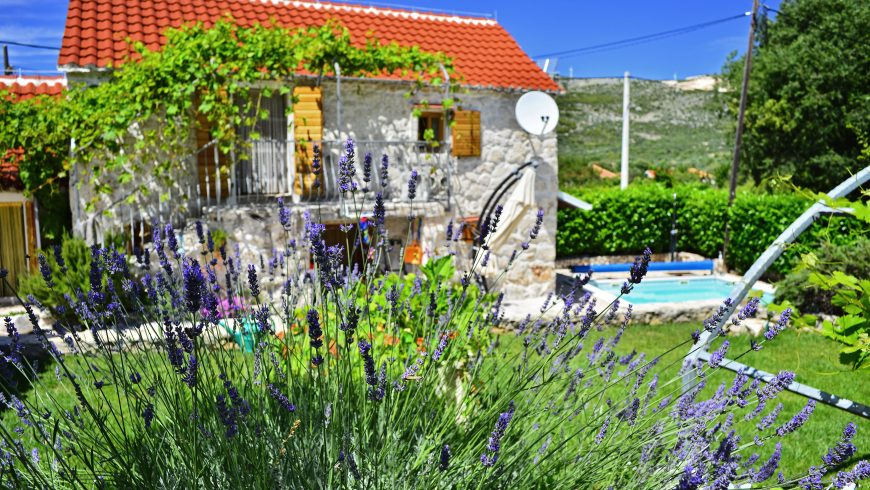 Green accommodation inspired by tradition
The owner Irina Salvezani decided to preserve original architecture and pleasant homeliness, but also to embrace innovation with a touch of modern design. This renovated stone house now serves as a pleasant holiday home that will give you the feeling of time slowing down, allowing you to focus solely on yourself and your loved ones.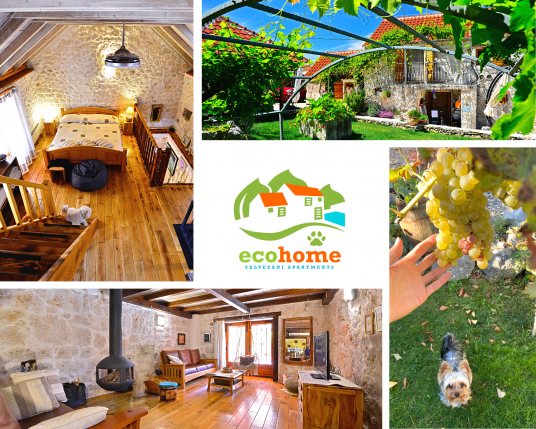 A deep respect for local architecture
"I respect local architecture and believe that stone house has a soul. During the restoration phase, I was collaborating with Ivo Vojnović – an expert in historical buildings. I had a vision to build a home that embodies the architectural design of a Dalmatian stone house in a modern way, to evoke a feeling of warmth."  she explains.
It is furnished in the traditional style with the help of local master craftspeople and offers superior comfort based on natural materials.
Inspiration for younger generations
There are a lot of abandoned old stone houses in the Dalmatian hinterland. Younger generations have moved to larger cities or even abroad, and these houses are their ancestral heritage. Irina feels very proud when people visit her villa in search of inspiration and advice on how to renovate their properties.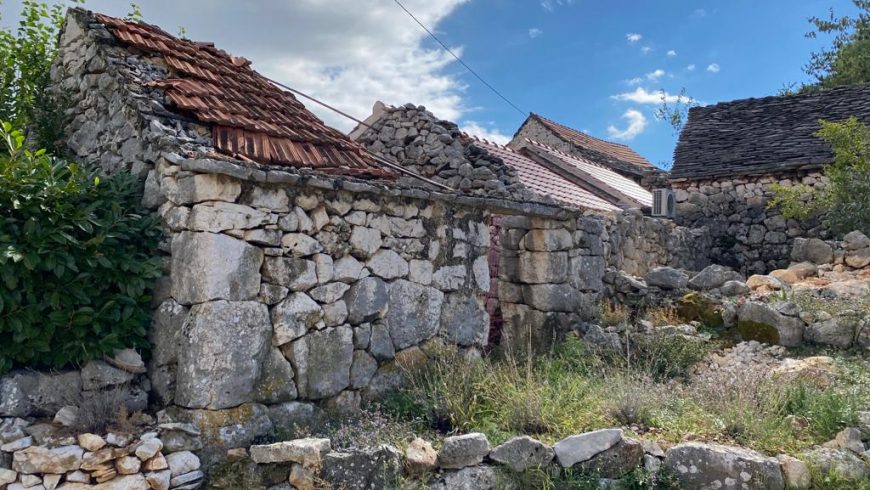 She says that we need to respect our ancestors and preserve this heritage for our future generations. "I am always encouraging people to be more aware of the importance of preserving their environment and implementing sustainable practices. If you ask me, ultra-modern architecture should not be permitted in rural areas. Only the traditional accommodations with a modern twist," she explains.
Countryside luxury for romantic souls
What could be more beautiful than to seek shelter somewhere where you feel at home, in touch with nature and among friendly people, where you really feel being yourself? Opt for eco villa Home Sweet Home that has been awarded the Green Key and Dalmatia Green label for its sustainable and green efforts, when you plan your next holiday.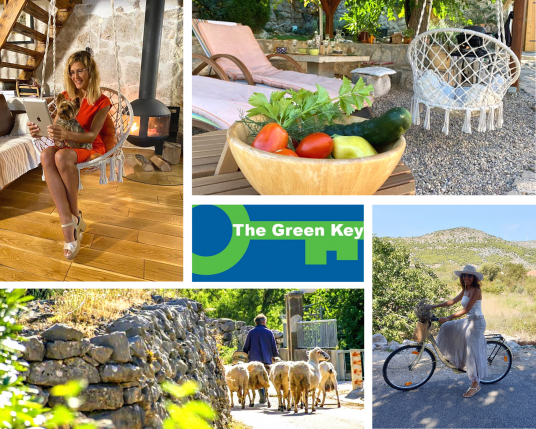 Holidays with a positive impact
Irina perceives sustainability not only as caring for the environment and preserving local tradition but by having a positive impact in the local community. 3% of every reservation is paid to the "Association eco-village Vrsine", to support local clean-ups and projects dedicated to sustainable tourism development.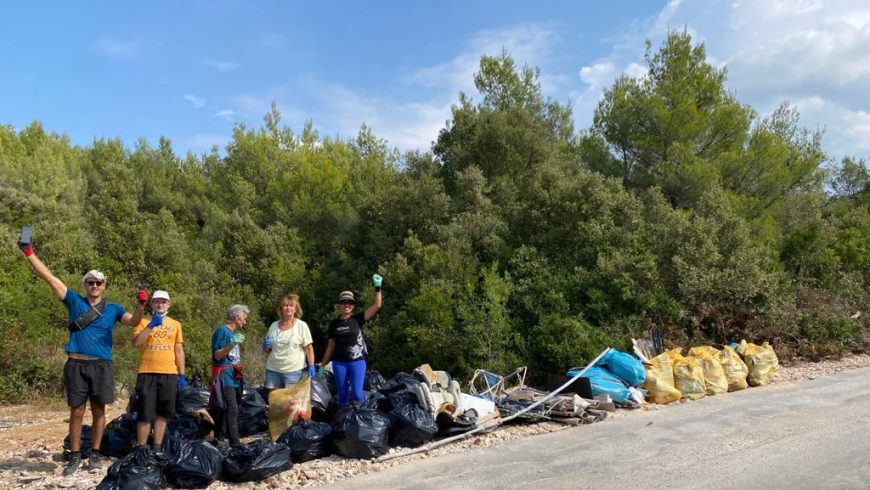 You can rent this outstanding villa all year round. The Wi-Fi is excellent, so you can also work remotely and enjoy sustainable lifestyle in any season.
More info: Radići 20, 21222 Vrsine; M: (+385) 91 883 6911 booking@ecovilla-dalmatia.com
Taste local cuisine with Roberto Nedeljko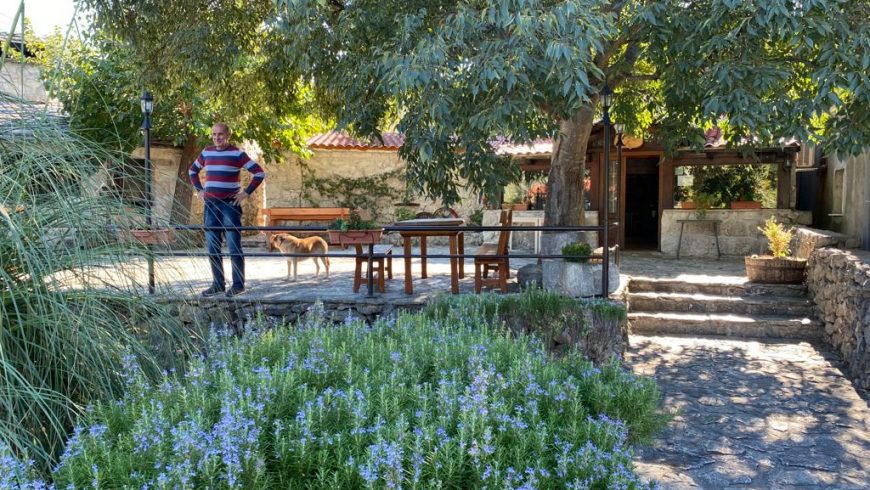 Sustainability on a plate
If you crave premium local gastronomy while exploring the areas around Marina, look no further than Tavern Donja Banda.
Due to its natural resources, clean environment, and rich culinary tradition, inland Marina countryside has all the necessary conditions for the development of sustainable gastronomy. In Open villages, people are especially proud of their excellent local cuisine and its unique character.
Meet Roberto Nedeljko, the owner of Tavern Donja Banda, who has always had a vision to provide sustainable culinary excellence to his guests. The tavern is located in Vrsine village, only 15 minutes drive by car from Trogir.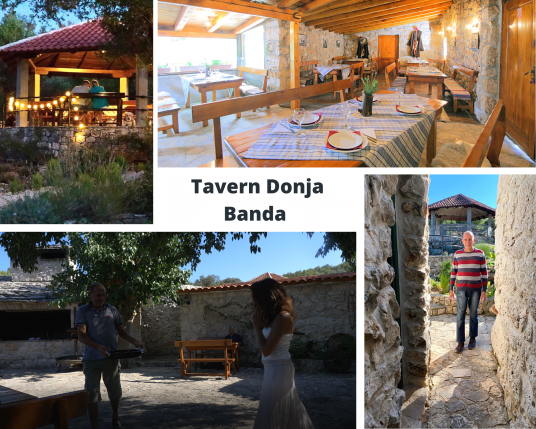 »I opened this tavern 20 years ago. At that time I had a burning desire to create something authentic. Something that would respect and promote the tradition of this place. At first, locals were laughing at me. They thought that the only culinary excellence can be found in fancy hotels along the coast, but never in the countryside, says Roberto. «
From farm to fork in inland Marina countryside
They follow the basic principles of sustainable cuisine by working closely with farmers and suppliers. The dishes are always prepared with delicious local ingredients, some of them directly from their organic garden. They also always use locally produced olive oil and serve local wines.


The secret to their success
Today this is a restaurant where the shade of tall trees, herbal garden and ethno antiques evoke the spirit of the days long gone.  Not to mention the dream team – chef Boris and assistant Nikolina. Boris puts sustainability at the forefront of his culinary creations and Nikolina loves to get the party going by inviting guests for a post dinner dance.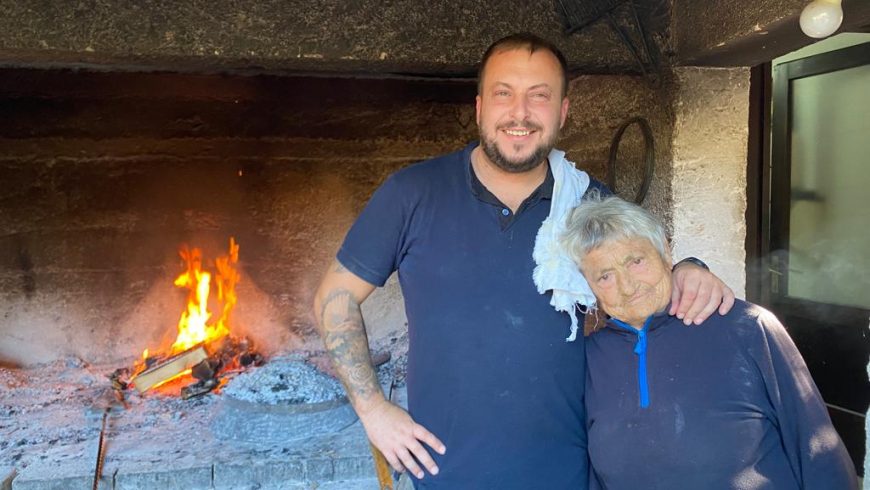 »I am aware that sustainable cuisine goes hand in hand with warm sustainable design, so I used only natural materials in interior and exterior, as well as some ethno decor. I want to provide that homely feeling, where people can relax and enjoy their food in a beautiful rural ambiance, explains Roberto. «



Culinary heritage in inland Marina
You can find local culinary delicacies that are good for your body and your soul. Tavern Donja Banda is most-known for its gastronomic delights under the baking lid, called »peka«, a traditional, slow cooking method. You can choose octopus or meat baked "peka" with gold potatoes and vegetables, slowly prepared under a coal-covered lidded tray.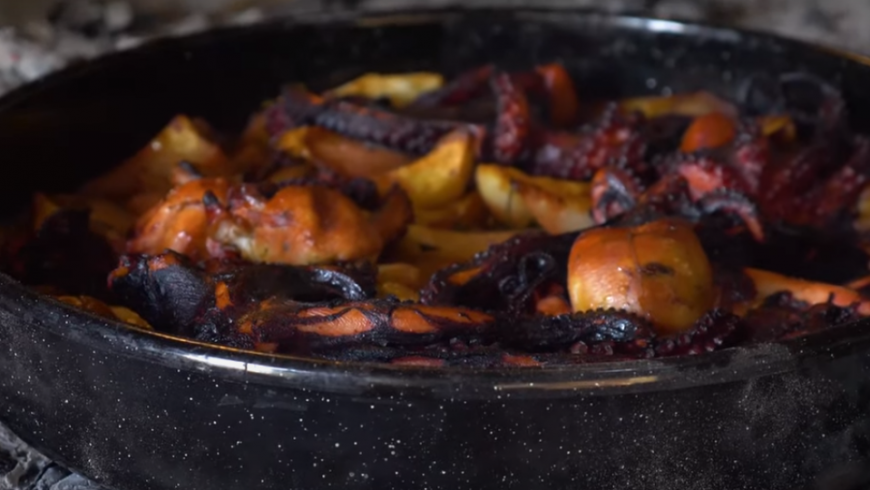 Perfect spot for green events and birthday celebrations
Roberto says that Tavern Donja Banda is a popular place for vintage lovers who want to organize rustic celebrations. From birthday parties to other special occasions, their doors are always open to you. Why not choose this peaceful rural location that stands out for its dedication to environmental protection and sustainable development?  The tavern can easily host up to 100 people.
Charming place to celebrate your green wedding
Tavern Donja Banda hosts just a few rustic wedding celebrations per year to ensure that each one is special.  Your wedding party is guaranteed to have that warm, cozy and family feel. Accommodation can be provided at the holiday homes, glamping tents, and apartments nearby.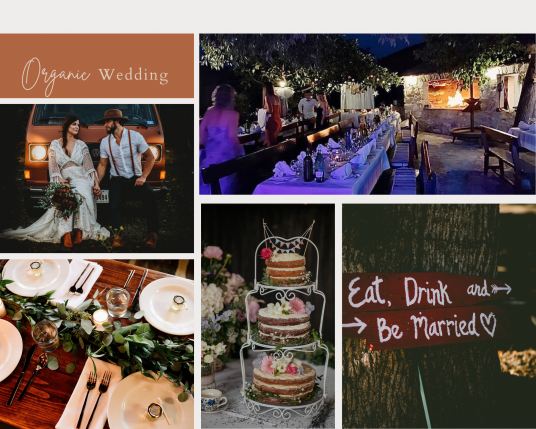 Locals firmly believe the well-known saying that the way to the heart is through the stomach. Discover the charms of traditional cuisine and visit Tavern Donja Banda.
More info: Tavern Donja Banda, donjabanda@yahoo.com, M:  +385 91 252 4108
Experience luxury amongst the olive trees at Glamping Marta
Choose an experience of comfort and nature. Learn about the unique story of the Rinčić family and turn your holiday into an unforgettable adventure of outdoor living.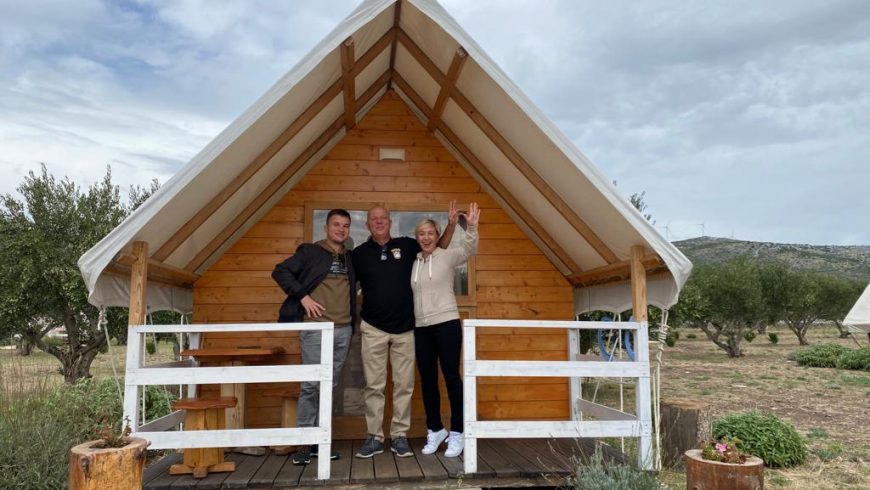 Glamping has won the hearts of eco-travelers – tent accommodation for lovers of comfort, right in the midst of stunning nature. The area around Marina is certainly unique and family Rinčić saw its potential and took the opportunity to create Glamping Marta. It is a one-of-a-kind glamping site, where simple comfort is provided by charming tents and a genuine experience of coexistence with nature.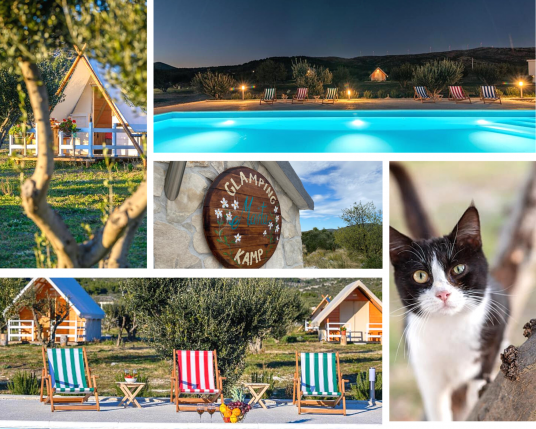 Glamping site in inland Marina with privacy in abundance
Glamping Marta is located in the inland Marina countryside, only 10 min drive by car from the sea. There are over 250 olive trees planted on 12 500 m2 and 5 comfortable glamping tents for 2 persons each.  It is open all year round as glamping units are heated. The main idea of the owner – Zoran Rinčić, was to provide a lot of space, peace, and privacy for his guests.
How it all started
Zoran says that "Glamping Marta" is named after his adorable granddaughter. One day, small Marta asked him to have a pool. This inspired him to start transforming olive orchard into a glamping site with a pool. "I always tell her "Never let your memories be greater than your dreams", says Zoran. "She is our true inspiration and we really want to preserve this place for her." 
Their path to the uniqueness
Rinčić family roots lie in a deep-seated respect for nature. The meticulous placement of glamping units and their design blend perfectly with the rocky terrain below them. Wooden-glamping units are covered with tent canvas and built completely from natural materials. 


The love for stone
 "I inherited this property from my grandparents. While we were landscaping, which was a very demanding process because rocks were all over the land, I felt in love with stone as natural material. I rolled up my sleeves and began to restore the stone wall in the drywall technique. Today, I try to maintain a connection with the past and pass my knowledge onto my son Jure. «, says Zoran.


The biggest treasure remains nature
Glamping Marta is just like this landscape. It is natural, wild and magical. It is the backdrop for many beautiful stories.
»Here, the aroma of fresh Mediterranean herbs will accompany you everywhere you go. You can live your own fairy tale in the heart of our olive orchards and join us on olive harvesting.  The organic »U – pick« vegetable garden is a vital part for your healthy nutrition. And you can fully enjoy pleasant summer evenings in front of your tent with a glass of wine, just watching the stars," says his daughter Zorana.


Explore the green surroundings of inland Marina
Glamping Marta is an excellent starting point for exploring the picturesque surroundings, where time seems to slow down. You will be amazed by the scenic trails along the ancient olive orchards that are ideal for hiking, jogging, cycling and herb picking.



More info: Vrsinska cesta 56a, 21222 Vrsine, +385 91 899 4050, glampingmarta@gmail.com
Act green with Mario Matijaš

Taking care of nature and local community
Spend your family holiday in Marina's countryside. Learn about rural development, participate in local clean-ups, and relax by doing activities in nature.
Country living is heaven. All the clichés are true. Bountiful fresh air. Unfettered access to nature. A slower, gentler pace. The blissful isolation and absence of crowds. However, living in rural idyll also comes with a lot of challenges.
Meet Mario Matijaš, a vice president of the "Association eco Village Vrsine", who is committed to create a better future for his village.  Even though this NGO is only one year old, it has already gained a reputation for innovative organization with ambitious projects and a great positive impact. Mario passionately leads and inspires people to participate in sustainable rural development.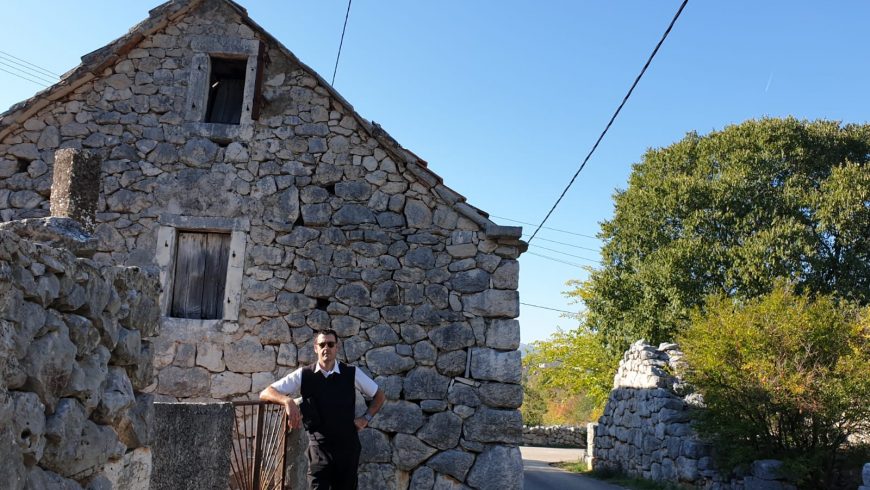 Developing sustainable and responsible tourism in inland Marina
»We are developing tourism that is in harmony with nature and our local community. Always addressing the importance of sustainability. I have spent some time at ecovillages around the world and learned that you can always replicate a building, but you can't replicate the pristine land. Our land is authentic and we are encouraging people to approach it with ultimate respect," says Mario.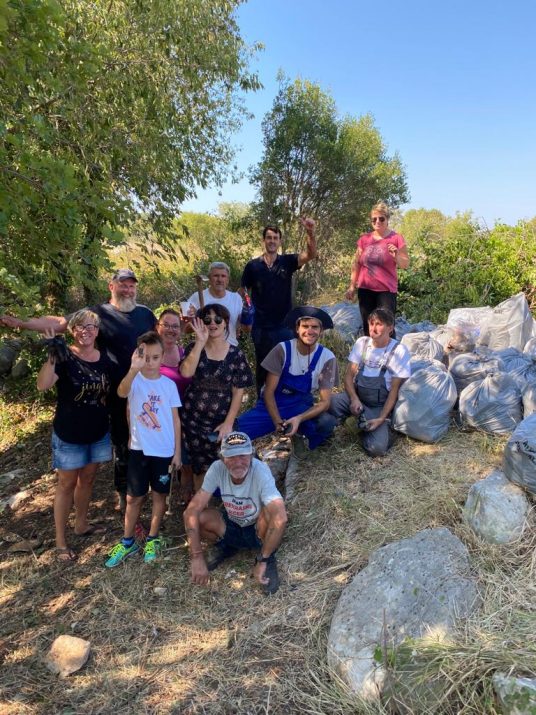 "We want to create a better place to live and it all starts with the clean environment. Association eco Village Vrsine is continuously organizing clean-ups. In fact, these became a sort of social gatherings for locals and volunteers from abroad. We do something good for our environment and at the same time we are socializing, discussing new ideas, projects, etc.," he explains.
Attracting and keeping people in the countryside
The depopulation of rural areas goes beyond small villages being abandoned, as it also affects the environment and people's quality of life. Their goal is to boost the local economy and breathe new life into the community.
Association has developed a special program "Green trips in Open Villages", through which they aim to connect travelers, accommodation renters and tour operators with the local providers and family farms and help the local economy thrive.
With several projects always on the go, they want to present opportunities and promote the beauty of countryside living. To inspire people to leave the city and start a whole new chapter in green Marina. Or just to stay a few months and work remotely from here.
Preserving the tradition in inland Marina
"Older generations have precious knowledge and wisdom about life. We need to respect them, take time to listen and have an open heart for our culture and tradition. The tree is as strong as its roots and we are passionate about keeping our tradition alive. We are preserving our heritage through various events, such as "Stories from Vrsine's grandmothers," says Mario.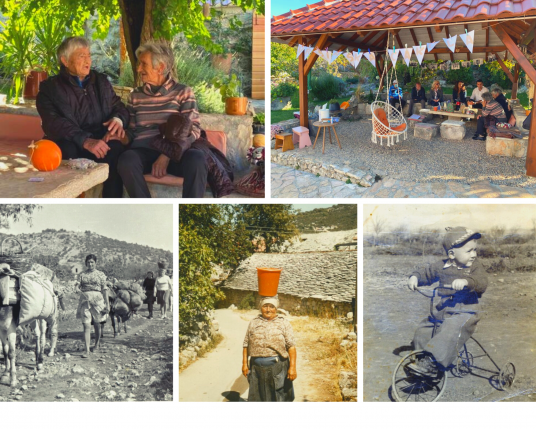 A great deal of work lies ahead, but Mario remains optimistic and motivated. If you would like to join his Association, either through volunteer work or joint projects; do not hesitate to contact them!
More info: Association eco Village Vrsine, eko.selo.vrsine@gmail.com
Welcome to the inland Marina. 365 days a year!
The project "Open villages in Dalmatia" is implemented by the Association eco Village Vrsine and co-financed by the Central Dalmatia Tourism Board.