The annual meeting of the Alpine Pearls took place in Weissensee, a true paradise immersed in nature, in the heart of Carinthia (Austria). The virtuous alpine tourist destinations, which have espoused the philosophy of sustainability and soft mobility, have met to take stock of the many sustainable mobility projects and look to the future.
Alpine Pearl of Weissensee
Biodiversity and nature in Weissensee
Clear water of the lake
High-altitude huts
If not now, when? Tourism has to save the climate
After the pandemic more and more people and tourist destinations are sensitive to the issue of climate change and are pursuing sustainability.
How to be the most innovative and quality green destinations, and how to become model destinations for sustainable mobility? These are the questions that Fred Luks, an expert in sustainability and transformation, asked himself at the Alpine Pearls meeting. In his speech entitled "If not now, when? Sustainable tourism with climate-friendly mobility" he has underlined the urgent need to reinforce the eco-friendly choices in tourist destinations. Luks has also pointed out that travelers are increasingly sensitive to the issue of sustainability and that they will be even more so in the future. "Generation Greta" is just around the corner.
In short, sustainability is a crucial issue today, as was digitalization in the 1990s.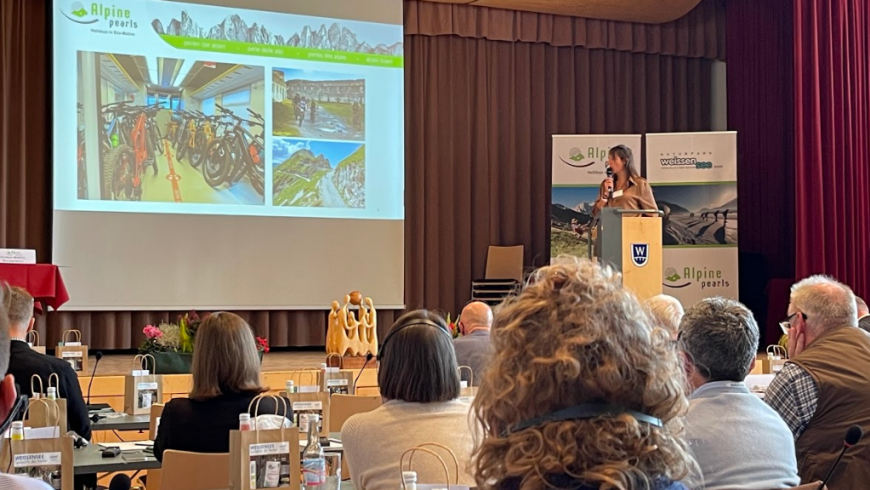 Change is inevitable and will happen anyway: as individuals or as destinations we can choose to undergo this change or to shape it actively.
Sustainable mobility is a central theme and a key factor for change in tourism. More and more people pursue sustainability in everyday life and also on holiday.
The avoided CO2 has become a central reference for reflecting, communicating and becoming actors in the ecological transition.
A New Strategy for the Alpine Pearls
Peter Brandauer, president of the Alpine Pearls, has presented the new strategy "5.0" for the virtuous alpine destinations that are part of the consortium.
The goals are to raise the ecological quality even more and to be actor of the change in the direction of environmental respect. For this reason, Alpine Pearls' destinations have decided to adopt some areas of action in addition to that of soft mobility, such as the protection of the environment and biodiversity, the development of a regional circular economy.
The general criteria that have always distinguished the Alpine Pearls remain unchanged, but other objective criteria have been added. This choice expands the margins of autonomy of each Pearl. Every destination will have to implement a gradual action plan to differentiate even more as a sustainable model destination. The paths or the individual action plans will have measurable goals and definite timing.
The next Alpine Pearls meeting will take place in Ljubljana Castle, in Slovenia. The goal will be the creation of an EGTC, which will allow to development of new European cooperation projects. The focus of the Alpine Pearls destinations will be even more centered on creating synergies and collaborations to pursue a single common goal: sustainable tourism.
Cover Image: Weissensee lake, Photo by Silvia Ombrellini