Sleeping immersed in nature, in a tree house among the foliage of a plant: what could be more romantic and regenerating? Discover 5 beautiful and eco-friendly tree houses in Italy. Are you ready to lift your feet off the ground and start dreaming?
We got this request from a couple, who are looking for a romantic getaway in nature.
Good afternoon,

My boyfriend and I have discovered your web site and were interested in renting for a week a tree house during the summer (most likely in August or the second week of July). Could you tell me some locations and their prices?

Thanks a lot
To respond to this request, let's set out to discover the most spectacular and eco-friendly tree houses in Italy, from Piedmont to Calabria. Let's take a closer look at five beautiful facilities built among the branches of plants, which stand out for their attention to sustainability and which seem perfect for the needs of our eco-travelers.
1. Piedmont: the tree houses of Giardino dei semplici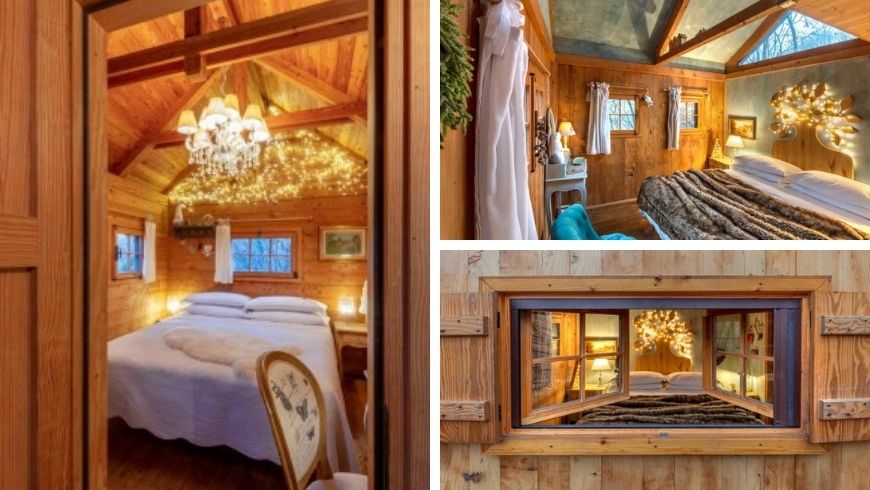 This beautiful eco-friendly property is a dream come true for both adults and children. It is located in the province of Cuneo, among leafy and green branches. Its tree houses "Quercia" and "Toulipier" are two small nests overlooking the Langhe, suspended between earth and sky and perfectly camouflaged in nature. Love for nature is a philosophy of life of the owners Maria and Beatrice translated into hospitality. A garden full of flowers and plants of all kinds surrounds the tree suites. Both are equipped with every comfort and service; in the morning breakfast is served through a basket hanging from a tree branch.
These two tree houses are designed to rediscover the special feeling that is created between man and nature.
Price: from 180€ per night for 2 people with breakfast based on organic and local products.
2. Umbria: Awen tree house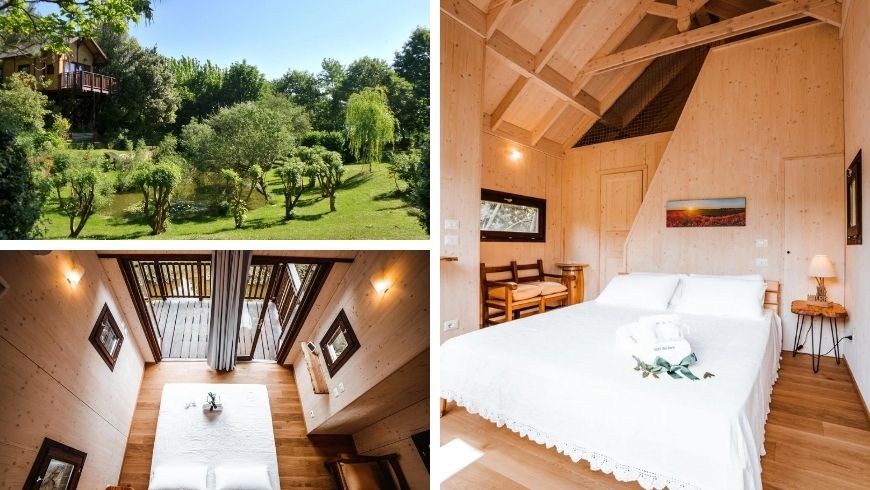 Awen tree house is on the border between Umbria and Tuscany, just two kilometers from one of the most beautiful villages in Italy. It is made entirely of wood. Its beautiful panoramic terrace overlooks a large park with a pond, surrounded by holm oak trees. Raised about 3 meters from the ground, the house is built with green building techniques, and with thermal and acoustic insulation in hemp fibre. To offer a detoxifying experience from reality, this tree house focuses on the connection between man and nature. Sleeping among branches, you will enjoy the silence, the scents, the colors and the sounds of the Earth.
Price: from 300€ per night for two people
3. Tuscany: the cabin on the oak of Glamping Il Sole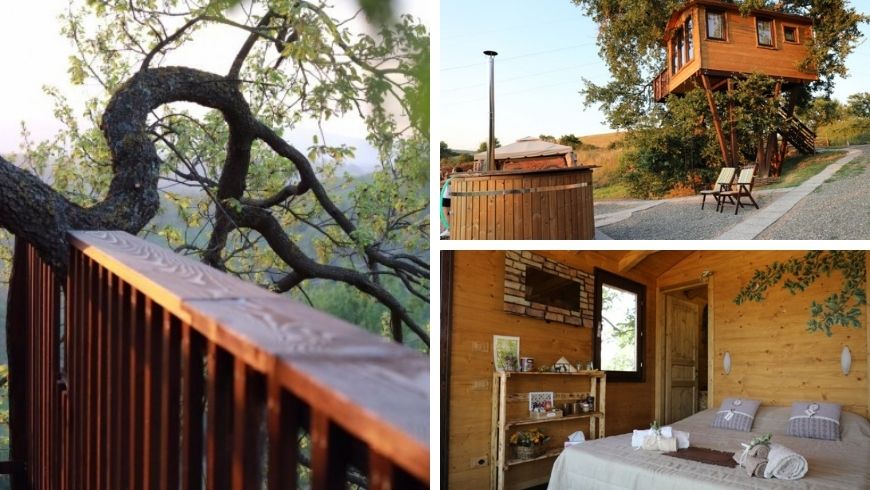 The cabin on the oak of this glamping is immersed in the peace and silence of nature. More precisely, in the heart of the hills of the upper Maremma; just 5 minutes from the beautiful thermal baths of Petriolo, open and free. Medieval hamlets full of charm and beauty characterize this area. A few kilometers away is the Pietra Serena farm, where you will be surrounded by love for nature, breeding farms and agriculture. Here you will see the Sardinian sheep farm from which pecorino, ricotta and many other fresh products are obtained. The tree house, made of larch wood with acacia wood finishes and cork insulation, offers a breathtaking view of the surrounding countryside. In short, if you want to take a holiday immersed in nature, this glamping is the perfect destination.
Price: from 240€ for one night for two people with dinner based on local products and breakfast.
4. Umbria: the tree house of L'Aaperegina agritourism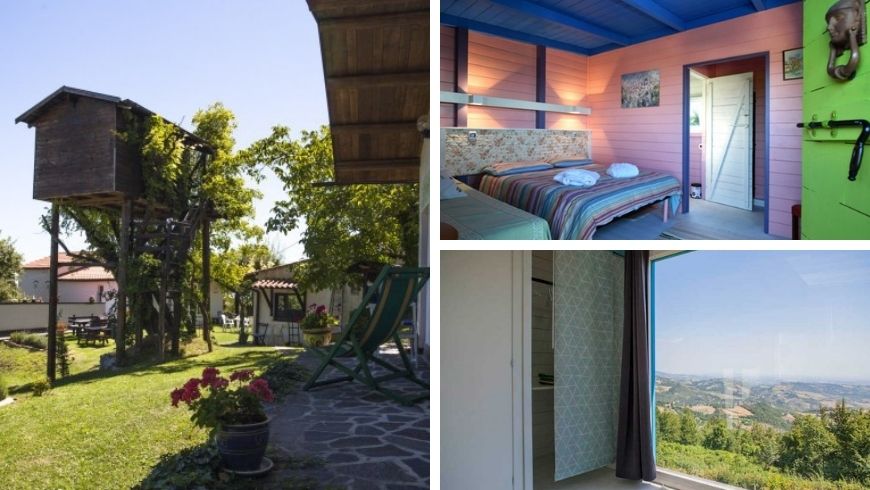 L'Aperegina is a biological agritourist firm surrounded by greenery in the centre of the three Abruzzo Parks. The "Tree Room" is a unique accommodation because it is a small tree house surrounded by greenery. Moreover it has a private bathroom, wooden floor and walls, both double and single bed, essential wardrobe and a panoramic view. This property uses only organic products, grown directly by its owners. In addition to the zero kilometre products, there are various activities that can be carried out such as itineraries in the green, visits to churches and hermitages, markets and festivals in the surrounding villages.
Price: from 150 euros per night for two people with breakfast and dinner based on farm products.
5. Calabria: the tree house of  Tenuta Bocchineri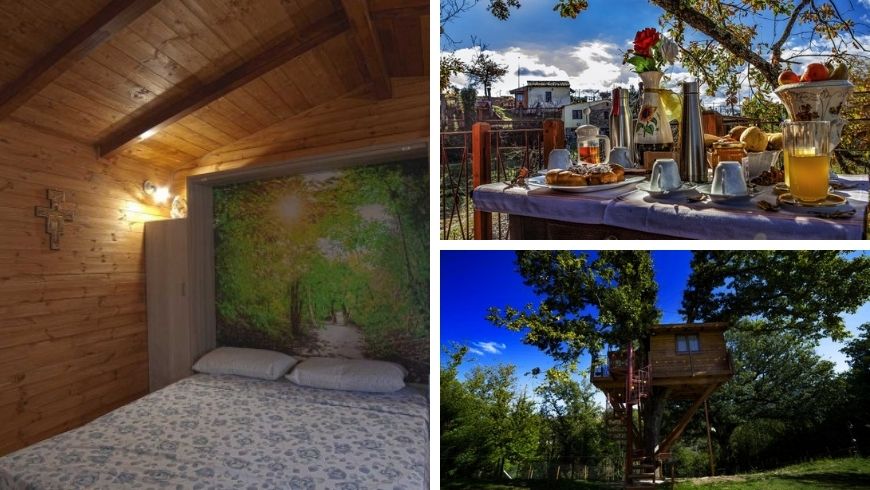 This tree house is not far from the centre of Rogliano (Cosenza). Most importantly, it is surrounded by greenery, among woods, organic crops and eco-tourism trails. Therefore, you can sleep suspended between the branches of a tree in direct contact with nature. Safety and environmental impact are very important. For this reason, you can find zero kilometre products and you can access without a car. In addition, ecological cleaning products are used and separate waste collection is over 80%. But, this is not all since light bulbs are low consumption. Moreover, the structure is all in wood. There are also flow reducers for water; rainwater is recovered and reused.
Price: from 150€ per night for two people with zero kilometre breakfast. Additional bed at a cost of € 30 with the use of a single sofa bed.
In which of these tree houses do you dream of having a special night?
Cover image: tree house in Glamping Il Sole, in Tuscany.