Have you stale bread but you don't know how to use it? We suggest you 5 no-waste recipes typical of the Italian cuisine
If there's something that is never missing on the tables of the Italians, that is undoubtedly bread. Bread has always been part of our cuisine since its ingredients made him accessible to everyone, even to the poorest ones. Nowadays bread is rather cheap and it has a pivotal role in the Mediterranean diet. That's why we tend to buy large amounts of bread and it risks turning leftover. So what to do with all that stale bread? Well, reuse it.
To reuse leftovers has always been a hallmark of the Italian culture which has given rise to traditional dishes.
Here are 5 no-waste recipes with stale bread. Each of them is typical of an Italian region. By following those recipes you'll both create delicious dishes and fight food waste.
Tyrolese Canederli: the Recipe From Trentino Alto Adige To Reuse Stale Bread
The so-called Canederli, also known as Knödel, are big gnocchi typical of the cuisine of Germany, Trentino Alto Adige and South-Tyrol. Indeed, speck, an Italian smoked ham, calls to our mind the characteristic flavors of that area.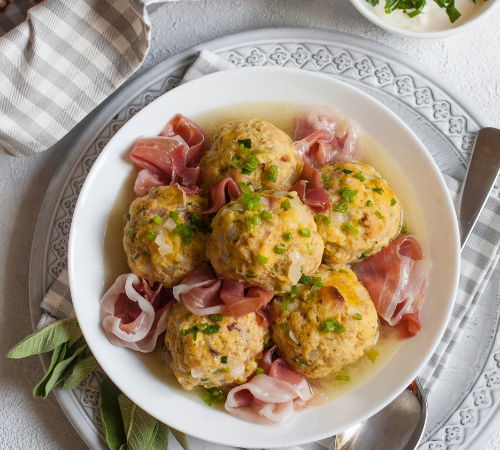 How to prepare them? You just need to add to stale bread some eggs, milk, speck, and slightly browned chopped onions. Then combine salt, parsley, and, if you like it, a pinch of nutmeg. Let the mixture stand for about an hour and give shape to your big gnocchi. Cook them in a meat broth and serve them still warm.
You'll bring to your table a simple first course with a very good strong flavor.
Panzanella: A Simple And Tasty Dish From Tuscany
With the Panzanella we move to Tuscany. It is a tasty rustic peasant dish, which is easy to prepare because it does not need to be cooked.
How to prepare it? Chop onion and leave it for 15 minutes into water and wine vinegar. Eventually, crumble the bread in a bowl and add to it tomatoes, cucumbers, drained onion, and finely chopped basil. Season the dish with salt, pepper, and some tablespoons of olive oil. Put it into the fridge and then bring it to the table.
Perfect for a simple and fresh dish to eat during warm summer days.
Passatelli: The Recipe From Emilia Romagna To Reuse Stale Bread
Another "pour" first course is that of Passatelli, a kind of fresh pasta made of stale bread instead of flour.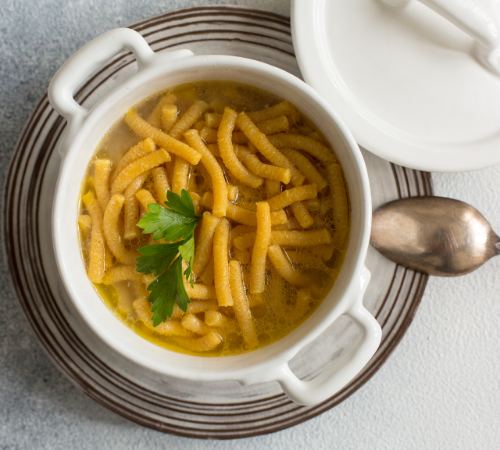 How to prepare them? This recipe only needs bread, mature cheese, and eggs. Then you have to add to the mixture salt, nutmeg, and lemon rind. Once you get a firm dough let him stand at room temperature. Then put it into the so-called "ferro", a specific tool useful to shape this kind of pasta. Otherwise, you can use a potato masher with holes of at least 4 mm diameter.
Perfect to be served on the coldest days with a meat broth.
Polpette Made Of Bread: A Second Course Typical Of Apulia
Polpette are typical of Apulia. In this case, they are made of stale bread and served as a second course.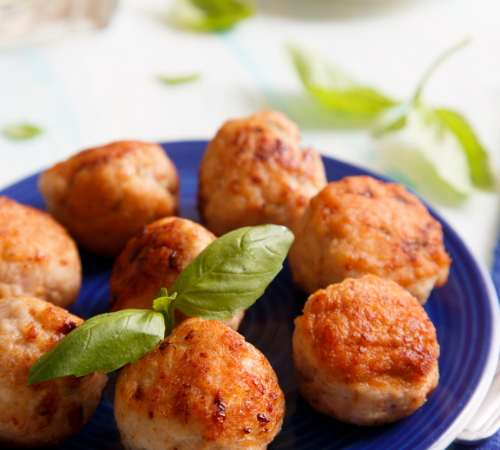 How to prepare them? Soak your bread into water or milk. Then get a mixture made of drained bread, eggs, grated parmesan, parsley, salt, and pepper. Once you get a rather firm and homogenous dough, shape your polpette. Fry them in boiling oil until golden on both sides. After having fried them, you can also dip them into the previously cooked tomato sauce.
If you're looking for a healthier option but don't want to renounce the flavor, you can also cook them in the oven.
Polpette are so tasty and they are loved by both adults and children.
Torta Paesana: A Delicious Dessert Made In Lombardy To Reuse Stale Bread
Finally, we get to the sweetest moment with Torta Paesana, a delicious dessert born in the Brianza.
How to prepare it? Leave the bread for a few hours into hot milk. Then blend it with a blender until you get a homogenous dough. Add to it sugar, cacao powder, eggs, raisins and marbled amaretto biscuits. You can also flavor it with other scents, such as lemon or orange rind, cinnamon or nutmeg. Finally add to the mixture a knob of melted butter, pour it in a mold and bake it.
Perfect for chocolate lovers.
Now you'll be able to reuse stale bread by creating delicious traditional recipes. Choose the one you prefer and let us know if you liked it!
Featured Image via Canva