What to give as a gift for such a special, different and perhaps even more significant Christmas? We think we have the right answer: a gift card that allows the people you love to travel, discover new places, immerse themselves in nature; all in full respect of the environment.
Forget the usual rush for Christmas gifts, the stress, the gatherings. Ecobnb Gift Cards are perfect last minute gifts: completely customizable, they allow those who receive them to stay in eco-friendly hotels, farmhouses surrounded by greenery, mountain huts, B&Bs by the sea and unique and particular accommodations such as tree houses and glamorous tents, choosing from the thousands of proposals on our website. The recipients of these beautiful last-minute Christmas gifts will be able to travel sustainably throughout Europe, when and wherever they want.
A Christmas gift for everyone
Mountain lovers can experience an unforgettable holiday in beautiful huts or in hotels at high altitudes. Those who love tasting wines and local products can explore Italy among wineries and farms. Friends who practice yoga can take a holiday on a farm that offers lessons in nature. Those who need to slow down can experience a village just like a local by sleeping in an Albergo Diffuso. Lovers of the city and culture will have many possibilities between hotels and B&B.
Can you think of other Christmas gifts that are perfect for everyone, quick to make and that help preserve the environment?
Our Gift Cards are special Christmas gifts also for two other reasons: it is the hope of a less complicated future, where we will return to travel safely, and it is also a concrete way to help a sector that has been strongly affected by the pandemic and by all it brought. In fact, you and the recipient of the card will support those tourism businesses that are investing in a better future, because they are concretely committed to reducing their ecological footprint (by choosing clean energy, organic food, natural soaps, waste reduction…).
The best Christmas gifts are experiences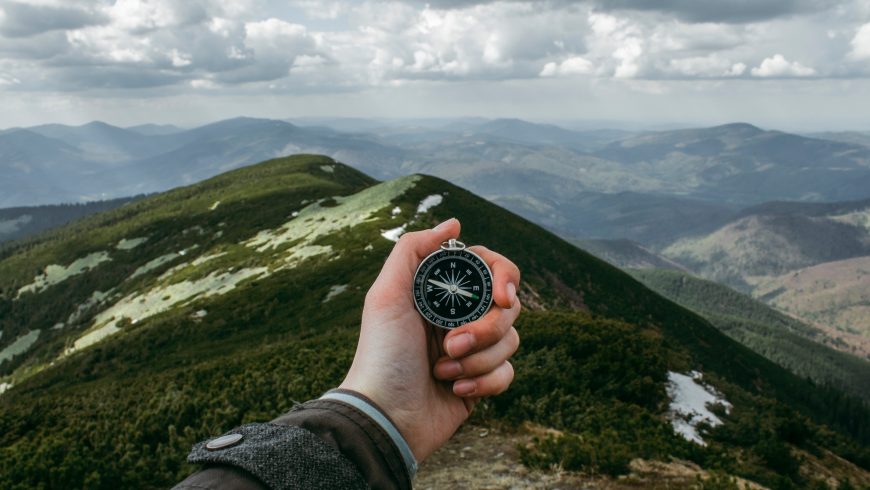 Giving an experience as a gift means making a person truly happy. It has also been proven by science and we have tried it too: objects, even the most desired ones, are easily forgotten, joy doesn't last long. An experience, on the other hand, always remains with you. It enriches you and makes you happy when you receive it, live it and remember it.
Ecobnb Christmas gifts: a Gift Card, thousands of possibilities
The recipient of the Gift Card will be able to choose from over 3,000 unique and eco-friendly locations across Europe. The possibilities are truly varied, each person will be able to find exactly what they are looking for. To give you just an idea of ​​what you can do with our Gift Cards, we have selected 10 accommodations.
Glamping experience in Liguria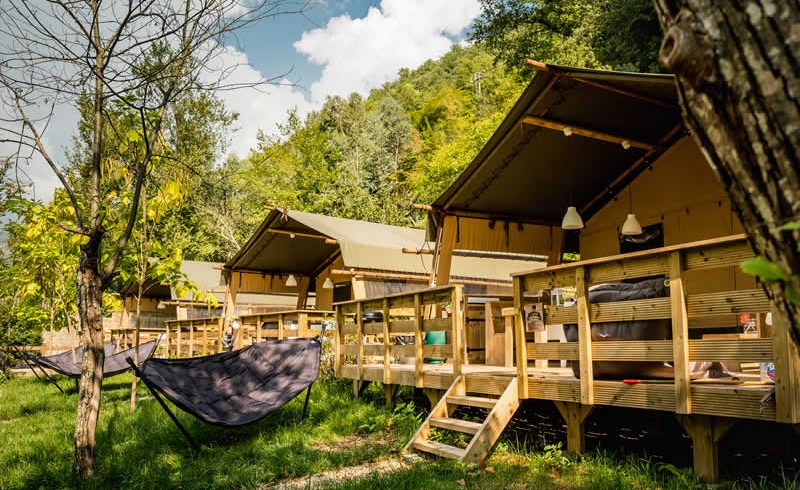 In the silence of nature, but only 12 kilometers from the sea, Camping delle Rose is a fascinating accommodation that allows you to experience the most glamorous camping. Between eucalyptus and pine trees, it offers mobile homes and luxury tents.
Suggested amount: 90 €
Green hotel in Berlin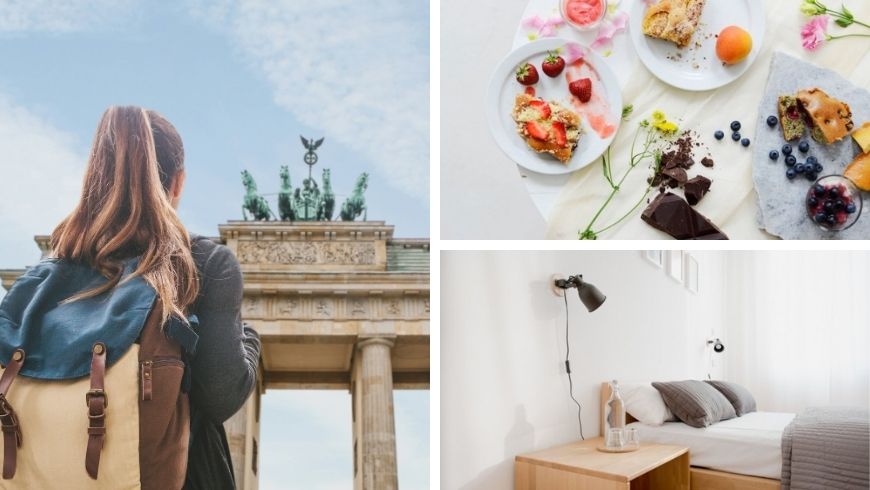 With our Gift Card you can also book a holiday in colorful and lively Berlin. Essentis Biohotel offers comfortable rooms, a sauna and a vegan restaurant in a beautiful oasis not far from the center.
Suggested amount: 110 €
A Tiny House in Austria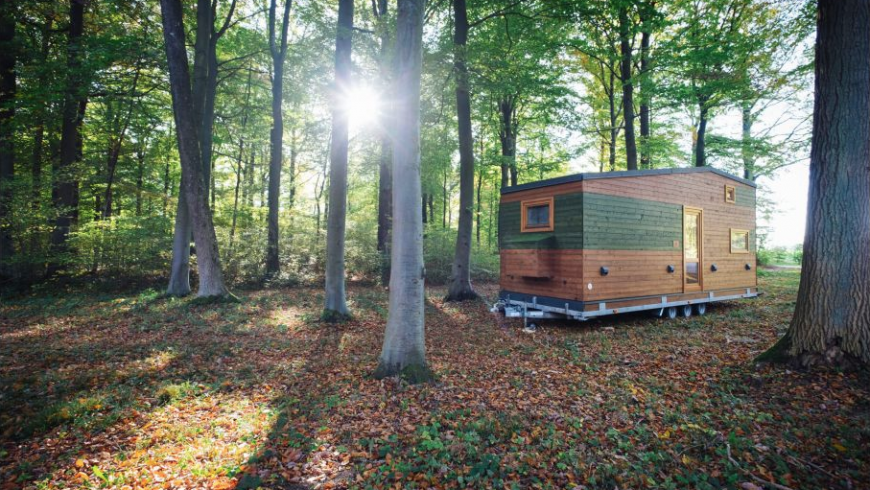 Our Christmas gifts allow you to experience life in small wooden houses, immersed in the wild nature of Austria. Natur Pur im Tiny House "Fritz" makes you discover the comfort of small spaces!
Suggested amount: 140 €
A lighthouse in the middle of the sea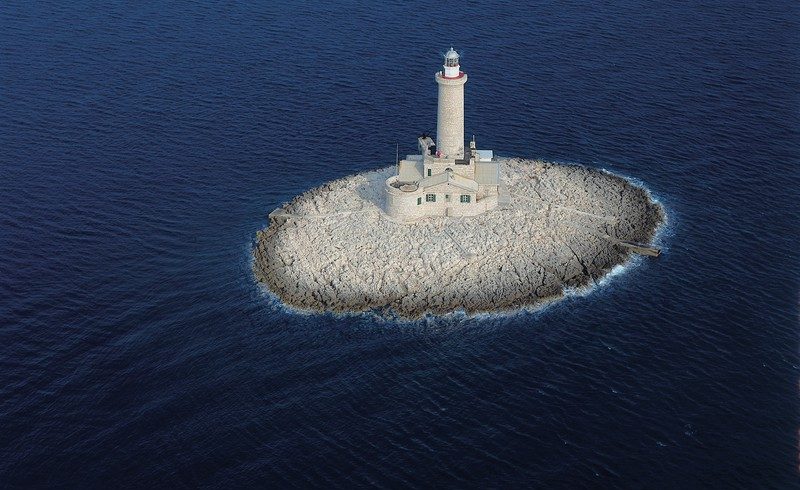 A tiny islet in the middle of the Adriatic Sea, a lighthouse with comfortable apartments and Croatia to discover: the Porer Lighthouse is ideal for a romantic getaway or to detox from civilization.
Suggested amount: 100 €
Christmas gifts for traveling to Holland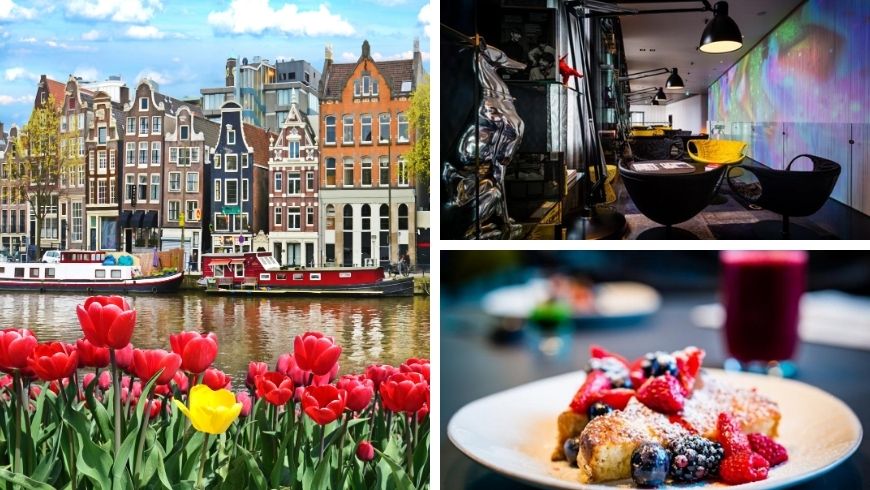 In the heart of Amsterdam there's the Art'otel, a hotel where each room features a unique piece of art, ultra-comfortable beds and a unique atmosphere. The property has a wellness center and provides bicycles to enjoy the city.
Suggested amount: 350 €
A green holiday in the Alps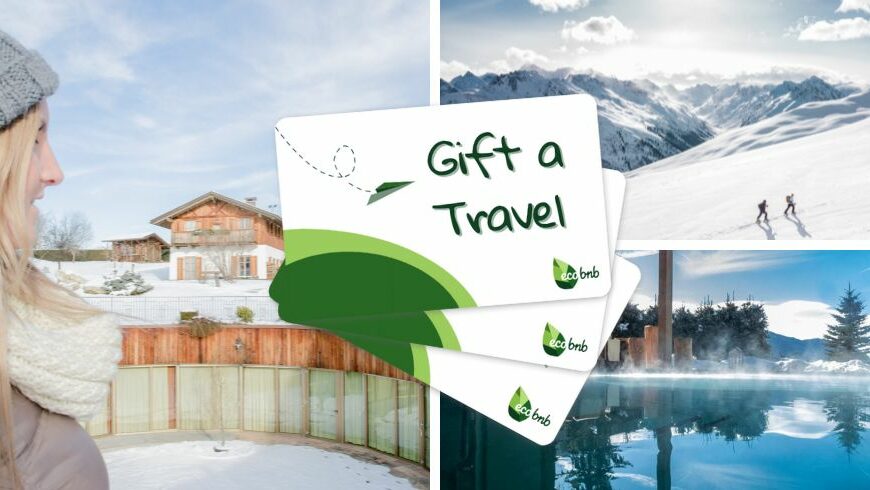 You can choose to give a unique and sustainable experience at high altitude. Mountain huts, ecological wellness hotels, and many possibilities for eco-sustainable stays in the best green destinations in the Alps that have invested in soft mobility. The holiday will therefore be characterized by slowness, taking advantage of many possibilities for ecological travel, from public services to electric cars, from trains to e-bikes …
Suggested amount: 100 €
Sleeping in a Yurt with our Christmas Gifts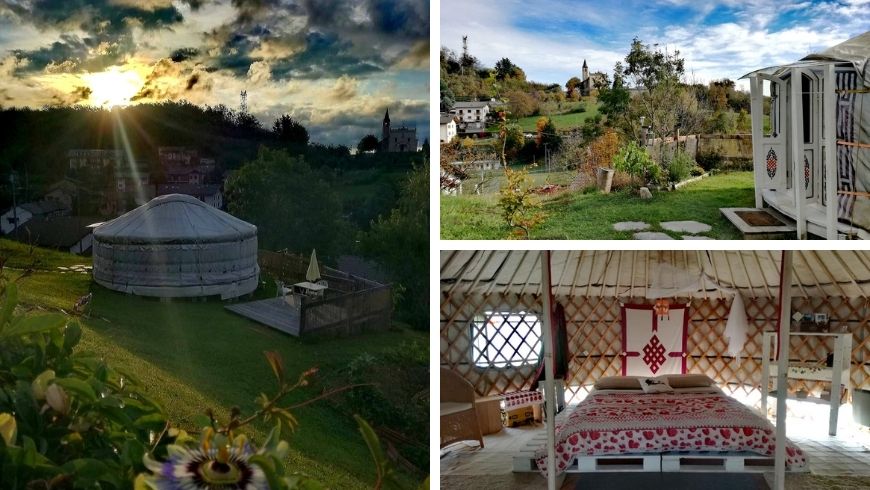 On Ecobnb you can also find numerous yurts, original Mongolian buildings that are completely sustainable. Yurta Om is located in Valchiusella, just one hour from Turin and Aosta.
Suggested amount: 60 €
A tree house in the Tuscan hills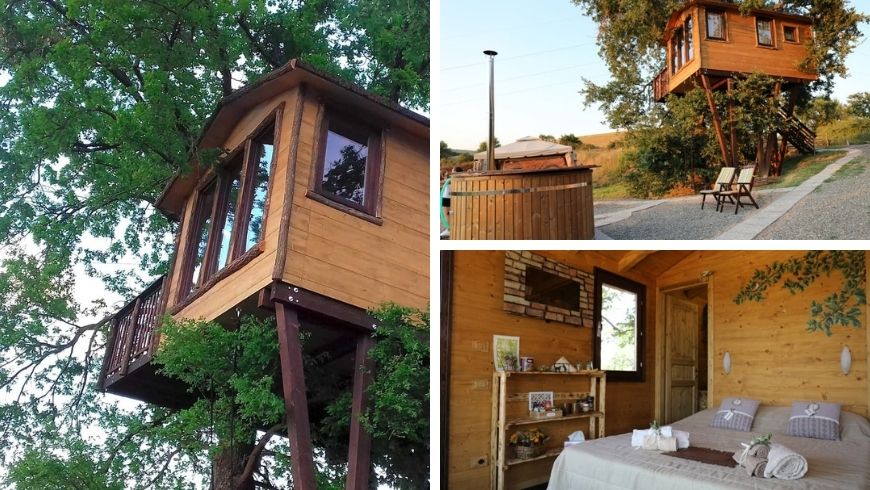 The only Gift Card that allows you to give a night in a treehouse. Glamping il Sole is an idyllic place to fulfill the dream we had as children, enjoying the wonder of the Maremma Toscana from above.
Suggested amount: 230 €
Christmas gifts to experience the Italian villages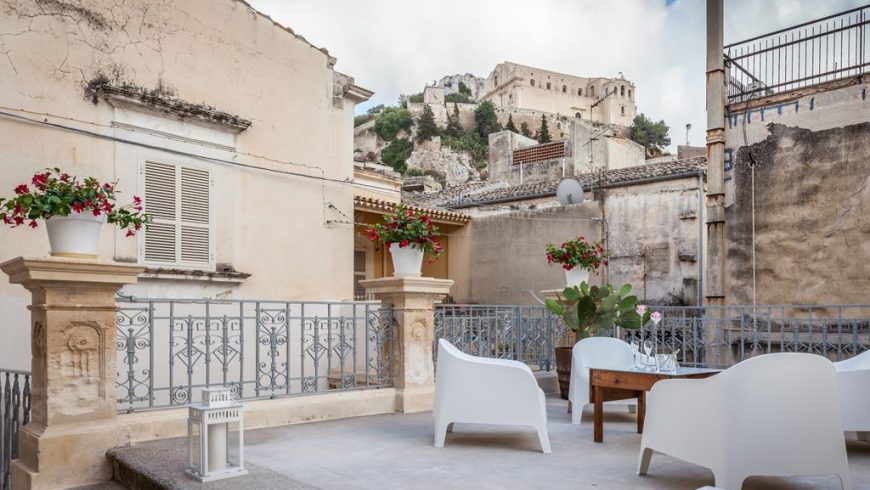 Our gift cards also allow you to stay in the many Alberghi Diffusi in Italy. For example, there is that of Scicli, housed in historical residences in the heart of the enchanting Sicilian village, between lemons and a baroque atmosphere.
Suggested amount: 60 €
Typical and authentic flavors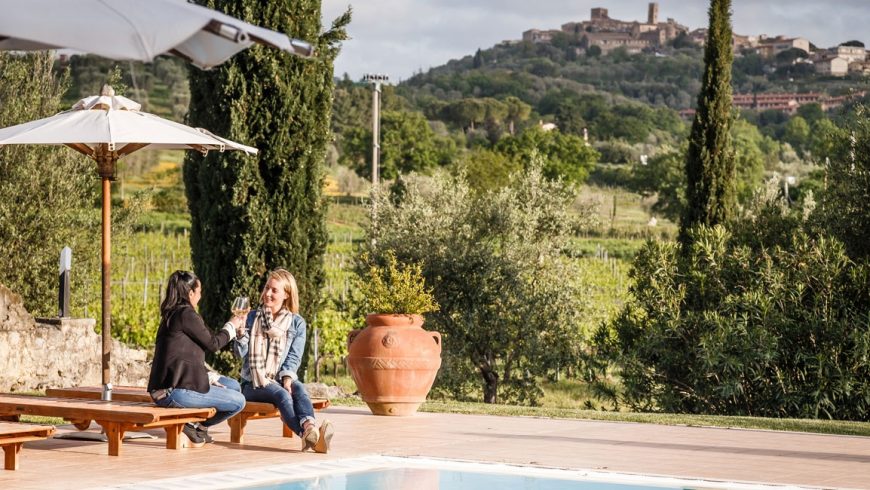 The Gift Card is also perfect for a gourmet lover. Your friend can stay, for example, in the Relais Villa Acquaviva. It's a romantic farmhouse in Tuscany that produces wines and offers refined local dishes.
Suggested amount: from 40 €
Do you want to give a green holiday as a gift?
Choose the amount, customize the Gift Card with a theme and message and that's it!