Creative recycling is an art form. Here are 6 ideas to create a dog bed by reusing old stuff. Which one do you prefer?
Creating without waste encourages creativity. Indeed, it is a chance to save money, to wake up our imagination and to test our skills to make use of resources at our disposal. More and more people are gaining awareness of how important it is for our psycho-physical well being to live in a sustainable way. Consequently, many of our daily actions are the result of this new mindset and lifestyle.
Creative recycling: growing creativity and the beauty of ordinary stuff
Creative recycling is surely the most fascinating feature of this new trend since it shows that we are moving towards the beauty of ordinary stuff. The beauty of ordinary stuff means to create craftworks with what we have at our disposal. It involves recycling old clothes, furniture, utensils and materials; cooking food scraps; employing food and garden scraps in a productive way. Creative recycling also implies sharing these good practices with others so that more and more people can introduce these creative activities in their daily life.
Creative recycling has always been a powerful catalyst for the economic and social field. It gave birth to the development of interesting start ups, such as Orange Fiber, which produces original yarns from orange peel, or to businesses committed to sharing economy, like lebensmittelretten.de or foodsharing.de. Besides, new types of professions aroused from creative recycling. Creative recycling has led to a positive change in the life of many people and to an awareness-raising process which is constantly advancing towards a sustainable degrowth.
The 6 better recycling ideas to build your do-it-yourself dog bed
Here are 6 ideas to build a dog bed without any waste, so that also your 4-legged friend is comfortable and relaxed.
1. A soft dog bed from an old sweatshirt
Before throwing away that old sweatshirt you don't use anymore, think that it could easily turn into a soft bed for your puppy. This is a really simple and cheap solution. You'll only need a pair of scissors, a needle, a wool thread and a soft fabric for the bed stuffing. Look at this video and discover how to do that!
Perfect for little dogs, who love comfort and cuddles. Also ideal for cats.
2. A new bed from an old plastic planter
It's autumn, that season when our gardens need maintenence and rest, and an extremely simple and cheap solution just popped in my head. Take a plastic planter, turn it upside down and drill a hole on the front of it: it will turn into a cozy and intimate home. You can put in it old pillows or a pillowcase filled with worn out clothes.
Perfect for shy or not so friendly dogs, or for those who love playing hide and seek.

3. A second life for a flat garden hose
While doing your garden maintenance, you'll surely come across some worn out tool or material. Maybe the garden hose you have used for so long to water your plot of land can became a proper support for a dog bed. Roll it up on itself until you create a circle, then fasten it in 4 spots with a rope or twine so that the structure is stable. You can fill the interior as described above.
Perfect for dogs who don't like closed spaces and love sleeping with their nose pointed upwards.
Photo by Victor Grabarczyk via Unsplash
Photo via Needpix
4. A dog bed from an old tire
If you think the rubber hose is too unsteady you can use an old tire, after washing and cleaning it. Your 4-legged friend will have fun jumping in it and landing on something soft. You can build it with old pillows or disused blankets.
Ideal for both interior and exterior spaces, especially if your dog is playful!
5. A cozy and original dog bed, in an old suitcase
For globe-trotter dogs there is nothing better than an old suitcase which has been worn out by kilometers! This is a really simple and quick solution: you'll only need to have a suitcase with a broken zipper, or simply an open suitcase, and to line the interior with towels or blankets. Maybe you can make it softer with an old pillow or with some do-it-yourself works. If you often move your dog bed from one room to the other you should consider this solution since the suitcase is lightweight and easy to handle!
Ideal for puppies who love to stay in different spots of the house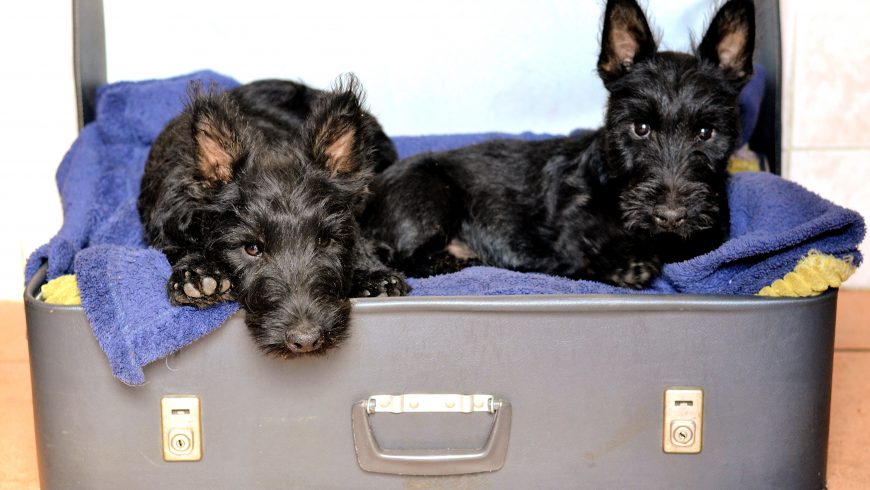 6. A classical dog bad from a wicker basket
You'll have surely gathered many Christmas baskets over the years. And provided that their side is not too high, you can use them to build a simple and quick bed for medium-small sized dog! Dimensions may vary according to the needs: a small basket will definitely be suitable for a puppy. However, as soon as your puppy grows up, you can look for a broader basket.
Perfect for lazy dogs who love to stay at home.
Photo by Zachary Staines via Unsplash
Photo via Pxabay
If you like these ideas, share them with your friends and get to work! You'll certainly come up with other brilliant and original craftworks! 🙂
Cover image: photo via hdnicewallpapers.com