Eco-Glamping in the middle of nature is a fabulous way of eco traveling. Discover the unspoiled natural world of Croatia through eco-glamping!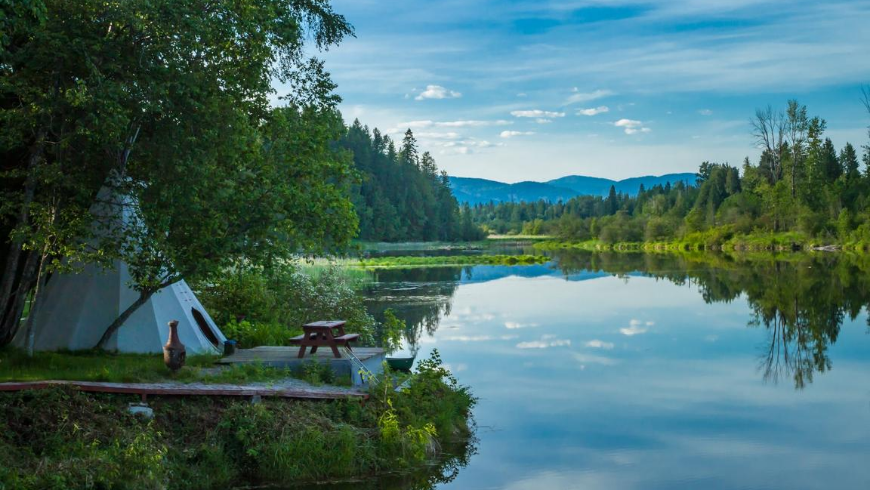 Have you ever heard someone say "I can't wait to have an eco-glamping experience in the middle of nature", but having no idea what this person was talking about? Are you curious to know more about the topic? Well, first of all, you must know that glamping is a new and different way of taking a camping-like vacation.
Indeed, you will live a camping experience without losing the typical comforts of hotels, still maintaining a green way of living. It is no coincidence that the word glamping is the fusion of two words: glamorous and camping. Essentially, eco-glampings are campsites equipped with every amenity. At the same time, however, they do not forget to pay attention and respect for the environment. This is why they are the embodiment of an eco-friendly lifestyle.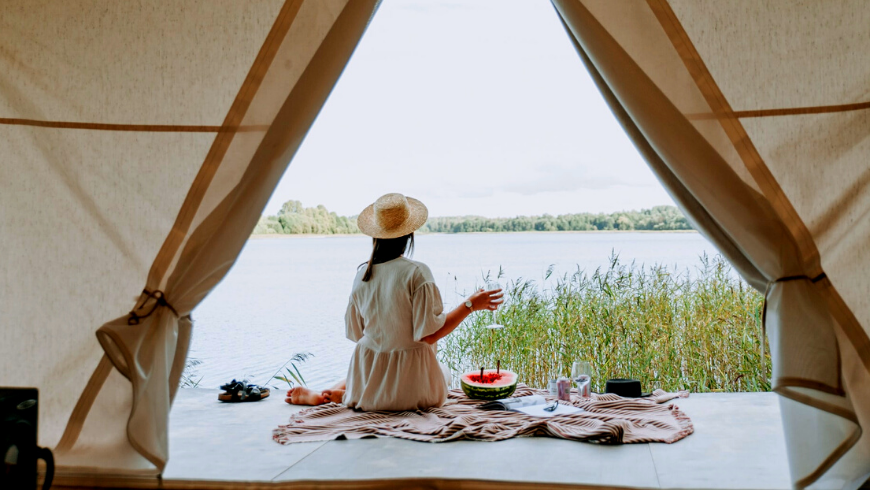 Glamping has a unique feature: it is incredibly varied in terms of accommodations. You can find luxury tents with rigid structures, but also huts immersed in the middle of the forests. Then you can meet yurts, typical Asian tents. Finally, tree houses and houseboats are also included in the world of eco-glamping.
Photo by lmcpy on Pixabay
Image by Jan Grznár on Pixabay
Photo by Ali Zbeeb on Unsplash
We bet that now you are more and more interested in this kind of adventure. Therefore, we are here to show you 3 unmissable places where you can have your eco-glamping experience in the middle of the Croatian unspoiled nature.
1. Gastro Glamping Resort Fešta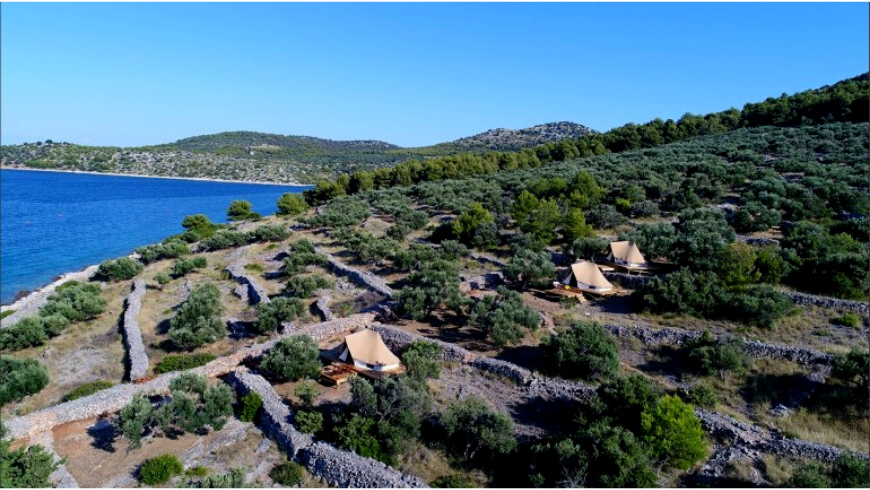 Gastro Glamping resort Fešta is where the everyday life stops, where nature is pure and undisturbed. You can find this magnificent place in Croatia, precisely in the Island of Žut. The island is accessible only by sea and it is especially known to nautical tourism lovers who can't wait to eat at the renowned seafood restaurant Fešta. The owners' aim is to provide the maximum satisfaction to their guests through top-quality home-made food, sea delicacies and quality service.



The restaurant interiors look like an old Dalmatian tavern: indeed, numerous fisherman and agricultural tools, accessories and traditional clothing are displayed there. The restaurant also has two outdoor terraces, an open wood-burning barbecue, a bread oven and an aquarium. The thing that characterizes the restaurant is the cooperation with top quality fishermen: this guarantees fresh fish and shellfish daily, as well as different preparation techniques.


Right now you are probably asking yourself "Wonderful, and what about the eco-glamping in the middle of nature?". Well, the glamping extends into the hill above the restaurant. It is composed by five luxury bell tents, each one with a sea view patio. Moreover, these luxury tents are nestled between the 350-odd olive trees.


2. Gea Viva Eco Island Retreat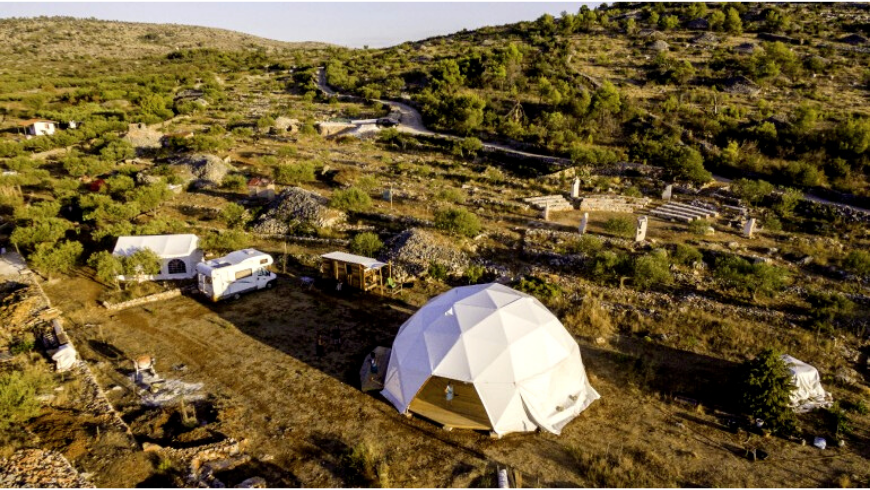 The Gea Viva Eco Island Retreat, in Croatia, is the concrete demonstration of the fact that when we talk about glamping, we can refer to different types of accommodation. In fact, if you visit this retreat you can find glamping huts, spacious tents with canvas rooms, as well as space for your own tent or campervan.



Designed according to Permaculture principles, this retreat has a 100m2 dome to practice yoga, a shady pavilion to relax on hot days, a shared summer kitchen, a permaculture garden, fruit trees and Mediteranean herbs.


Gea Viva invites you to leave behind the distractions and return to yourself. Undoubtedly, here you can experience deep peace, gaze the setting sun, marvel at the stars. Moreover, you can nourish body and soul, attune to spirit and enjoy with all your senses the beauty of nature. Finally, you are also truly welcome to participate to yoga and meditation classes.
3. Eco Glamping Freedom in Istria in the middle of nature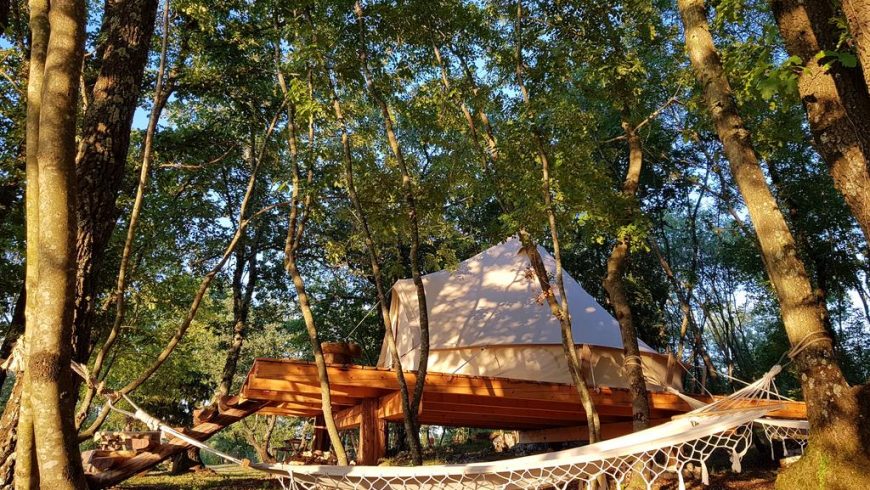 Are you wondering about the existance of the perfect romantic place immersed in the deepest nature? Well, it does exist and it is called Eco Glamping Freedom. This loving accomodation lies in the very heart of Istria. It is the perfect spot if you are a couple or a family looking for a true vacation in nature, far away from the city crowds and the fast paced lifestyle.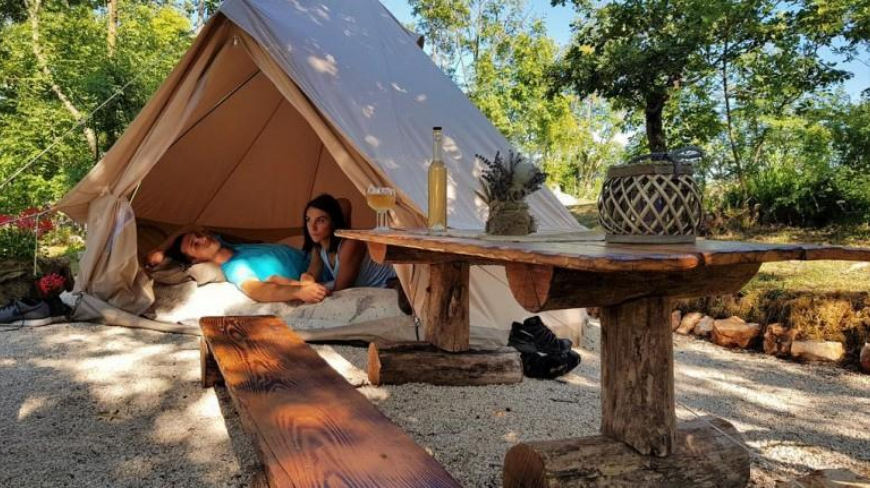 The Eco Glamping Freedom offers its guests different kind of accommodations: not only tents, but also huts. You will for sure love to spend some nights in the Robinson Hut. This is a wonderful place to stay, made of wood and surrounded by the green forest.


When you will be tired of relaxing, exploring the forest and taking walks around, you can enjoy a cooking exprerience in the middle of nature. Indeed, this fantastic eco-glamping is furnished with an outdoor kitchen with a barbecue area and a relaxation zone with campfire.


Finally, if you are passionate in outdoor games, the facility also offers additional entertainment such as a volleyball and football pitch, table tennis, archery and a playground for children.


Well, we are pretty sure that now you perfectly know what eco-glamping is and you can not wait to have an experience like this. So, choose the most suitable place for you and hurry up: book your next relaxing and lovely vacation!
Cover Photo: Eco Glamping Freedom