Why, among all the islands in Dalmatia, should you visit Brač? Find out top reasons and discover the most gorgeous eco-friendly and remote holiday homes on Brač island.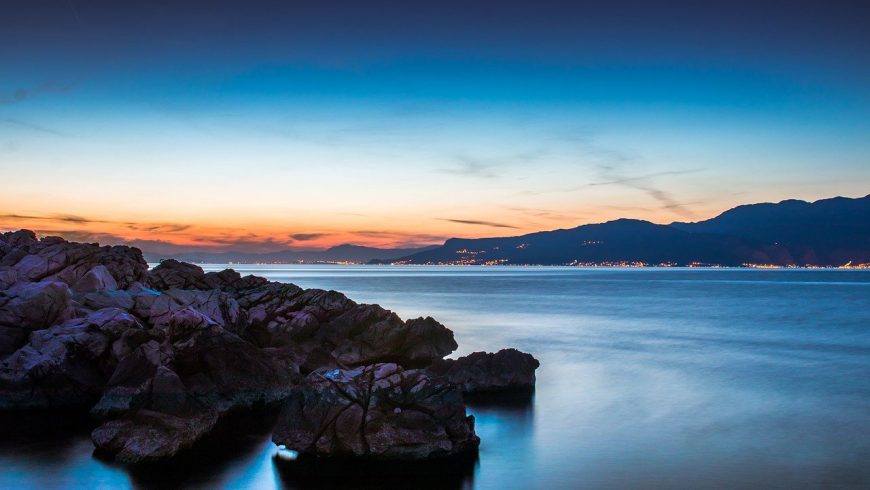 Brač is the largest island in Dalmatia. Unspoilt, idyllic, glistening sand, turquoise water, charming old towns… just about every tourist brochure cliché is actually true when you are talking about the magical beaches on island Brač. Outside peak season, it is still often warm enough to sit in the sun and the temperature is ideal for strolling or cycling around the coastal paths.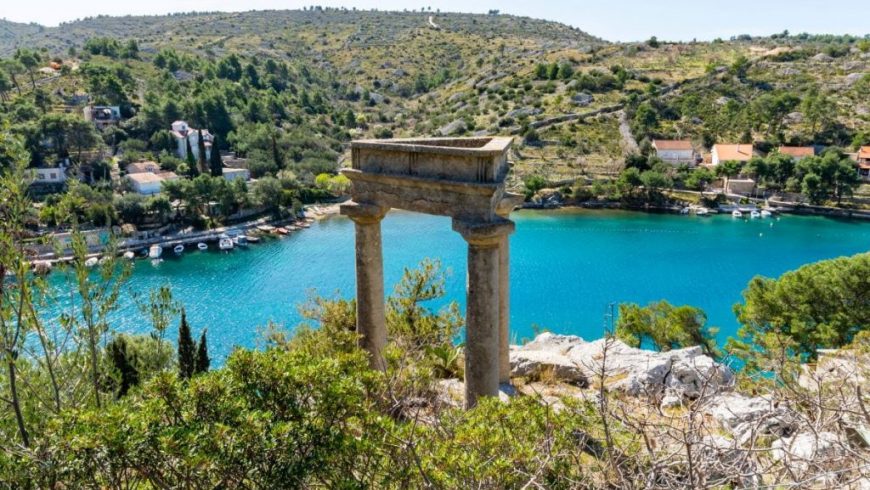 There are several enchanting small towns and villages where sustainable tourism has been nurtured and developed long before it became fashionable. Locals have not forgotten or given up on their traditions. Brač was and it is still remaining the island of farmers, cattle breeders, fishermen, and stonemasons.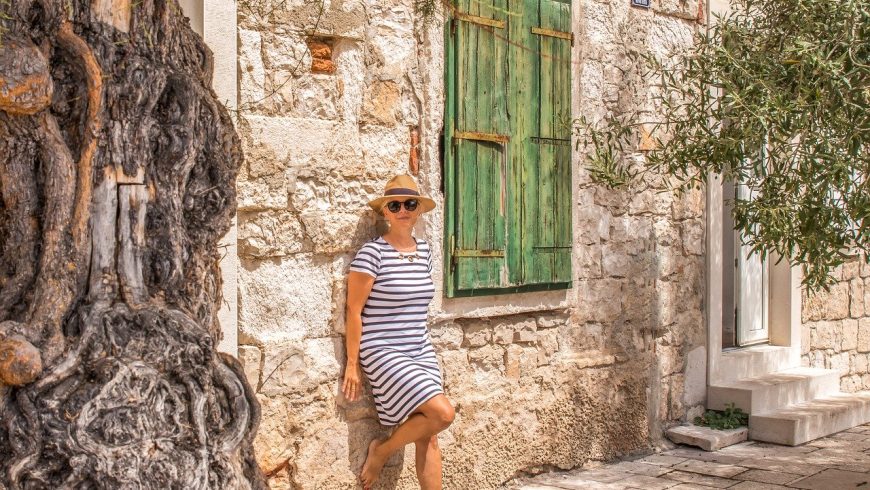 Sutivan old town and the Blaca Desert – two hidden gems that you must visit!
Speaking about the coastal cities, Sutivan is for sure a remarkable one. Sutivan, probably named after St. John the Baptist, is a small and silent village with a Mediterranean atmosphere. This little town is located on the northwest seaside of Brač, in front of Split. Sutivan is known for its harbour and its beautiful and clear beaches, where every guest can find only peace, physical and psychical health.
Sutivan. Source: croatia.hr. Author: Zoran Jelača
While, if you want to discover something in the hinterland and you are intersted in an extraordinary and exotic landscape, you must visit the Blaca Desert, in Nerežišća. Blaca Desert is considered a desert, due to the scant nature which surrounds the ancient and beautiful monastery. In the past, it was a home to many generations of monks since the seventeenth century. Today, this is one of the most favorite hiking destinations and picture worthy sightings.
Blaca Hermitage. Source: croatia.hr. Author: Ivo Biočina
Blaca Desert. Source: croatia.hr. Author: Zoran Jelača
Can't wait to discover this island? Here are 5 eco-friendly and remote holiday homes on Brač where you can spend your sustainable stay!
1. Villa Dol – remote & sustainable stone villa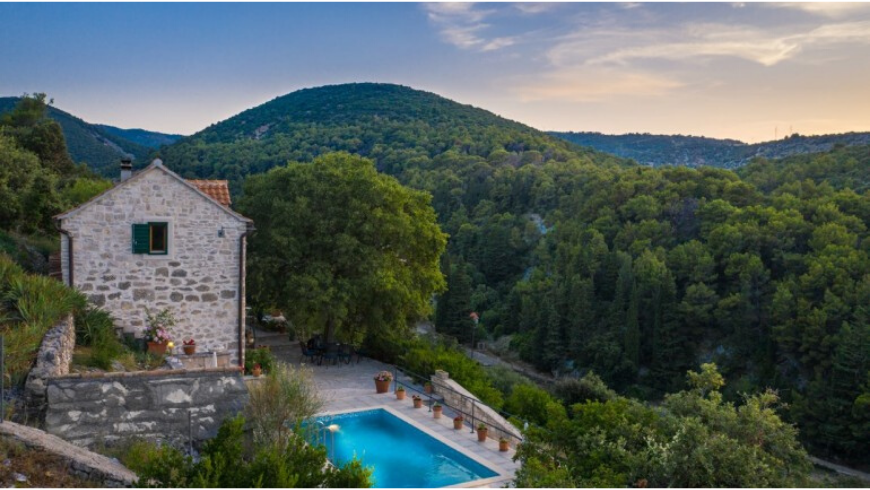 If you are searching for a secluded villa where perfectly enjoying peace, tranquility, and intimacy, but at the same time you are looking for personalized eco-tours for the best local experience of the island, consider Villa Dol. This 200-year-old Dalmatian house is located on the hill above the Dol village.


The swimming pool and the beautiful view create a unique combination of wild nature and artificial features suitable for secluded adventures, romantic excursions and even family holidays. In addition to the swimming pool, there is a stone terrace with an old-fashioned fireplace, including the traditional Dalmatian bell for baking bread and preparing food.


The nearest beach is in Postira, 2km far. It takes 5 min by car, 10 min by bike and 30 min on foot. At Postira beach you can find kayaks (with life jackets and waterproof barrels) available for all Villa Dol guests. Moreover, if you are interested in other adventure tours (rafting, canyoning and canoe safari on the amazing canon of the river of Cetina, nearby Split) you just have ask to the owner of the villa.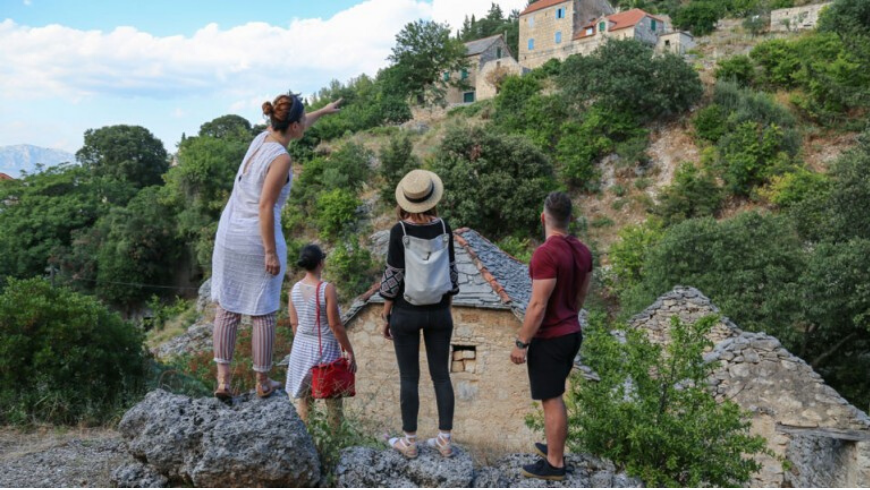 2. Green Apartments Jasna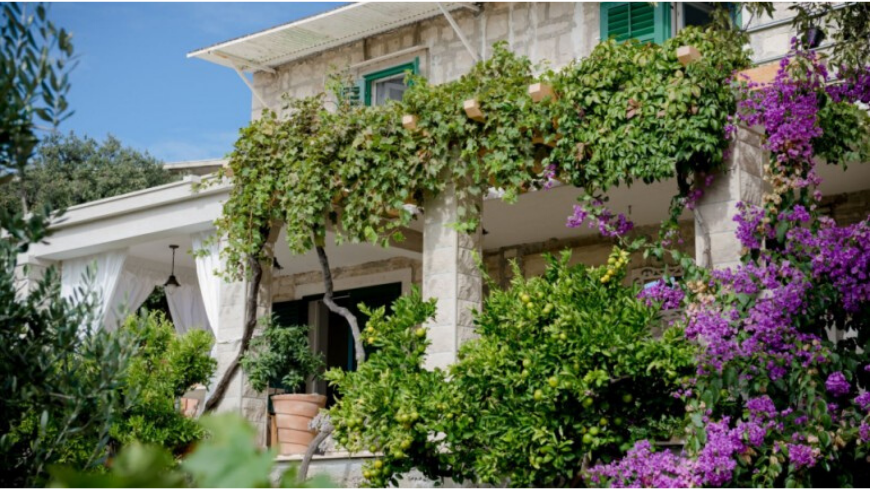 Are you dreaming about an authentic eco-friendly local experience, possibly enriched with flowers scent? Check out the Green Apartments Jasna. Jasna stone house is composed of two fully equipped apartments and is located in the picturesque village of Novo Selo on the eastern side of the island of Brač. It is surrounded by olive groves, vineyards and lush meadows.
Jasna surrounded by lush meadows
Image by maxmer from Pixabay
There is another thing you can do at the Jasna stone house: you can make your experience even more eco-sustainable discovering Brač outside the season, taking part in seasonal farm work, such as olive and grape harvesting.
3. Ranch Visoka – magnificent rural oasis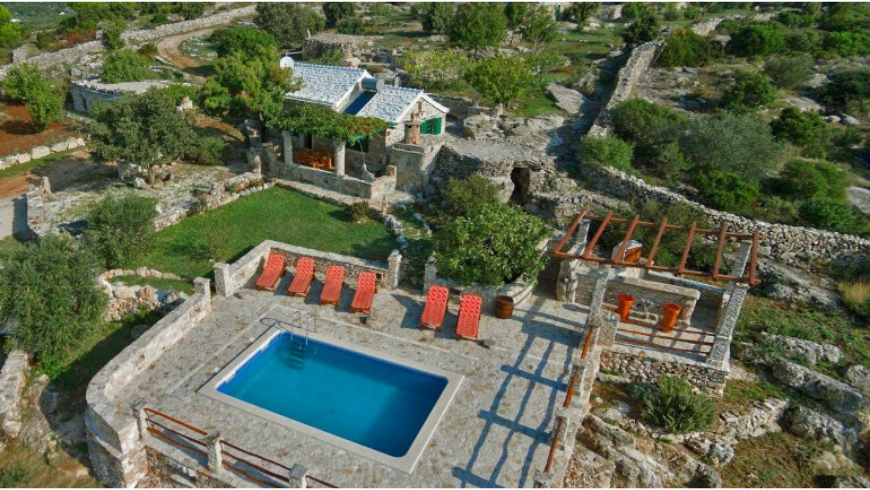 There are a few remote holiday homes on Brač, but it is no coincidence that you can find Ranch Visoka in the top 5. Indeed, Visoka is a secluded location with pristine nature, stunning views, serenity, inspirational sunsets, and ancient olive trees.


You have to know that the ranch is composed of 2 self-contained holiday villas. These are somewhat set apart from each other: one is located on the right side of the pool; the other on the left side. Therefore, Ranch Visoka is the ideal accommodation for families or groups of friends who would like to spend a holiday together, whilst still retaining some privacy.


The sun deck around a private 20m² pool affords breathtaking panoramic views over the mountainous landscape and the sea bay. The pool can be illuminated at night, so you can turn night into day and swim a few rounds under a starry sky. Finally, the outdoor kitchen with a traditional stone grill invites you to enjoy long, relaxing meals outdoors.


4. Vesna cottage – cozy Robinson escape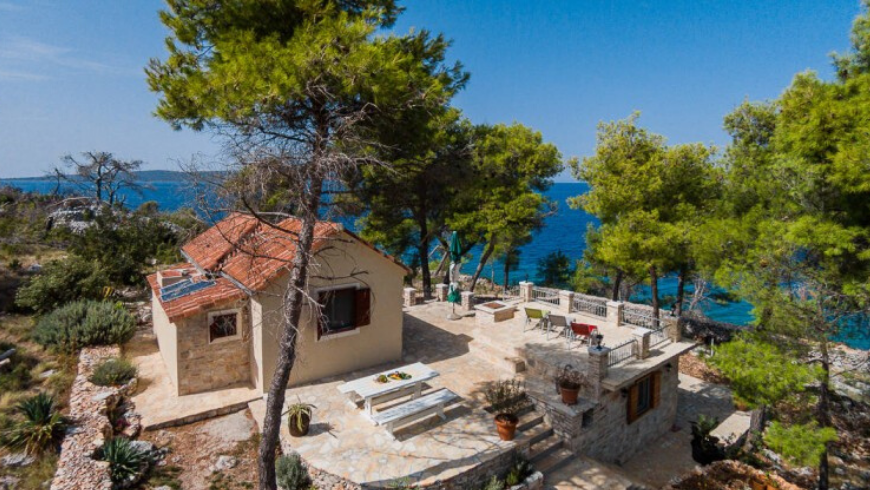 Vesna cottage is a secluded seafront gem, where you can embrace the solitude and reconnect with your senses, immersed in the natural richness of Brač island. Undoubtedly, this enchanting seafront cottage is the ideal place for civilization-detox holidays.


Sure enough, here you can enjoy peace, quiet, full privacy and have a beach just for you. So, Vesna is the ideal accommodation for couples in search of romantic holidays as well as for mindful travelers who want to sharpen their senses and strengthen the connection with the source.


Even the journey to reach the cottage can be a unique experience. Actually, the property can be reached in different ways:
by boat, from a small place called Bobovišće, where you will be able to leave your car on a public parking spot (the boat ride takes 15 minutes);
by car, through a macadam road up to 200 meters from the house where your car can be left;
if you have your own boat, you will also have a berth in front of the house and you can leave your trailer in Bobovišće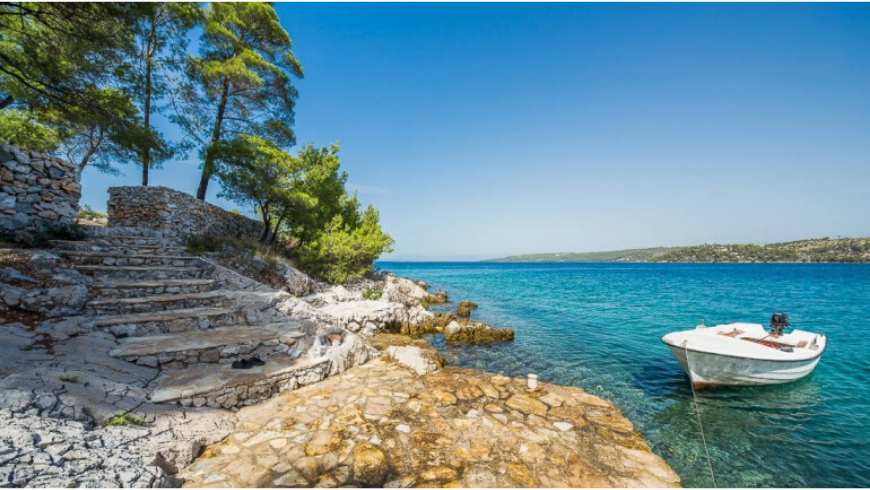 5. Dol Hills Estate – secluded estate full of luxury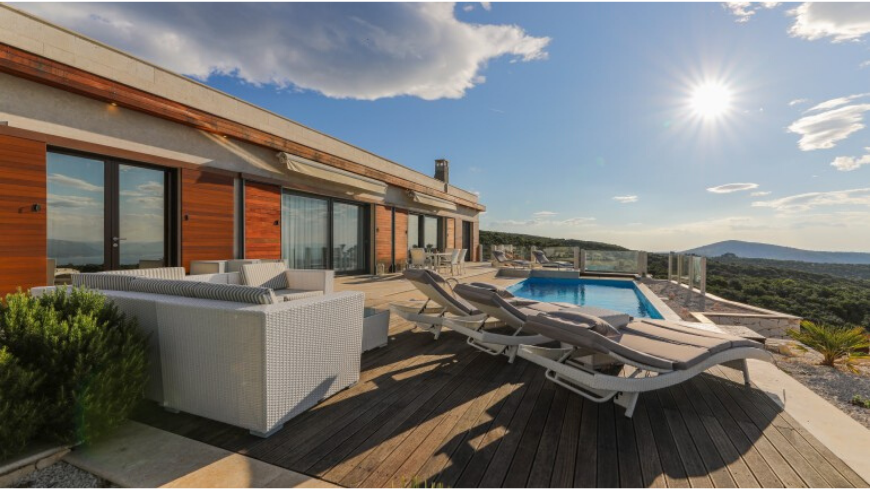 Dol Hills is for sure a gorgeous estate that can be considered among the best remote holiday homes on Brač. What could be better than a civilization detox  full of peace, privacy, comfort, stunning views, eco experiences, and bright stars?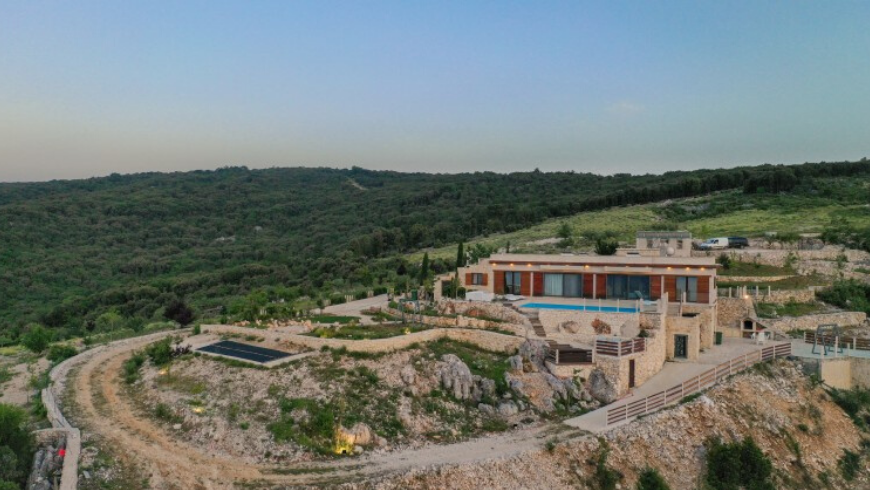 The entire estate is providing exclusive privacy and full comfort by modern interior design. Inside this luxury night-sky villa, far away from the light pollution, the living room comes with a telescope and the bedroom with the so-called "sky bed". Therefore it is a paradise for stargazing and night sky observations.



In the morning, when you wake up, you can meditate with breathtaking panoramic views of the Central Dalmatia. Moreover, you can also start your daily exercise in the infinity pool. While, when the sunset comes, you have the possibility to enjoy a Jacuzzi hot tub with a glass of premium champagne. Finally, in the evening, watch a movie in your private retro cinema, play billiards or discover the sky wonders by the telescope.


The owners' philosophy is sustainability. Respecting nature, collaborating with the local community and contributing to the local economy are the key factors. All energy comes from renewable resources (solar energy); all materials are natural, made from wood, marble, and stone from Brač.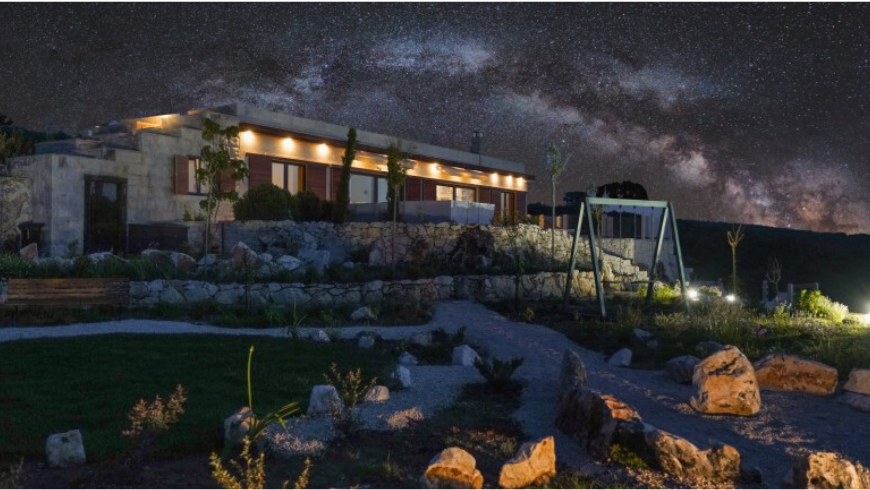 What are you still thinking about? Start planning your next ecotrip to Brač island!:)
Cover photo: Vesna cottage