Touring by bicycle is an ideal way to explore Istria county. Discover the 6 most scenic e-bike routes in Istria!
Istria is considered a paradise for people who love biking, from professional cyclists to amateurs and families who just want to slow down and enjoy the surrounding landscape. Whether on a bike or e-bike, you can stop and put your foot down to smell the warm breeze blowing over rows of vines or spot a local to ask for a good tavern nearby.
One of the advantages that Istria has to offer cyclists is the variety of unique landscapes, ranging from the countryside roads, and cobblestone streets in small villages to amazing bike paths along the coast and MTB trails.
The e-bikes are very popular among travelers. Aside from making a cyclist's life a lot easier as the support motor ensures stress-free mobility, e-biking is also climate-friendly, ecological, and efficient.  Electric bikes are really great for day trips and active cycling holidays in Istria.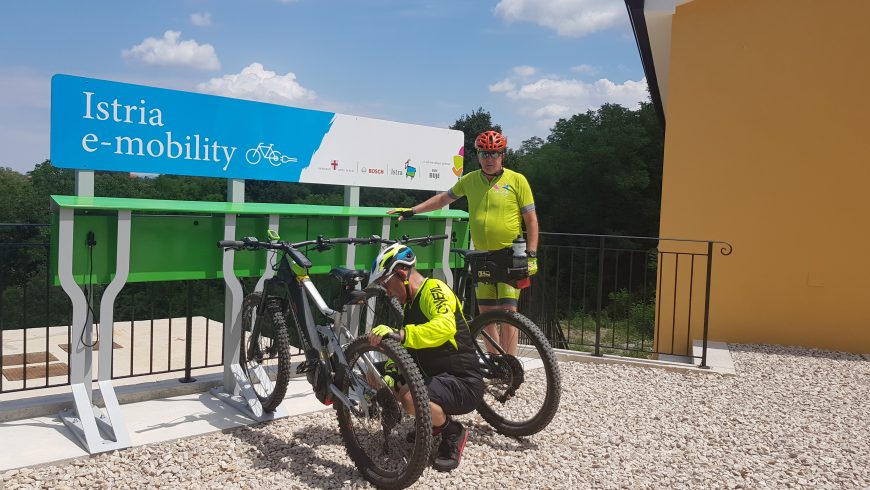 Anyone using their e-bike on longer trips will have to think about the fact that the battery will eventually run out. Below you'll find the 6 most scenic e-bike routes in Istria and locations of e-charging stations so that you can relax with a refreshing drink or go sightseeing while your e-bike is recharging.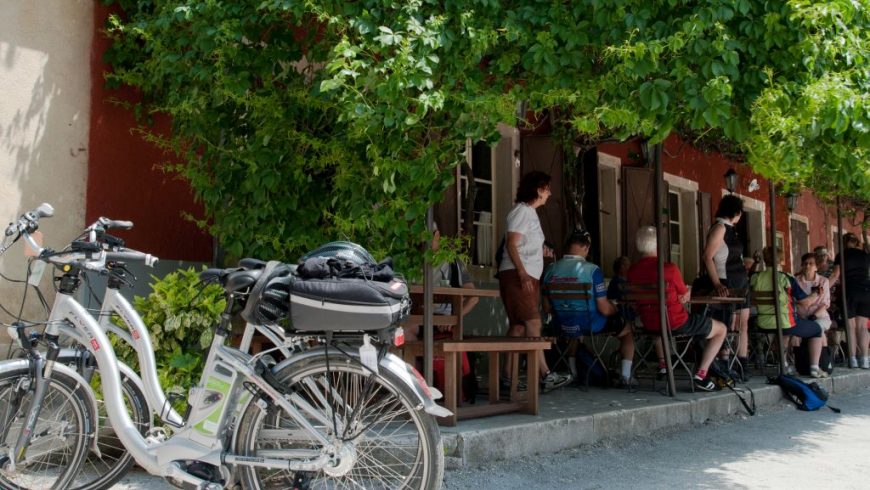 1. For a group of amateur cyclists: The Trail Captain Morgan and the Ghost Town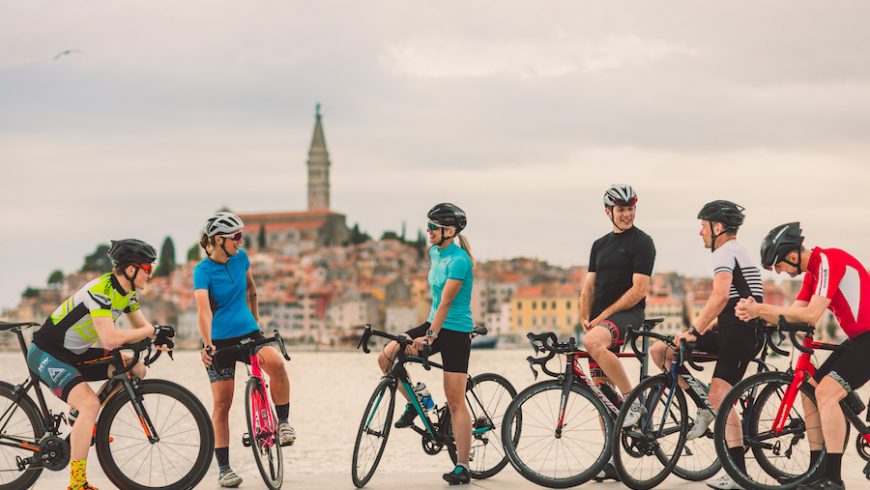 From the Adriatic coast to the green hinterland – recreational and family trails in the area of Rovinj, Vrsar, Bale, Svetvinčenat, and Kanfanar are extending over a length of 95 kilometers. Here you will find the trail Captain Morgan and the Ghost Town and 8 other organized trails, together with the quality gourmet offer based on the freshest ingredients.
Source: istria-bike.com
Source: istria-bike.com
Cycling trails from which to set off on your e-cycling explorations are tailor-made for adults, but also for all generations of family members. Take a ride through preserved natural surroundings,  charming old towns with rich cultural itineraries, and interesting offer of attractions.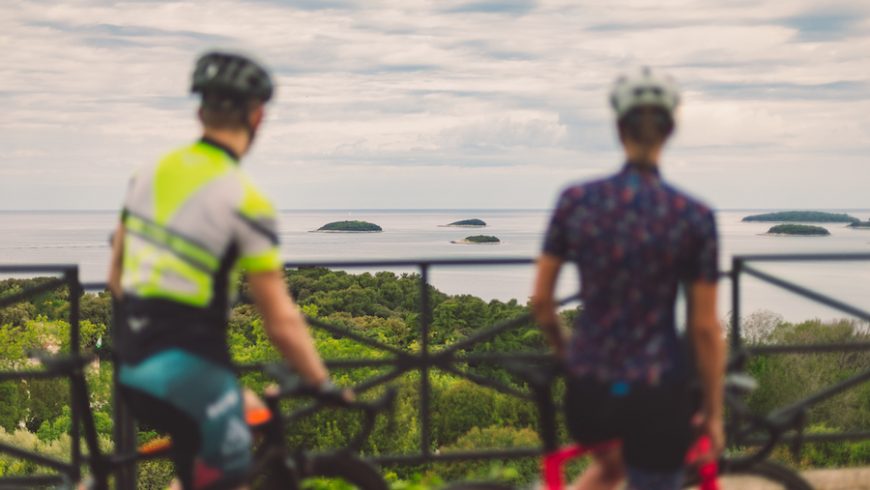 Other recreational bike trails for amateur cyclists in this area: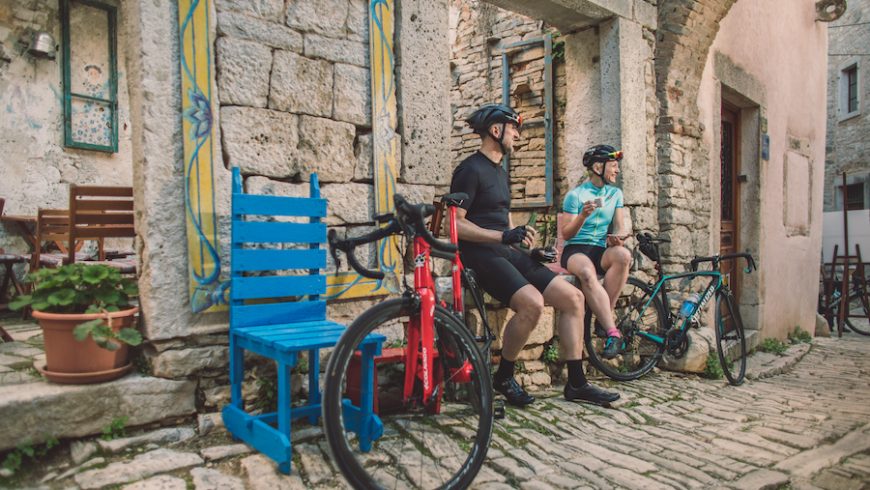 Where to charge your e-bike?
Rovinj
Resort Amarin
Resort Villas Rubin
2. For families: Kids-friendly Trail Katoro-Umag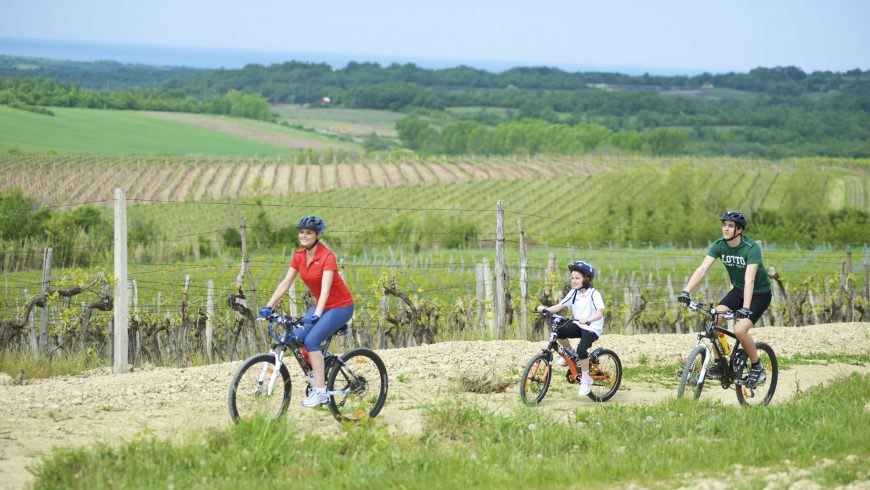 Spend your holidays actively with your children. Discover the enchanting hinterland of Northwest Istria.  The magical area of Umag-Novigrad-Buje-Brtonigla with hills where the view reaches far away to the endless sea. This family ride will turn into a real adventure, as the trail reveals old lighthouses, the former railroad track and medieval remains of towers, and monumental fortresses that will spark the imagination of all family members.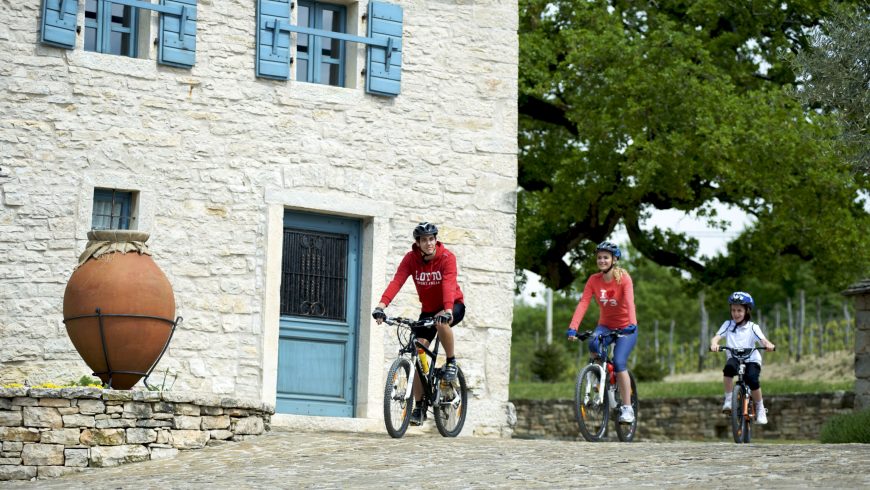 Katoro-Umag trail is our suggestion for your cycling with kids. The ideal places for a family lunch are the original Istrian wine cellars that lively live in small towns. On your way back, the healthy air from the blue Adriatic Sea will enrich the enjoyment of your family ride.
Other top recreational bike trails for families in Northwest Istria: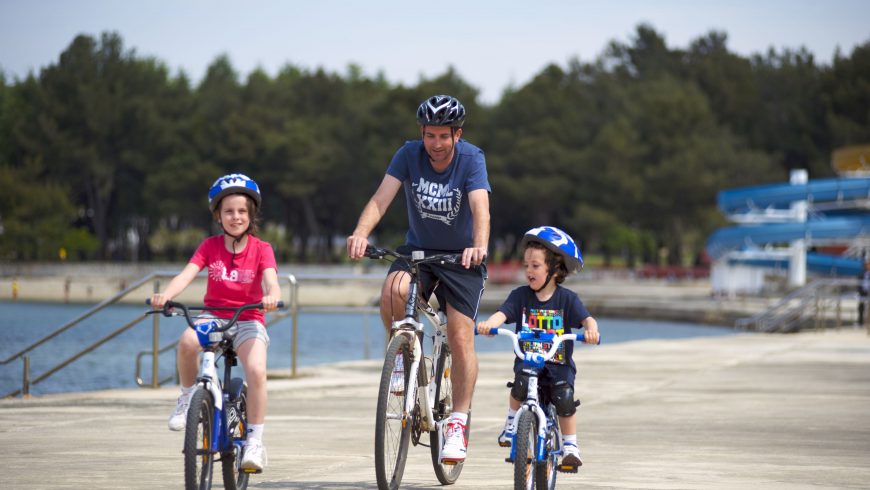 Where to charge your e-bike?
Buje
San Servolo Resort & Beer Spa, Buje-Buie
Triban, bike hostel Parenzana
3. Cycling for couples: The romantic Lungo Mare trail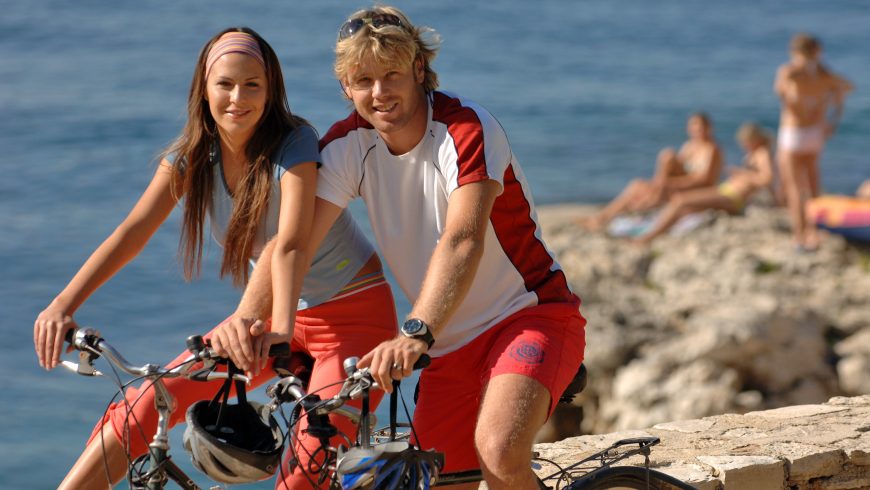 Cycling through a luscious landscape from Pula towards Medulin with your loved one can create special memories unique to any other activity. Whether you are both keen cyclists, or simply want to dive into something new, the joys and freedom of cycling on the Lungo Mare trail will certainly offer a romantic experience of a lifetime.
Other recreational bike trails from Pula towards Medulin that couples will love: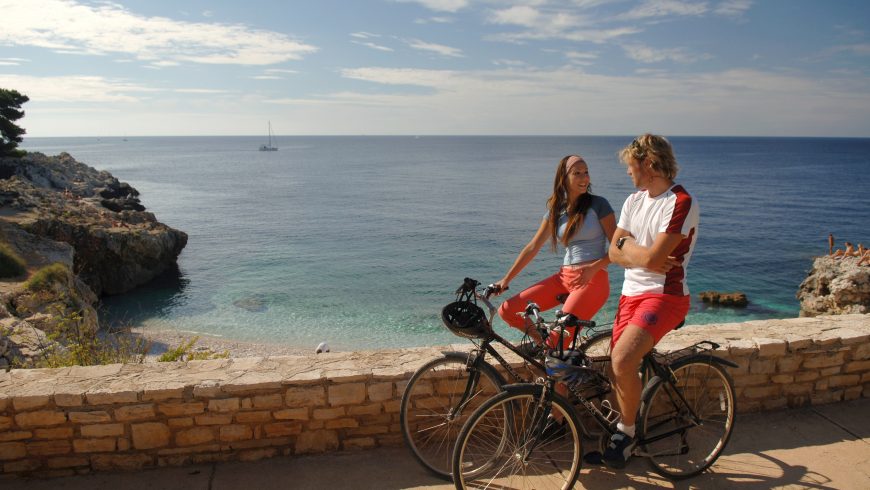 Where to charge your e-bike?
Pula
E-bike rent:
Giardini
Smareglina ulica (street), in front of Mrkat restaurant
Bus station
Lungo mare, Verudela
Tomasinijeva ulica (street), near the market
Stoja, near Camping Stoja
Medulin
Medulin: center
Banjole: Portić
4. From blue to green Istria: The Trail of Stars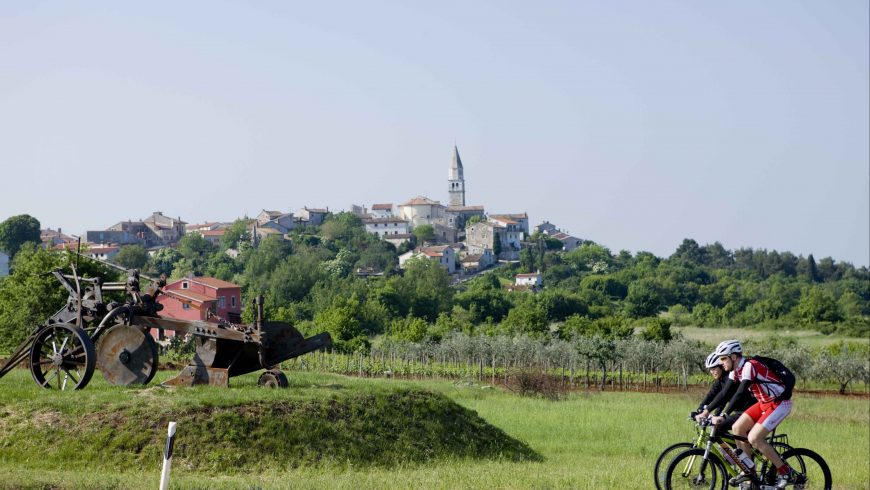 Discovering blue and green Istria on two wheels is really a different way to experience history and beauty. There are many trails from coastal Poreč to the inland Višnjan with scenic and exciting paths through picturesque villages, but the trail of stars will definitely enchant you with beautiful views.
Other recreational bike trails that the countryside fans will adore: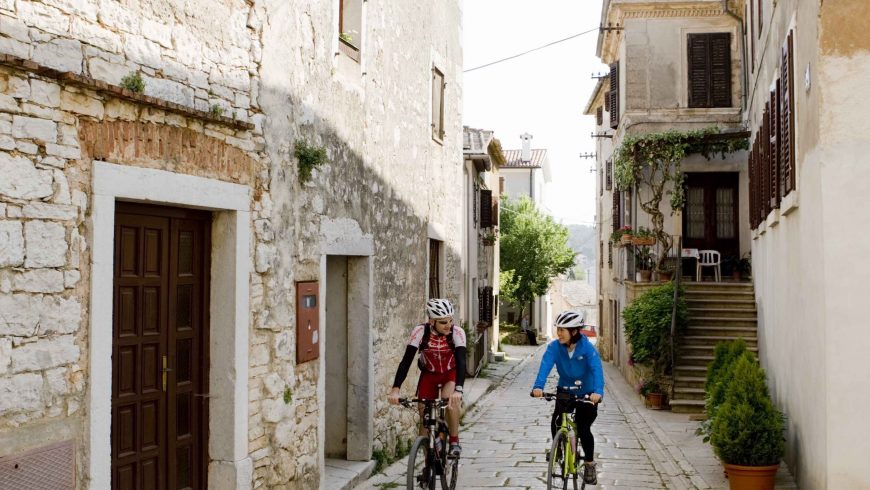 Where to charge your e-bike?
Poreč
Valamar Riviera Head Office
Valamar Diamant Hotel
Hotel Parentium Plava Laguna
Villa, Village & Apartments Galijot Plava Laguna
Camping Ulika
Laguna Lounge, Zelena Resort
5. For recreational e-bike riders & Pro cyclists: The Clear-eyed Lucy Trail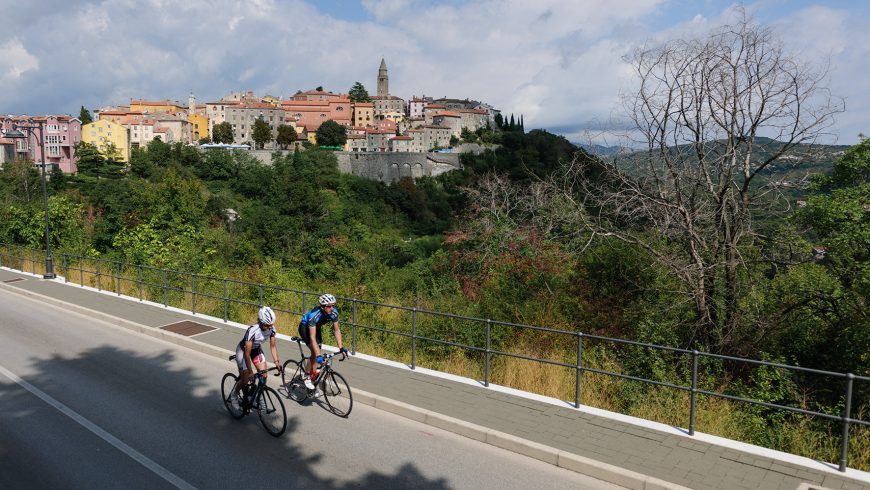 Trail Clear-eyed Lucy and other road trails between Labin and Rabac are offering attractive challenges to recreational e-bike riders, but also ideal conditions for training for professional cyclists. With regard to the surfaces, uphill climbs and downhill slopes, these trails are mainly technically demanding, longer, and are intended for more experienced riders.
Other recreational bike trails between Labin and Rabac: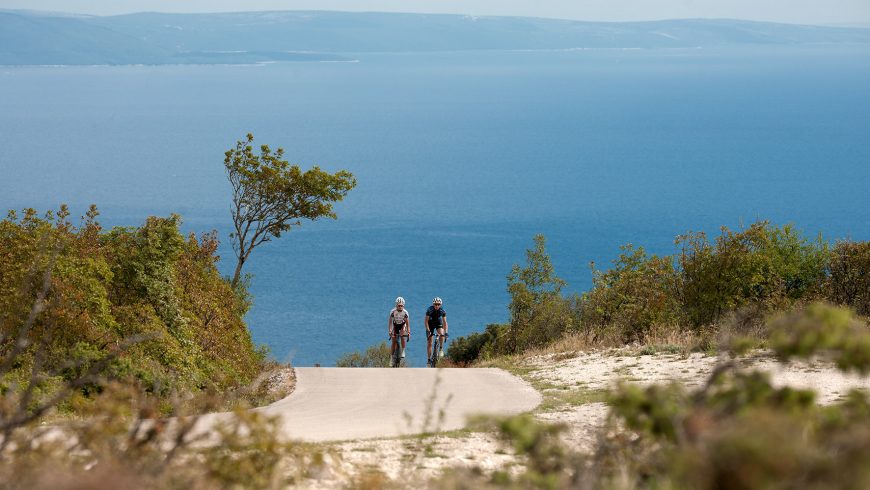 Where to charge your e-bike?
Rabac
Valamar Sanfior Hotel & Casa
Valamar Collection Girandella Resort
6. In the heart of green Istria: The Trail of waterfalls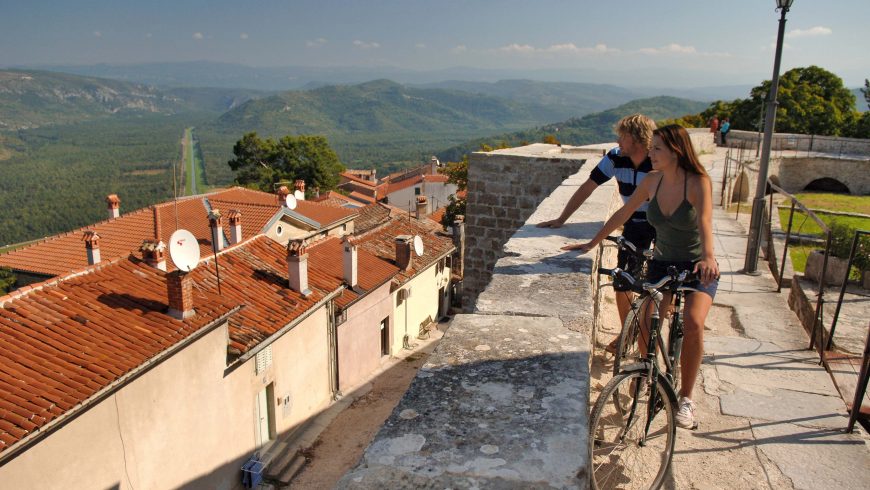 Central Istria will charm you with its untouched natural landscape and richness of heritage.  Cycle through the picturesque hills, old medieval towns, and enjoy the beautiful views of the Istrian countryside. Visit isolated villages where time has stopped, with delicious taverns.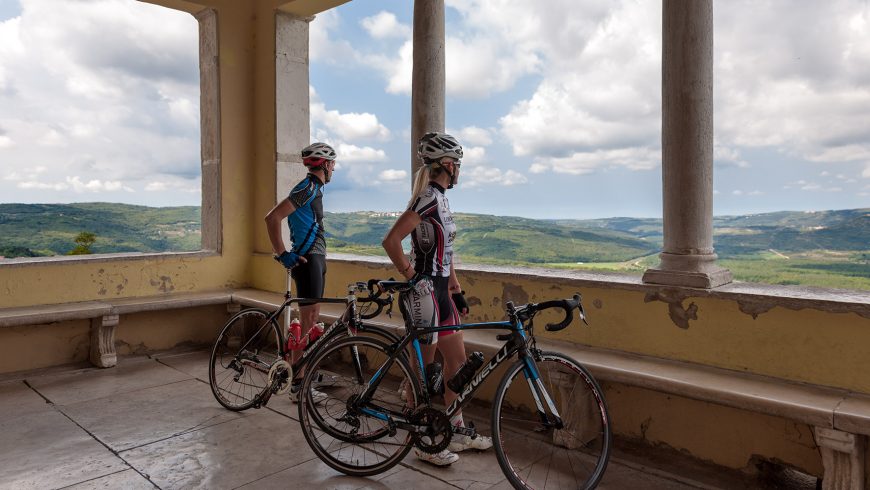 This part of Istria has 21 maintained and marked trails, among which you can also find the trail of waterfalls. Some trails are technically demanding because of the surface, there are a lot of ascents and descents and are perfectly suitable for e-bike riders and cyclists in a good shape.
Other popular bike trails for a touch of vintage in central Istria: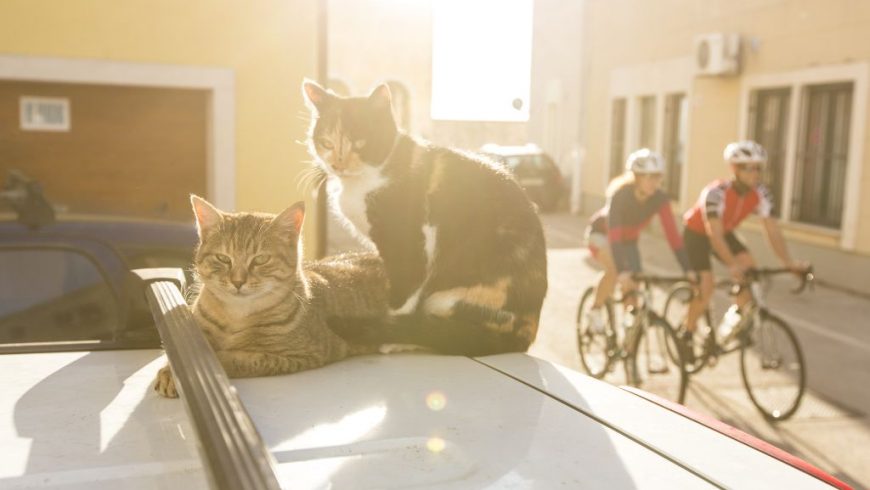 Where to charge your e-bike in Central Istria?
Gračišće
Center
Motovun
Kanal
Pazin
E-bike share point: Ulica 25. rujna