Yurt holidays are becoming one of the most popular eco-stay to experience a unique kind of vacation.
Rich in symbology and positive vibes, Yurt is the ideal way to fully enjoy nature. A new concept for holidays – the contact with the warm wood on the floor, colorful tents, and the strong feeling of culture. If you consider yourself an adventurer or are in seek of an unforgettable vacation, then take a look at these 11 stunning yurts in Italy!
1. A Yurt surrounded by Olive Trees and Sweet Scents of Garda Lake
Much more than the usual. We can talk about very Glamping in the olive trees. Charming colors and scents are to surround your Yurt, letting you live a fairytale. Although, trees are not stopping you from enjoying a breathtaking view onto the Garda Lake. Wake up in your private heaven and taste an organic breakfast in the morning!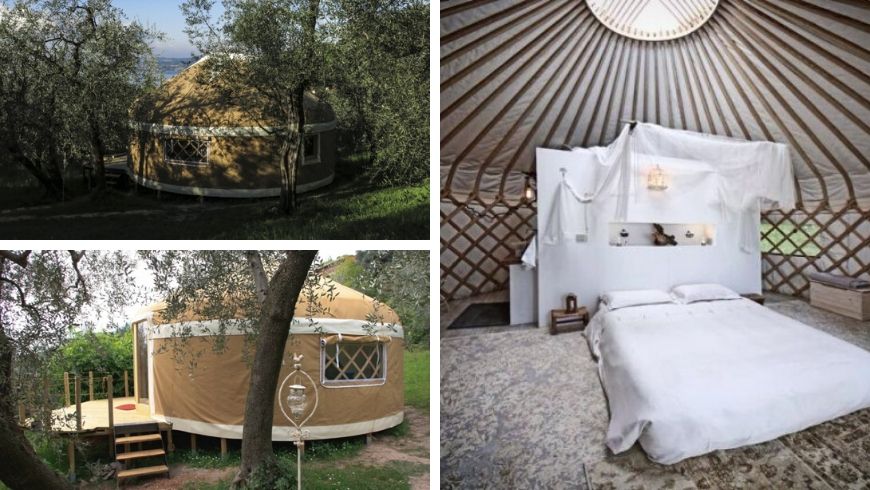 2. Detox Holiday far from Technology in South Italy
A blessing for those who are willing to unwind. Far from the city noises, you can enjoy a detox stay. The Antica Terra will help you to relax with their Magnetic Healing activities. And, if you wish to live a memorable experience, the structure usually hosts cultural and artistic meetings, to give your holiday a special touch.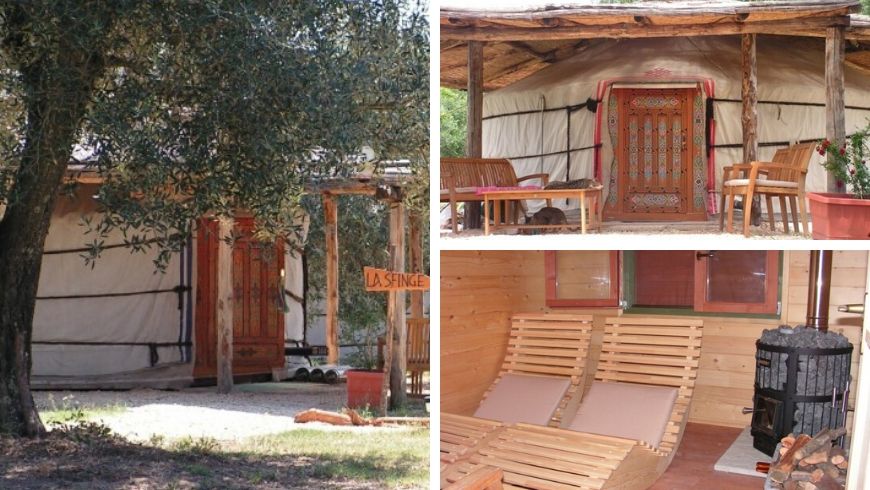 3. Yurts painted of your favorite Color in Tuscany
Fattoria la Prugnola is an eco-farmhouse. As well as many activities, you can have the opportunity to sleep in a real Yurt. What differences do they offer? Their Yurts are painted with many vibrant colors. You can choose the one you love the most! At your service, you will find private tables and garden spaces. Halfway between the seaside and all city facilities, still it does not miss the chance to offer many comforts – tradition, tranquility, and organic food.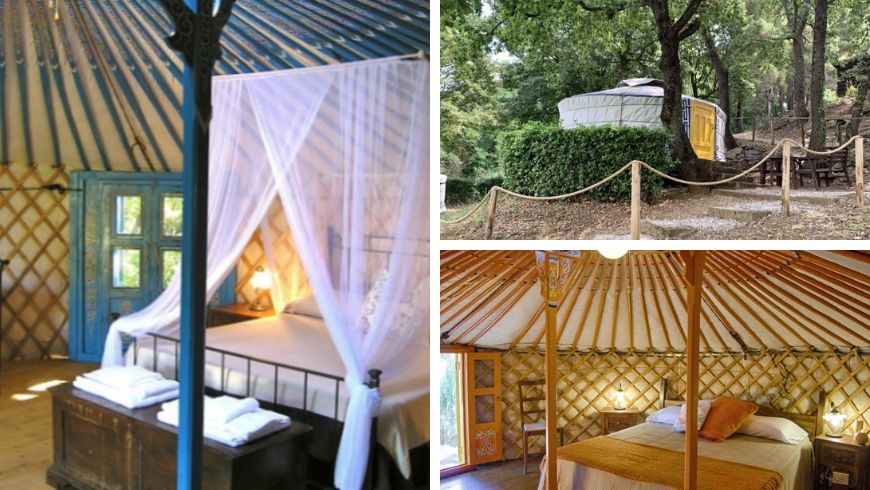 4. Vegan Food and plenty of Activities in Northern Italy
Welcome to the Yurt named Om. This structure gives emblematic relevance to symbology, you can find its explanation inside the tent itself. Upon request, you can have the chance to dine with delicious vegan food. A very occasion to better know each other at the table, or, if you prefer, you can dine in an intimate spot in nature. You can't get bored in Valchiusella, which is plenty of activities, sports, tastings, and paths.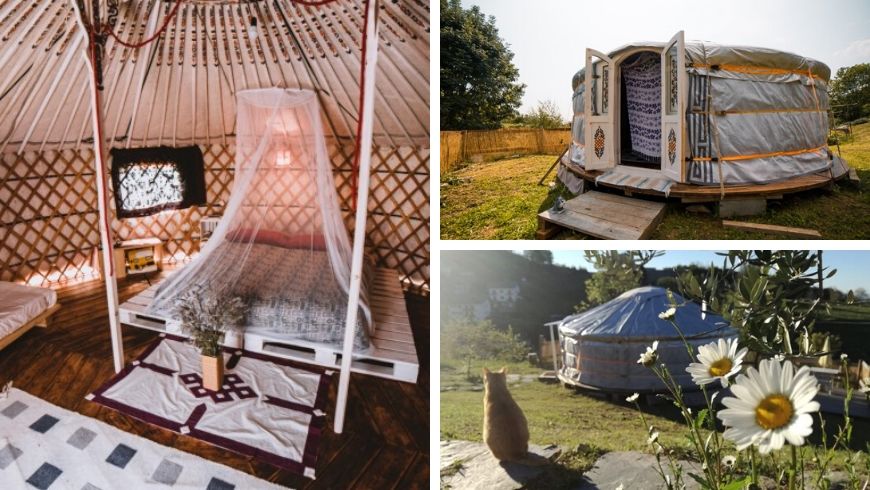 5. Luxury Holiday in the First Yurt of Italy
The southern region of Abruzzo hosts this amazing Yurt, with the catchy name of Fireflies and Figs. It boasts the record to be the first experience in Yurt in Italy, which worked to reinvent itself and improve throughout time. Therefore, the owner worked hard to beautify it more and more, until today. Thus, today you can find a relaxing outside pool for two people.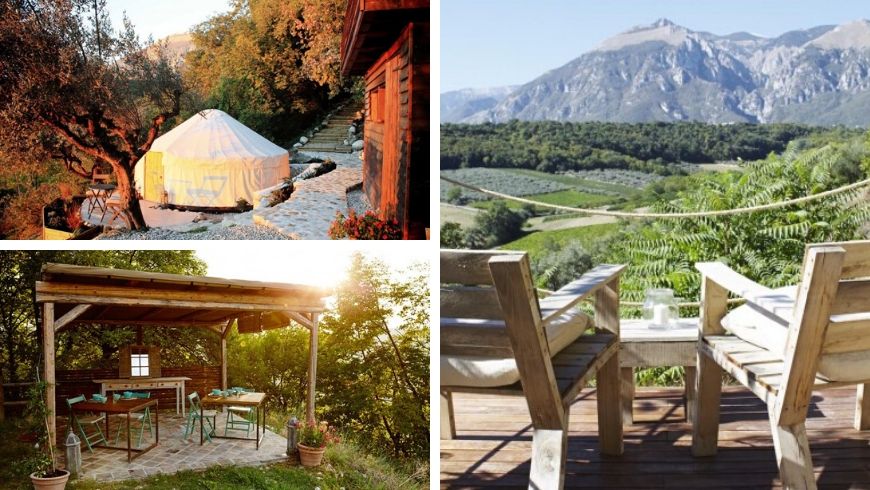 6. International family chooses Puglia for their Characteristic Eco-stay
A sweet family, after traveling all around the world, decides to settle in South Italy to fulfill their dream. As a result, they built and offer a unique experience in the Trullo Cicerone & Yurt. You can feel their love for the environment and tradition. The owner used to be a chef, so you can taste delightful historic recipes with genuine ingredients. Anyway, the yurt itself will astound you with the brightest colors and a unique atmosphere.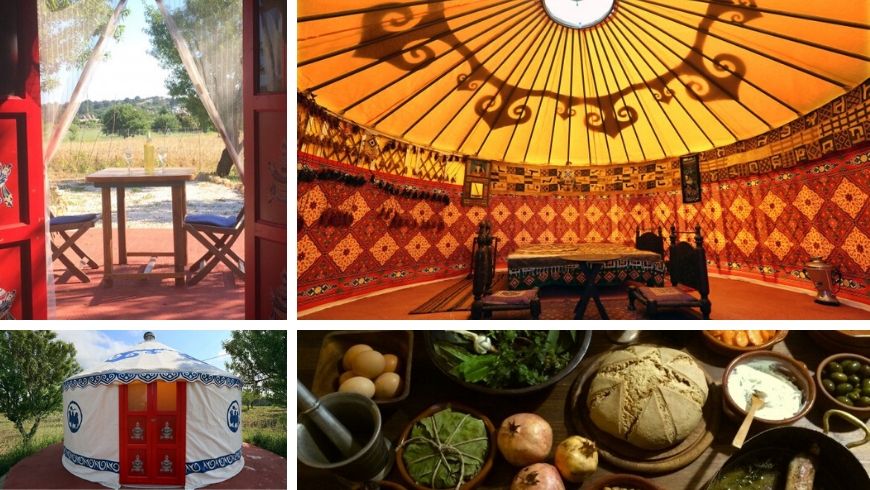 7. An extravagant Farmhouse among Alpacas, Olive Trees, and a Fully Equipped Yurt
Alpaca Country House offers a gorgeous Yurt. Colored in blue and white to encourage relaxation. The special feature? You will live an intimate and independent holiday surrounded by the silence of nature. Therefore, it has its own bathroom inside the tent – which is not so frequent – and it is furthermore equipped with a kitchenette! You will not lack anything. Tuscany is perfect to relax, thanks to stunning landscapes and mainly yo delicious organic food. You can decide whether to taste it or to cook it yourself.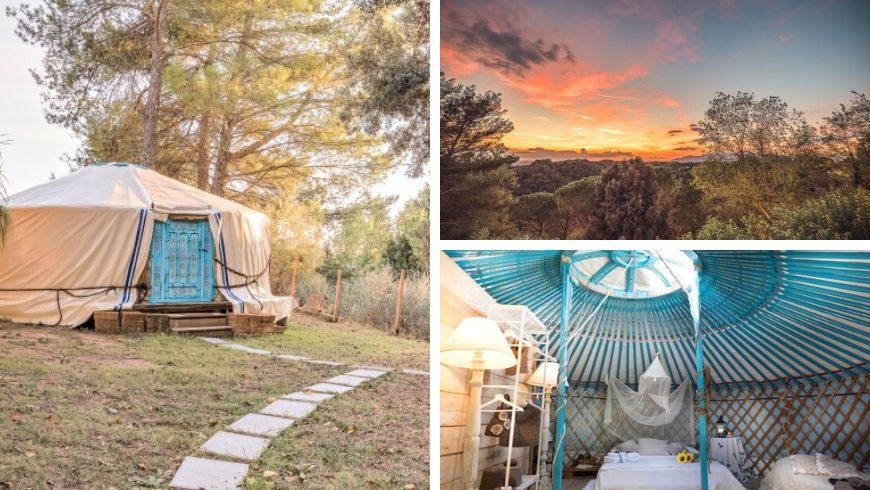 8. A hand-made Yurt on the Apennines
Yurt di Cason dell'Alta is full of love. Built by hand and gently protected by pine trees and fruit trees, although you can enjoy beautiful views on the Apennines. Besides nature, a lot of history characterizes this place – it stands on the historic Gothic Line. Cats and mainly dogs of the owner will warmly welcome you at your arrival.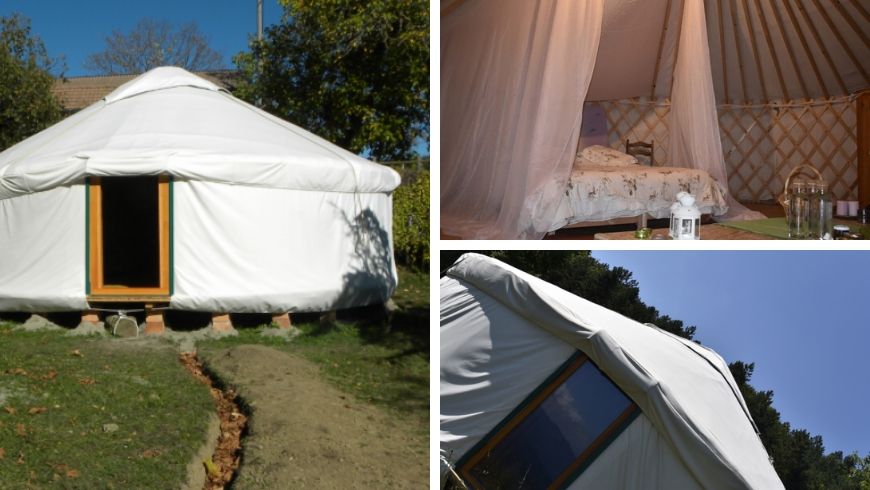 9. A Blessing for Relaxation delved into Paths in the Woodlands
Casale di Montondo lies among breathtaking views of Tuscany and offers a unique experience in nature. The perfect way to enjoy a Yurt and contact with nature. The uniqueness stands in the path leading to the stay… you can use the available Jeep or choose the alternative worthy of a fairytale, that is arriving on horseback. Or why not enjoy a stroll in cool woodlands and then relax in your Yurt?
10. Far from Busy Life. Slow Vacation in Northern Italy
Bric dei Galli proposes a unique experience in Yurt, devoted to nature and to sharing. The ideal vacation for those who look for something new. You will live your little dream between organic local food and fields with plenty of animals.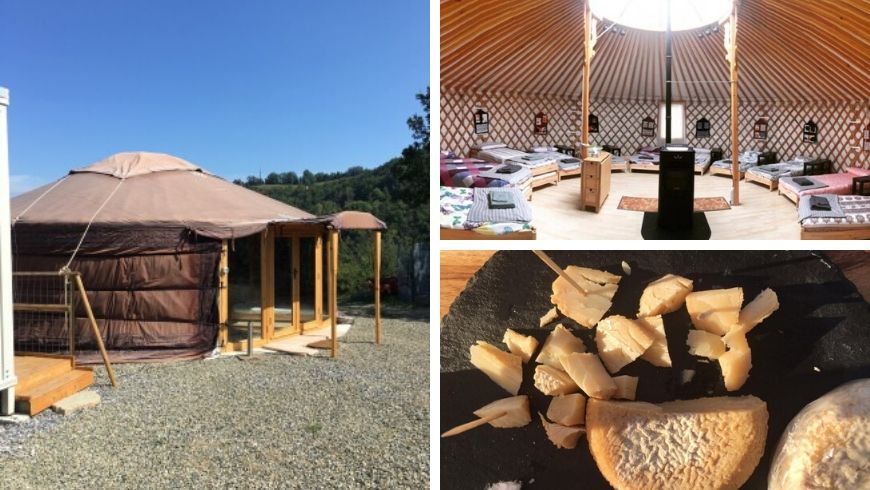 11. In the woods, overlooking Turin
Yurta Soul Shelter and Yurta Om are two beautiful gher, tents of Mongolian origin, with private bathroom and Jacuzzi shower. In the green in the woods, less than a kilometer from the historic center of Grassinio Torinese, you can experience a holiday of sustainability, relaxation and silence. The place offers a natural terrace with breathtaking views on the Alps and Turin.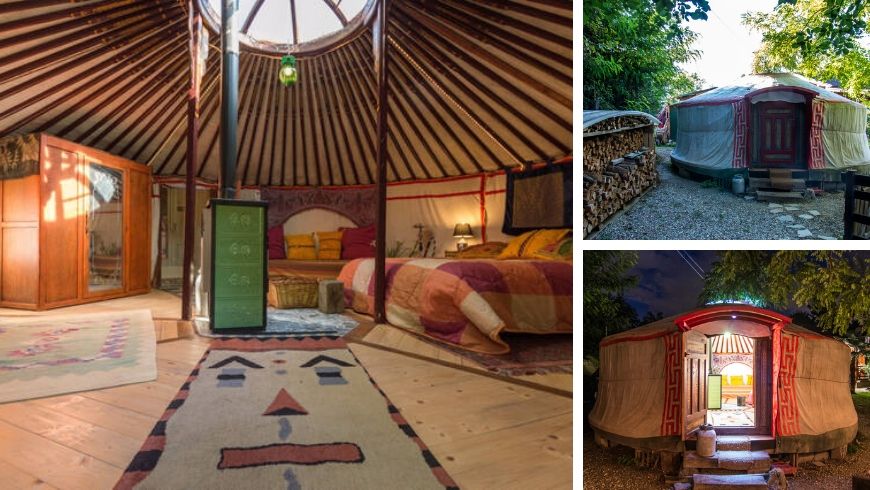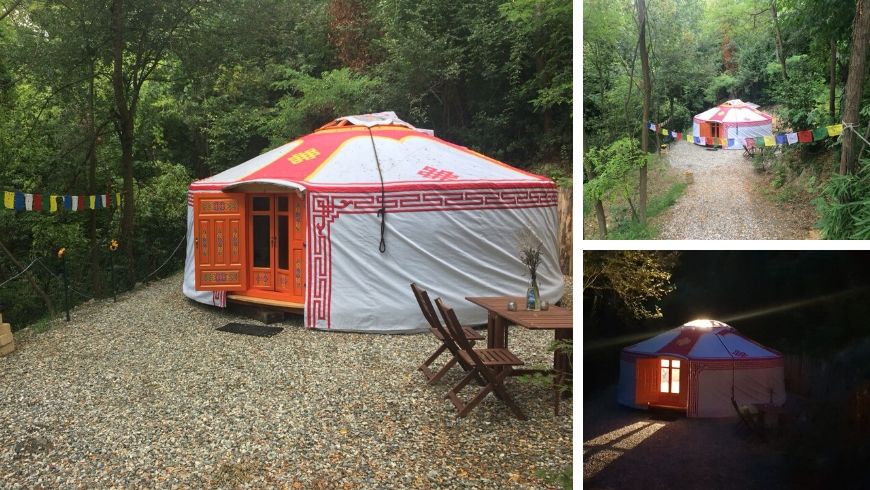 Pictures speak for themselves, don't they? This kind of holiday is exactly what you imagine when you think about a "dream holiday".
Haven't you become compellingly curious to try them all?
Have you ever lived the magic of a Yurt holiday? Tell us in the comments, and have a pleasant journey!