When you think about Istria, it might be its crystal clear sea, gorgeous beaches, or charming medieval cities and villages in the inland. But this region also has a wealth of exciting eco museums for sustainable travelers looking for experiences in harmony with nature and local community.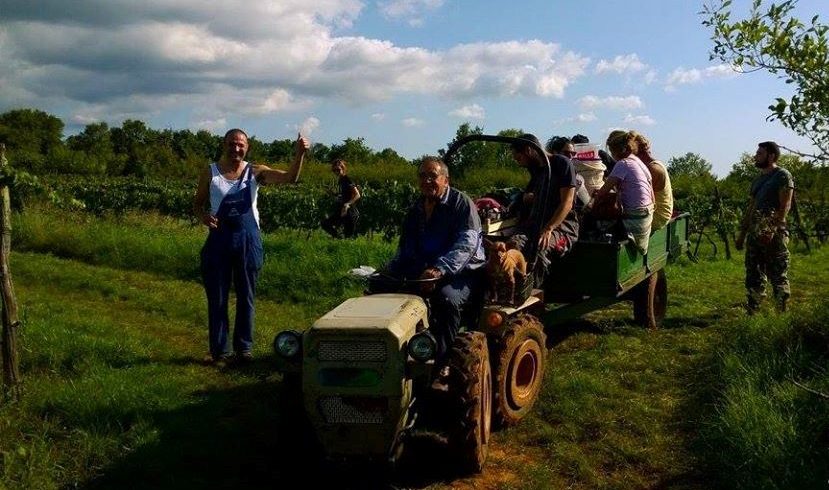 Eco museums in Istria are immersing people in authentic local culture, which results in a better understanding of their environment. You'll be encouraged to participate in traditional activities to experience the local lifestyle. Instead of just visiting this region, you'll become a part of it for a while.
We've listed our favorite eco museums below; these are your eco-friendly vacation's memory-makers.
Batana eco museum in Rovinj – Rovigno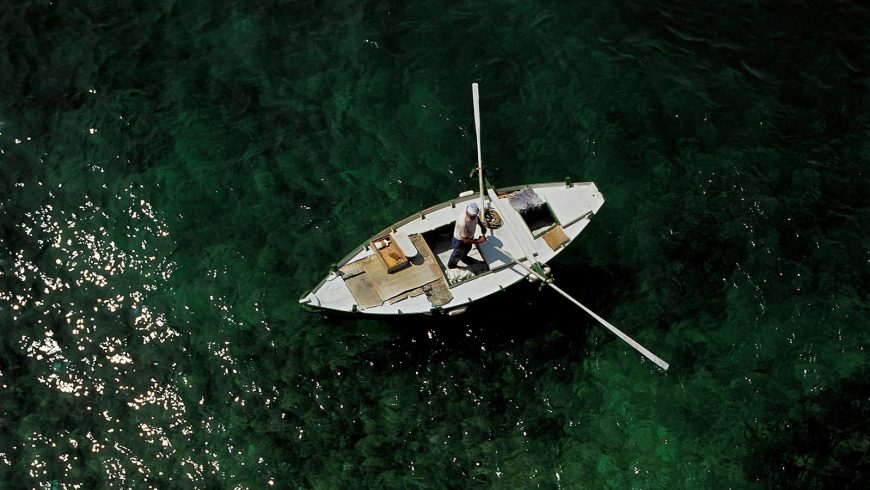 Batana eco museum in Istria is totally unique on the Adriatic and Mediterranean. Located in Rovinj and fully dedicated to the traditional wooden boat known as the batana and the community which has chosen it as its symbol. Batana eco-museum includes:
1. The House of Batana
The House of Batana is the central interpretation and documentation center with a permanent exhibition, located on two floors of a typical Rovinj house from the 17th century.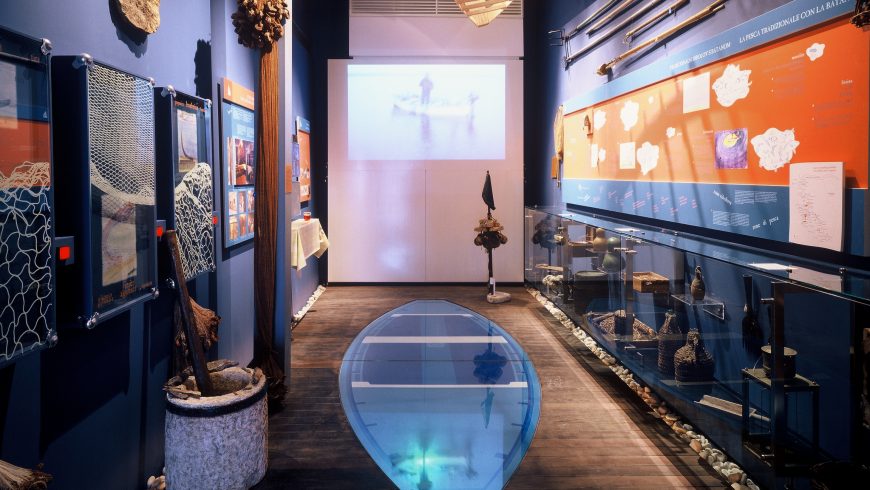 2. Spacio Matika
The spacio is actually a localized version of a tavern or wine cellar and is another peculiarity of Rovinj which helps shape the town's identity and its people. This is the place where you can experience the tastes, smells, and the singing of the local maritime heritage.
3. Mali Škver (Little Shipyard)

This precious antique craft is built in the same way for centuries, without the aid of modern tools. It is remarkable and as such registered in the List of Intangible Cultural Heritage of the Republic of Croatia. During the summer, on the Mali Škver, many events are being held and you can see the builder at work every afternoon.
4. Rovinj's regatta
Amazing regatta of traditional wooden boats with mainly lug and lateen sails. It is held every June in Rovinj, known as the main celebration of boats, the sea, and sailors.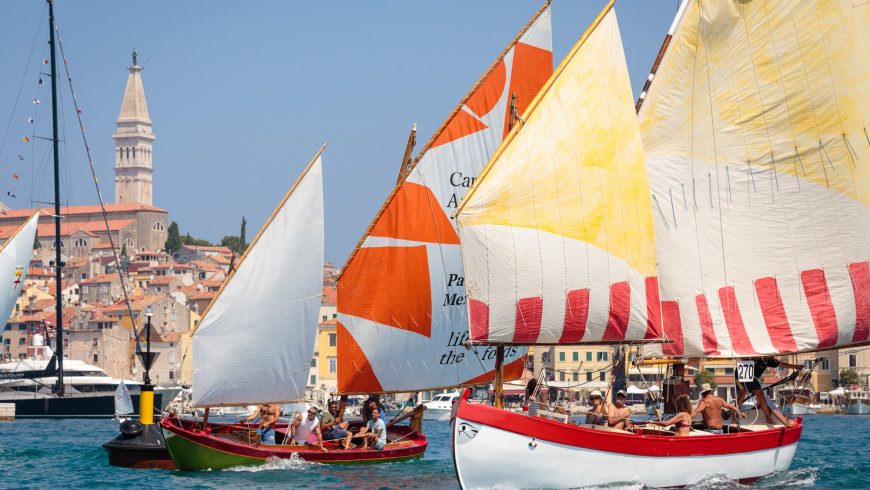 5. Thematic sunset route from the 'batana perspective'
First, a walk along the waterfront is your opportunity to get to know the batana boats and their owners. Then a rowing sea trip that will give you a unique and unforgettable experience of Rovinj from the 'batana perspective', which begins at sunset.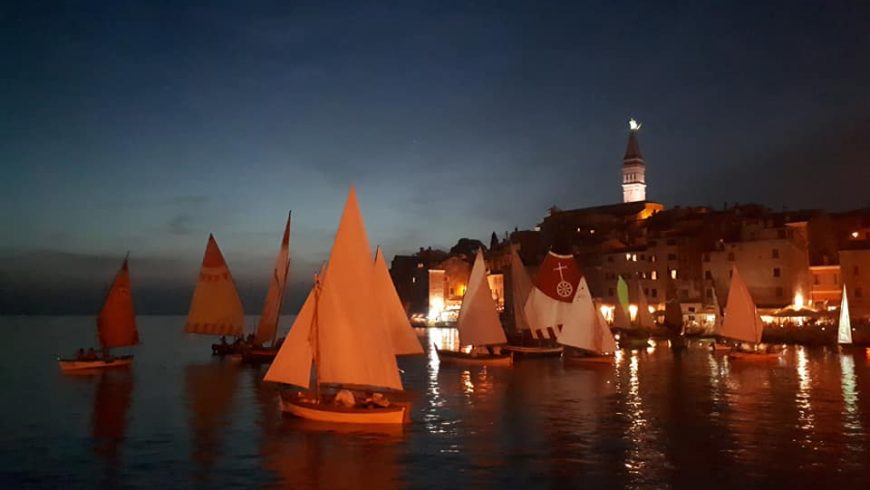 The House of Istrian Olive Oil in Pula-Pola
Discover the story of olive growing in Istria through history to the present day. Find out why Istrian olive oil was highly valued by the ancient Romans and how it was produced; how oil was produced by our ancestors and how it is produced today and finally, what are the secrets of creating an extra virgin olive oil of premium quality.
Guided  tasting that will give you the fundamental knowledge of olive oil
When buying olive oil, knowledge is power! Every visit to the eco museum of olive oil includes oil tasting led by a trained person. You will find out how to select top-quality olive oil for your maximum health, learn why Istrian olive oils are considered one of the best in the world, and taste different varietal oils and blends. After the guided tour you can also buy organic olive oils from different Istrian producers.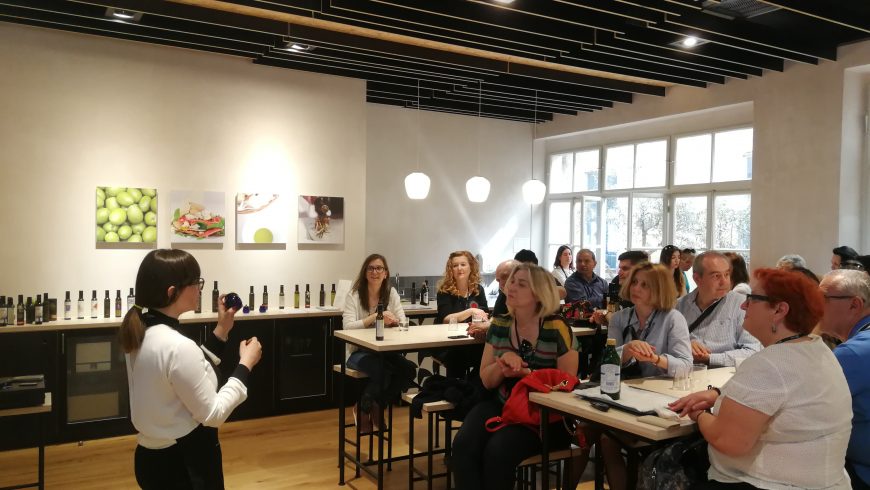 Kažun theme park in Vodnjan – Dignano
In southern Istria there are numerous ancient stone cottages, called kažuni –  charming round houses with a cone roof and small doors. These secret stone cottages are usually located on private properties and therefore hidden from view.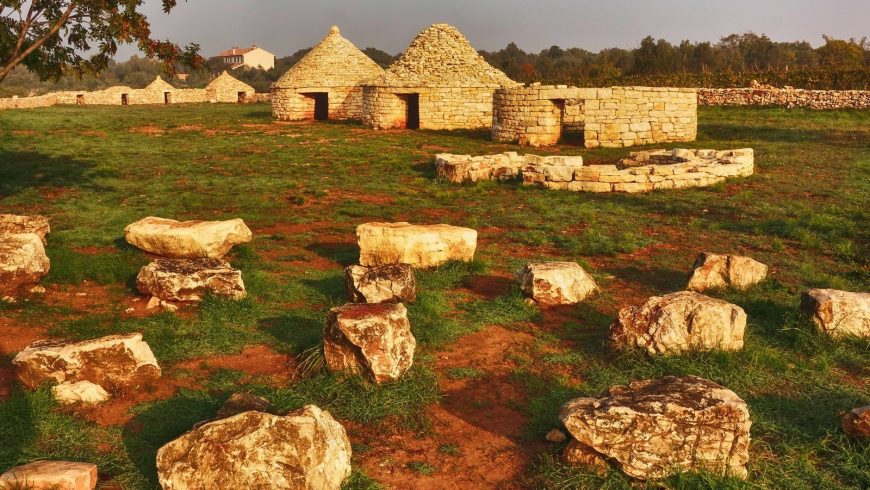 They actually served as shelters for shepherds and farmers who worked outdoors all day to feed their families. The kažun represented a safe shelter from sudden rain, but also from the sun in time of midday rest.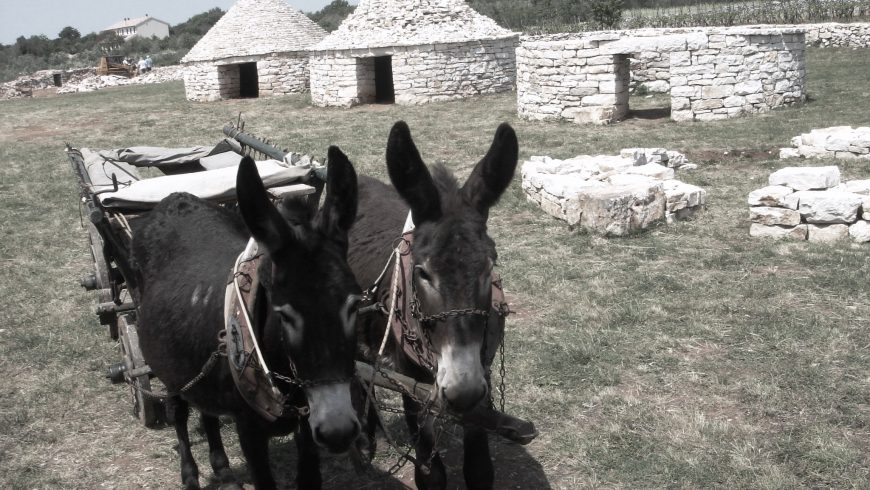 In Istria, most of the kažuns are concentrated around Vodnjan – a lovely small town close to Pula, which to this day kept its medieval look. Here you can visit the Kažun park – an outdoor eco-museum preserving the memory of ancient Mediterranean architecture.
The four stages of erecting a kažun are illustrated. You can also participate in building a part of the kažun, to get to know all the shapes and forms of this area or simply go on a virtual tour.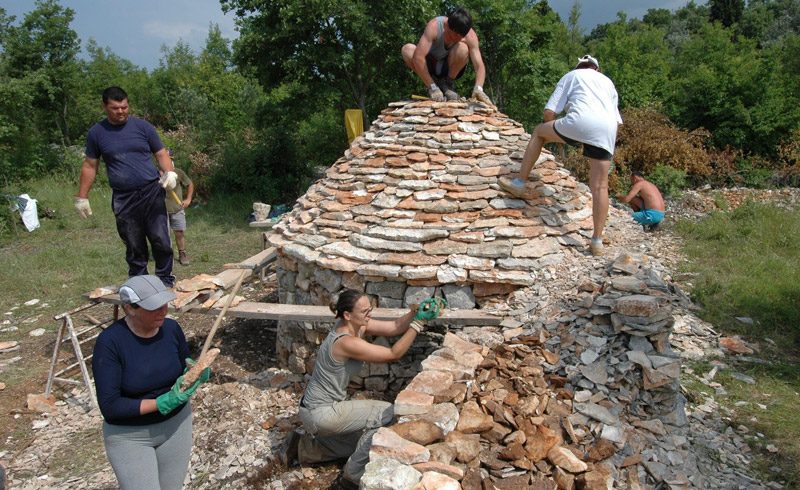 Eco museum Istrian de Dignan
Istrian de Dignan Eco museum is also located in Vodnjan – a charming small town close to Pula, which to this day kept its medieval look. It is a unique place where tradition, culture and local products meet in rustical ambient while respecting the traditions and customs of ancestors.
This non-profit association is managed by young, passionate, creative enthusiasts and volunteers committed to preserve local tradition and present it to the world as something valuable that can't be allowed to disappear without anyone noticing.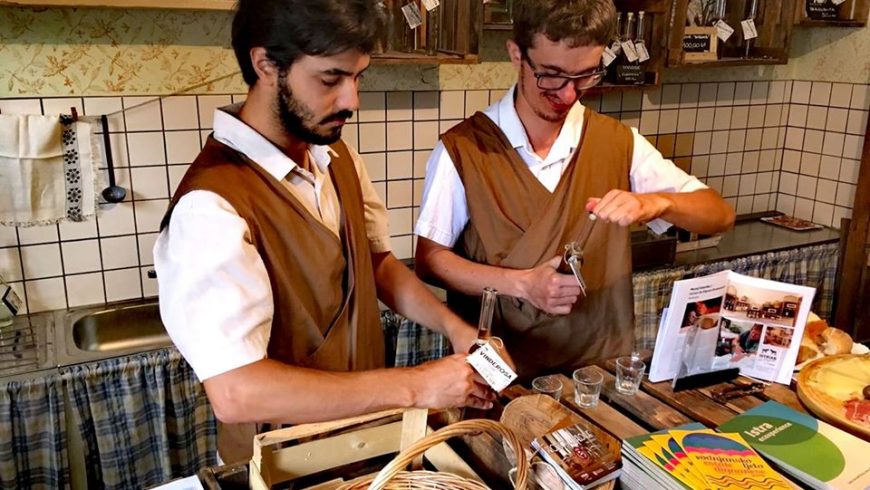 You can visit the House of Traditions, located in the heart of the old town, which displays tools and objects that used to be part of everyday life. Here you can taste local food and drinks, learn about the history of stone, steel and wood. The Ecomuseum extends far beyond the walls of an old house towards the Didactic Farm, and the Museum of local products. 


Traktor Story & Konobon Gallery Nova Vas-Villanova
If you are interested in the history of farming, old machinery, or just want to see some vintage tractors, Traktor Story is the place for you. Located beside the Baredine cave as a natural monument, it is very popular for families, providing an unforgettable experience for children, as they can climb on all the machines.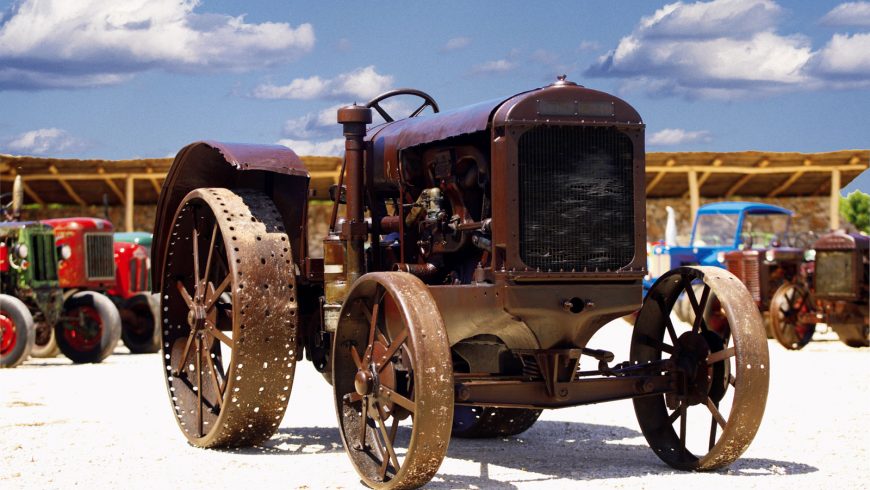 In the exclusive area of the Konobon Gallery you can learn more about the story of the Mediterranean trilogy – bread, wine, and olive oil, You can taste indigenous olive oils, local wines, and other products and buy souvenirs you'll never regret when returning back home.


Travel with confidence….you are safe in Istria!
All of the eco museums in Istria are putting the obligatory COVID-19 protection measures to provide cleaner, safer space for visitors, so you can travel with confidence. In addition, nature has your back, when visiting the open-air eco museums.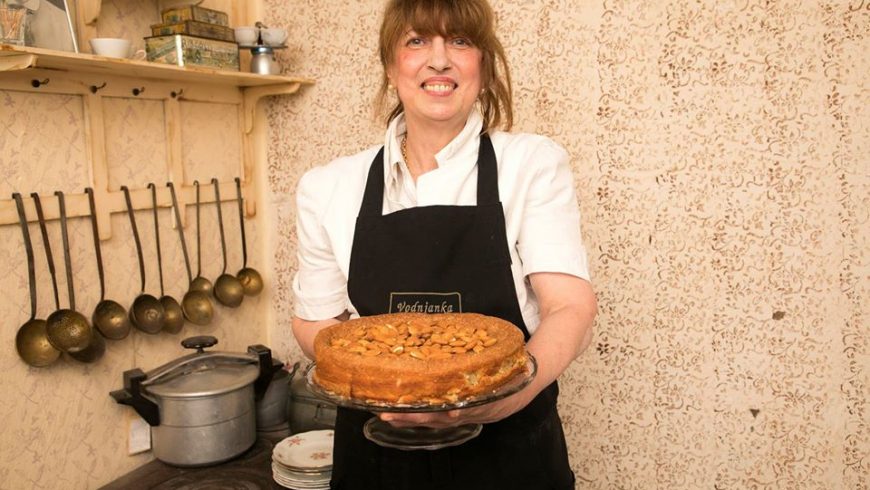 Cover photo: Vodnjan Tourism Board