As always in spring, Easter is around the corner! Why don't we try some new kind of Easter decorations this time?
Let's try not to buy dozens of ready-made decoration ideas, we'd only use them for a few days anyway. Let's now roll up our sleeves and regain all the creativity we once had as kids. Here we collected 10 top eco-friendly ideas, to make the most of these Easter holidays at home!
1. Egg Carton Chicks
A perfect idea to keep the kids entertained! You will only need a lot of imagination because I think you already have all the material at home. Don't throw the egg carton away and there you have it. Firstly, you want to cut each piece of the egg carton; secondly, colour them as you prefer. Then, take two and paste them together, as shown in the picture below. Give your creativity free rein!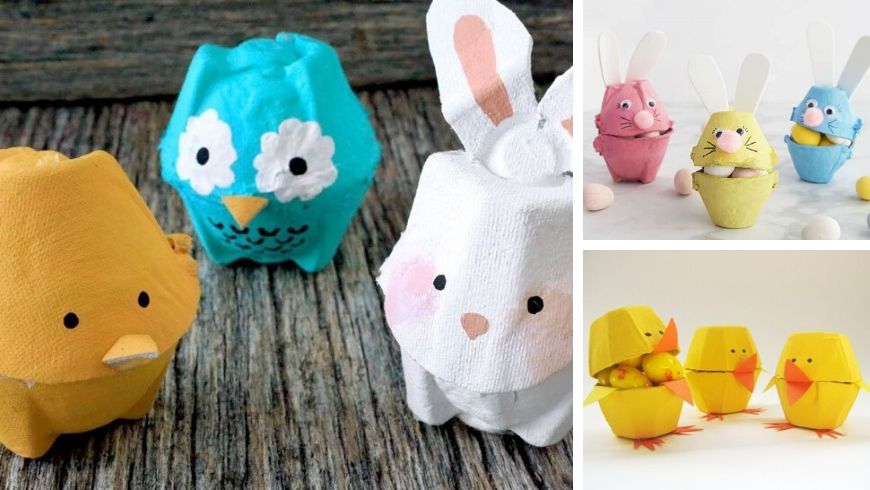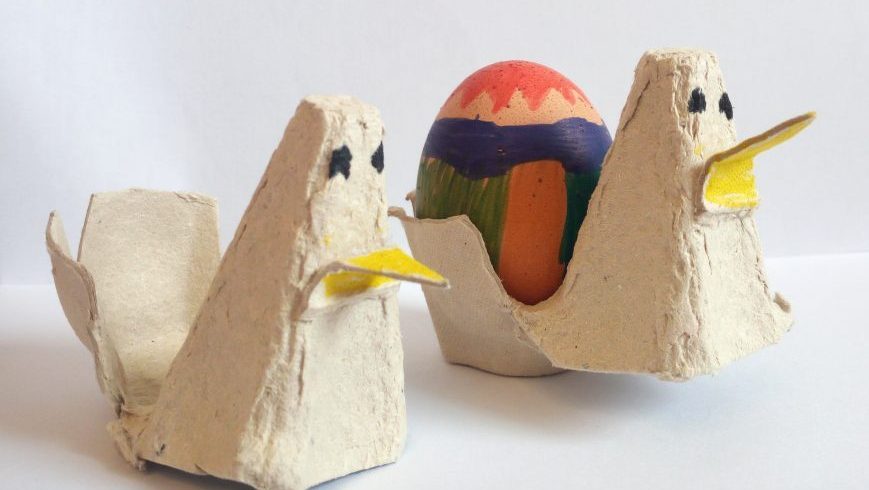 2. Egg Shell Plants and Herbs
Nothing does more spring than having flowers on the table. We came up with an easy idea for unique placeholders. First of all, you should wash carefully the eggs you intend to use. Once they dried, you can fill them with soil and the flower or herb that you love the most. Use a toothpick to hold your guest's name. Please mind not to throw them away when dinner's over! Plant them in a vase, to let them grow and flourish in your garden. A really green way to do some Easter decorations!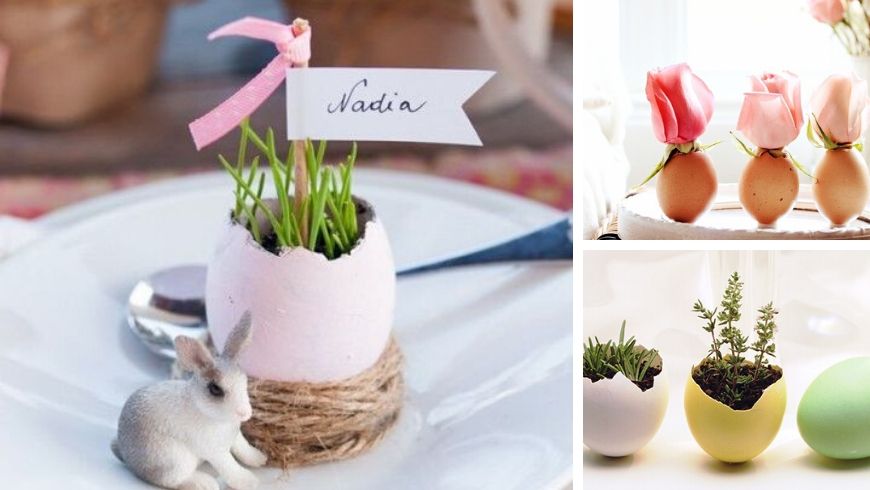 3. Decorated Mason Jars
Are you one of those who never throws away any jar? Join the club! Now here's the chance to give them new life. Arm yourself with colours, whether they are acrylic or paint, anything you already have will work. Think about the funniest animal and paint it on your jar. Nothing easier! Your little glass pets will be perfect to store sweet candies, or as vases for gorgeous fresh flowers.
4. Toilet Paper Roll Bunnies
Here it is, finally, an evergreen among Easter decorations, it couldn't be any greener indeed! Collect all the toiler paper rolls that you can find around the home. Gather what you have at hand: colours, coloured pieces of paper, pens, buttons and scissors! Cut two strips out of the paper roll, so you can use it as the bunny's ears. And then, go creative with your kids by making the funniest bunnies!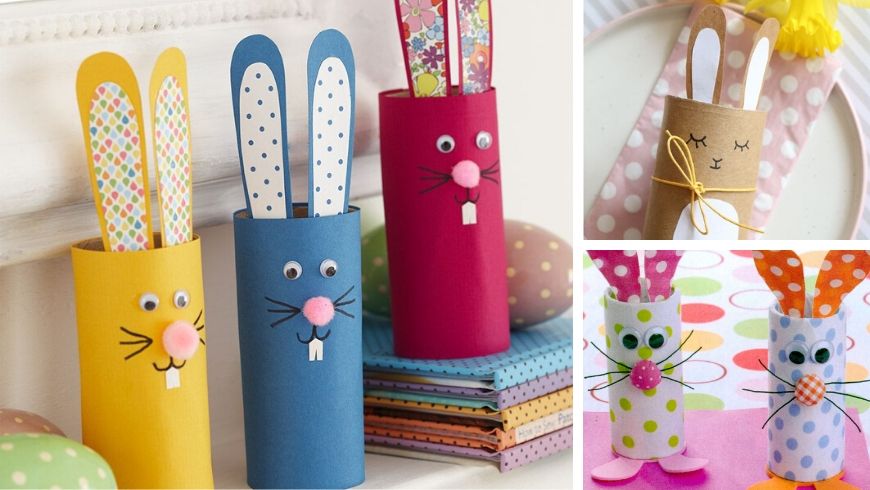 5. Candles in Eggshell
More than Easter in a nutshell, let's say Easter in an Eggshell! This Easter decorations idea suits better people packed with patience. Have you ever lighted a candle and kept the wax once it went out? Or maybe you are a candle-lover and bought too many! Here's their chance to let them bright: melt all the wax together in a pan, slowly. While it melts, you want to clean carefully an eggshell. Then, pour the wax inside it, wick included. There you go a unique centrepiece to make your Easter brighter!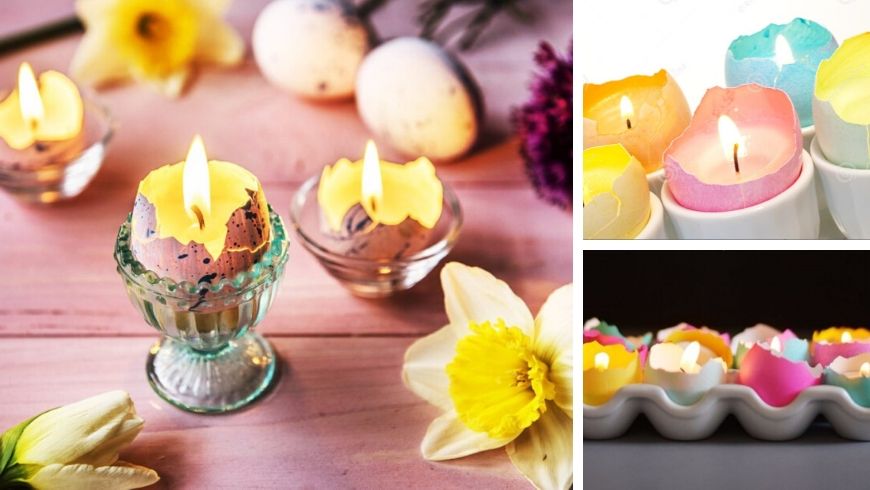 6. Burlap Bunnies
It is true – no bunnies, no Easter! If you are looking for a decoration that can be used even after this holiday, these burlap bunnies are the answer. Find some burlap – or any fabric you have at home, scissors, a ribbon, a thread and a needle. It's easy: cut two identical rectangles, then on one side cut a large "V" to create the ears. At this stage, sew all other sides together, in order to create a little bag. You can fill with things of your choice (rice, beans) and if you want to add some essential oils, then they can perfectly work as closet scenters, not until they impressed your guests!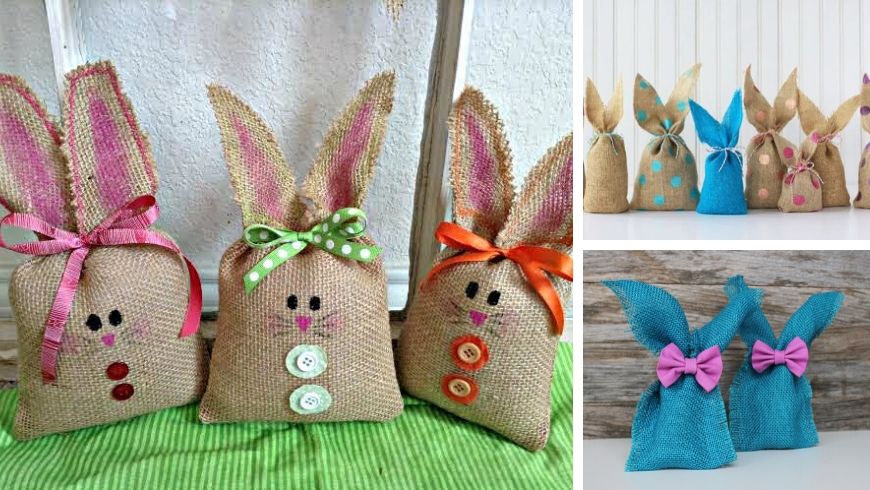 7. Umbrella Door Wreath
New Year, but old Wreath! You always use the same door garland, don't you? Come on, let's change habits. Be original – and eco-friendly! Amaze your friends already on the doorstep with this simple but effective DIY wreath. Take an umbrella, also a broken one that you were likely to throw in the garbage, adorn it with a ribbon, but the guest of honour will be a splendid bouquet made of the best seasonal flowers. Hang it on a hook to welcome your Easter with style.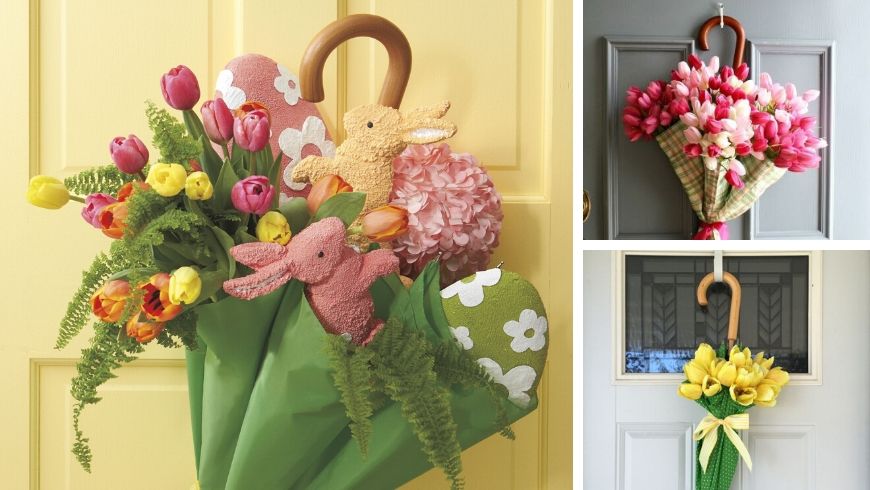 8. Yarn Easter Eggs
The store ran out of colourful plastic egg decorations? No worries at all, here's how you can make your own. And maybe better than the store-bought ones! Take all your twines and yarns and give them another shot. Another super fun idea to do with your kids. Blow up some small balloon, just to resemble an egg. In a bowl mix some glue and water, then take your yarns. Dip it in the mixture of glue. Now you should roll it up around the balloon, here you can find the detailed steps. Let it dry and enjoy your home-made unique Easter eggs!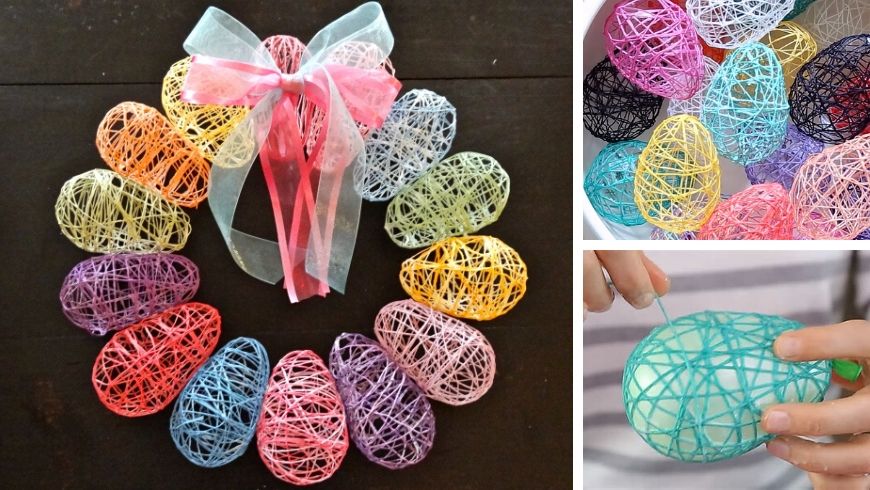 9. Wooden Centerpiece
If you call yourself a popsicle lover, then I guess you will own plenty of sticks somewhere in your home. Actually, you can use any piece of wood you can find. The more we recycle the better it is. Arm yourself with a hot glue gun and shot your wooden pieces. Paste them all around an old vase and keep on until it's all decorated. Finally, don't be shy with the flowers – fill it! Here it is, your rustic and hand-made Easter centrepiece.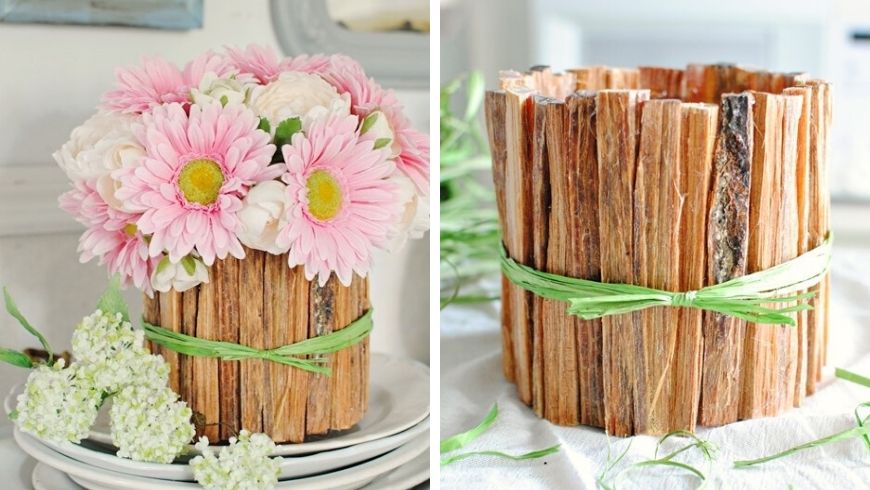 10. DIY Chocolate Eggs
We could not leave you without a sweet ending. Make your Easter lunch a true green beauty, just as much as your home! I am sure that during this holiday your home will be chock-full of any chocolate type! Melt them all together in a bowl. Mind that you will need egg-shaped moulds: fill them with the melted chocolate, remove the excess and let it dry. Anyway, here all the steps are better explained. Enjoy your Easter with a taste of sweetness!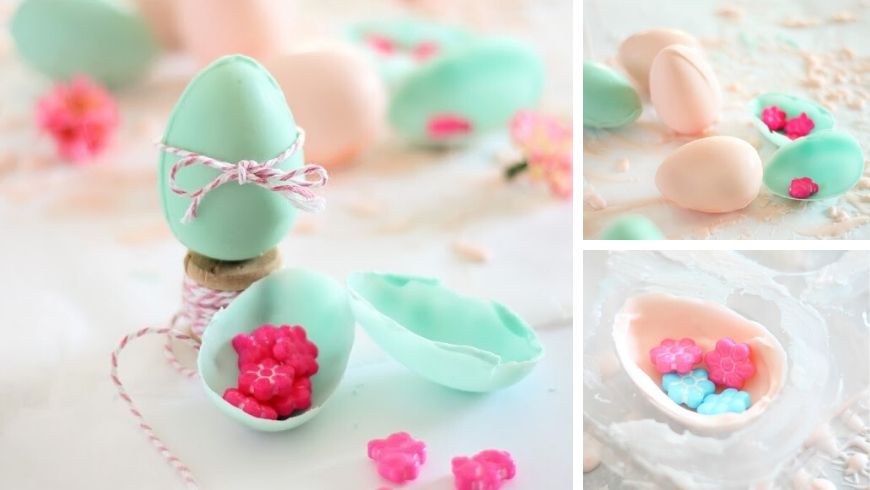 Easter Holidays are always a happy moment in our life. We strive to make the best of these spring days spent with the ones we love the most. Let the fantasy flow, looking for and learning new ways to recycle those objects that we would otherwise throw out.
Did you like any of these decorations? Have you already tried any – or, do you have some more creative ideas? Let us know! So that we can spend this Easter a little closer. We wish you all a happy and eco-friendly Easter!