The first Italian national day dedicated to the great poet is near. Well yes, in January the Council of Ministers, on the proposal of Dario Franceschini, decided to set up a day in honor of Dante Alighieri, dated March 25th. On this occasion the Minister of Cultural Heritage reminded us that "Dante is the unity of the country, Dante is the Italian language, Dante is the very idea of ​​Italy".
The date was not chosen at random: most scholars in fact consider March 25 to be the beginning of the poet's journey into the afterlife of the Divine Comedy. This is an important choice, to remember Dante's genius in Italy and in the world; also made in view of the celebrations of the 700 years since his death which will fall in 2021.
Walking around Italy in the footsteps of Dante
Waiting to discover all the events of the first national day dedicated to Dante, which will involve above all schools, students and cultural institutions, we can only advise you to celebrate Dante and his masterpieces in the way we like the most: traveling. The works of the great poet and the Italian territory are in fact interconnected. There are places that inspired him, places made famous by his verses and still the places of his life and political events of the time.
There is his beloved and also hated Florence, with his birthplace home that has become a museum, the Santa Trinità Bridge where perhaps he met Beatrice for the first time, there's the stone where the says he loved to sit and think. Then there are the places of his exile, in the Casentino area. You can also discover them on board a train, which runs through the pristine landscapes of the Tuscan-Romagna Apennines, traveling between Florence and Faenza. In the heart of the Casentino Forest National Park there is also the Acquacheta waterfall, which inspired Dante for the waterfall of the infernal river Flegetone.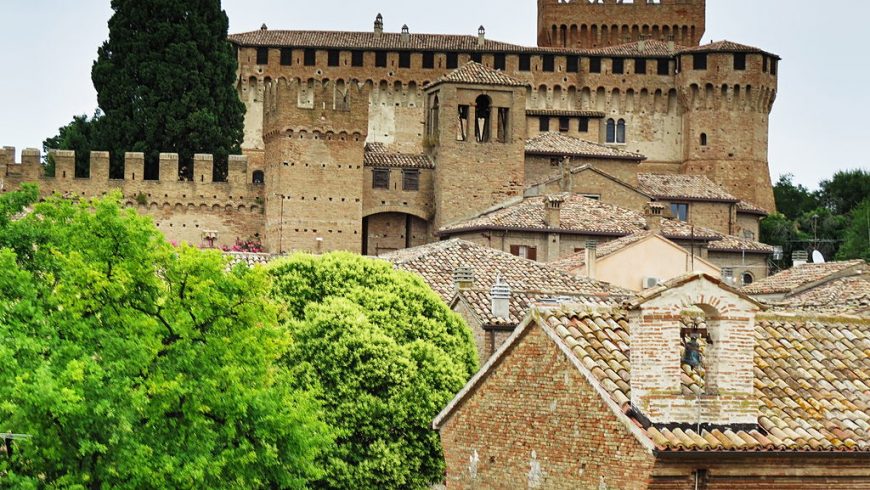 You can visit the Gradara Castle, which was the backdrop to the tragic love between Paolo and Francesca or the Dante's ruin a few kilometers away from Rovereto. The city of Ravenna is a must. Here the great poet ended the Divine Comedy and spent the last years of his life.
Dantedì is the perfect opportunity to discover Italian places and landscapes following the footsteps and words of the poet.
Cover photo © Clément Bardot / CC BY-SA (https://creativecommons.org/licenses/by-sa/4.0)