Ecobnb is among the recommendations of the famous British newspaper The Guardian for your Sustainable Holidays in Europe in 2020
"20 of the best sustainable holidays in Europe for 2020″ is the title of the article published in The Guardian on December 26, 2019.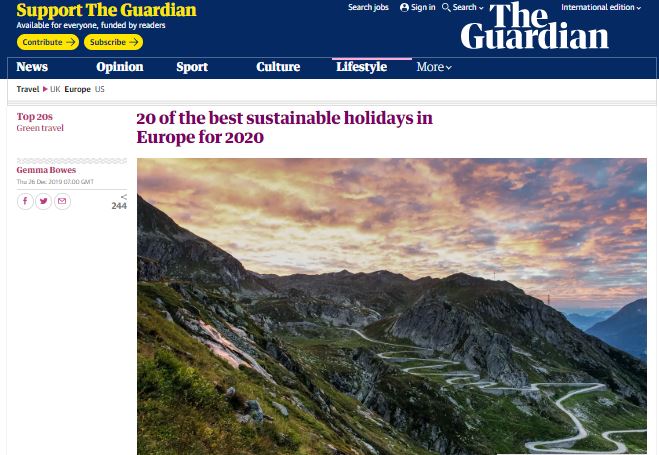 The article lists the 20 best green destinations in Europe to visit in 2020. Among these numerous places, there is also Tuscany, with new eco-friendly hotels promoted by Ecobnb. More and more people are looking for sustainable travel experience, so the choice of accommodation is extremely important.
In the section of the article about Tuscany, The Guardian suggests relying on Ecobnb to search for green structures that respect nature and allow travellers to reduce the environmental impact during their holidays.
Among Ecobnb's sustainable accommodations in Tuscany, The Guardian recommends above all:
Glamping at Podere di Maggio
Podere di Maggio eco-friendly glamping, near monte Amiata, Tuscany
Glamping Il Sole
Agrivilla I Pini
Agrivilla I Pini
B&B Paradiso 4
The treehouse at Glamping il Sole on a farm in the Maremma hills. This is a perfect place to immerse yourself in nature, and taste fresh products and a zero km of the "Pietra Serena" farm, directly from the fields to the table.
The glamping site and farmhouse Podere di Maggio, in a pristine valley near Grosseto, with hot springs and Tyrrhenian beaches nearby.
The eco-sustainable B&B Paradiso n.4 in the historic center of Siena. Housed in an ancient building, it offers guests delicious zero-kilometer breakfasts. In addition, it has a particular attention to the elimination of plastic and the use of ecological detergents and cleaning products.
Agrivilla I Pini, close to the medieval village of San Gimignano. This ecobnb offers vegan menus based on local products, organic wine, a natural swimming pool with salt water, and ecological furniturished rooms.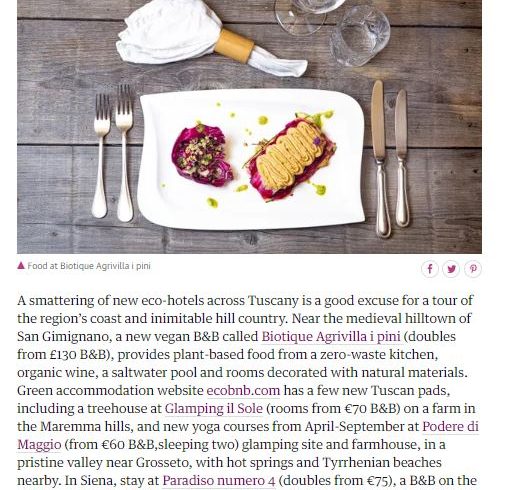 Choose from over 3000 ecological accommodations and live an authentic experience respecting nature and the environment with Ecobnb!
Read here the full article on The Guardian