Traditionally, weddings have always been linked with abundance — big budgets, extravagant menus, and opulent decor. Over the past two decades, studies have shined a light on the average 400 pounds of garbage per wedding in the US. The industry itself is now tapping into a couple's eco-awareness with everything from farm-to-table dining to vintage wedding wear.
We've gathered the top ways couples are lowering carbon emissions in 18 creative ways.
A Green Guest Experience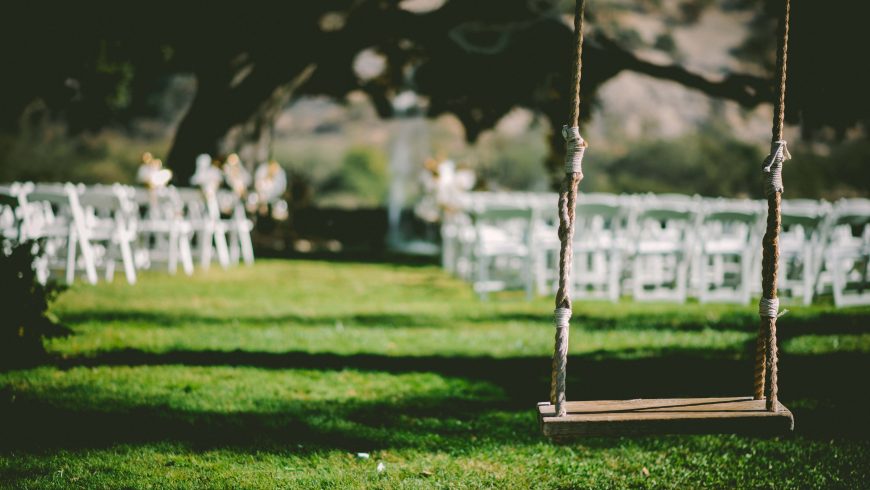 A green wedding venue means more than a LEED Certified building and healthy waste disposal practices—though this is a great starting point. Eco-conscious couples are considering a guest's travel and celebratory experience to keep their emissions numbers down:
Minimal Travel: The further the destination, the more airline tickets required. Couples are opting for venues local to the majority of their guests for a smaller footprint. On-site housing additionally keeps guests low key and low on emissions.
Dual Venues: Holding your ceremony and reception in one space cuts down on decor, transportation, and even wedding stationery. Keeping it simple is beneficial for couples and the planet alike.
Support Local Vendors: Weddings that choose local vendors for flowers, favors, and food both cut down on travel emissions and celebrate ethical labor practices.
Smarter Fashion Choices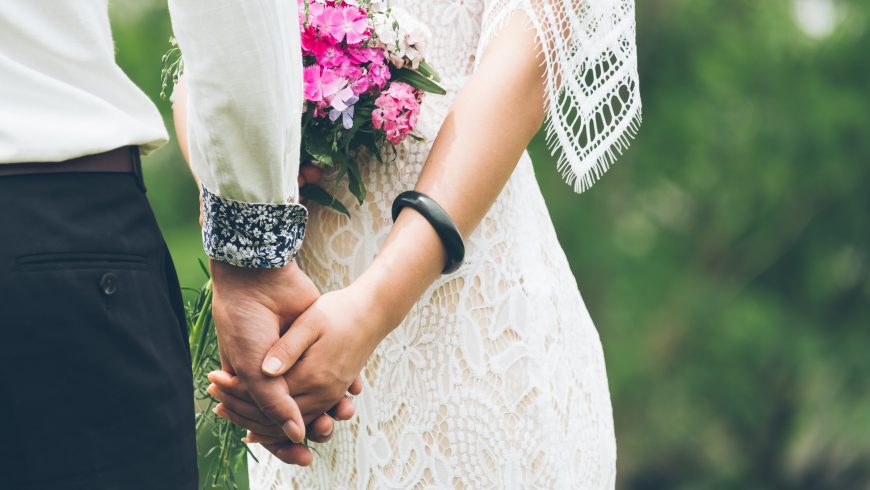 Eco-friendly wedding wear means avoiding "fast fashion" options that use unethically sourced materials and labor. Many wedding dress designers are concocting new ways to keep couples comfy and eco-friendly as they march down the aisle.
Vintage Wear: Vintage never goes out of style, especially when incorporating that era into your wedding theme. Couples are hunting for dresses, suits, and accessories from family and shops that reuse and repurpose.
Ethical Rings: With so many small, sustainable options today, there's no reason to opt for a diamond or stone sourced in an unethical way.
Rented Wear: Rental dress and tux companies provide brief windows for wedding parties to look stylish without adding something else to their closet.
Ethical Cosmetics: Vegan cosmetics are on the rise across the beauty industry. Since couples only want the best on their big day, these brands are garnering lots of attention.
Earth-Friendly Food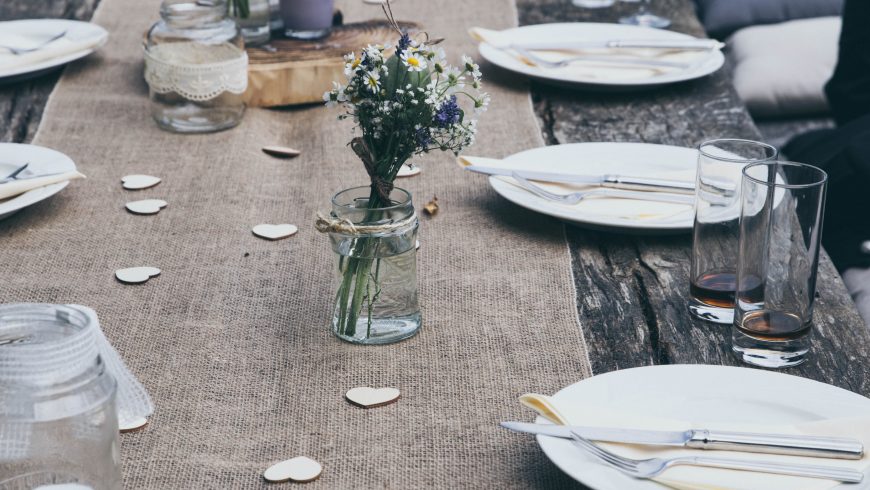 The eco-conscious movement is even changing up the quality and selection of wedding food. Farm-to-table options excite guests, especially when they're told about the locally sourced ingredients.
Disposal Plan: A 2017 study found that the average wedding tosses 10% of its food. With smarter menus and a plan for leftover donation or to-go boxes, couples are looking to cut this number down significantly.
Ditch the Platters: Grazing tables are table center stage at weddings, decreasing unnecessary dishes or disposable platters to separate the food.
Organic Spirits: Craft beer, spirits and wines are the way to go for an eco-friendly bar that cuts down on next-day hangovers.
Local Caterers: Caterers that advertise themselves as farm-to-table often also have a plan for disposal, meal planning, and eco-friendly sourcing.
Green Decor Ideas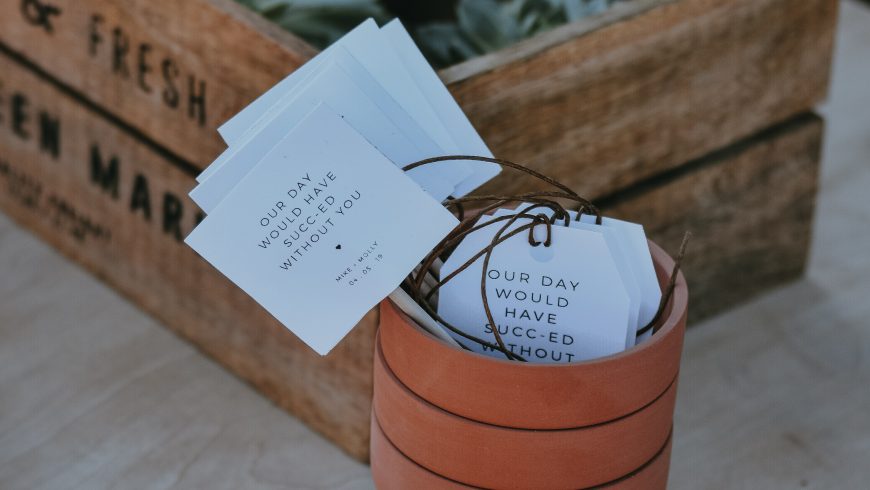 The more decadent your venue's architecture, the less decor necessary to showcase your style. Couples are holding more weddings in gardens, forests, and ornate architectural landmarks, cutting down on the need for additional lighting, floral, and decorative items.
Seasonal Flowers: Choosing locally grown flowers takes advantage of blooms grown naturally each season without having to request shipped varieties from further away.
Scrap the Favors: Wedding favors are changing, if not going away altogether. More couples are opting for edible wedding favors like local treats or handmade items.
Opt for Potted Plants: Fresh flowers often head right to the trash after a wedding. Potted plants in your centerpiece encourage the couple and guests to take the plants home to continue their life in the ground.
Rented and Vintage Decor: There's no reason to use brand new vases, linens, or ceremony decor for one day. Renting or repurposing thrift store items cuts down on waste and trims a large budget.
Eco-Friendly Ceremony Ideas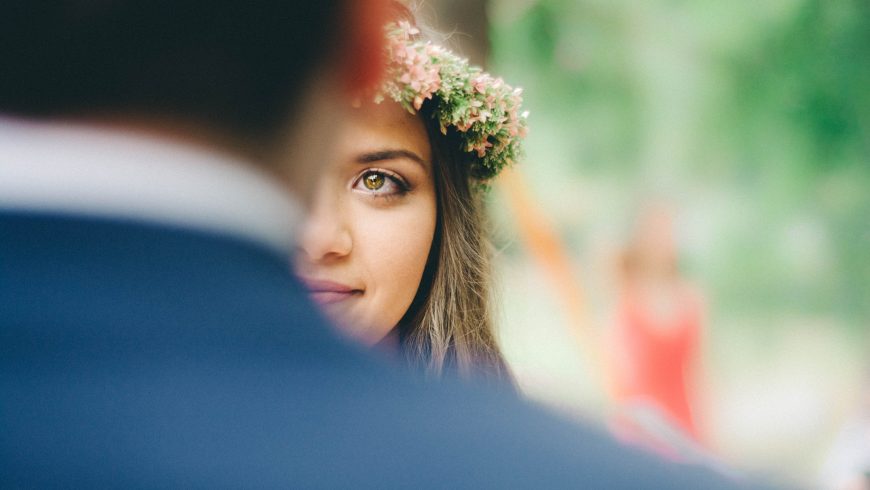 The ceremony itself can embrace simplicity and nature just as much as the celebration. Check out these tips for keeping your vows green.
Reduce Paper: Instead of handing out individual programs, consider one sign at the entrance of the ceremony that directs guests on what's to come.
Design a Green Sendoff: Venues rarely allow confetti or rice send-offs to reduce waste and cleanup. Consider something already present on the ground, like leftover sprigs of greenery from your floral arrangements.
Offer a Shuttle: Both guests and the planet will thank you for provided transportation from the ceremony and reception space. Doing so discourages individual drivers and parking complications.
The opportunities for a green wedding celebration go beyond the big day itself. Everything from designing a wedding website to cut down on paper to building an eco-conscious wedding registry can decrease the need for shipping, waste, and high costs. An earth-friendly wedding day allows couples to celebrate knowing that they're part of a growing green movement.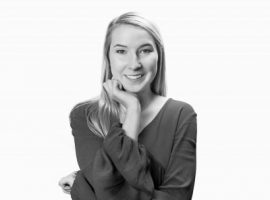 Author bio:  Amanda Tallent helps create content for Zola to help couples plan weddings that reflect the unique love they share. From eco-friendly wedding ideas to seasonal flower guides, these tips help couples focus on what really matters—each other.