Holiday home Enchanting Hill is not only the best eco-friendly accommodation in Continental Croatia but also in Croatia in general. Instead of competing with ''ordinary copy-paste accommodations'', they decided to take another strategy that emphasizes their authenticity and green lifestyle. A massive effort for sustainability makes them undoubtedly eco-heroes. In this interview, Mrs. Romana Kranjčić – a passionate eco-friendly owner is revealing the secrets of their success.
Q: What motivated you to join the green revolution in tourism?
 A: My husband and I are both vegetarians for more than 25 years and our son from his birth. We are all continuously practicing yoga. Gandhi's quote ''be the change you want to see in the world.'' is our family's philosophy. Because we love all living beings and respect Mother Earth, we've decided to buy an abandoned estate, only 7 km from the city of Varaždin. On this estate, there was also one old house in the traditional design of this area, completely immersed in nature.  Even though the house didn't have water and electricity at that time, it had an indescribable charm that inspired us to put our philosophy into practice.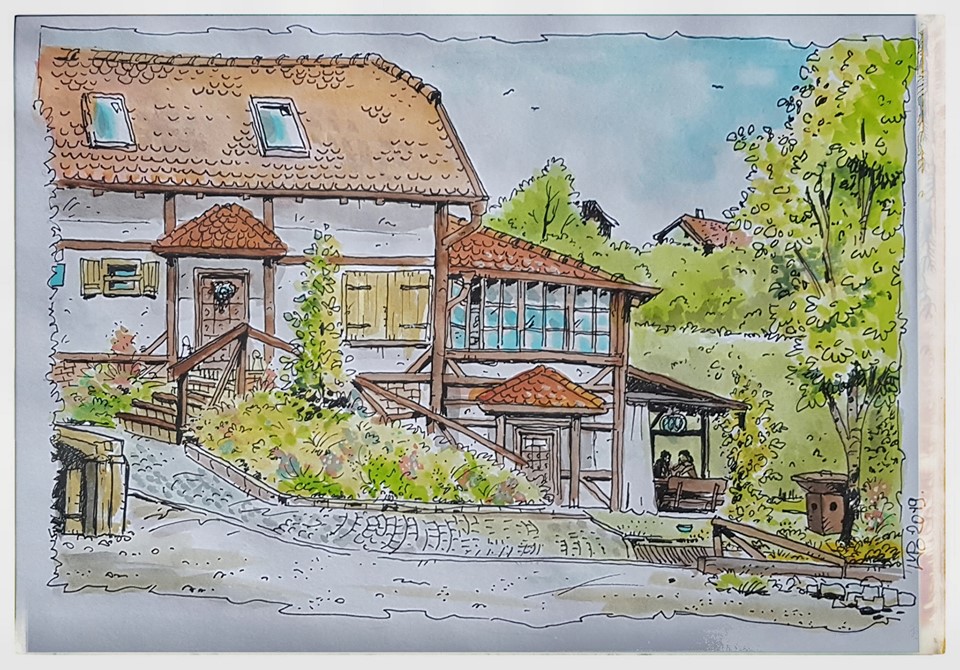 Q: What makes holiday home Enchanting Hill so unique and special?
A: We decided to preserve the traditional exterior design and combined it with Vastu Shastra concept in architecture. Vastu Shastra is a traditional Indian Science of Architecture which guides the construction and design of buildings with the natural and simple laws of the universe. Vastu's origin can be traced back to more than 5000 years.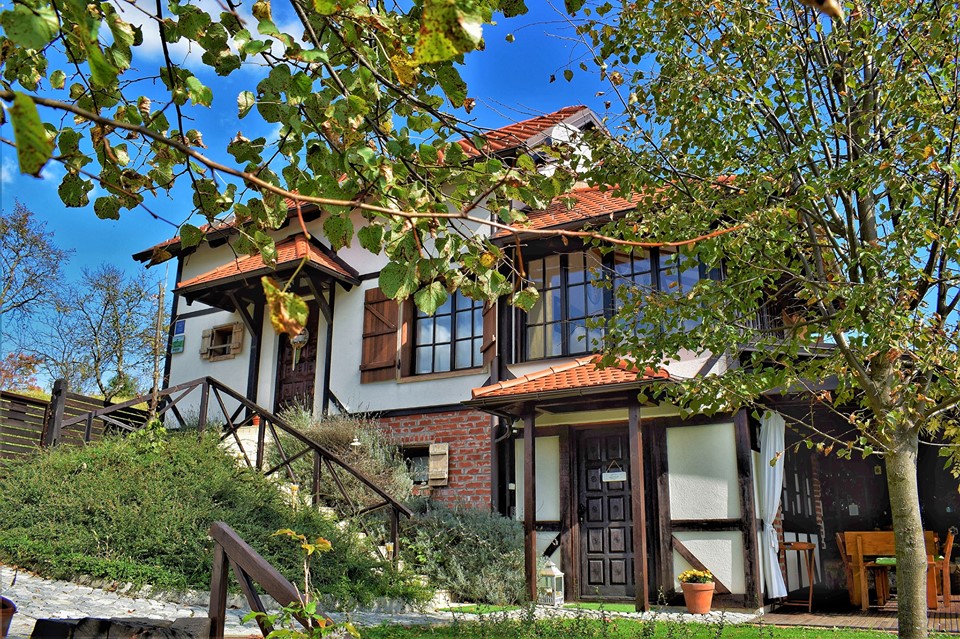 In 2008, when we've bought this land, Vastu was yet unknown science of construction in our country.  Today it is a growing trend because of the positive effects it brings upon one's life. This positive vibe can really be felt all over the house. When we decided to enter the tourism market, sustainable tourism was the best fit for our sustainable lifestyle 24/7. Next to the house, we've planted an organic orchard and every year we are also planting new trees because we are aware of the true value they provide.
Q: Which sustainability standards have you implemented?
A: We are all passionate about recycling, secondhand furniture and making creative DIY decor. The majority of the closets were thrown away; we've even picked the crystal chandelier from trash! I find it interesting how hosts irresponsibly threw away precious pieces of old furniture while renovating, and replaced them with soulless models that could be found all over the world, due to a few giants in the retail industry.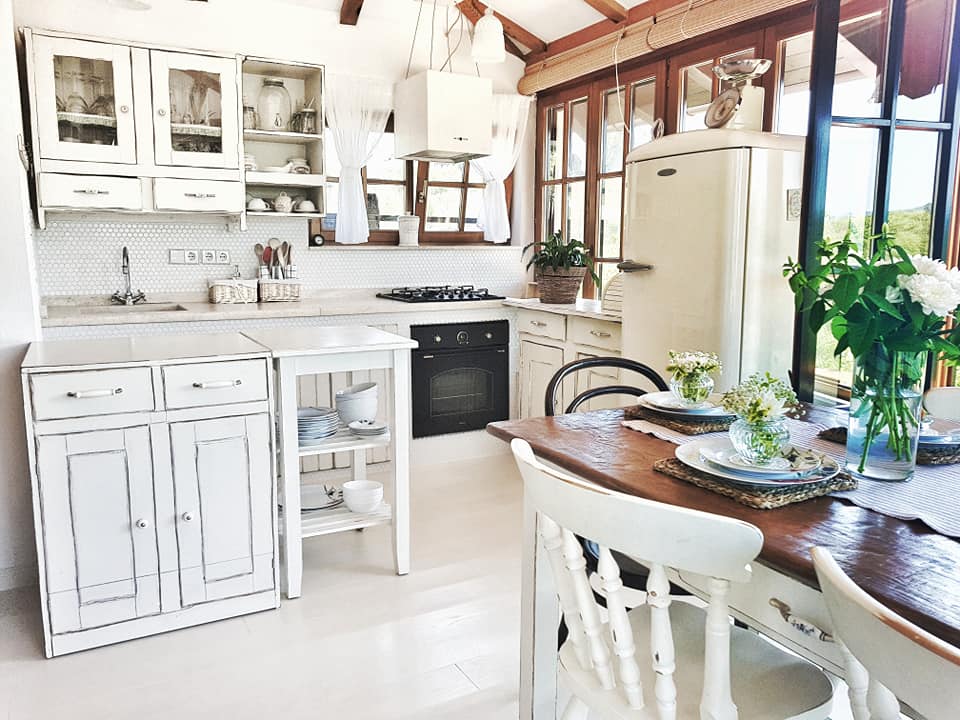 This makes Enchanting Hill very special and unique, because recycled furniture is made out of natural materials and holds a soul, plus it is all hand-made by my husband. The house has very good insolation in order to save the energy for cooling down during the summer and warming up during the winter.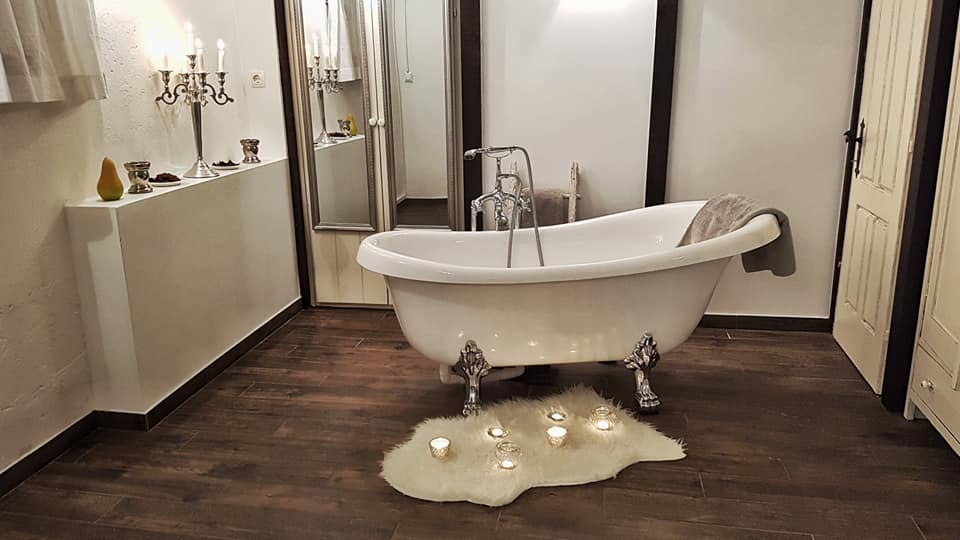 We have a 40m2 large swimming pool and the pool water is heated by the solar panels. It is suitable for guests with skin allergies because it doesn't have chlorine. Instead, we are using an electrolysis system for water disinfection. In a charming wooden cottage between two linden trees, we have a spa zone with sauna and eco-friendly Jacuzzi which is also chlorine-free.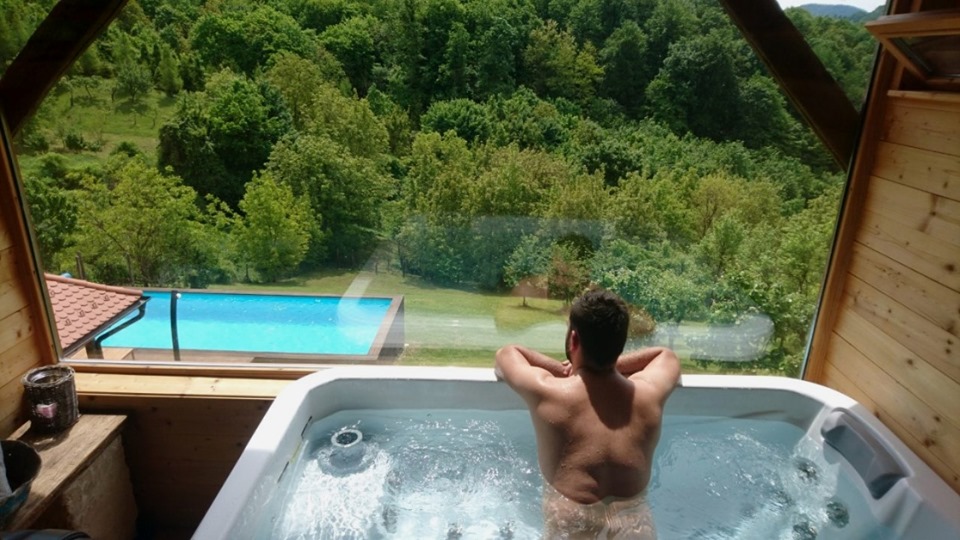 We are using only the certified washing and cleaning products from natural ingredients that are skin-friendly and we fully support our Croatian brands.
We even have organic soaps from packaging that grows! Instead of countless shampoo plastic bottles that end up in the garbage, we are planting seed paper and growing flowers. 
Ecological cleaning products for guests with skin allergies. Source: Pero.bio
Natural soaps with packaging that grows. Source: Silvan.hr

Q: Which green itineraries in your surroundings do you recommend?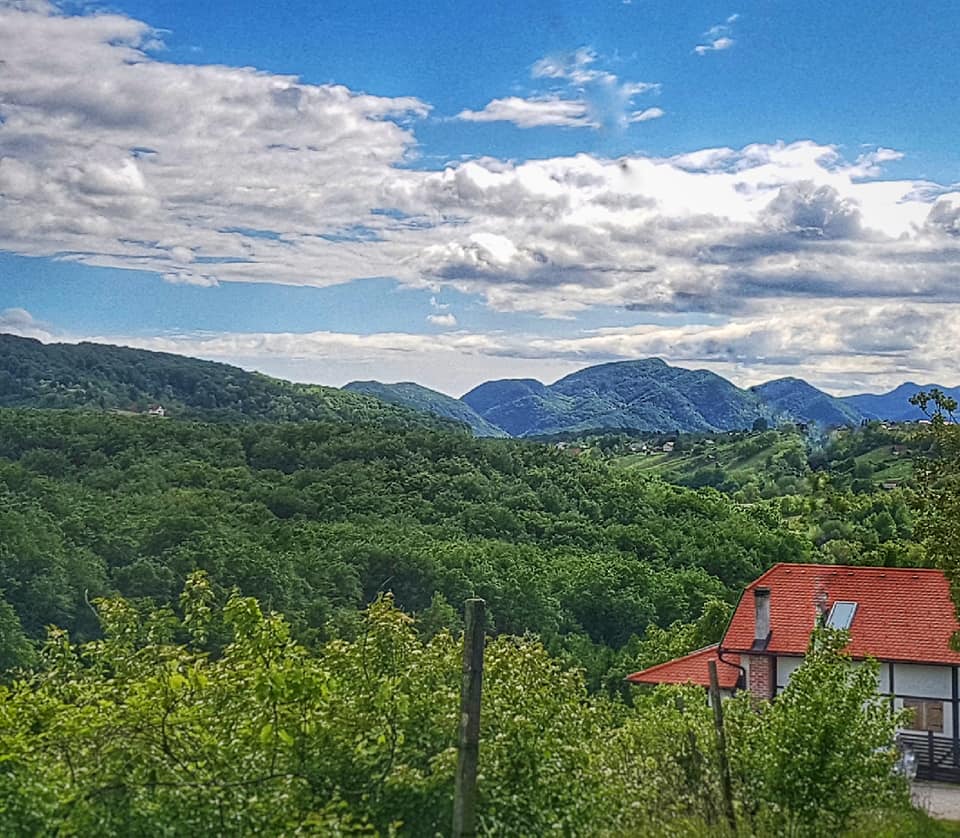 A: Our guests can discover some of the bike trails in our surroundings. Enchanting Hill is located in a hilly area, close to Ivančica – the highest peak of northern Croatia. There are countless possibilities for hiking, walking, jogging, meditation, forest bathing, birdwatching, picnics in nature, etc.


Q: Please share with us what guests appreciate the most while staying at your place?
 A: Our guests appreciate pure nature and peace because it allows them to re-connect with themselves. They also adore the authenticity of our interior design, based on recycled natural and organic materials. Our secluded estate is providing privacy and the most enchanting views. From every corner, you can see the vibrant green colors during the spring and summer, the playful colors of the autumn and pure white during the winter. Enchanting Hill is also a great location for romantic stargazing, as it is located far from the light pollution.




99% of our guests arrive with dogs, which makes our property a dog-friendly paradise. Your dog too can spend a dream holiday on Enchanting Hill, thanks to more than 4000 m2 of the property available for carefree exploring, sniffing, chilling on the sun or in shade. Our property is fenced and thus free from cars, hunters, and pesticides. The best review we get is the fact that dogs don't want to leave Enchanting Hill at the end of their holidays.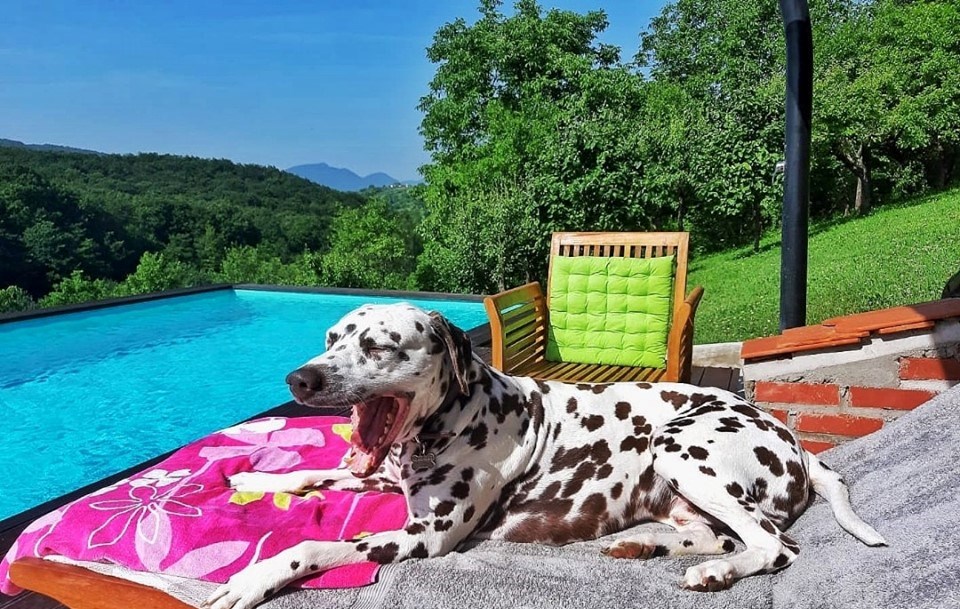 Q: What is the secret for being one of the top eco hosts in your country?
A: We always pamper our guests with home-made desserts; top-quality local wines and recommend the most trustworthy restaurants nearby with healthy menus from local ingredients.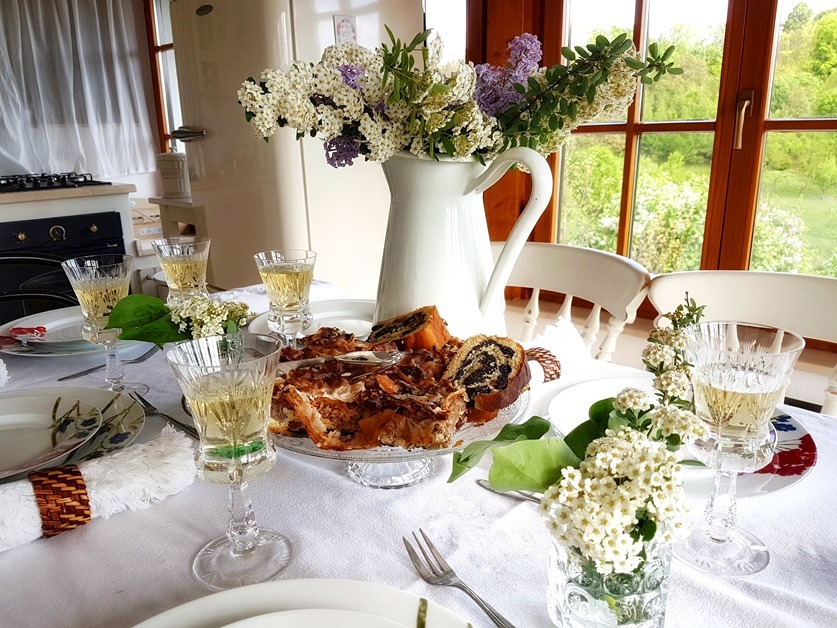 Before departure, we give them gifts, such as home-made jams from organic fruits and hand-made decorations filled with lavender from our estate. We want our guests to stay connected with Enchanting hill through tastes and smells long after they return back home.


Q: What does it mean for you being a part of Ecobnb's sustainable community of authentic eco-friendly accommodations?
A: In the beginning, we were joking that guests don't choose Enchanting Hill, but instead Enchanting Hill chooses them. After 2 years of working in the eco-friendly hospitality market, we realized that this wasn't a joke. We have managed to attract the ideal guests to our place, with whom we can share the same philosophy, values and nurture our friendships.
Holiday home Enchanting Hill was the first vacation house with a pool in this area. Today, there are more than 30 with continuous growth, but we remained the only one 100% dedicated to sustainability. We see ourselves as eco ambassadors for the greener future of our Planet.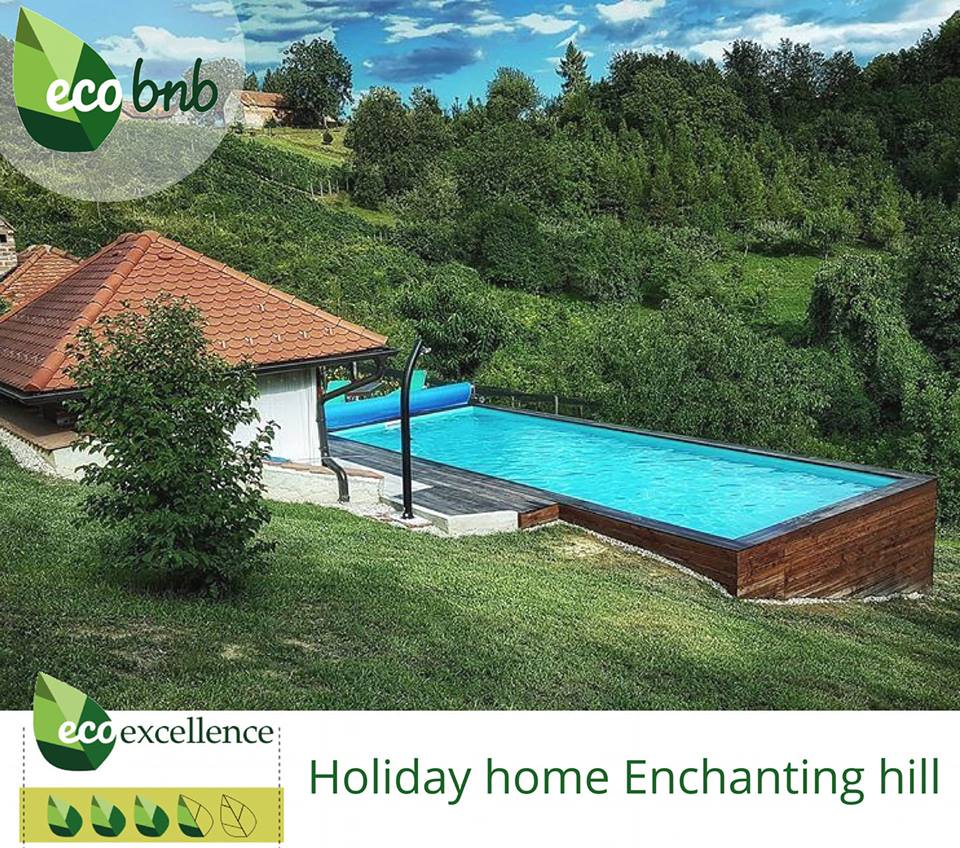 We feel proud when our guests emphasize how they never perceived Enchanting Hill as a holiday accommodation rental. Instead, they feel like it is their home. One sweet couple once left us a note: '' The ones that light up other people's lives, never walk in darkness.'' With this philosophy, we want to inspire people all over the world, to join us in our green paradise.
Inspired for enchanting holidays in Continental Croatia?
You can enjoy in Holiday Home Enchanting Hill all 4 seasons! Follow their special offers for pet-friendly holidays. No matter who you are – a burnout executive, romantic couple, a loving family or a group of ladies in search of women's retreat – pamper yourself and book your stay NOW!