Calabria holds a little known naturalistic and cultural jewel: "Riviera e Borghi degli Angeli". We want to tell you about it, to help you choose a slow but purely authentic touristic experience.
Did you know that 2019 has been declared slow tourism year? Yes, it has. If this kind of travel is always a good idea, even more it is this year! We want to tell you about a place which is perfect for a slow and uncommon touristic experience: Riviera e Borghi degli Angeli, in Calabria. An authentic and pure land, with four naturalistic dimensions, with breathtaking views and hidden corners.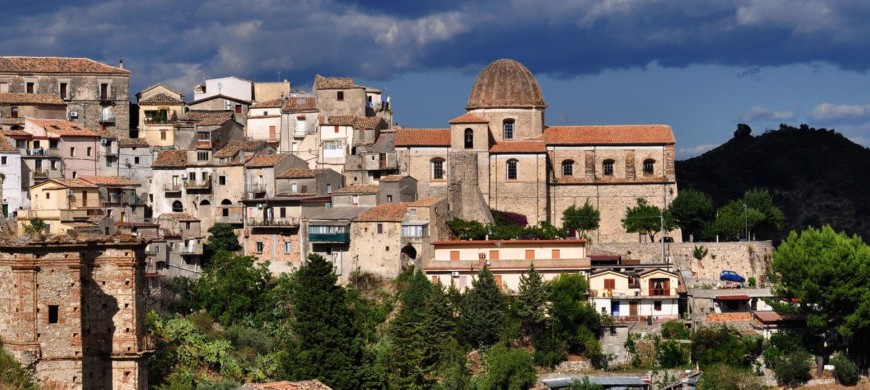 Riviera e Borghi degli Angeli
We are on the south-eastern coast of the Calabrian Ionian Sea, between Catanzaro and Reggio Calabria, on the tail of the Gulf of Squillace. The itinerary of Riviera e Borghi degli Angeli is unexplored, it runs through villages, heights, streams and beaches. Here we have the four naturalistic dimensions that we mentioned: sea and beaches, mountains and natural parks, lakes and rivers, hills of ancient olive groves and medieval villages.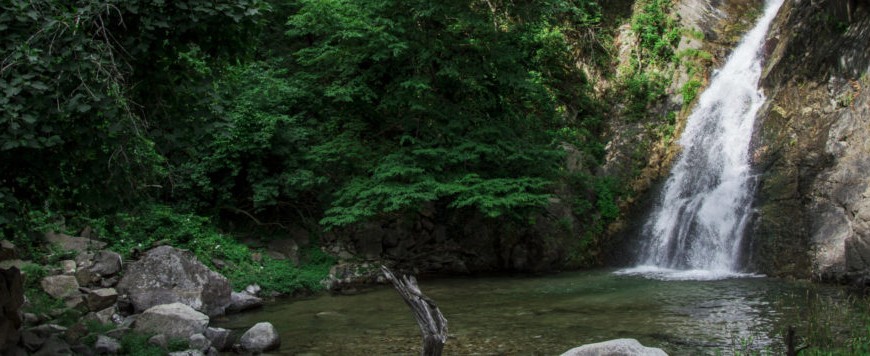 Hundreds of kilometers that wind between the hinterland and the coast, to live the authenticity of Calabria. How? By discovering a large part of its artistic, cultural, religious and food and wine heritage, surrounded by a natural landscape, equally valuable, unique and unpolluted. Riviera e Borghi degli Angeli is also a virtuous example of enhancement of the territory through initiatives that start from the bottom, involving small operators. The aim is to offer an integrated and diversified touristic experience, but most of all to encourage the discovery of those locations of our Bel Paese that are still unexplored, as opposed to mass tourism that increasingly distorts the places.
Slow tourism between sea and mountains
This corner in Calabria is special as it mixes perfectly a crystal clear sea and a wild hinterland.
Riviera's beaches join a wonderful, natural seafront of 150 km, that broadens from the Copanello-Caminia promontory (Catanzaro) to Capo Spartivento (Reggio Calabria). A breathtaking coast that crosses the famous city of Soverato and leads to the ancient natural door of Magna Grecia, the region's most southern point.
The harmonious contrast between white sand and blue water creates a suggestive frame for the loggerhead sea turtles' natural habitat, and you can also see dolphins and seahorses not far from the shore. The beaches are never crowded, but most of all they are absolutely unpolluted.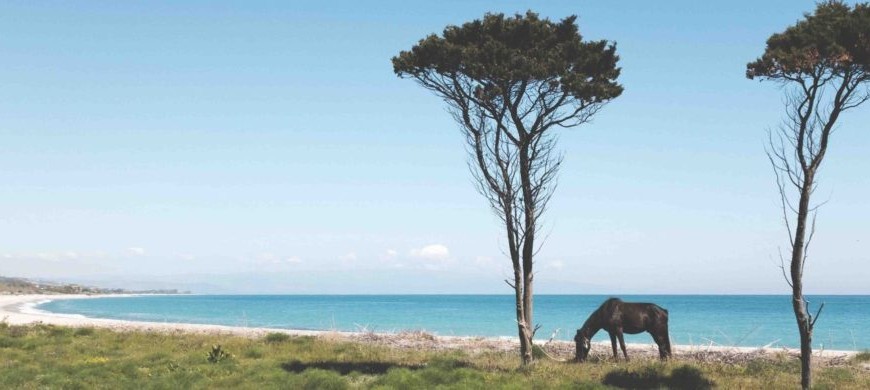 For those who love mountains, you will not be disappointed. The area of Riviera e Borghi degli Angeli pass also through the Serre Regional Natural Park, a protected area included within the Calabrian Apennines. It extends to the slopes of Aspromonte and the highest peak is Monte Pecoraro (about 1400 meters). Natural caves and waterfalls, archaeological sites, family-friendly adventure parks, and points of interest such as numerous hermitages and the famous Certosa di Serra San Bruno. Through naturalistic trails, trekking and incredible views, the slow experience on the Riviera is also at high attitude.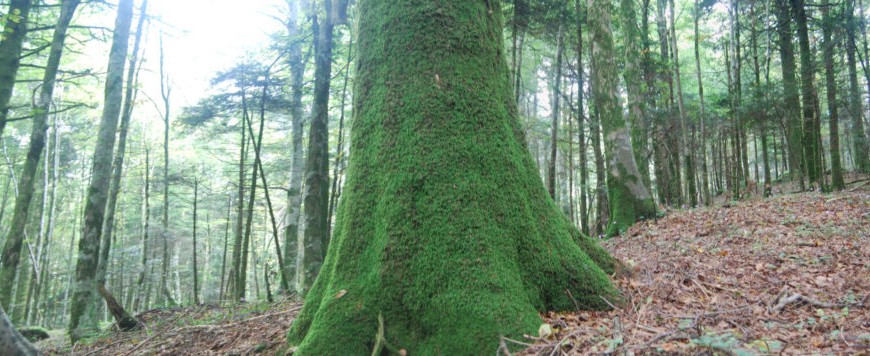 The story told by the Villages
This area of southern Italy tells a thousand-year history. Greeks, Romans, Normans, Arabs, Angevins, Spanish and French Bourbons have left traces of their passage. Borghi degli Angeli are an open-air museum with a permanent and unique exhibition to visit through the narrow streets of the villages born around ancient castles, fiefdoms, churches and monasteries. Some suggestions on urban jewels to visit in the area:
Badolato

, "human destination" and

village

famous for its history of welcome and hospitality, today revitalized by the presence of foreign citizens and interesting tourist-cultural projects;

Monasterace

, on the promontory of

Punta Stilo

, with the archaeological park of ancient Kaulon;

Stilo

, the city of the sun, with its castle and the suggestive

Cattolica

, a small Byzantine church;

Bivongi

, village of longevity, with its DOC wine, with the Greek Orthodox monastery of

S. Giovanni Theristis

and its extraordinary

Marmarico

waterfalls;

Guardavalle

, the village of Cardinal

Syrleto

, set among rocks and cultivated land;

Santa Caterina dello Ionio

, with its ancient rock mills, Byzantine mills and caves;

San Floro

, in the hill of

Amato

, with its extraordinary eco-experience and history of the Cooperative "

Nido di Seta

", with the restoration of the ancient tradition of sericulture and silkworm production;

Sant'Andrea Apostolo dello Ionio

, looking towards the sea and preserving a natural oasis with an exclusive dune on the sandy shore.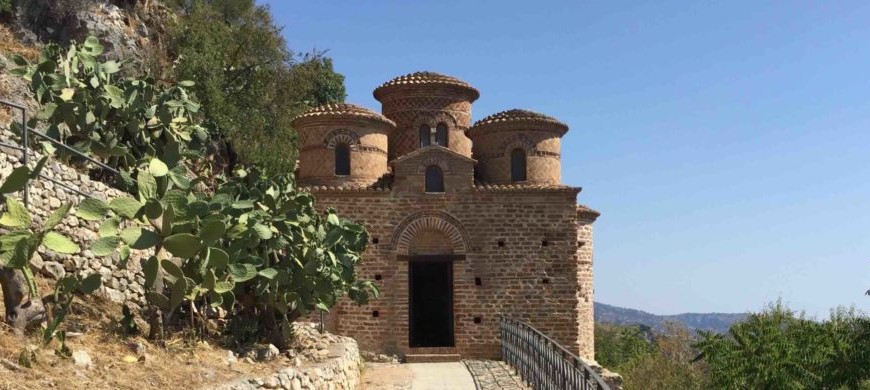 The village of S. Floro
The village of Guardavalle
The
Riviera
of Experiential Tourism
The artistic and naturalistic heritage that can be seen, witnessed by the centuries-old architecture and unpolluted landscapes, is boundless. But Riviera e Borghi degli Angeli is not only this: it is cultural and food-and-wine wealth to be discovered to enrich one's own wealth of experiences. The millennial history of the villages has generated rural and religious traditions and rituals still existing today. The simple charm of the routines of villagers and peasants amazes and it is beautiful to feel part of that everyday life even just for a few days. Participating in the grape or olives harvests, the festivals or religious events of the villages are experiences not to be missed! The typical products and the simple dishes, of country or maritime origin, give even more flavor to everything.
Grape harvest
Typical products
Cooking class
Easter traditions
Is it not enough? No problem: there is no lack of dynamic and engaging activities. In addition to mountain trekking, numerous water sports – and more – are offered to fill the days of tourists. From kitesurfing to bike rides, diving, sport fishing and team sports in dedicated centers.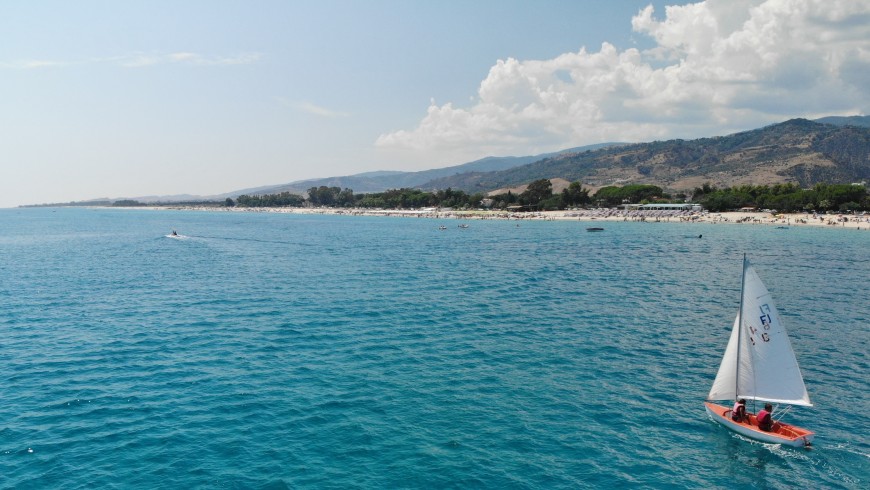 Riviera e Borghi degli Angeli does not lack of eco-cultural experiences. A unique and extraordinary one is that by the Cooperative "Nido di Seta", in the village of San Floro. Here there is an organic farm managed by young entrepreneurs, who are reviving the ancient silk production chain. Indeed, they grow silkworms in a beautiful mulberries ground, from where it is extracted the raw silk thread to be handcrafted later. In San Floro you can have a one-day experience through an emotional path, divided in stages. Starting with visiting the Silk Museum, you'll visit the premises of the Cooperative to find out and live the patient process of growing, extracting and coloring silk, ending with its weaving through ancient looms.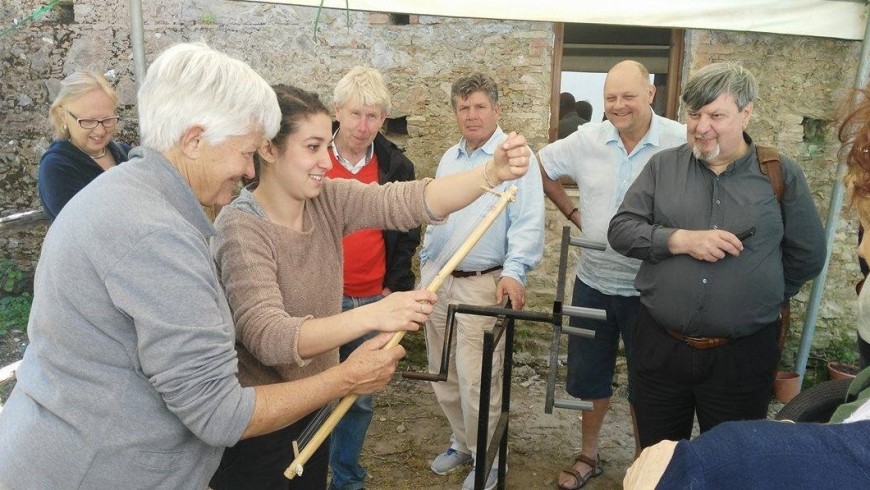 In other words, Riviera e Borghi degli Angeli is an all-Italian jewel that shines with history, nature and culture. Whatever you love to do when you travel, there is: four naturalistic dimensions that are amplified through the five senses. Choosing a slow tourism experience means choosing authenticity. It means giving value to those places where the roots of our traditions are found and being part of the natural and cultural wealth of the truest Italy.
If you want to try it to believe it, choose also to be responsible tourist. Take advantage of one of the many Ecobnb between Catanzaro and Reggio Calabria ready to welcome you to discover this wonderful land!
Cover image: the Ionian Sea from one of the beaches of the Riviera.