Getting someone special a present makes happy us too, doesn't it? It is even nicer when we wrap the gift ourselves because it has that something that makes it more special. Moreover, if the present is a trip, the receiver has nothing else to ask for! No, wait, there's still one missing detail: the trip has to be eco-friendly of course!
No sooner said than done: what you're looking for is an Ecobnb gift card, to get with a couple of clicks and 5 ideas to wrap it yourself!
1 – Use an old book

We all own some books with ruined pages, ripped or stained, that we don't use anymore, but don't want to throw them away either. Well, giving those pages a new life and scope is definitely an idea! This wrapping technique suits well small-sized gifts – just like a card. All you need to do is using some glue on the corners of the pages, decorate the package with a ribbon, some twine or colored application and it's done!
2 – A package with geo-maps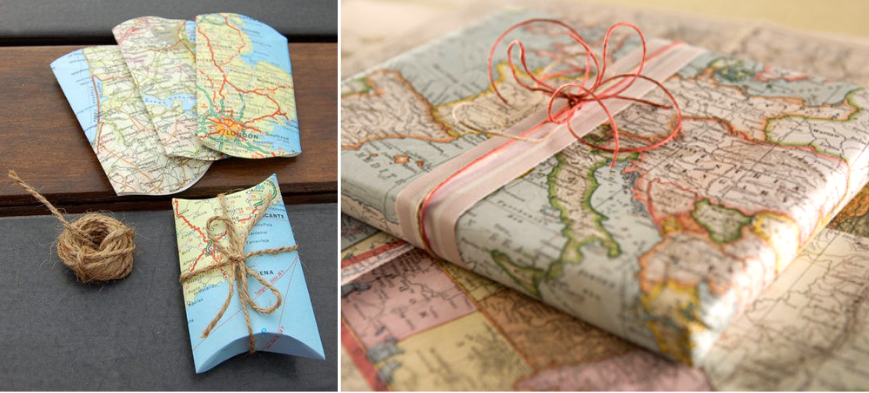 Have you always been travelers? Then before the smartphone, you surely used geographic maps to go wandering or driving. You could use some of those old maps, lying in the drawers, to wrap your next gift. It might be a little spoiler of what's inside, does it really matter? It's creative, colored and definitely more useful than throwing those maps away or make them gathering dust.
You also can do it using newspaper pages, decorated with a colored ribbon.
3 – Handmade giant bow
Source: jamielanedesigns.blogspot.com

A small-sized gift can be embellished with a package that stands out. How to? Add a giant bow on it and you'll gest the desired outcome. It looks demanding but it's actually pretty easy. Cut some paper stripes of different sizes and of two colours (maybe colour and a pattern, as in the pictures above). Make the base of the bow with the 8 largest stripes, taping them together with the double-sided tape. Then use 4 smallest stripes to make the central part. Finally, roll up the smallest stripe and tape it in the centre of the bow. Ready to attach!
This idea demands some more material and you might not have everything at home. But never say "never", leave room for your creativity and you may find a way to personalize this giant bow with what you find in your drawers.
4 – Decoration tags
Source: greylustergirl.com
Source: amazingdiygifts.com
Another idea to decorate a gift wrapped with a simple paper (maybe recycled brown paper) is to use pieces of fabric. Cut some rectangles – or any other shape – from old coloured or patterned clothes you don't use anymore. Make a lot of pieces of different size. Sew or glue them together, add a paper stripe for write a dedication, and there you go!
5 – A surprising Japanese technique
Source: upcyclethat.com

In Japan, a common way to wrap gifts doing it yourself is "furoshiki". Take some dismissed fabrics, maybe light scarves, wrap the object inside them and close it with a knot on a flat side of the surface. You shall decorate the know with some real or dried flowers. The result is marvellous and elegant.
Almost zero costs, upcycling, an inch of fun… et voilà: the ideal wrap for your gift, made with as much love as you'll show your receiver! These 5 quick ideas suits various kinds of presents, but we're sure that an ecofriendly travel voucher you'll impress anyone. And the environment will thank you too. What are you waiting for? An Ecobnb gift card, one of the ideas we suggested, scissors and there you have it!
Cover image via pinterest.com