Leave your home and change your life. Go for silence, nature and simplicity and find happiness. This is a dream for Federica and Claudio, which came true among the hills around Bordighera.
They had always dreamt about living by the sea. This is why, one day, they decided to follow their heart and move from the chaos and pollution of Milan to Liguria. A small house made of stones overlooking the sea, a big garden and a garden reach in scented plants. It is here that "Life Style", their new life-project which later became also an eco-friendly accommodation, came to life.
This is how Agrilunassa Guesthouse was born. A magical place sourrounded by nature where you can do yoga, go mountain biking and discover unspoilt landscapes among the hills of Bordighera. This is the perfect place to share experiences and slow life-styles, whose slogan is "There is no way to happiness… Happiness is the way".
We interviewed Federica Novelli and Claudio Carbonera to ask them how they managed to change their lives and how they happened to come in such a wonderful place, between the scented hills and the sea of Bordighera. This is what they told us: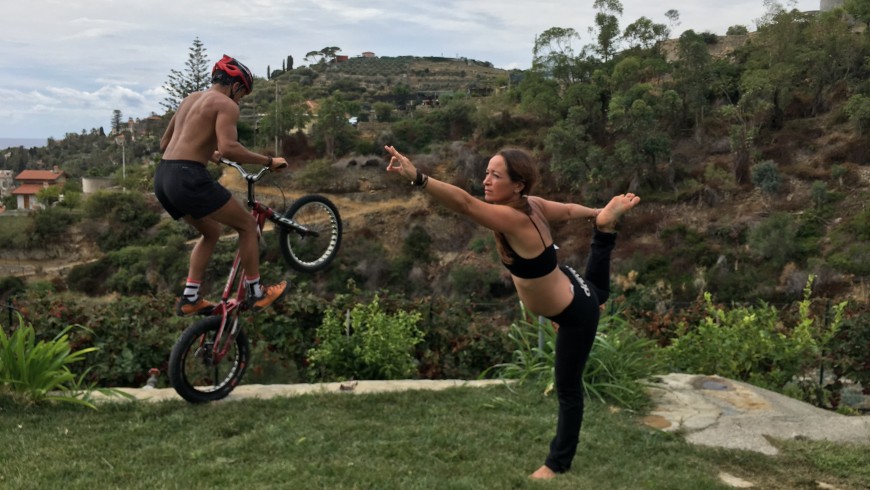 Federica and Claudio, how did you come up with the idea of Agrilunassa?
We had always dreamt about living by the sea. This is why we moved to Bordighera in June 2011, combining the wish to change life of Federica and the open-minded view of Claudio. We named our project "Life Style" and our new house in the countryside, together with its wonderful view, showed us how to cultivate and take care of the garden and of the animals while respecting the slow rhythm of nature.
After some years we had the chance to buy an old rustic house, which was near our house, and we decided to renovate it. We were finally back in the game and able to display our creativity and hobbies. This is how Agrilunassa Eco Guesthouse came to life!
The garden overlooking the sea
Agrilunassa
Sea and beach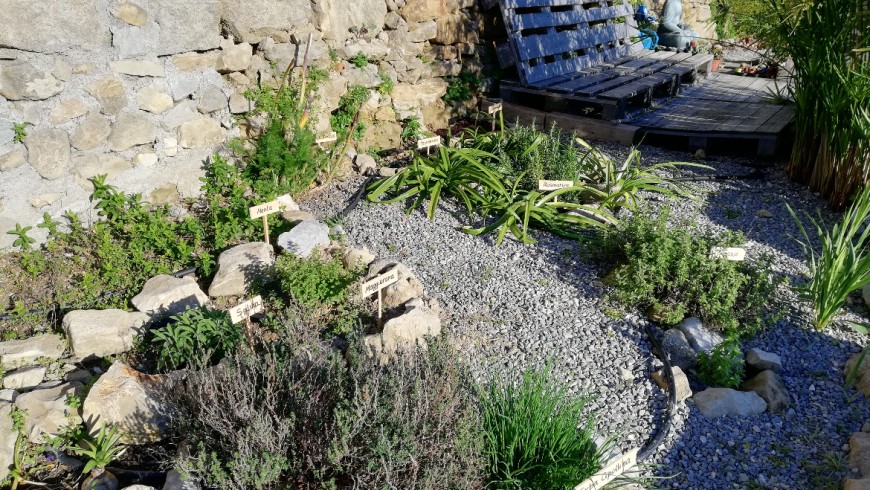 What kind of slow life-style around Bordighera hills do you usually suggest to your guests?
Agrilunassa Eco Guesthouse offers its guests a lot of open-air activities such as walking, mountain biking, yoga, sport or activities related to nature like whale watching, climbing, picking fruit, vegetables and aromatic herbs, green art courses.
Moreover, our breakfasts are prepared with natural products, all grown in our garden.
We suggest yoga courses, yoga & bike, yoga & emotional intelligence and coaching. We always try to come up with new ideas. One of these is "Eat+Drink+Think", which is a project we are organising for the next summer nights. It consists in moments of sharing while eating all together, accompanied with background music and musical instruments like bongos and Space Drums. We organise bike rides around the Ligurian Alps, too… an eco-friendly holiday for a sustainable and free life-style.
"There is no way to happiness… Happiness is the way"
Aerial yoga
Yoga
Relax in the garden
What itineraries and "green" experiences do you suggest the most?
Long walks through the ways of Bordighera and its nearby, yoga on the beach or in the wonderful nature of our countryside, MTB trips along the Intemelio off-road trails, itineraries in the Ligurian Alps following the former military roads.
And again: surf, wind surf and water sports or enjoyable boat trips that leave everyday from Bordighera to the discovery of the great cetaceans paradise while doing Whale Watching.
By mountain-bike
Itinerary in MTB among the hills
MTB on the rocks
Among the good eco-sustainability practices you have adopted, which gave you most satisfaction?
Guests appreciate the nature sourrounding our Guesthouse, the silence, the humbleness and the sharing of our lifestyle.
The happiness and astonishment our guests show when they greet us is the awareness of the great richness of a sustainable lifestyle.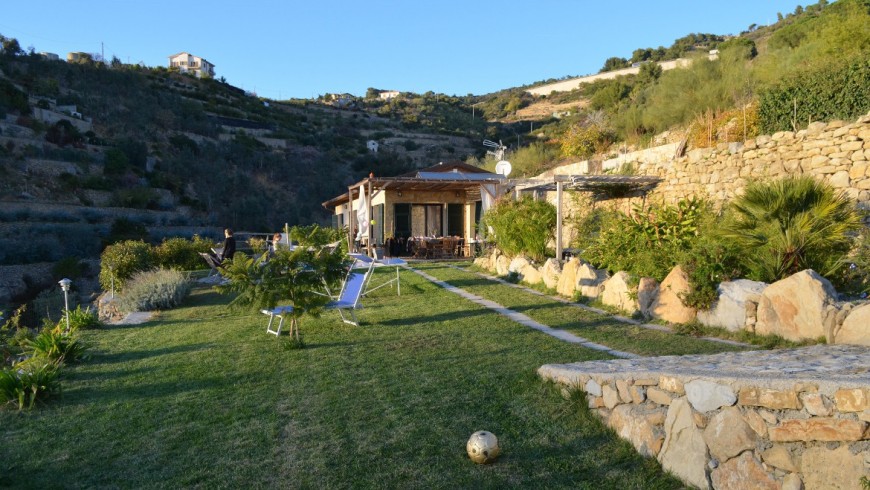 What does it mean for you to be an "Ecobnb"?
It means to offer accommodation into the nature, like "coming back to the origins".
It means also to offer services that help knowing the territory and sharing our favourite interests and those of our guests.
Thank you Federica and Claudio! Hearing from your story we could understand that it is possible to change life, all you need is a little bravery. Don't be afraid of leaving the stereotypes of "work, earn and spend money" and embrace instead a humble and sustainable lifestyle, finding your inside balance and harmony with nature. Appreciate what you see and enjoy yourselves and your relationships with others. This is the real happiness!
We are looking forward to visiting them in the Bordighera hills! And you?
You may also like: